GoSimplo were relying on organic traffic and unprompted sign-ups before partnering with Klint to take their demand generation to the next level.
By establishing an outbound email strategy that utilized the latest MarTech to discover potential leads, Klint sourced 169 leads within 30 days of launching their first email campaigns, that's 290% more than GoSimplo had generated in the last 3 months.
The Client
GoSimplo produces business intelligence digital dashboards that integrate with pre-existing company data sources.
Their dashboards provide powerful insights for C-level executives via their clear and concise data visualization, allowing senior management to ensure accurate billing for services rendered, and qualify the productivity of their organizations.
GoSimplo specializes in insights on financial and operational performance KPIs for architects, lawyers, engineers, advertising executives and management consultants.
The Problem
Prior to working with Klint, GoSimplo had no outbound email strategy in place, and made little use of email as a marketing channel.
Through a segmented email marketing strategy, Klint was able to develop a series of email campaigns that generated warm leads and conversions for GoSimplo from an audience that had been previously unaware of the solution they provide.
Here's how we did it.
Klint's Solution
Klint began by analysing the solutions that GoSimplo provide, and benchmarking these against industry competitors.
By auditing their current customer base, Klint was able to ascertain the pain points best resolved by GoSimplo's solution.
By combining these findings, Klint extrapolated a segmentation strategy that identified:
Those most likely to convert to customers (GoSimplo's primary target audience),
Businesses whose operations shared significant overlap with GoSimplo's target customer (secondary targets),
Businesses in the target industry who were not solution- or problem-aware (tertiary targets).
Understanding of the target segments informed unique email flows with tone of voice and copy that reflected the business situation and individual needs of each audience.
From here, Klint used their in-house tech stack to scrape email leads from a wide variety of sources – allowing GoSimplo to reach the right decision-makers within targeted businesses.
Once the lists of emails had been collected, qualified, and verified, the campaigns were hyper-personalized with information tailored to the business and the individual recipient.
Following the launch of the email campaigns, Klint monitored relevant KPIs in order to determine the most effective messaging for GoSimplo, optimizing the campaigns via A/B testing of subject line and copy.
By adopting a data-driven approach, Klint was able to demonstrate continuous improvement in campaign performance as alignment between target customer and tone of voice became clear, and continued to generate email leads to feed into the optimized campaigns.
The Results
Following set-up and launch of the email campaigns, GoSimplo experienced a significant increase in traffic onsite, as well as on-site conversions such as scheduled demos and calls booked.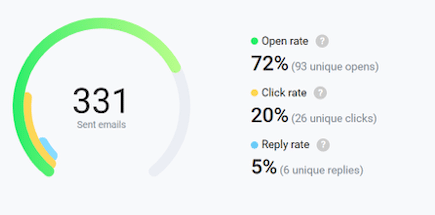 Following optimization, Click-Through Rate of the outbound campaigns averaged 20%, driving potential customers to selected GoSimplo landing pages.
These landing pages included CTAs that allowed audiences to access free trials, or request more information from GoSimplo, initiating a dialogue with the potential customer and generating marketing-qualified leads.
As a result, GoSimplo gained:
320% more sign-ups to their platform (29 within the first 30 days).
408% more warm leads for retargeting (49 within the first 30 days).
As the outbound campaigns targeted potential customers who had not previously interacted with GoSimplo, they also experienced a huge boost in awareness, without having to budget for paid search engine advertising.
The overarching result: more warm leads engaging with GoSimplo's platform, moving further along the customer journey towards a purchase.
What GoSimplo Said
"GoSimplo contracted Klint to establish and manage our outbound email campaigns and we immediately started to see fantastic results. Within the first few weeks we already noticed an up-tick in the volume of demos booked, free trial's signed-up for, and leads in our sales pipeline in general.

And the campaigns continued to perform over time. Outbound email demonstrated negligible drop-off in terms of lead generation as the campaigns continued to run. Klint also expanded the scale and scope of our email campaigns to target new potential customers. These produced additional leads that we had not initially anticipated.

We have been extremely satisfied with Klint's contribution to our email campaigns as a marketing channel, and cannot recommend them enough."
Kenneth Weesgaard – CEO & Co-Founder, GoSimplo
Are you under-utilizing channels with a high potential ROI?
Are you struggling to reach solution-unaware customers?
Klint can help you achieve outstanding results with the power of email marketing automation, let us develop an outbound flow that gets customers to your website.