A rebranding fail may be more common than once thought.
"Bad rebrands" happen all the time.
When a rebrand it is done right, the company will see an increase in sales from new and existing customers.
Consistent presentation of a brand has seen to increase revenue by 33%.
How often have we seen companies take themselves too seriously and miss the mark on rebranding?
Let's start things off right.
Below is an Example of a re branding effort taking itself too seriously: Staples logo change

Staples: the office supply and back to school retailer goes all-out Michael Bay / Hollywood to unveil a logo that looks pretty much the same:
No matter the reason for a company rebrand initiative, you should always be aware of in order to avoid a "rebrand fail":
Your customers expectations
The past campaigns
The future potential outcomes .
If you have decided that your company needs rebranding, then you should be aware of how others have navigated their journey.
In this article, we focus on well known brands that decided to rebrand and the unexpected outcomes as a result.
Do not worry we also added some advice on how to avoid making the same mistakes.

35 rebranding fails and what we can learn from the mistakes of others.
Tropicana Branding Mistake
Orange juice has had an interesting ride through the years a classic steeple of the American and later global beverage landscape
The beverage company, Tropicana, decided in 2009 to rebrand all elements of their well known product and packaging at once.
Simpler Packaging
Logo design and new color pallet
New marketing campaigns
The result was a debacle for the Tropicana reband effort spelled disastrous consequences for farmers and the company.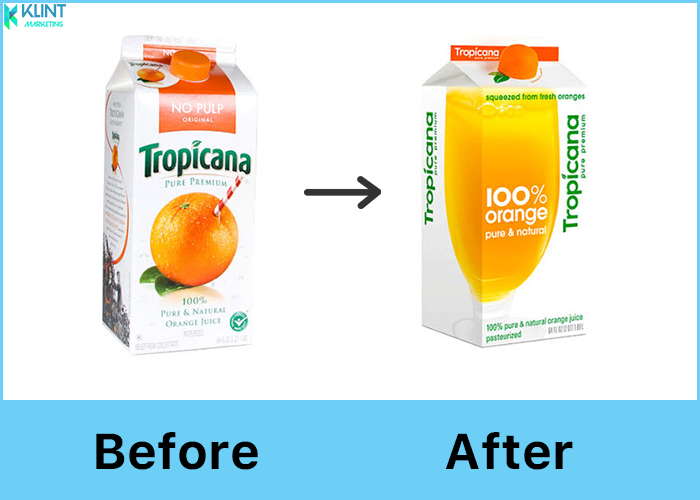 What Happened?
Consumers failed to recognize the product on the shelves which led to a loss in sales.
It looked like a cheap generic brand that was too far from the recognizable product consumers regularly purchased.
Tropicana unleashed their white packaging that removed the orange itself from the visuals. The fruit was replaced with an orange-colored liquid in a glass.
It's estimated their sales dropped as much as 20% before they reverted back to their familiar design.

What can we learn from this rebranding fail?
Ask your customers about your brand.
Investigate what they expect and what they find appealing from your brand design.
Moreover changing too many brand elements at one time can scare your most loyal customers away.

GAP Rebrand
With department stores all over the world, GAP is an international clothing retailer. In 2010, GAP changed the iconic logo that was emotionally bonded to every customer.
Some have speculated the GAP rebranding was so bad it was a PR stunt.
The new logo includes only the brand name and a little blue box on top of the last letter.
This change created outrage among loyal customers. Not even 6 days later the company decided to go back to the old logo design.

What can we learn from GAP's rebranding fail?
Design a new logo that doesn't throw out a long positive history.
Always keep in mind the emotional bond that customers have towards your logo.
Be also aware that sometimes changing a logo too much could result in losing the brand identity and even protests.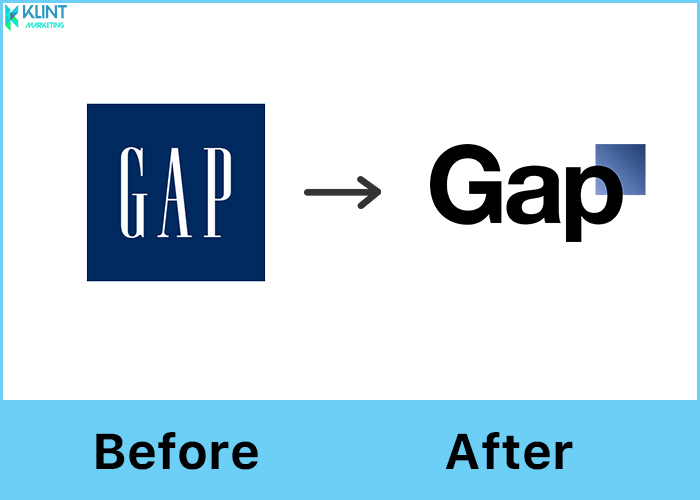 Kraft Marketing Fail
In 2009 the grocery manufacturer company, Kraft, changed its logo to give the company a new look.
This also comes at a interesting crossroads as newer markets are not eager to buy up their products.
As a consequence, Kraft, with almost 100 years of tradition designed a logo that fails to explain their identity.
Adding unnecessary elements to the Kraft logo design is almost never a good idea.
After only 6 months Kraft decided to go back and simply make some small changes to their old classic logo.

What can we the rebranding fail from Kraft?
When starting designing a new logo for a big company; don't change it completely.
Why reinvent something that works?
It's sometimes better to simplify or improve an existing logo.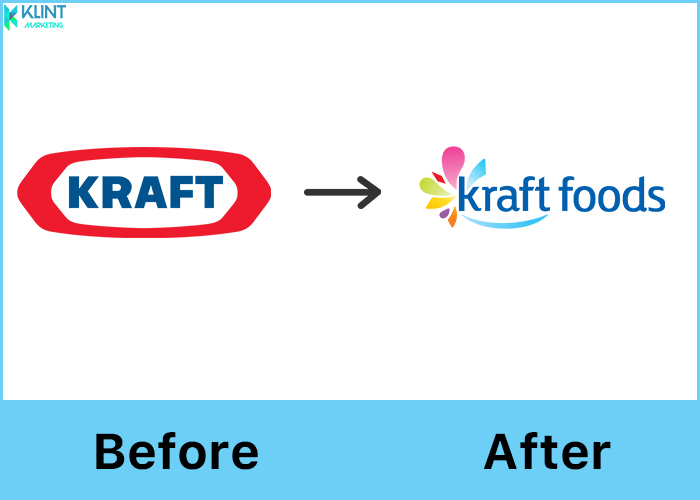 Mastercard Logo Change
In 2015, Mastercard decided to try to improve their logo design.
Mastercard has had one of the most globally recognized corporate in logos in history.
The assumption: people would associate the two colored circles and by adding new elements, the recognition would still stick.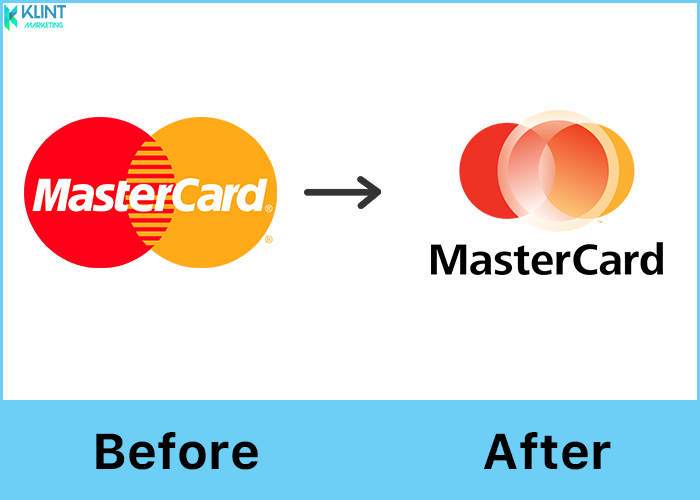 Furthermore, master-card dropped their name usually prominently in the front and center.
Apart from being unnecessary to the design change, the new Mastercard Logo also confused consumers.


The company made a new logo but kept the 2016 design for corporate communications.
What can we learn from Mastercard's rebranding fail?
Sometimes there is no need to change a logo if it works. Old companies have iconic logos that everyone can recall. Moreover adding extra elements feels unnecessary.
Mastercard walked it's new logo back quite a bit. They opted to keep the intersecting circles and focus on removal of the company name.
Pepsi Marketing Fail
Pepsi has a long history of rebranding since its main competitor is one of the most well-known companies in the world.
Pepsi, after 5 months of hard work, their designers came with a new logo, the result was a strong negative criticism.
The new Pepsi logo comes with a $1M price tag too. That might be one of many reasons Pepsi has kept using the logo on their products to this day.
Pepsi has been in the spotlight for taking chances with its advertising and branding, often being called tone-deaf.
Surprisingly, they were able to come away from an ad that was estimated to cost over $1M to produce that most continue to call "tone deaf":
We are seeing this again during the COVID-19 pandemic, that brands are try to use these large scale events in their advertising.
What can we learn from the rebrand failure of Pepsi?
Customers have an emotional bond with logos, even small changes to the design could result in confusion.
Always investigate what your loyal customers think about it.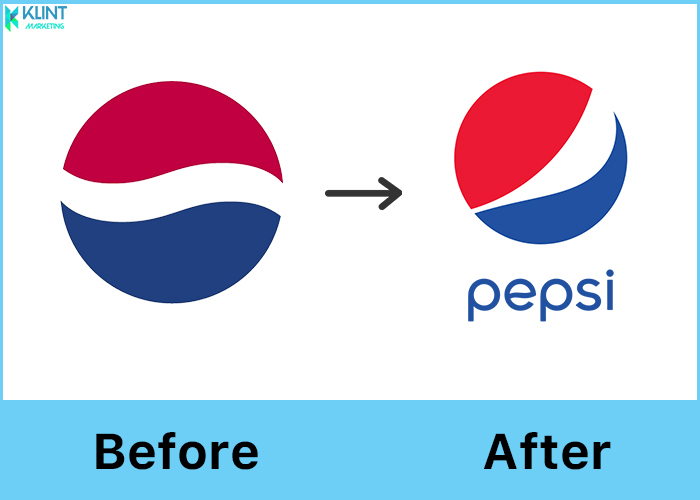 Animal Planet
The television network, Animal Planet, completely changed its logo in 2008.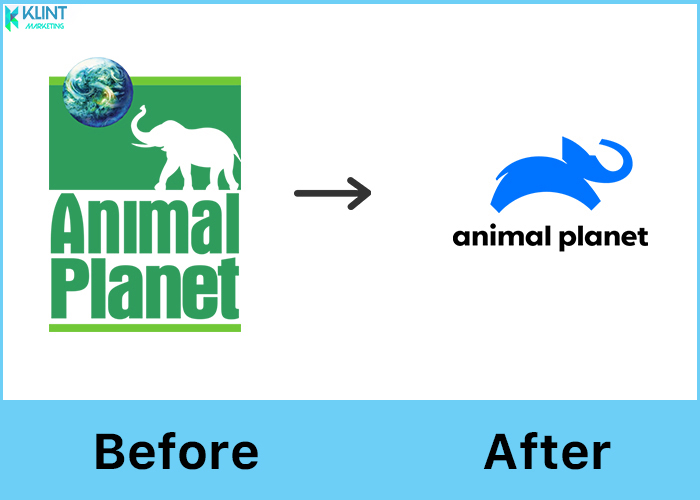 From an easy to understand logo with all the elements that point to their identity; to a simple one figure of an elephant.
The new logo can give confusion on both the company and the industry.
Difficult to understand and does not properly give a clear explanation of the company, the new logo was a disaster.
What can we learn from the Animal Planet brand identity change?
Looking at both logos, the old one is easy to understand having both elements in the image explained with the brand name. Logos need to give a clear intake of what is the company industry.
Leeds United – Misses the Mark
Among all the football teams in England, Leeds United is worth to mention since their logo change created huge negative backlash online.
Fans made a petition to change back to the old logo.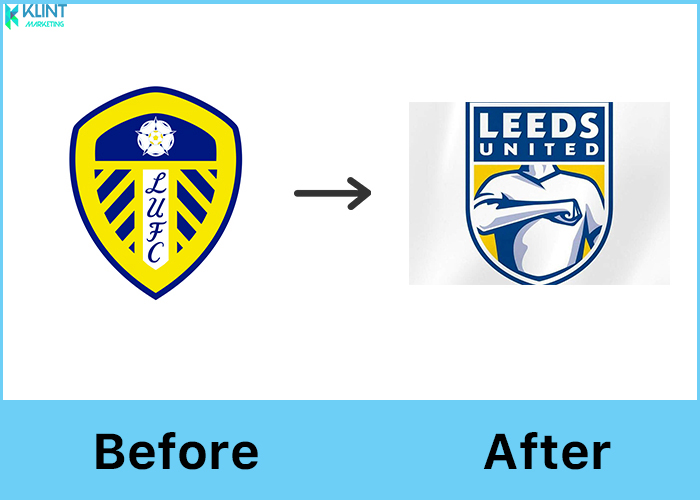 No one can argue that in the football world, tradition and identity are two crucial factors in loyalty.
Leeds United failed in doing so and they ended up designing a new logo.
What can we learn from this rebranding fail?
Tradition is essential when designing a logo for a football team.
Every team crest has a classic design. These usually slightly evolve over the years.
But a completely a new logo doesn't appear to keep step with the team's historical claims.
Listen to your loyal fans and avoid unnecessary changes.
Syfy Logo Changes
The biggest problem on the 2009 new logo for the tv channel Sci-Fi, was not about the design nor the color.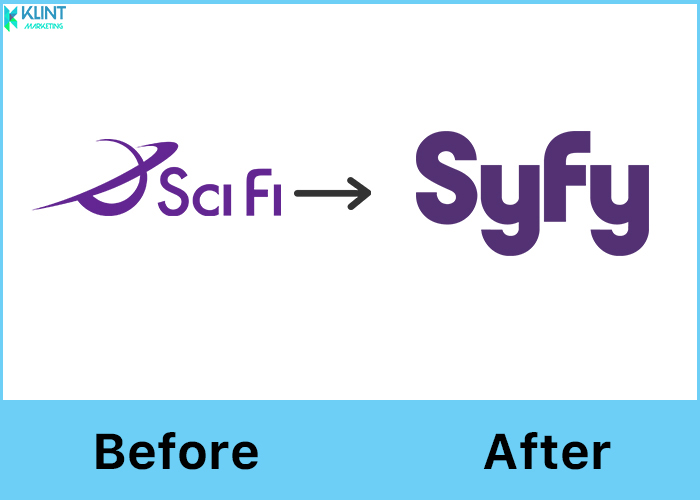 Apparently Syfy, the new name for the sci-fi tv channel, is also a synonym for sexual disease in Poland. Not the best marketing for a long-lasting company.
What can we learn from the SYFY logo evolution?
Always ask your target group about a change of name. It can have different meanings in other cultures or languages. As well as hidden meaning for the new generations.
That being said, many claims they've gotten used to the change to one of their favorite sources of entertainment.
Before you jump downwards to see the before and after, see the latest logo that surfaced in 2017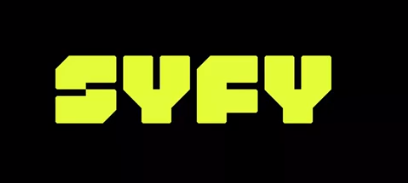 Which is better?
Comcast Logo Change
One of the most hated customer services in the United States, Comcast was an American cable operator company.
In 2010 they made the decision of changing names, hoping to show the customer that Comcast was past all of its customer service issues.
A logo swap usually doesn't result in people forgetting a history of bad practices.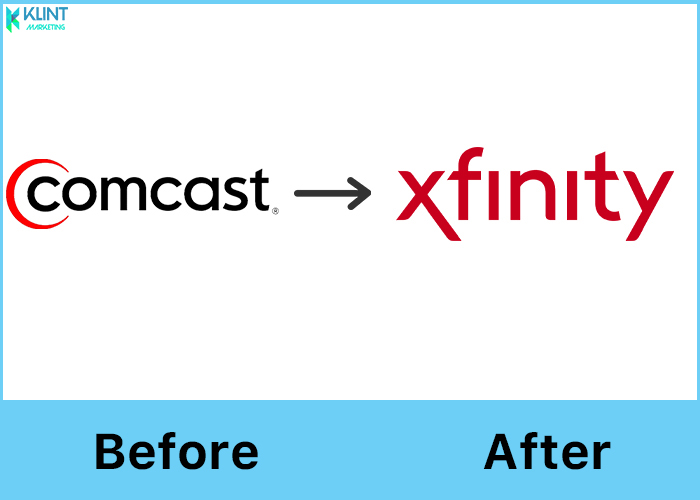 By changing the brand identity the hope was that people would quickly forget their previous negative experiences.
However, the brand could have put more time and energy into improving customer support, company structure, or internal practices.
Changing the name of a company does not change its reputation.

What can we learn from Comcast's CVI (corporate visual identity) change?
Restore your reputation alongside spending the money on changing a brand design. Or focus on listening to your customers to avoid drastic changes to dump a bad reputation.
Royal Mail Logo Change
During 2001 the UK Mail Carried approached the idea of changing name and logo. While sometimes a new design could be seen as a good option, in this case, it's a complete leap into a void.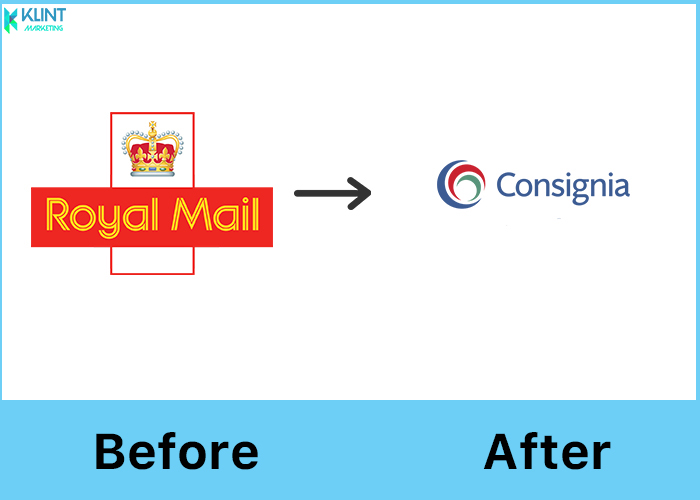 Toothpaste or mail delivery?
Consignia, the new name, was difficult to pronounce. The English populous didn't under the logo design.
Furthermore, the lack of a structured PR around the new Royal mail logo campaign hampered the roll out.
More than anything, people were confused about what was happening.
After a short while, they decided to go back with their old name and logo design.

Take away's the Royal Mail re branding fail?
Even if personally it appears easy to pronounce, sometimes a new name can be difficult for your customers.
And when dealing with an important company is even more determinant to use simple explanatory words.

British Petroleum
The oil company, British petroleum decided after 70 years of having the same logo, to change it in 2000. The price tag?
It's estimated that the new logo cost BP $211M.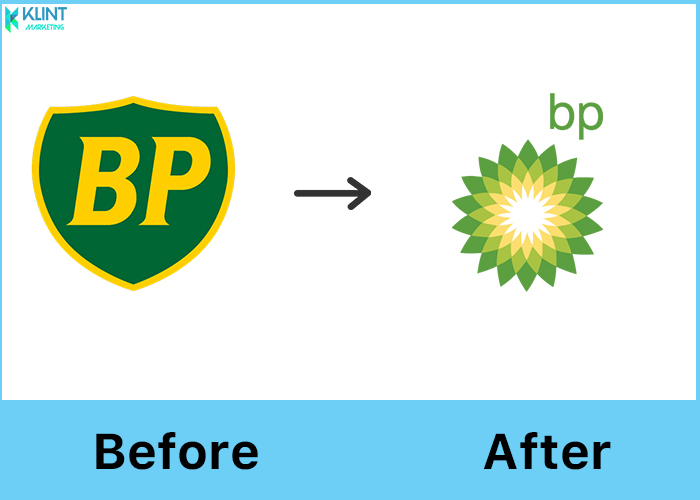 The new logo differs completely from the old one and the only element that stays the same is the color palette.
The main element is Helios, the Greek god of the sun, to portrait a renewed green growth mission for the company.
But… British petroleum is everything but green. In 2010 they were responsible for the largest marine oil spilling in history.
Remember this?
A logo must represent a company in its vision and strategy, this means that a petrol company should be very careful if it tries to appear environmentally conscious.

What can we learn BP's new brand identity?
If your company is in the oil industry and produces the majority of pollution in the world, trying to give an environmental conscious look to the design is a difficult choice. Find a better message to deliver to the customers that would not appear fake.
Cardiff City FC
In 2012 Vincer Tan bought the Cardiff City Football club. In the main effort of giving the company an international look, they decided to change the logo from its traditional bluebird to a more appealing red dragon that refers to the Welsh heritage.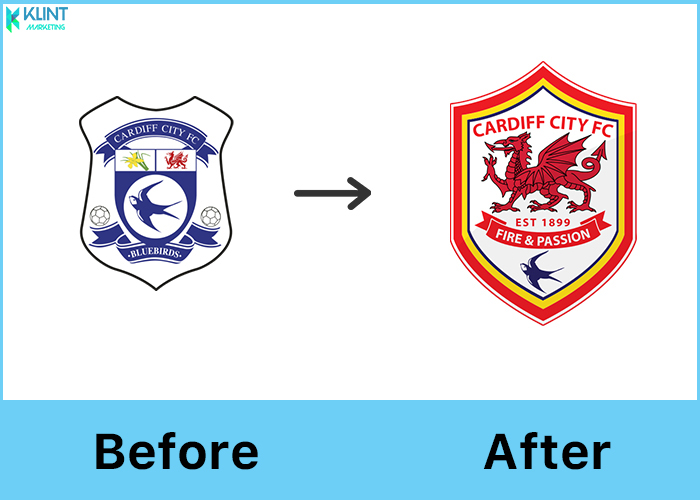 The outcome was a huge discussion on the internet along with other football clubs mocking the new crest on twitter. On the wave of fans singing "we will always be blue" during every home game, the club went back to their traditional 1927 bluebird crest.
On the bottom a small figure of the red dragon still remains, is not a complete return but at least it is a start.
What can we learn from this example of a rebranding fail?
As already said in the Leeds United crest, football fans are emotionally bonded to the colors of the team. Changing it is a bad choice. Keep the same colors and improve an old logo is the way to go.
Weight Watchers
WW is a world-known wellness company. After 55 years of having the same name, in 2018 they decided to change it in "WW" which means "Wellness that Works".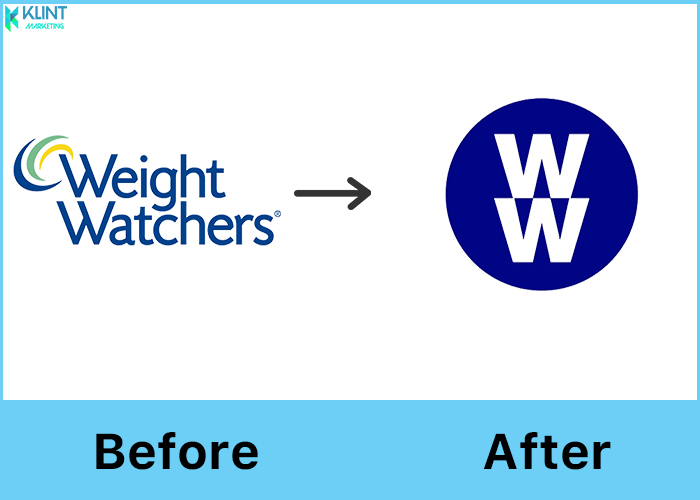 The company has been focusing on losing weight as their main motto, but with this change of core value, Weight Watcher's new logo left the old customer confused about how to call them and new customers wondering what kind of service they offer.
Nevertheless, they kept the new name until today.
What can we learn from this example of a rebranding fail?
The name of your company must be explanatory of your company's area of expertise. If you change it try to keep a name easy to understand for the old and new customers.
Radioshack
During 2008 there was a need for change in Radioshack, to appear appealing to younger customers.
With the 2008 recssion, Radioshack and many other retailers were closing down their stores and struggling to survive.
They changed their name from Radioshack to "The Shack". Even worse was the idea of keeping both names on the logo, "Radioshack The shack" does not really make any sense.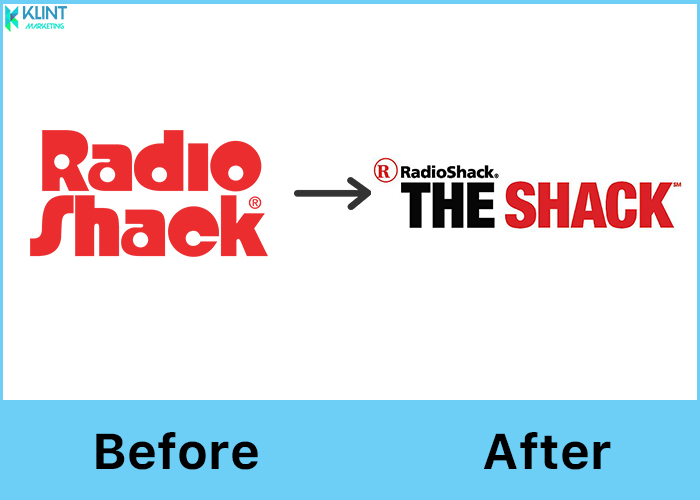 In an effort of being super friendly, they missed a good opportunity for rebranding. The company went back to the old name after some time.
What can we learn from this example of a rebranding fail?
Try to avoid pushing to much an image that does not fit your company. It is easy to appear like your old uncle that wants to look young and cool but in reality, is just sad.
PriceWaterHouseCoopers
Pwc is a company that offers professional services, they are among the biggest firms in their fields along with Deloitte, Tohmatsu, Ernst & Young, and KPMG.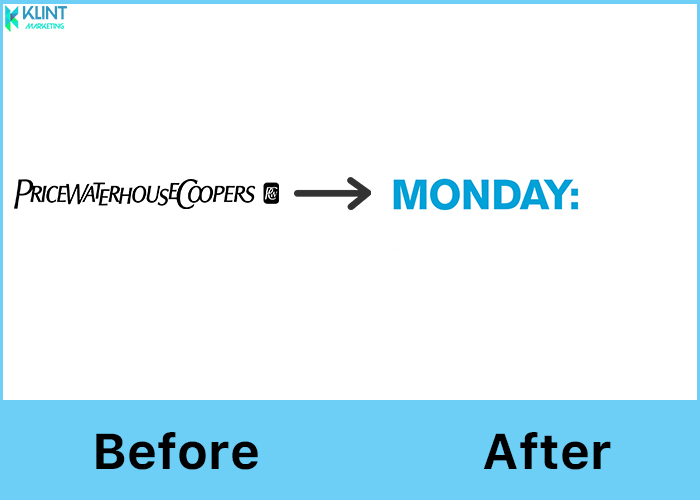 When they decide to change their name and logo they have to deal with a long tradition and loyal customers. In 2002 their new name was Monday, a name that does not really show clearly their area of expertise and created confusion between existing customers.
After a couple of months, the company went with a new PwC definitely easier to remember.

What can we learn from PWC's example of a rebranding fail?
Do not change your name in something that would alienate your customers. Ask if you need a change of name or in case try just to simplify it.
Hershey's
Sweet chocolate confections company Hershey's came during 2009 with an outstanding change of logo that filled the internet with jokes and criticisms. With their 120 years of traditions would appear natural to be able to look to logo proposal from a different perspective.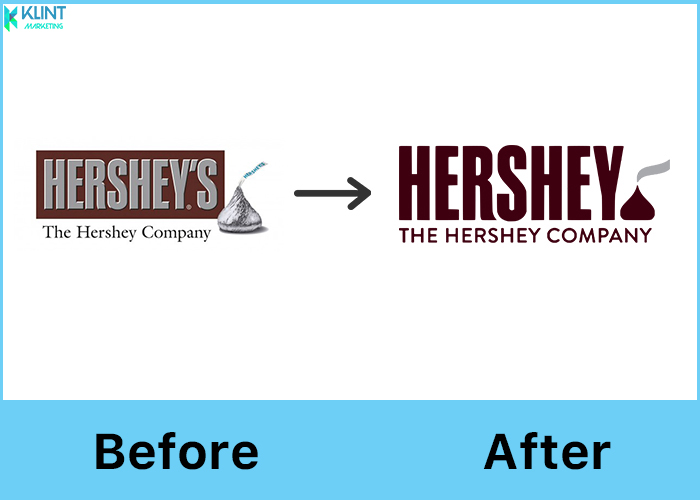 Hershey's failed in doing so. They ended up with a logo that next to the name of the company there is what would look like a smoking poop. Not the first thing you want to think about when you buy chocolate.
What can we learn from Hershey's rebranding fail?
Try to look at your logo from different perspectives. Sometimes what can be seen from you as a cool design could have different meanings for customers.
Mozilla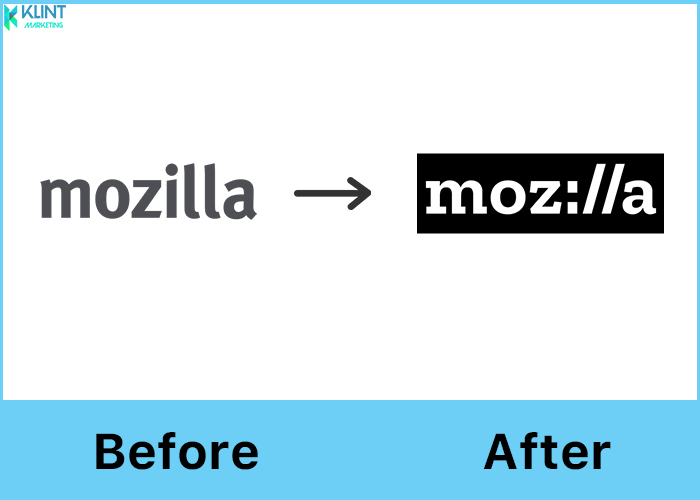 Firefox is among the most loved and used web browser. Its father company, Mozilla, decided to change the logo in 2017.
The new logo reads "Moz://a" which creative director Tim Murray commented with: "Because it has a portion of URL embedded in the middle of the logo, you know this must be some kind of internet company."
A poor explanation for a well-known company that does not really need to explain their industry.
What can we learn from this example of a rebranding from Mozilla?
Always ask yourself if your company needs a rebrand. Do not complicate your logo just for the sake of change.
NBC Universal
NBC Universal is a Mass media entertainment company. Well known around the globe for its iconic peacock look-alike colorful logo. In 2011 the company approved a new logo that completely erased the iconic elements and left only the written name of the company NBC Universal.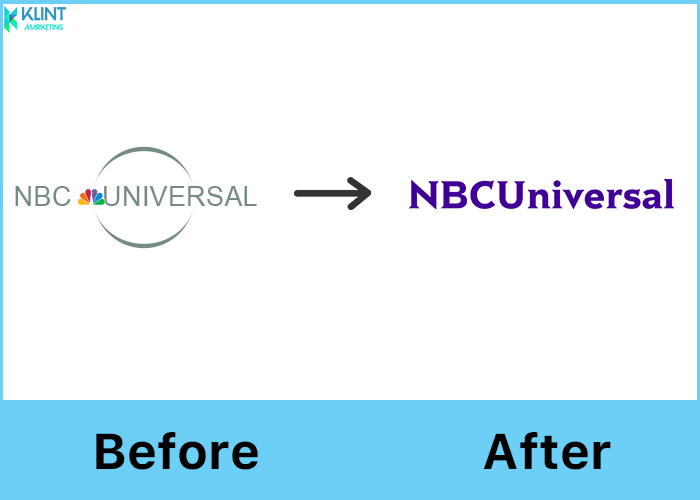 Difficult to read and just too simple it is being used only for internal purposes.
What can we learn from this case of rebranding failure with NBC?
As already said, erasing an iconic element from the brand logo could confuse your customers. Keep it and try to make your new logo easy to read and to understand.
Yahoo!
Yahoo! the not so famous anymore, web services provider tried to gain back their customers in 2013 with a change of logo. They started with a marketing campaign for the new logo, showing every day a different design option for a month.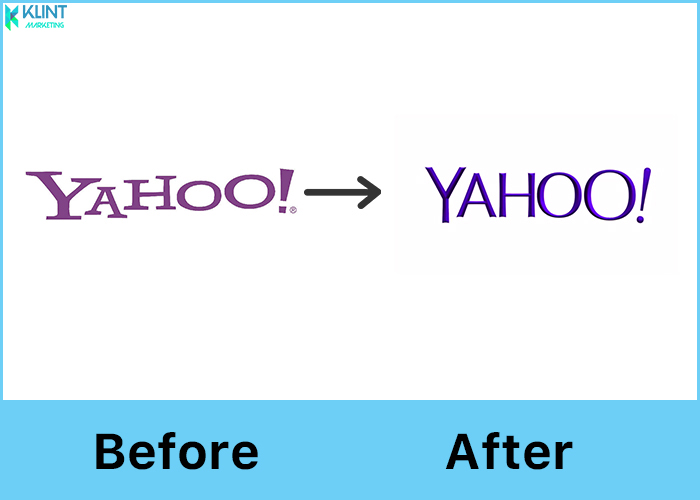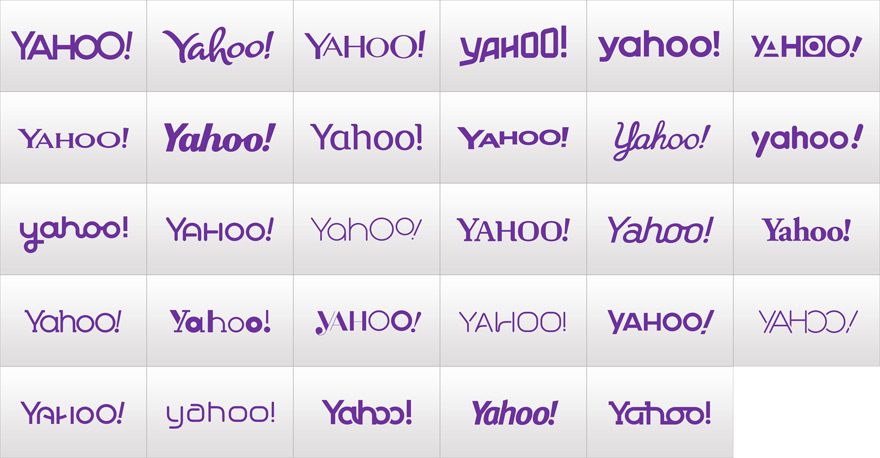 Ending up on the last day with the outstanding new logo that everyone was waiting for, which was, with a great disappointment, just a slight change from the old one.
The cool marketing campaign around the new logo did not quite make sense as you could not recognize easily the change between the logos.

What can we learn from Yahoo's rebrand?
When you want to deploy a marketing campaign to show a new logo keep in mind that customers expect a change from previous logos.
Deviant Art
Web platform made for artists to post their creation and to boost their creativity sharing and liking each other works, this is DeviantArt.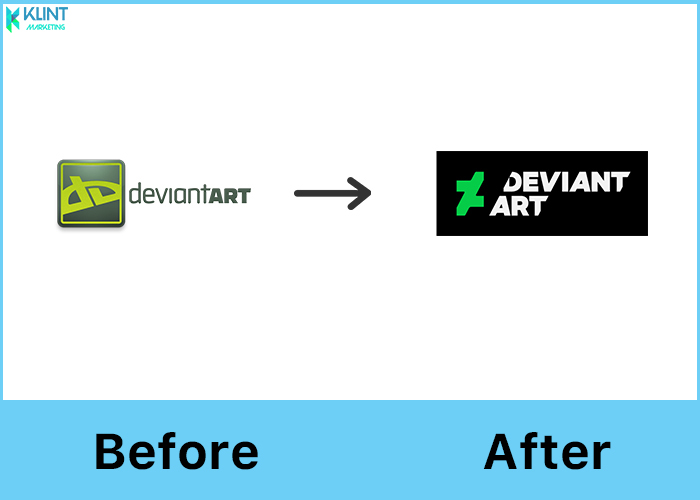 During 2014 they felt the need for a change in their logo, worth to mention is that their area of expertise is designers and art so you would expect an amazing new logo.
What did they come up with was an unnecessary slicing of the brand name that makes the logo difficult to read. When creating a new logo you should really pay attention to the originality, the new DeviantArt logo is weirdly similar to the Russian design company platzkart.ru.

What can we learn Deviant Art's example of a rebranding nightmare?
Try to be original. Copying from other designs can result in a disaster. Remember also that it must be easy to read.
Cottbus
Usually when it comes to design a city logo things go classics. Not for Cottbus, which made it almost impossible to even try to explain the new city logo in 2008.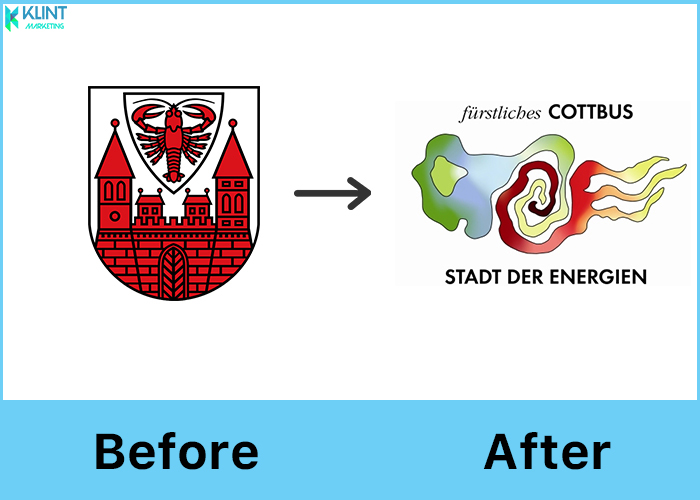 It was a mix of colour palette without a distinct form. As a consequence, fortunately, the logo was withdrawn and changed.

What can we learn from the Cottbus rebrand fail?
Every cities logo shows usually the heritage of the city. When designing a new city logo tradition must be clearly shown. Never go for something too complicate.
Seattle's Best Coffee
It is the second biggest coffee roaster in the USA, second only to Starbucks which funny enough acquired Seattle's best coffee in 2003. While in 2008 they wanted to give a new look to the company changing the design to the logo, they went for a more minimalistic look, fresh and simple.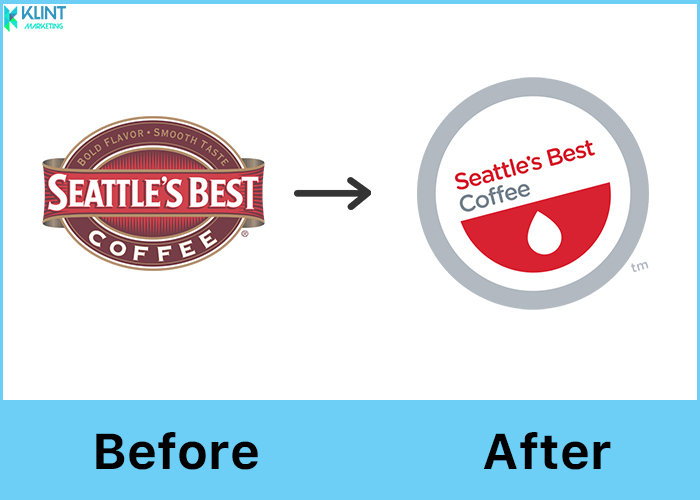 What they did not see was that what it appeared to them like a drop of coffee in a red background actually looks like a blood donation organization logo. Remember to always look at your design from different perspectives before launching a marketing campaign.

What can we learn from this example of an effort to rebrand?
As already said always remember to look to your new logo from different perspectives. Sometimes an attempt to attract a new audience results in a huge disconnect.
The new logo has been described as looking impersonal and resembling a "discount" or "on-sale" sticker.
Dr. Pepper
DrPepper saw their sales for the diet beverage fall for the man sector. Together with the marketing department, they launched a campaign to bring the sales back up.
The new campaign was supposed to target man but the results were worse than expected. The new marketing for the diet beverage was targeting only men, with the main slogan being "It's not for women".
In this era of criticisms and innovation, launching a sexist campaign, "not for women" was also not a good idea.
What can be learned from this example of Dr. Pepper's rebranding campaign?
A sexist marketing campaign is never a good idea.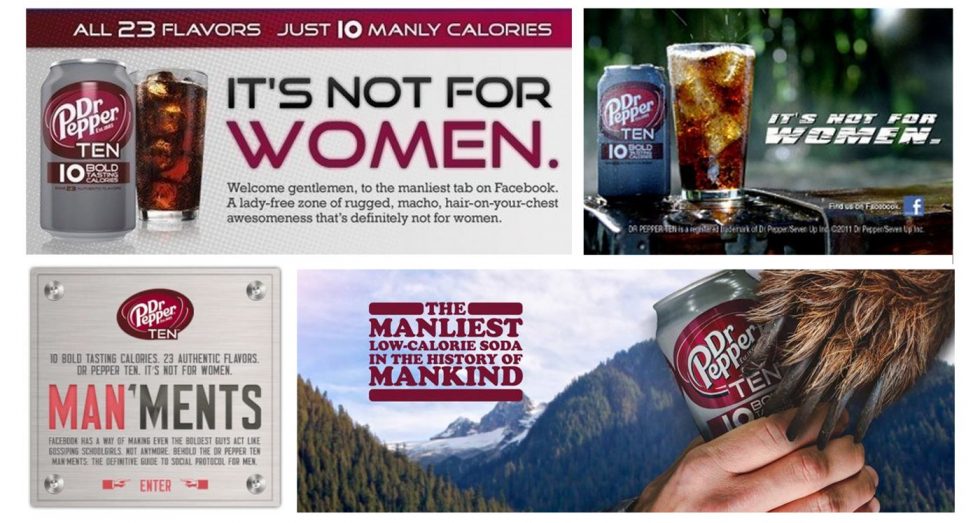 Black & Decker
Black & Decker is a well known international company that sells power tools. When in 2014 they decided to change the logo there was a lot of mixed feeling about it.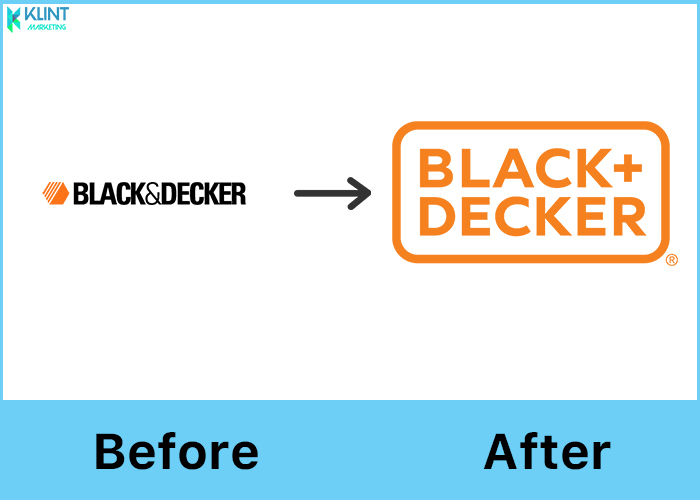 Until now the company still uses the new logo that instead of having a letter "&" which is easily recognizable and fast to read they introduced a plus sign (+). So now their logo actually read Black + Decker.
Remember to always think about how attached people can be to an old logo and if there is actually a need for a change.
What can be learned from Black & Decker's example of a rebranding fail?
If your old logo is iconic and easy to recognize you should keep the important elements in it. Changing important parts of the logo can result in confusion among your customers.
Oxford Dictionaries
As the name suggests, Oxford Dictionaries is a company that operates in the dictionaries industry. A new logo design came up during 2014 while the old logo was a classic design that belonged clearly to a company with a long tradition.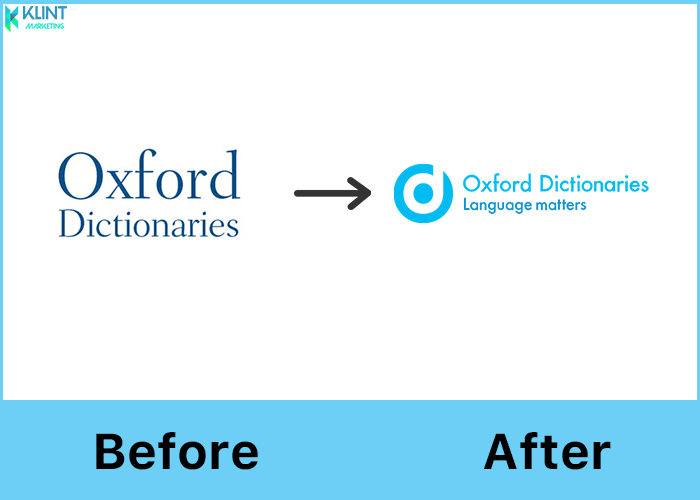 The new one looks more like a headphone company logo. Interestingly enough one of the elements is strangely similar to the Beats by Dre company logo.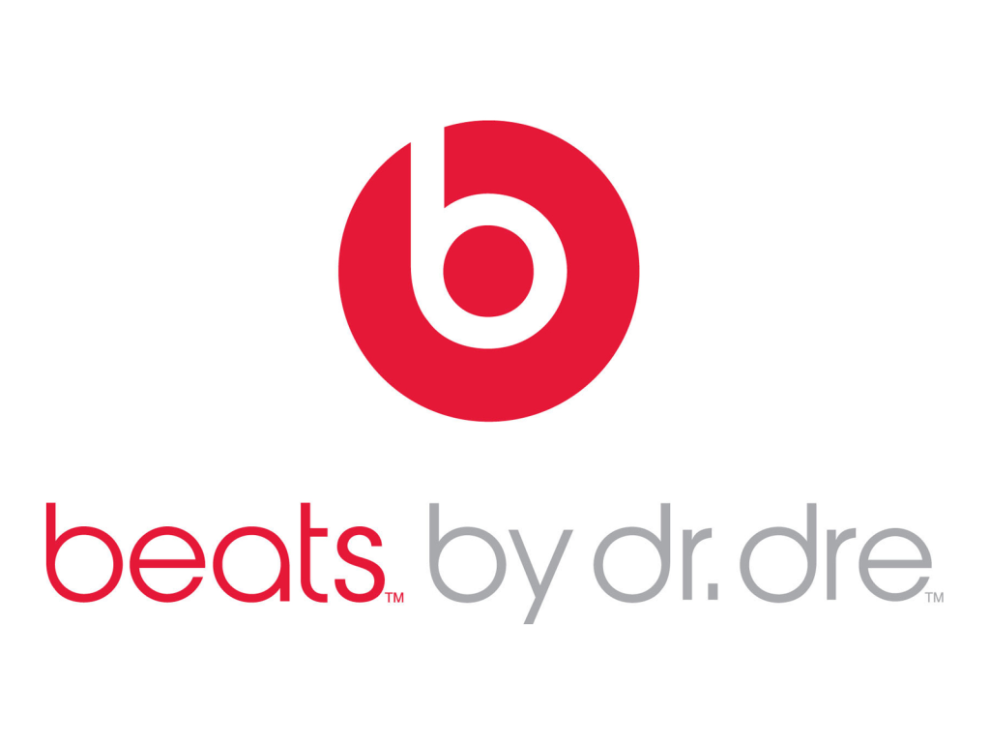 What can we learn this example of Oxford Dictionary Rebranding Logo failure?
Originality is a must. Do not copy from other brands and if you have it remember to show your heritage in your logo.
Capital One
During 2008, the bank company Capital One made the right decision of trying to give a new look to the logo design. It would have been a good idea if the design did not look like coming from 30 years ago.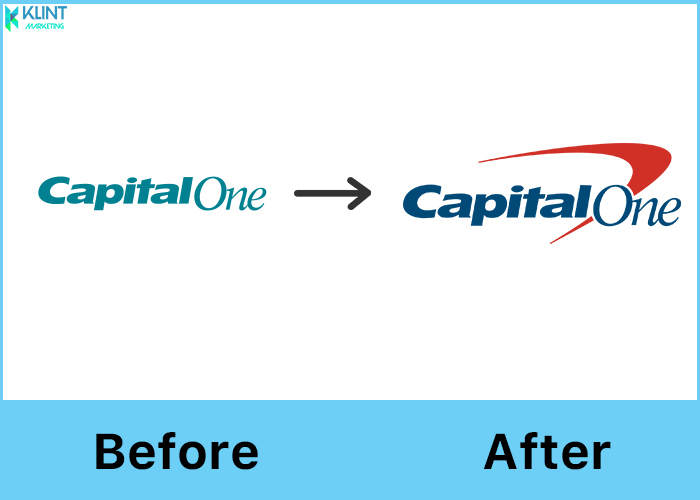 The newly added swoosh with gradient colour really does not give a fresh look to a company that bases all their industry on trust and reputation.
What can we learn from this example of a rebrand fail?
Do not add unnecessary and old elements in your new design.
London Olympics 2012
Every four-year Olympic games are held in a different nation and different logo design is created to celebrate the event. In 2012 the Olympic games were hosted in London, UK.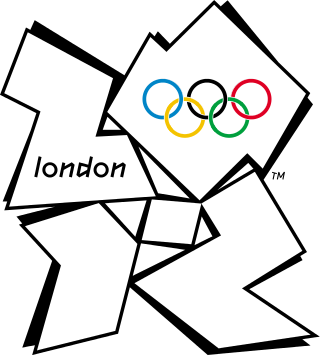 The logo design needs more than one look to be understood and definitely does not look like an Olympic logo.
Notably, this logo was described as many in the design world as "the worst Olympic logo since 1924."
What can we learn from this example of global rebranding failure?
Complicate designs are difficult to recall. Keep it simple and easy to remember.
Black Water
Remember this?
The private security company that gained a lot of negative coverage after an incident in 2007 in Iraq, 14 civilians were killed during an operation. Blackwater after a while the company decided to change its name first in Xe Service LLC and finally in Academy.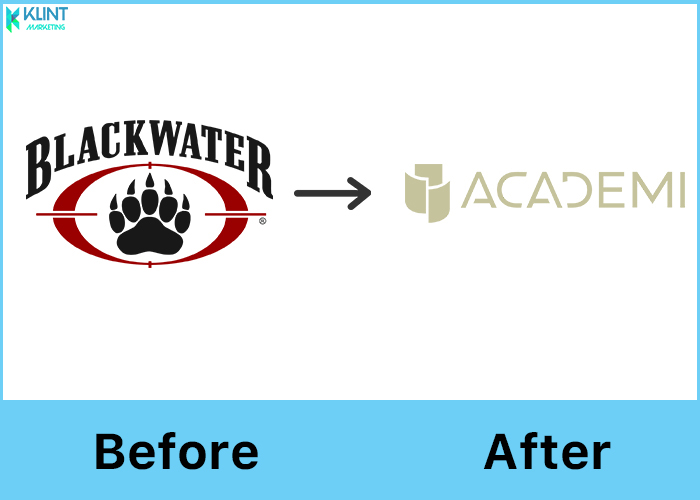 Unfortunately, multiple changes in the company's name can not restore completely your reputation.
What can we learn from this type of example of rebranding?
We already talked about restoring your reputation first and then change the name and/or logo. Nevertheless, sometimes reputation can not be restored.
Xerox
Known since 1994 as "the copier company", Xerox is an expert in their area. With the effort of trying to erase this from the customer's mind, the company changed the logo in 2008.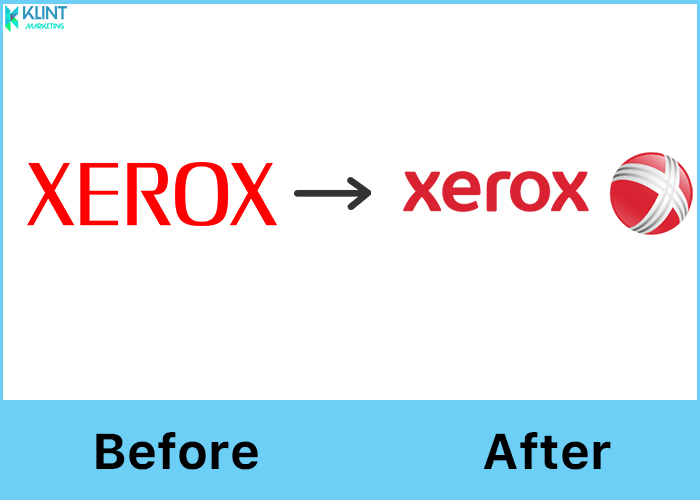 The new design did not focus on the most important part which is the name itself, but instead, they added a new rounded element that does not give any importance to the logo. Also, it looks like a mix of different already existing logos.
When you are in need of a new logo always remember what is your company business and what is the future of it.

What can we learn from the example of Xerox's rebranding efforts?
Avoid adding unnecessary elements. Ask yourself if your company really needs a change of brand logo.
JCPenney
The retail company with mainly shops in the USA and Puerto Rico, JCPenney is well known. Difficult to read and to understand, could be easily read like JCPenney.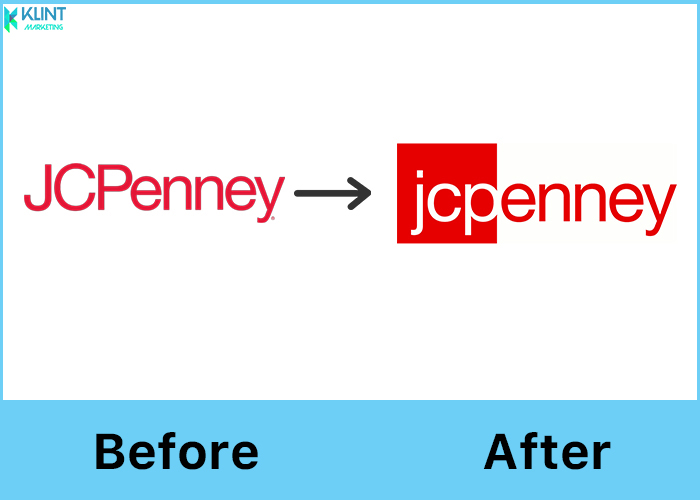 These are only a few of the criticisms that the 2011 logo from JCPenney got.
What can we learn from this JC Penney's attempt to rebrand itself?
Make a logo easy to understand and to read.
Overstock
In 2011 the retail company Overstock made a major change to their brand changing their name to O.co. Borrowing the .co from Colombia, Overstock completely lost the company identity.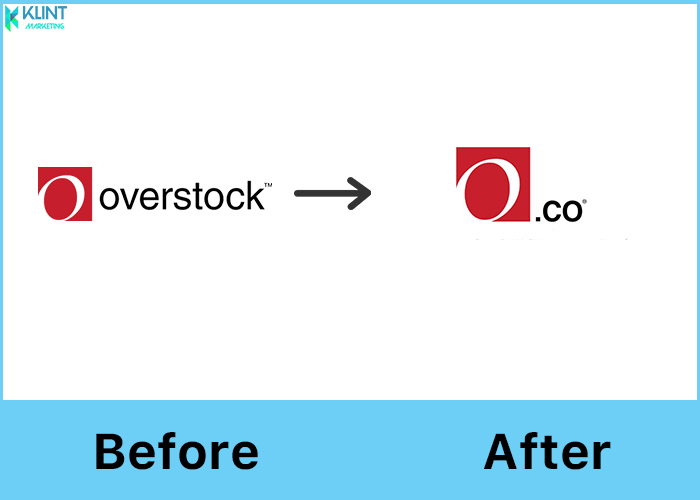 What can we learn overstocks rebranding campaign?
Logo designs have to recall the industry of your company. Changing the entire name in just one letter is not really explanatory.
AOL
Web service company changed its name to Aol. .in 2009, they only added a full point in an effort to change the look of their brand. The iconic triangle with a circle in the centre turned into a simple full point, this created confusion among the long-lasting customers who had an emotional bond with the old brand logo.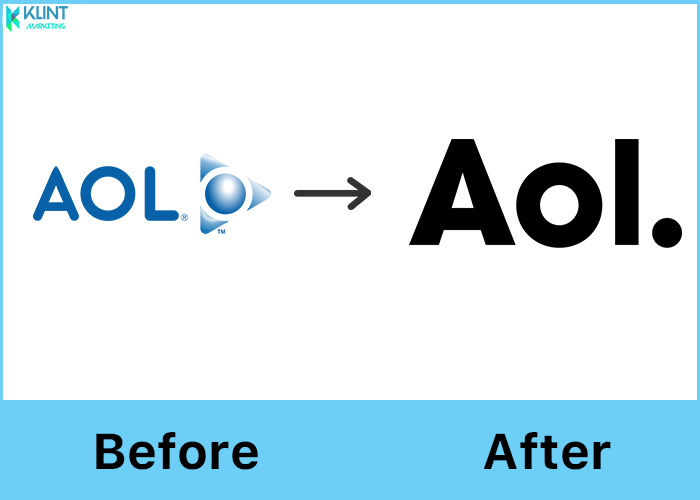 What can we learn from this example of a rebranding gone wrong?
As already said, customers are emotionally bond to logo design. Changing it completely could alienate them.
Verizon
The telecommunication company, Verizon, changed the logo in 2015. It was their own way of going in a fresh and original direction.
As a consequence what happened was they basically write the brand name in a simple way and moved the traditional checkmark to a smaller version at the end of the logo. Nothing else to add but that is simply boring.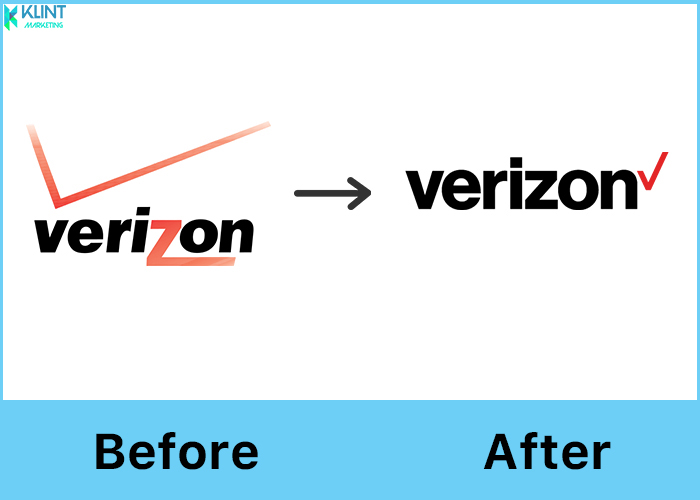 What can we learn from Verizon's as an example of bad rebranding?
Avoid changing an iconic element into something simple.
Redbox
DVD rental company Redbox, in 2017 changed its brand logo. The old one was acceptable, gave the company a nice and silicon valley vibe look. It totally changed with the new logo, the additional unnecessary full point, and the two letters, DB, together gives a small headache looking at it. It was a failure.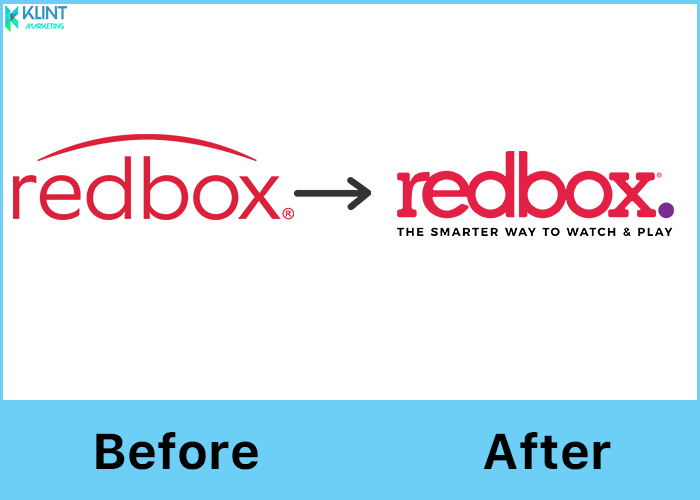 What can we learn from Redbox as a rebranding campaign gone wrong?
Ask first if there is a need for changing a logo. Modify a logo is a risk that is not always necessary.
Sears
The retail company who changed its logo in 2019 in the hope of boosting their sales. What they did was keeping the original logo and adding an element next to it.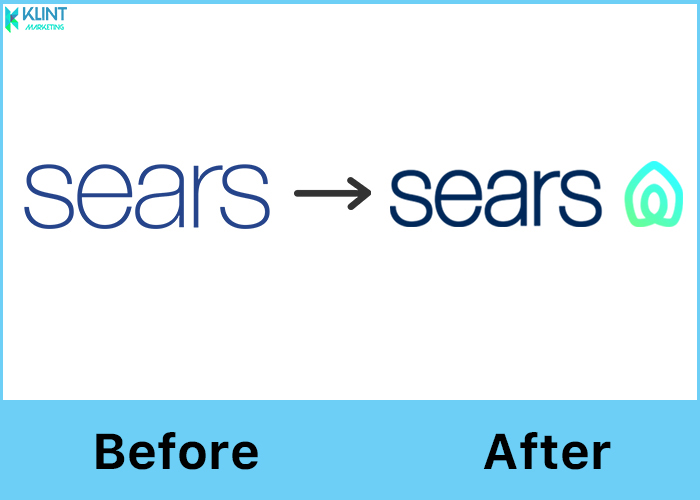 Let's say that it does not exceed originality since the new element is almost like the Airbnb logo which in any case does not give any hint of the company industry.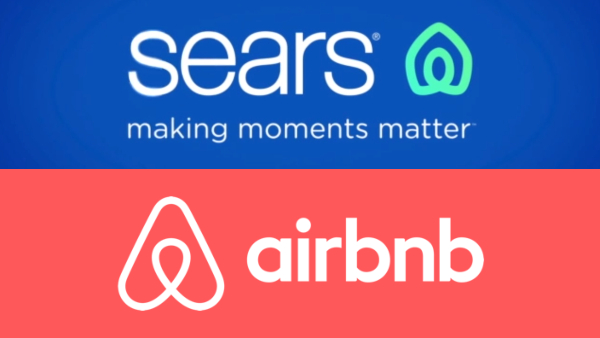 What can we learn from this example of Sears attempting to rebrand?
Cannot stress enough, originality is a must as well as avoiding adding unnecessary elements.
Conclusion
Among the main reasons for a company to go through a rebranding, there are; Internationalization, consolidation of their brand, Bad Reputation or New CEO.
Therefore, whichever is your case, you should pay attention to:
Not underestimate emotional bond with an old brand logo
Be Original
The new logo should show what is your company industry and where it wants to go in the future
Be easy to understand
Finally, remember to look at the new design from different perspectives to avoid being listed as a rebrand fails.
Do you want more information or help with a rebrand? Try not to do the same mistakes and contact us at Klint Marketing!