What's the deal with branded content? Well, read on to find out…
The range of products and services available in the world today is incredibly diverse. And within any group of similar products or services, there will be various brands positioning themselves towards different customer segments.
This presents a huge opportunity for differentiation in the way a brand communicates with their customers, and what strategies to pursue to grow and achieve better results.
This brings us to the art of branding, or positioning yourself to appeal to a specific niche. The possibilities of branding for creative marketers are almost limitless. However, one strategy is often overlooked…
Let us introduce you to every marketer's ace in the hole: branded content.

What is branded content?
In a nutshell, branded content is content that is tightly connected to a certain brand.
On a superficial level, branded content appears to be providing people with value through entertainment and experiences that have a strong connection with the brand.
Looking deeper, the true purpose of branded content is creating a stronger association between the brand and the audience. Thus increasing brand engagement and brand awareness.
The more brand engagement and brand recall, the greater the customer purchase intent. This can lead to sales or customer advocacy through word of mouth or social media.
Branded content doesn't revolve around the brands products. It focuses on creating value whilst conveying the brands personality. This content can resonate with target customers on an emotional level and improve customer perception.
[Related post: Customer perception – What Is It and How To Improve It]
Branded content can involve potential customers in various way: providing entertainment, educational content, or inspiration and motivation, often depending on your brand personality.
Modern branded content is distributed though channels and formats such as infographics, videos, memes, podcasts, articles, storytelling, virtual reality, and so on.
Branded content can be a cornerstone of a holistic digital marketing strategy, as it connects the brand with potential customer in a subversive way that does not appear to directly sell.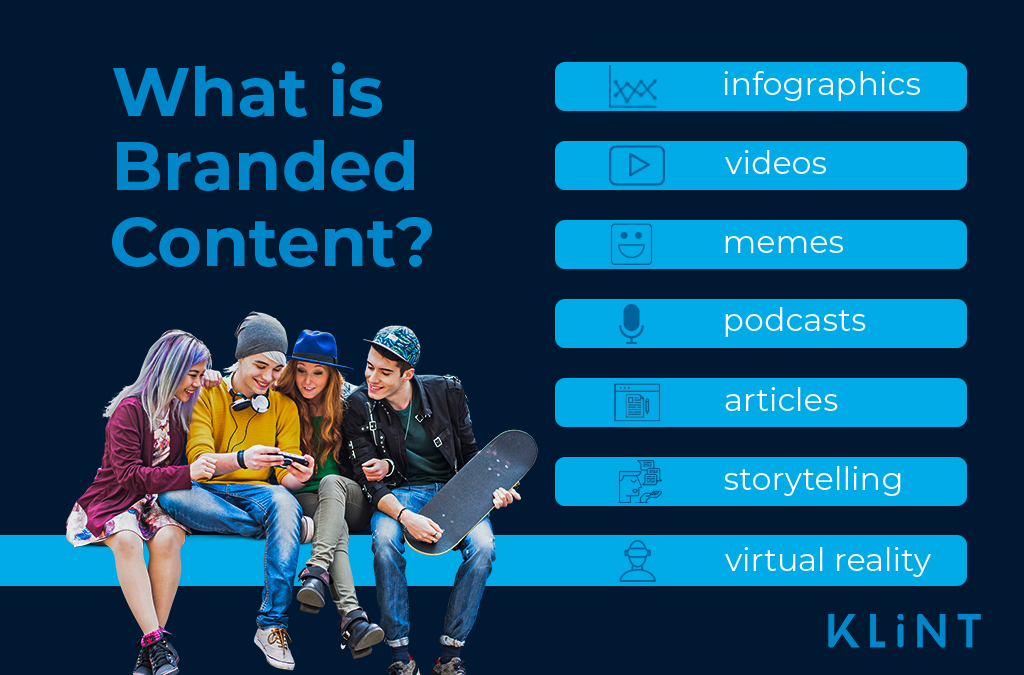 Whilst modern branded content is typically distributed online, it has been a part of tradition marketing for a lot longer than the internet. Popeye the Sailor is the perfect example of how branded content can be hugely successful.
Yes, Popeye – you read it right!
When American illustrator Elzie Crisler Segar created Popeye in 1929, he probably didn't know that famous spinach eater would drive an increase in sales of the vegetable by more than 33% in the USA alone, even during The Great Depression.
Just like the cartoon display, people associated Popeye's strength with eating spinach. Consumers who wanted to have the same superpowers went out and bought spinach when previously they would never have even considered it.
As impossible as it may seem, the spinach industry had nothing to do with it.
No one can resist valuable content – and the best part is that many people are even searching voluntarily for it because of the entertainment it can provide.
A very early example of branded content is Protect & Gamble's brilliant idea of producing a a series of sponsored radio dramas in the 1930s. A fresh way to expose their target customer (housewives) to their products.
P&G understood that women enjoyed being entertained while taking care of their household chores.
P&G wanted to use the drama to advertise its soap, and so the radio dramas were strongly connected to these product ranges. Understanding this, the media soon started to call these radio shows soap operas.
Needless to say, this was a huge success and increased Protect & Gamble's brand engagement and sales.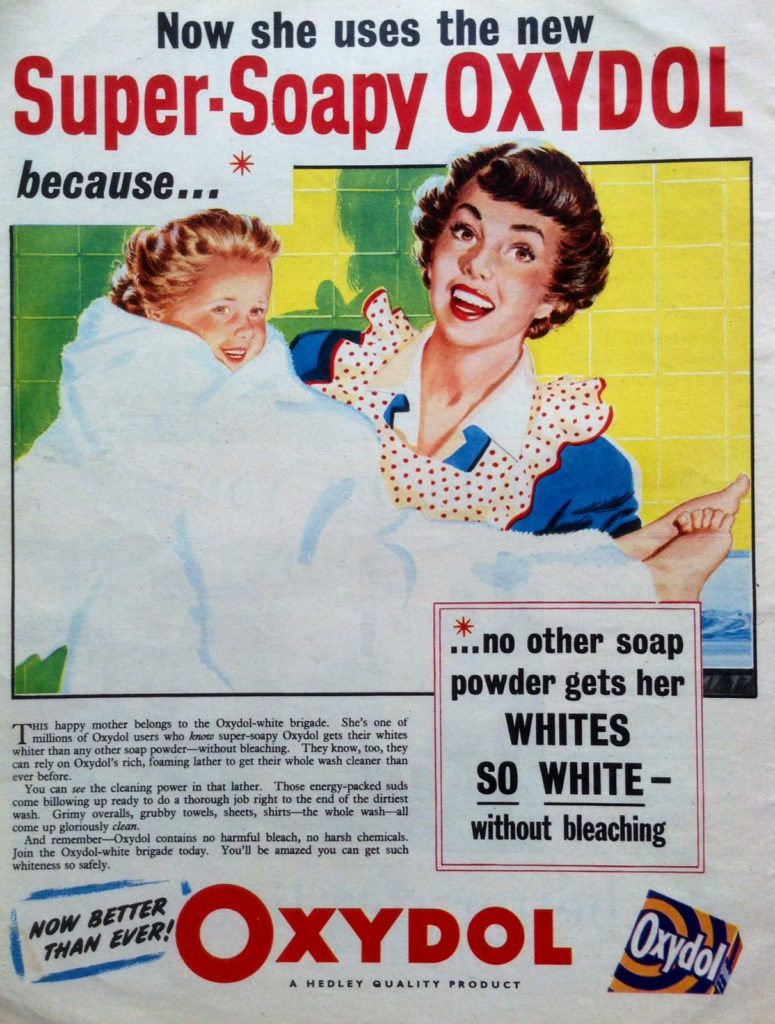 Does branded content work?
Definitely, yes!
Branded content has grown to be generally more effective than many traditional marketing models, and it's now one of the top-ranking marketing strategies.
According to the BCMA's content scope study in 2019, companies increased their investment in branded content by 41%, meaning that branded content is a growing trend.
A recent study found that branded content had higher recall amongst those consumers surveyed, when compared to traditional, pre-roll video ads.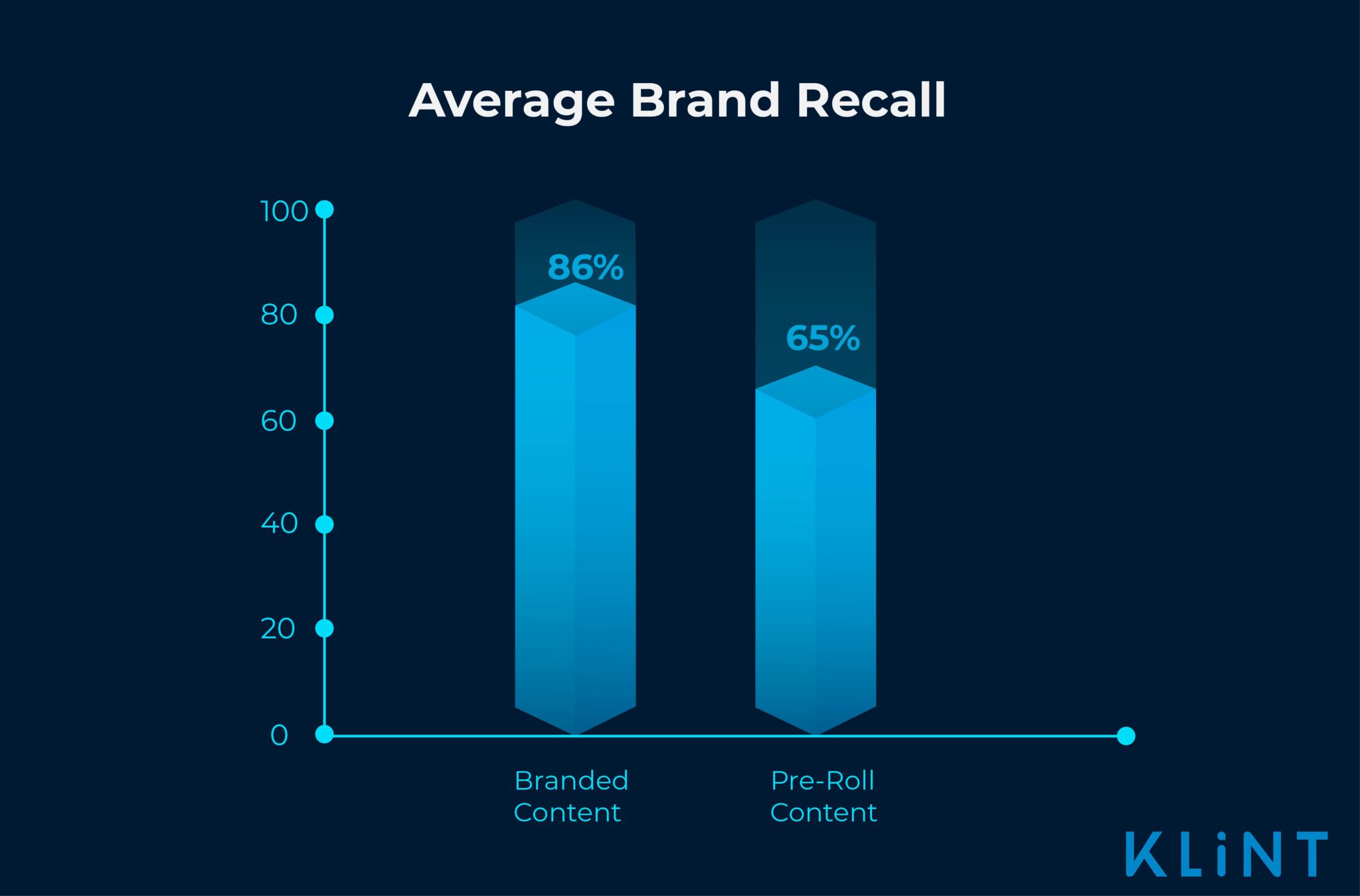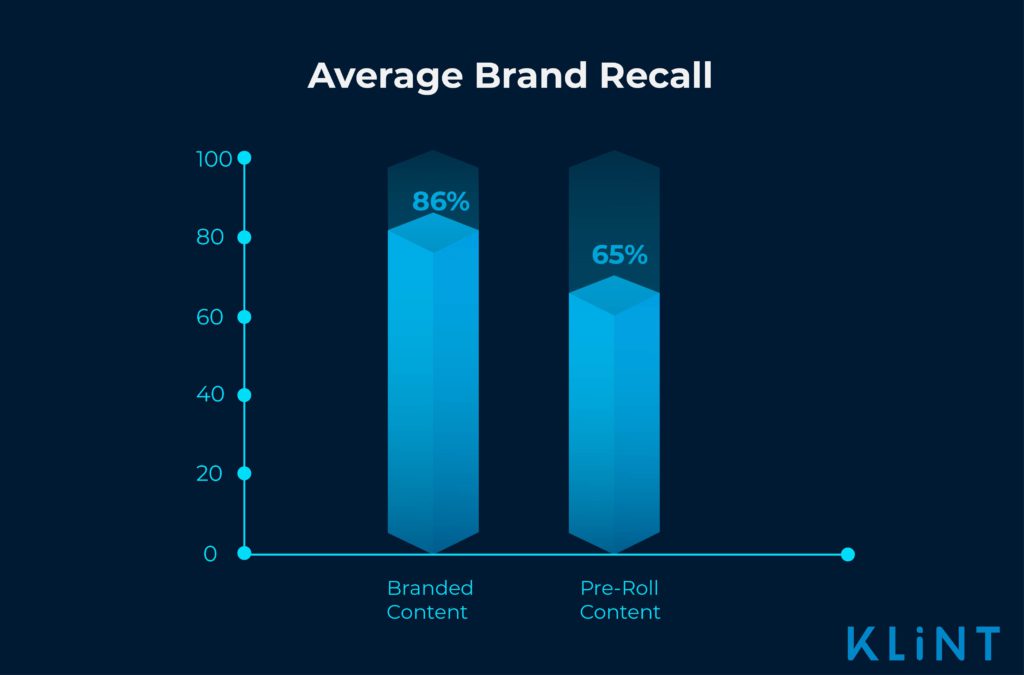 But how do we measure its success? There are indicators we can rely on:
Virality: the more your content is shared – through SoMe or word-of-mouth – the more it means people found your content valuable and worth sharing with other people;
Impressions: it goes without saying that a high number of impressions on your content (the total number of people that are exposed to the content) is synonymous with success;
Feedback and interactions: when people have an emotional response what they see, they will comment or repost. This provides insight into what your audience thinks about your branded content;
Key Performance Indicators: KPIs are fundamental in determining whether your content is effective or needs to be improved.
These indicators imply "a measurable value that demonstrates how effectively a company is achieving key business objectives" (Klipfolio). A few indicators to take into consideration for example, are affinity and intent.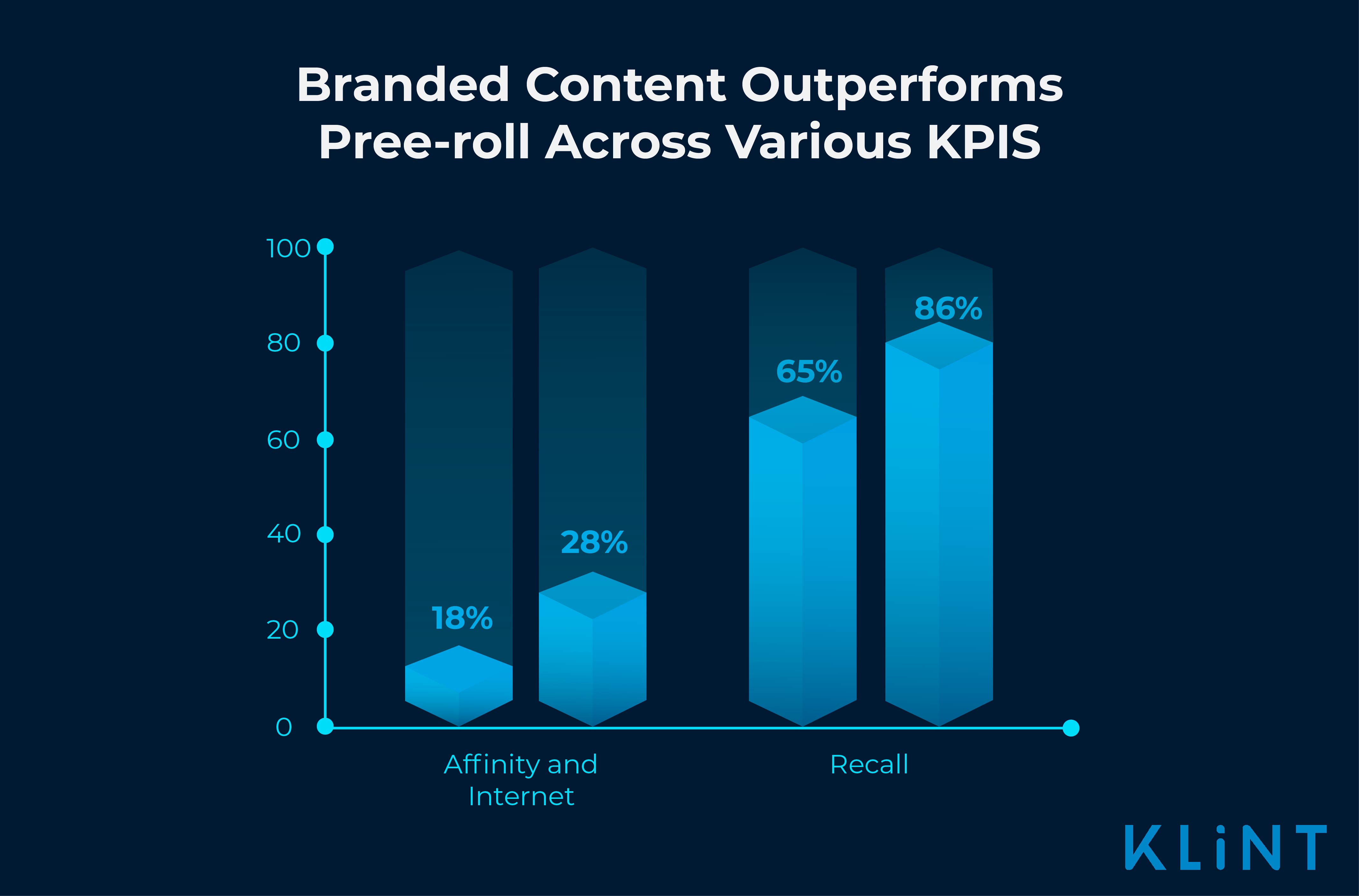 What makes good branded content?
Branded content can be a game-changer in your marketing strategy, especially for its ability to achieve and build customer engagement.
The viral nature of branded content can means it can also be used to create awareness. Here are some of the methods for creating successful content:
Tell powerful stories
Take the audience on personal journeys. Inciting an emotional response brings the audience feel closer to the business by creating empathetic feelings that are indirectly associated with the brand.
People will forget what you said, but people will never forget how you made them feel. – Maya Angelou
Airbnb did this in 2014 when they created a campaign that produced a strong and emotional response in potential customers. In this series of Youtube videos, we follow the stories of Airbnb hosts in New York City. The videos chronicle how hosting has improved their lives.
The campaign was a huge success for Airbnb, as consumers empathized with the hosts. This led to an increase in sales over the summer period, benefitting both the hosts and Airbnb at the same time.
Be honest and open
Honesty plays a key role in building your brand and keeping customers engaged to it.
Above all other behaviors, consumers value the perception of honesty from brands in story telling. This can be seen as a reaction to the idea that brands are often excessively positive in campaigns. Being vulnerable humanizes you as a brand.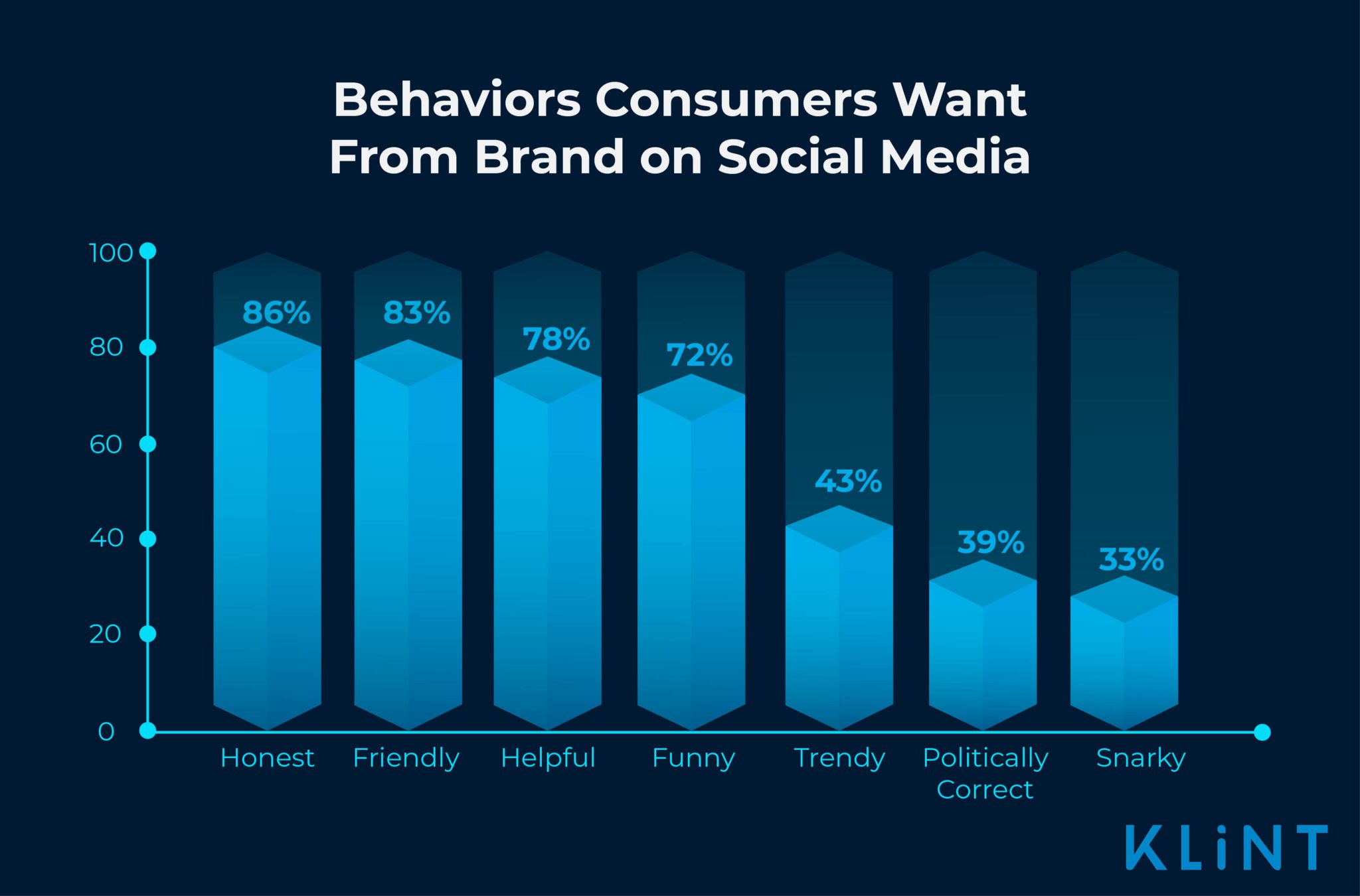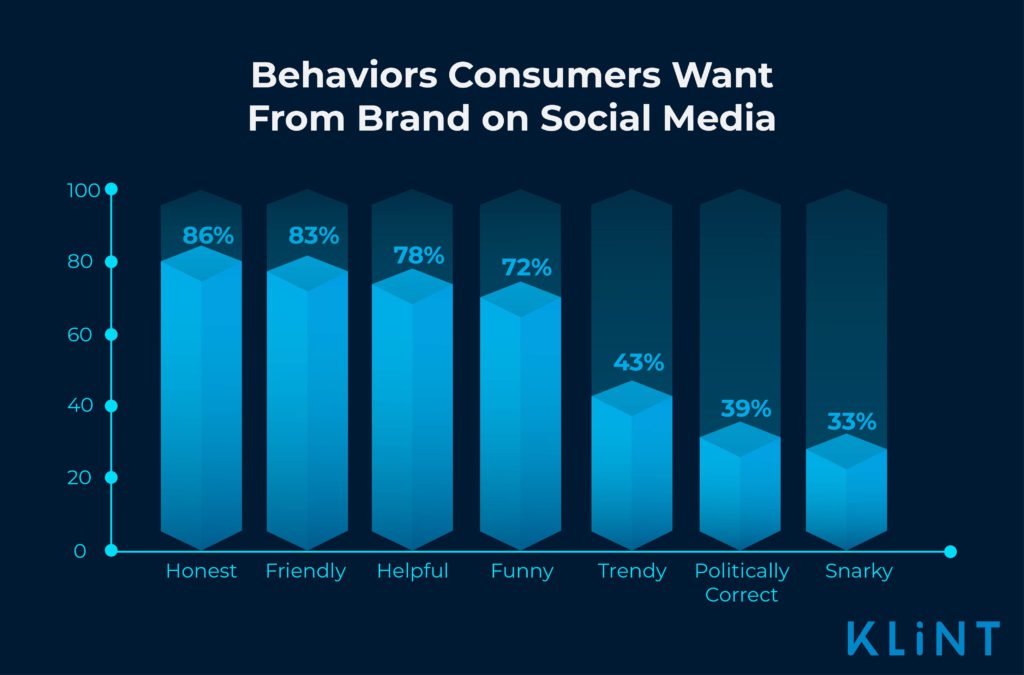 Commiting to transparency and providing feedback opinions in your content will increase loyalty in your audience.
An example of such a campaign came from KFC UK in 2017, when they openly acknowledged their mistakes in a humorous apology campaign.
The campaign highlighted KFC's failure rather than it's success. This endeared the brand to its audience, ultimately leading to an increase in brand perception following the mishap.
Don't overwhelm the audience
How many times have you wanted to remove those annoying banners and ads that prevent you from navigating a platform with a smooth user experience.
Most of us don't want to see sponsored content, and will quickly click away.
The goal of branded content is to encourage the audience to approach you with a voluntary and natural interest in the company.
In this sense, branded content can be likened to native advertising.
Nickelodeon did a great job of this when they created the SpongeBob filter for Instagram, hoping on the trend of the moment. The audience loved it, and the advertising was so inoffensive and subtle that they were happy to share, greatly increasing the ads virility.
Quality over quantity
But if you can have both, then do!
But far more important is that content is positioned for your unique audience. Remember the Pareto principle: that 20% of your content will produce 80% of your results.
The best chance you have of producing significant gains across Key Performance Indicators is with well thought-out content.
Prioritize visual content
Visual resource can strongly support your content. It doesn't necessarily have to be hilarious, but more personalized content that fits your brand will likely be more effective.
Exploiting popular memes has proved hugely successful for many brands on social media. There are two kinds of people when it comes to memes: those who are amused, and those who are horrified. Which one are you?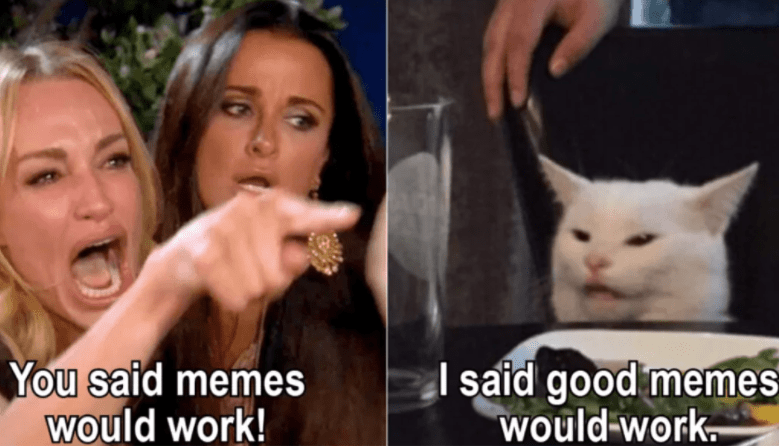 Types of branded content
There are different types of branded content, and a single company might use all of them depending on the situation.
Let's take a look at this classification based on the company objectives:
Commercial branded content
Commercial branded content contains explicit references to the product or its characteristics.
An example of such content can be seen in an episode of The Big Bang Theory. Sheldon Cooper, the nerdy main character, has to choose between the two video game consoles. To do so, he makes an explicit comparison between the two gaming platforms' specific features.
The episode focuses on an evaluation of the products, featuring them visually on-screen, but also describing them in detail. Did Sony or Microsoft actually pay for this episode? No one knows, but we would like to have an educated guess…
Immersive branded content
It has no obvious commercial purpose, but it is used to communicate brand values and identity without the product necessarily being explicitly present in the narrative.
This is a kind of implicit narrative, that makes it possible to not only tell the story of the brand, but also the values linked to it.
One example is Italian pasta company Barilla's advertisement, sponsored by the well-known tennis player Roger Federer. The ad tells the true story of two girls playing tennis on the roof of their buildings, which happened during the times of Covid quarantine.
At no time does this content look like a food product advertisement – right?
The implicit nature of the content allowed people to engage with the ad, without feeling like they were being 'sold'. This, and the relevance of the content to the environment at the time, led to huge engagement for Barilla.
Hybrid
Brand content is included in content such as TV shows and programs. It's achieved through the integration of associated brand product placement.
Programs like MasterChef indirectly promote cooking products and services by making the contestants use them to cook their delicious dishes. As it is usually rather subtle, sometimes, you might not even realize that the branded content is there.
Importance of branded content
Branded content can be a critical component of a marketing strategy if you want a sustained relationship between the audience and the brand itself.
Thanks to branded content, people will start to look at the brand as a trusted source of information on topics related to your industry, rather than a mere retailer.


This emotional connection that this engenders improves the overall image and status of the brand, leading to an increase in brand loyalty and therefore sales.
As the customer becomes affectionate, they will stick to the brand, and, as a consequence, they will be less likely to switch to the competition. They might also suggest your brand to a friend!
What is branded content writing?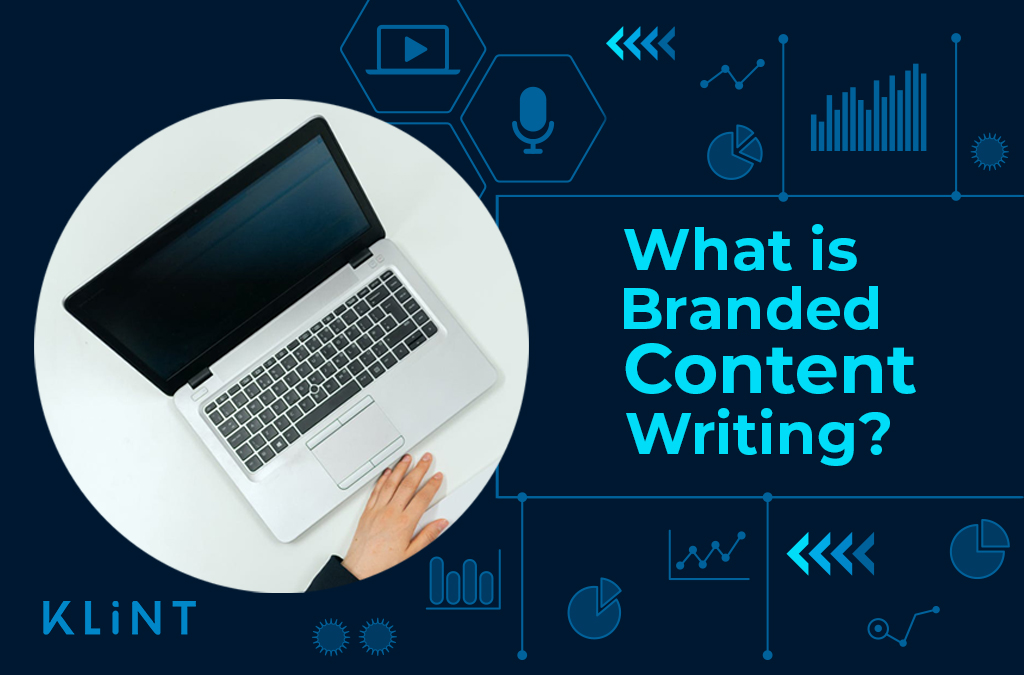 Branded content writing is the practice of promoting your brand through the creation and distribution of informative, educational and/or entertaining content in a written format.
This usually takes the form of a blog post. Publishers have the opportunity to show their creativity whilst tackling topics relevant to the brand that can be of interest for existing or potential clients.
Publishing written content has been found to be extremely effective – yes even in 2021!
If you want to give it a try yourself but don't really know where to start, take a look at this guide for content writers. We encourage you to have fun experimenting with entertaining and relevant topics, and finding your own style!
What is branded content marketing?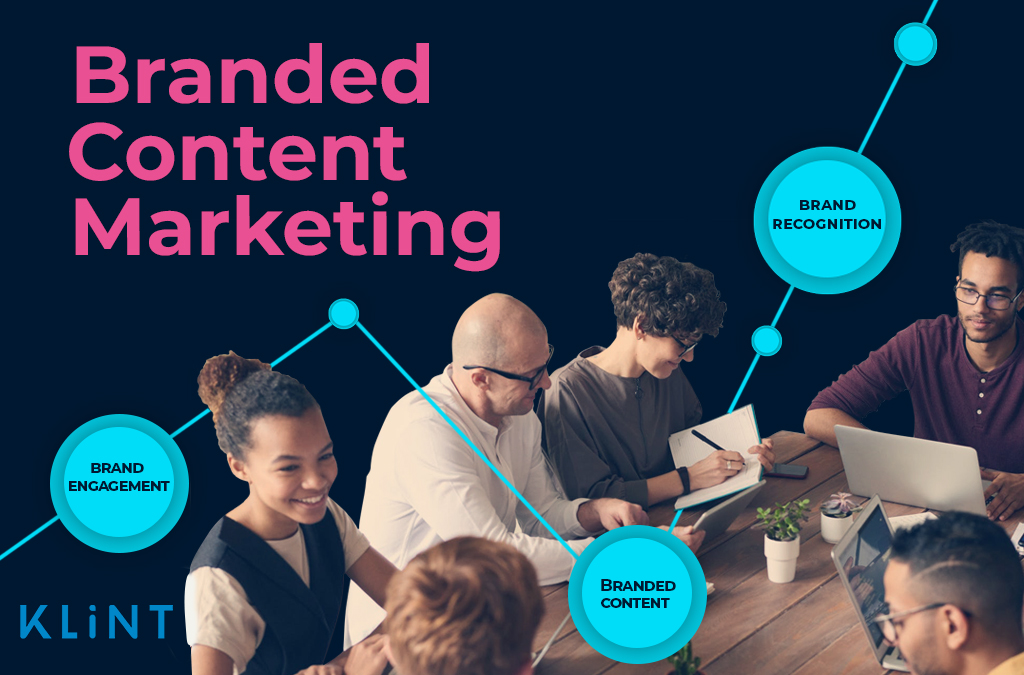 Branded content marketing is a digital marketing strategy based on producing content that is connected to the values of a brand, rather than advertising its products and services.
Branded content marketing leads to brand engagement and brand recognition.
It is a very valuable technique to overcome the obstacle of ad fatigue, a phenomenon that comes from the saturation of the internet with advertising.
Ad fatigue inevitably creates a feeling of irritation in the target audience, who then instinctively ignore the sales messages.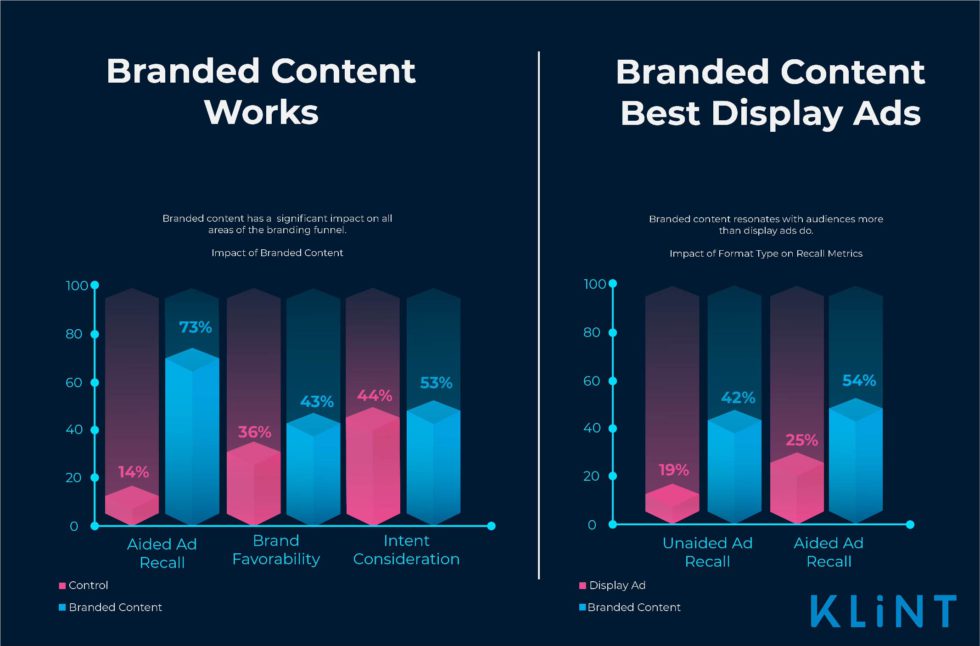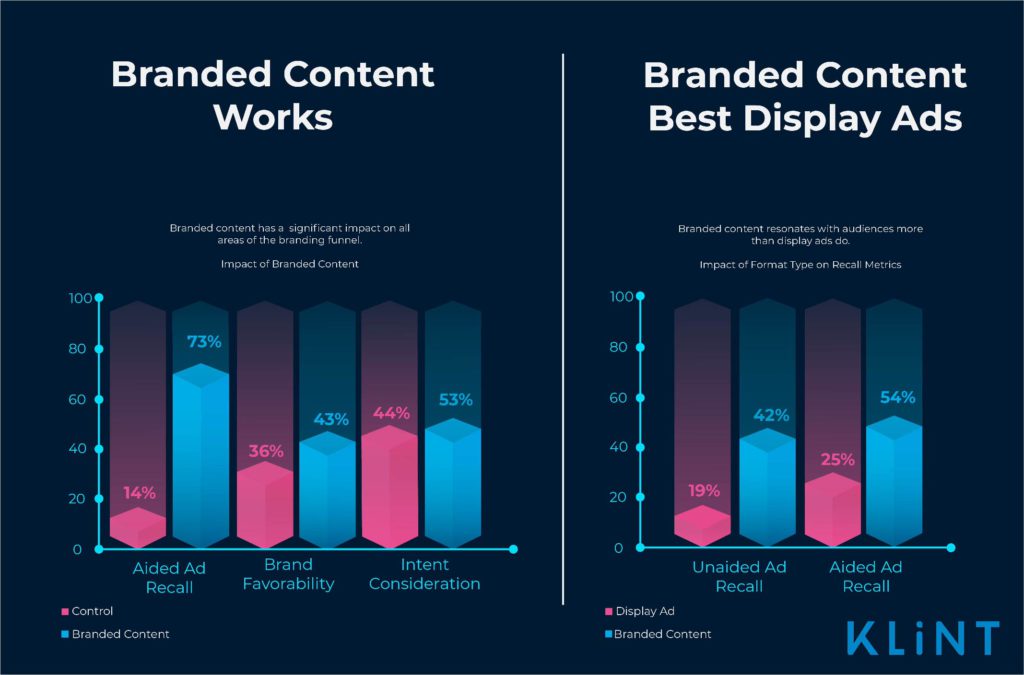 In fact, by peaking the audience's curiosity and connecting with them on an emotional level, branded content marketing potential customers to approach the brand by themselves and build trust in it, without feeling pushed to do so.
The results in terms of ROI can be unbelievable – and what's crazy is that this is achieved simply by providing valuable content.
Although implementation of branded content marketing might take time to build a strong audience connection, the results are significantly more valuable than the short-term gains we observe when throwing money at generic ads.
Examples of branded content
Now that we know more about the topic, let's take a look at some real-life examples of successful and effective branded content that have blown our minds!
Here is our list of businesses making branded content work for them:
Coca-Cola – Share a Coke
When Coca-Cola came up with the idea of personalised Coke cans, many were not expecting that it would be such a great success. After all, Coca-Cola was selling nothing more than the same soda we all know and love… or was it?
As a matter of fact, they were not only selling regular Coke – they were selling an experience. Consumers could decide to enjoy it by themselves or to share it with their friends and loved ones.
As Coca-Cola itself stated, "the purpose of the campaign was to create a more personal relationship with consumers and inspire shared moments of happiness".
And we think they nailed it!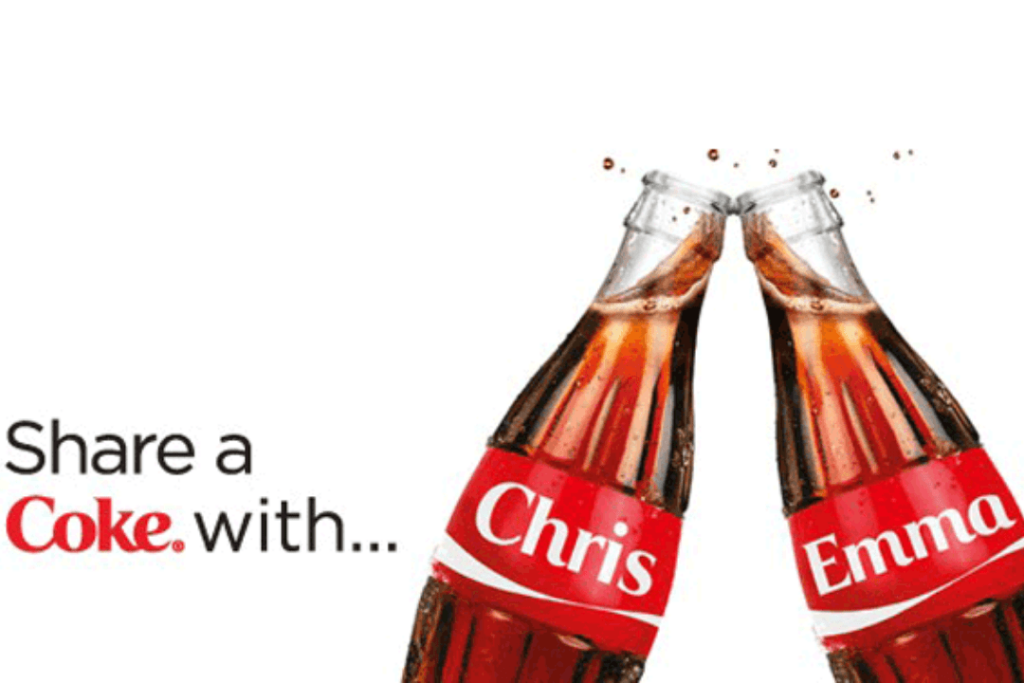 The LEGO Movie
The LEGO Movie is the perfect example of branded entertainment. The Danish toy producer has managed to inspire thousands of small kids (as well as an audience of all ages) through the release of an animated movie starring the famous LEGO characters.
The captivating plot and the funny characters produced a very positive response from the audience and sales jumped 14% accordingly.
If you haven't watched the movie yet, we highly recommend that you do!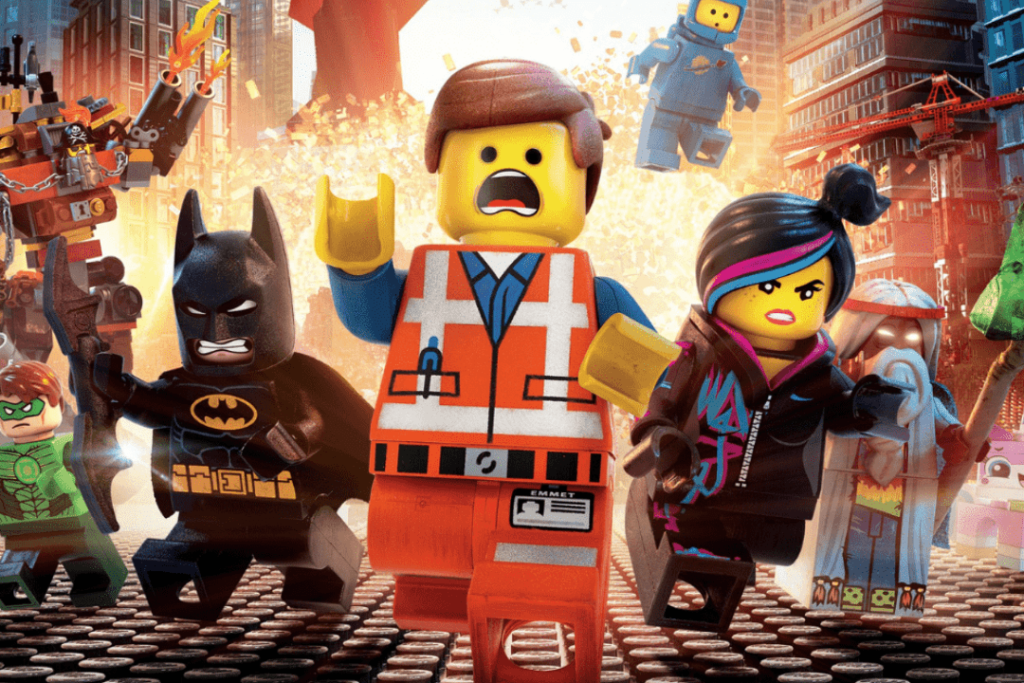 Google Digital Academy
Google really hit the mark with its selection of free, online courses. The Google Digital Academy helps users learn how to use digital marketing tools such as Google Analytics and Google Ad Manager.
The courses consist of a series of videos. Throughout the series, users take quick quizzes to check their understanding.
At the end of the course, users take a test. If they pass, they earn a certificate that proves they are proficient in a particular skill/tool. This certificate can be shared on LinkedIn and signals to potential employers that a users skills have been verified by Google.
This way, Google makes sure that people get acquainted with its tools. This encourages users to prefer Google products over the competition due to their familiarity. At the same time, Google provides value for users in the form of knowledge and validation.
Simply brilliant!

Fortnite x Travis Scott – Astronomical
Corona has forced millions of people to stay home, cancelling concerts, live music, and many more in person events.
In April 2020, the online game Fortnite hosted a first-of-its-kind concert – a digital version of the American rapper Travis Scott performed his latest songs inside the game.
This visual spectacle was watched by the millions of people online, representing a huge engagement for before Fortnite and Scott himself.
Red Bull
Over the past few years Red Bull has sponsored and organized several large-scale events.
But none had as a great an impact as Felix Baumgarter's famous free-fall broadcast, Jumping From Space! – Red Bull Space Dive.
The event was a huge success and went viral on social media before the actual event even occirred. On YouTube, the clip has more than 83 million views!
If we were to describe the Red Bull brand in 2 words, we would use courage and adventure. By sponsoring extreme sports events such as this, Red Bull successfully associate themselves with the enthusiasm and desire to conquer the world for a general audience.
Dove
Real beauty, no filters. Value and accept yourself.
These are the moral principles that the Dove brand stands for. These values make up a huge part of Dove's core message to consumers (and many of you are probably familiar with Dove's Real Beauty campaign).
In Dove's viral video Real Beauty Sketches (which had more than 114 million views in its first month), the company doesn't try to sell you any deodorant. The aim is to make you feel pretty in your own skin, according to a simple and natural vision of beauty.
The videos message of 'simple and natural beauty' align perfectly with Dove's brand essence. This means that the emotive response viewers had is intrinsically linked to Dove, and therefore its products. In this sense, the video is about deodorant without being about deodorent.
Heinz
Heinz devised an anonymous social experiment. The ketchup company invited people from all over the world to "draw ketchup" without further prompting.
The results were astonishing: all the participants (or almost!) drew a Heinz ketchup bottle. This confirmed that Heinz ketchup was top of mind amongst consumers.
Heinz's fun social experiment explaining why Heinz is the leader in its industry. But by releasing the video, Heinz is signalling to consumers that it is a superior brand to its competitors, whilst also entertaining its fans.
Should B2B use branded content?
Yes! Branded content is an efficient way for B2B companies to enhance their businesses.
Branded content contributes to the perception that the business is approachable and human, and this can inspire trust.
In fact, the use of branded content is widely adopted by B2B companies such as General Electric, WeWork, IBM or Cisco.
In the B2B market, the total number of potential customers is smaller, so it's easier for engagement to be effective and long-lasting. Also, a whopping 39% of businesses' purchase decisions are driven by brand.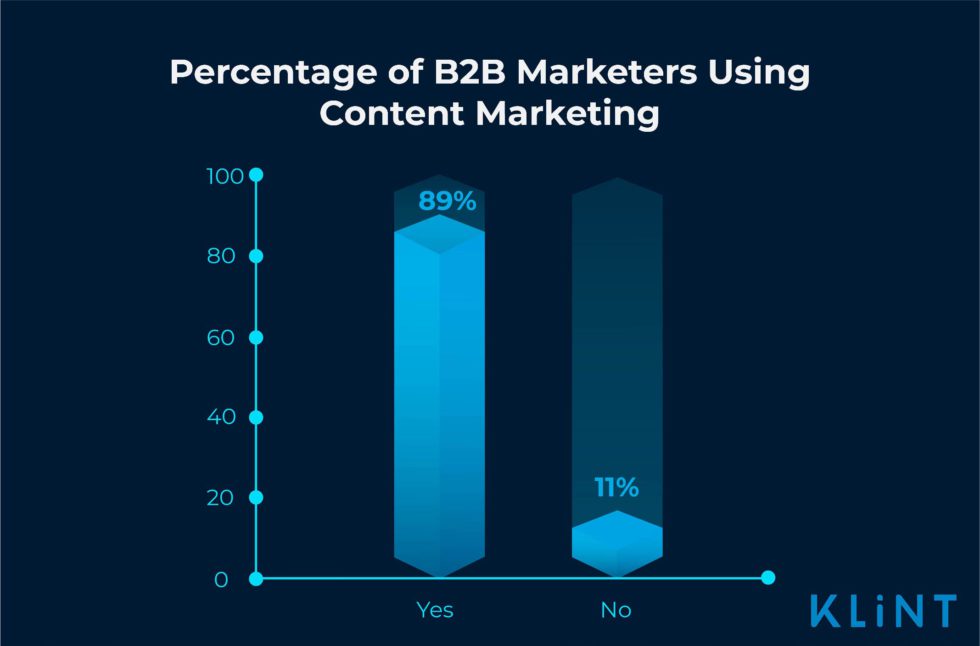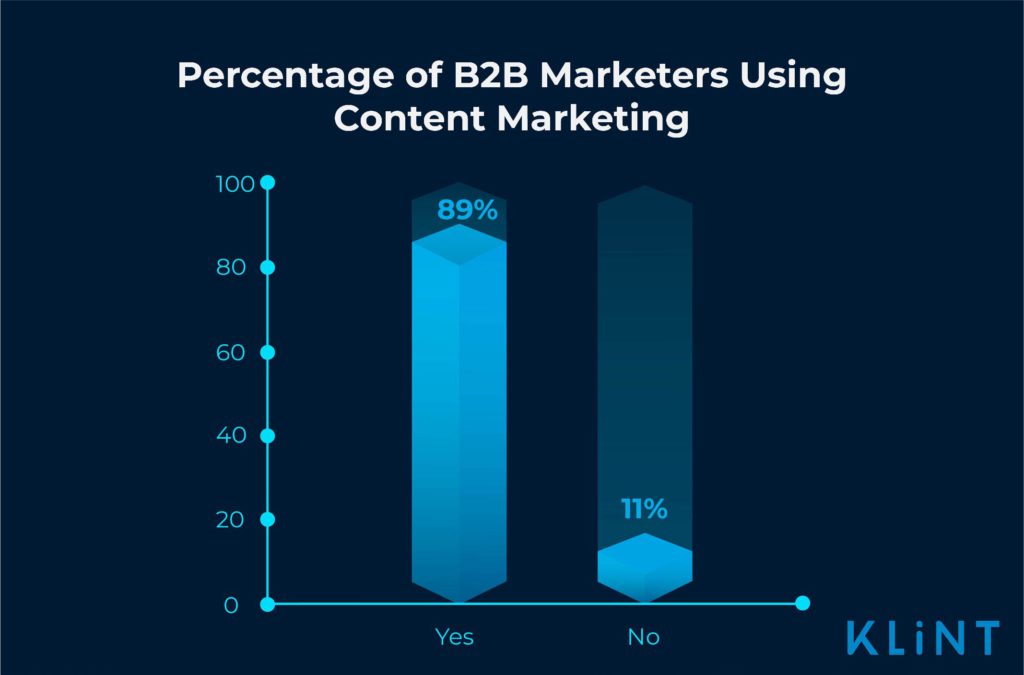 Should B2C use branded content?
This has to be another big YES. The use of branded content in B2Cs is extremely common as much as it is important.
The B2C market is typified by a high level of competition, making effective branded content essential for a brand to stand out.
An example of a format that has worked brilliantly for a B2C company is Porsche's interactive Formula E Unlocked video game.
Porsche used a branded video game to allow a wider range of consumers to explore Porsche's products, drawing them closer to the brand. This has generated a significant increase in engagement for Porsche, including on Twitch, a social media platform dedicated to gamers.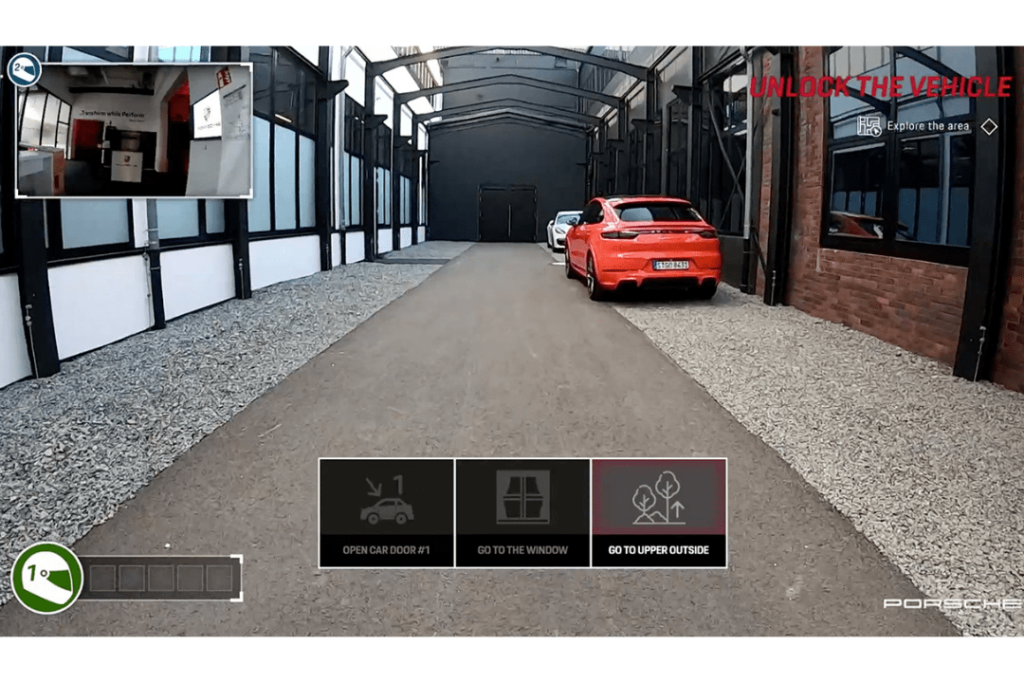 How do you create branded content? A 5-step guide
If you want to find out how to stand out from the crowd then branded content should make up a part of your effective marketing strategy.
Keep on reading for our 5-step guide on how to create unforgettable branded content!
1. Choose the value you want to convey
It is important to remember that you aren't advertising your products/services when creating branded content.
What you should be doing instead is communicating a value that you want the audience to unconsciously identify with your brand.
So instead of promoting product features, focus on the emotions you want to trigger in people, or what positive connotations you want the audience to associate your brand with. See the Brand Archetypes below for inspiration.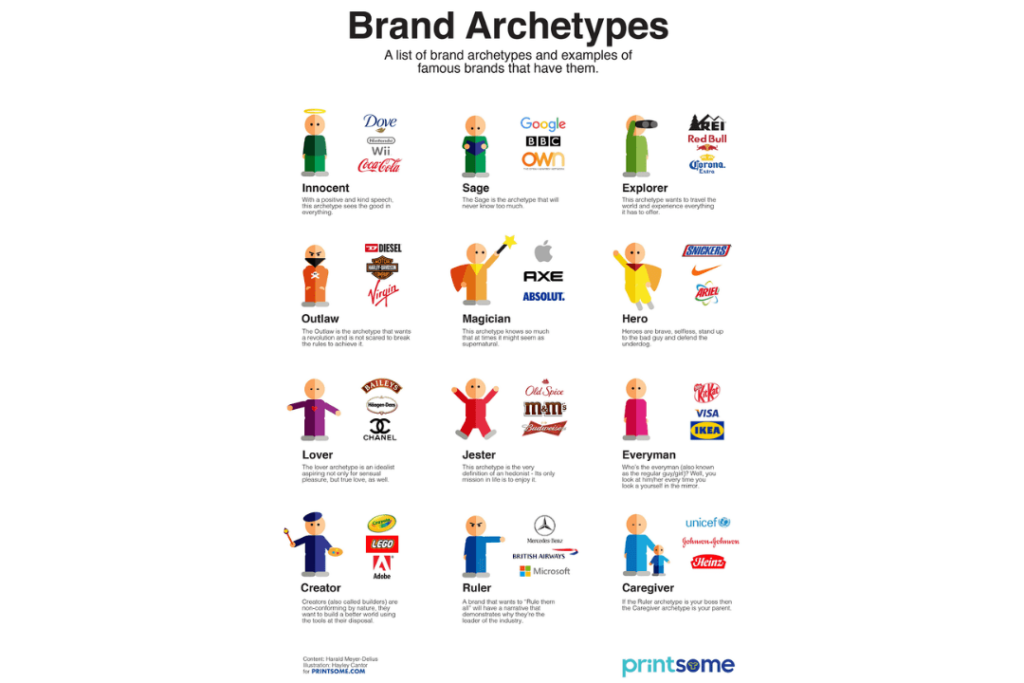 A brand archetype can be the basis from which to build your strategy, so take your time to figure out is best for you. The brand archetype can be considered to be a way of presenting the brands values, behavior, and messages as a persona. This makes it more recognisable and relatable to potential customers.
If you are struggling to define your strategy, get inspired by your audience through social media feedback.
2. Identify the right type of content for your activity and goals
Have a plan for the kind of content you want to create.
Not everything is for everyone. Some formats and types of content might be perfect for certain brands, but some formats may not align with your brands values, customers, or message.
To make an informed decision about the content that's right for you, we encourage you to conduct a market analysis and research your competitors. This allows you to assess the content your brand will have to most closely compete with.
You can also use social media to discover the type of content your target customers engage with the most.
[Related post: 28 Trends on Social Media in 2021]
3. Be original and keep it simple
The more unique the content, the more people will engage with it.
People are curious by nature, so why not spark your perspective customers' interest with something original and entertaining?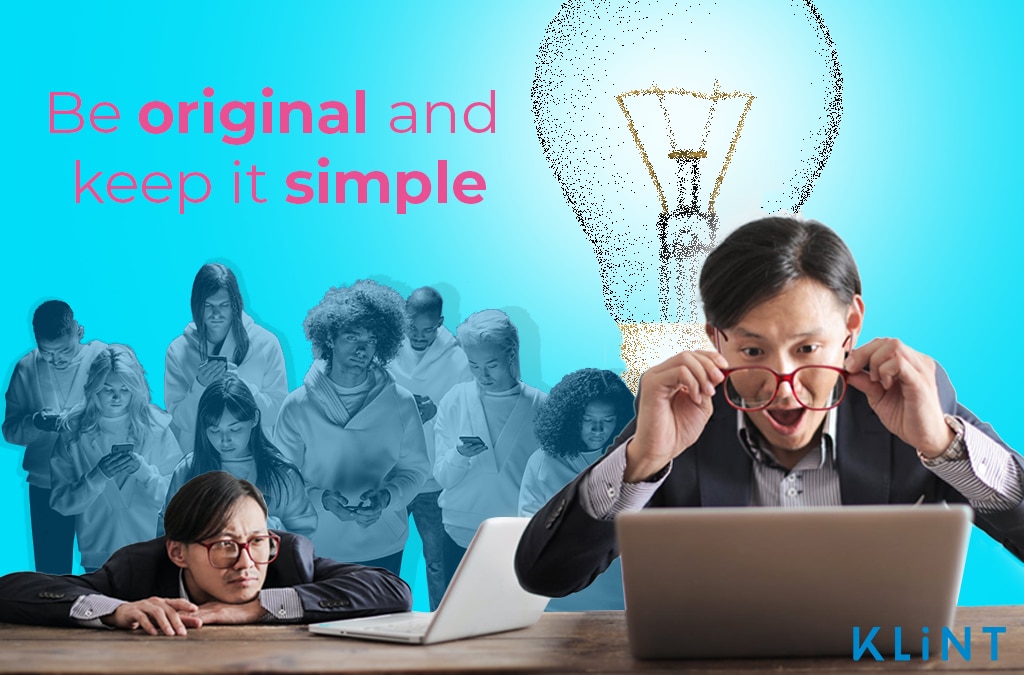 However, it is also true that as of today it is very difficult to capture the audience's attention for a long time (it is estimated that the average attention span is around 8 seconds), especially due to the number of irrelevant stimuli to which we are constantly exposed.
Time is our most valuable asset – and nobody wants to waste any.
This does not mean that content should be brief: it suggests that you should keep it simple and express yourself in a straightforward way. All whilst using a simple and friendly tone.
If you are unsure how to do it, you can always outsource this work to a professional. Take a look at this tips on How to Outsource Your Digital Marketing Efforts With a Small Budget by Neil Patel for guidance on the topic.
4. Be real and relatable
It has been proven that real experiences and the words of testimonials help bring consumers together.
Today more than ever there is a need for brand trust, meaning that people want to believe in brands, but they need proof that they can.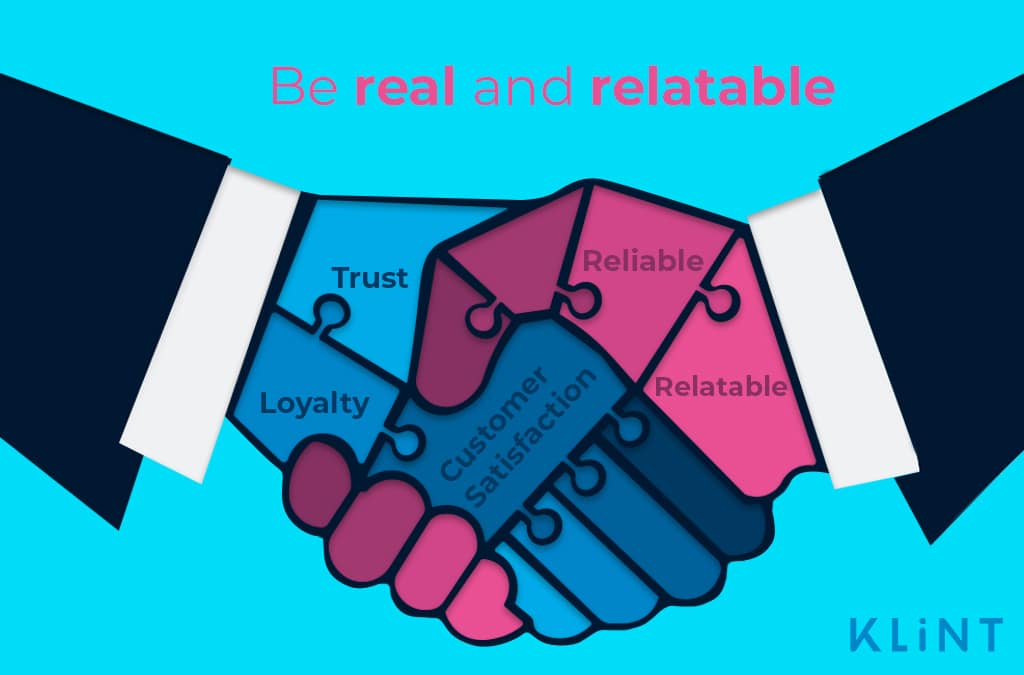 People tend to trust the opinion of fellow consumers and tend to follow the recommendations of people they know, as well as consumer opinions posted online.
In terms of consumer experience, relatable equals to reliable, so keep that in mind when creating your branded content!
5. Make it shareable – maybe even viral
When people have an emotional reaction to something, they typically want to share it with people they know.
So, once you've created the branded content for your business, add a call to action and allow people to share your content!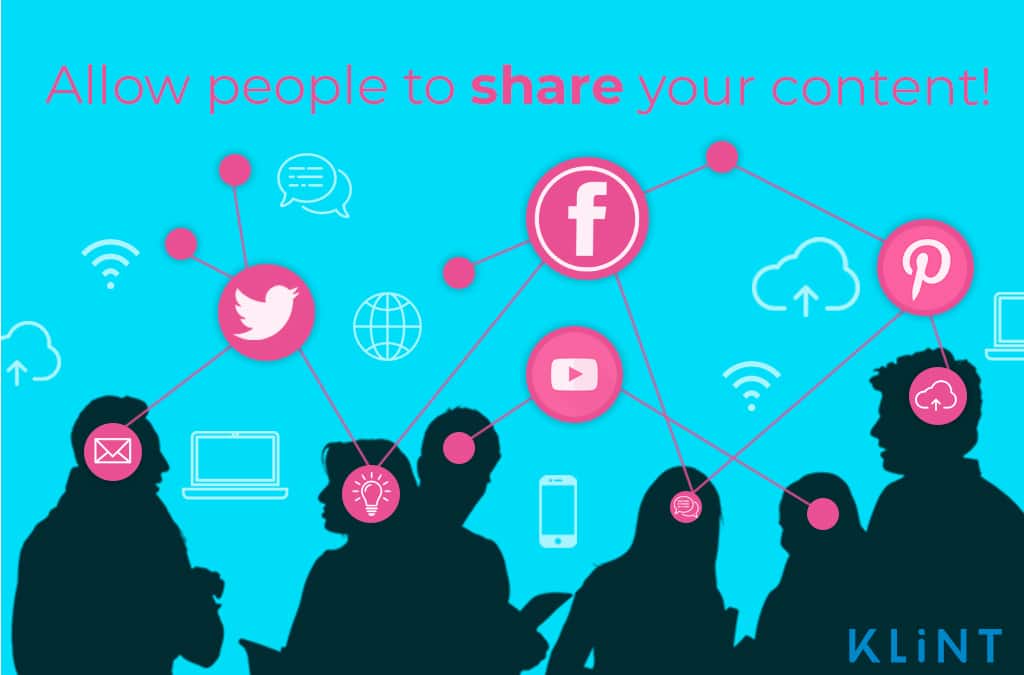 Unfortunately, there is no secret formula for creating viral content, but the share button is certainly your springboard towards virality.
The more social media platforms you make available to share your content, the more people you can reach. Ideally, you should be posting content across all the social media channels that are appropriate for your business. Realistically, you may need to lower your ambitions to only the most important channels, if you are working on a small budget.
Branded content ideas
1. How-to's
Although very similar to tutorials, how-to's are much more interactive and easy to understand, thanks to their step-by-step-structure. They usually made to help people solve some of their most common problems.
People are constantly searching for guides and how-to's on the internet. And consumers value the information they provide highly. This makes them highly shareable as people try to help their friends with similar problems.
This practical approach is very effective as it brings the potential consumers closer to your product/service while providing valuable information.
The internet is full of relevant examples, and how-to guides can be created for tasks ranging from the easily achievable to the extremely difficult.
For example, House Beautiful has published a how-to video guide explaining how to build an Ikea bed frame in 14 easy steps.

Take some inspiration from wikiHow – you might be surprised by what you find!
2. Free guides
This is a good example of branded content with educational purposes.
Offering free downloadable guides can be a crucial step towards transforming potential clients into loyal customers, as people feel like you are sharing your secrets with them.
This allows your brand to be perceived as trustworthy and transparent.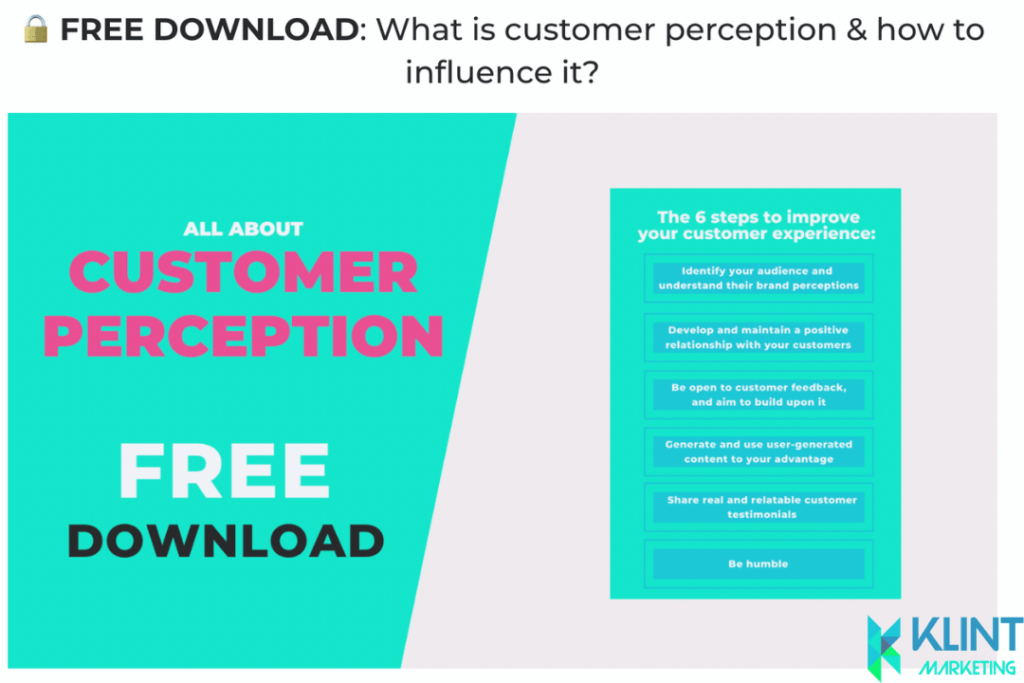 We produced a free guide on Customer Perception, because it was something our audience wanted, that aligned with our business' core competencies. If you want to build trust by creating guides, it should be about something you have expert knowledge in.
The best format for how-to's and guides are definitely blog posts. Need some inspiration? Check out our blog here!
3. Q&A's
Another way to generate branded content is through Q&A's on platforms such as Instagram and Facebook stories. This way users can directly ask questions about the brand and get on-spot replies.
Here's an example from beauty brand Glossier: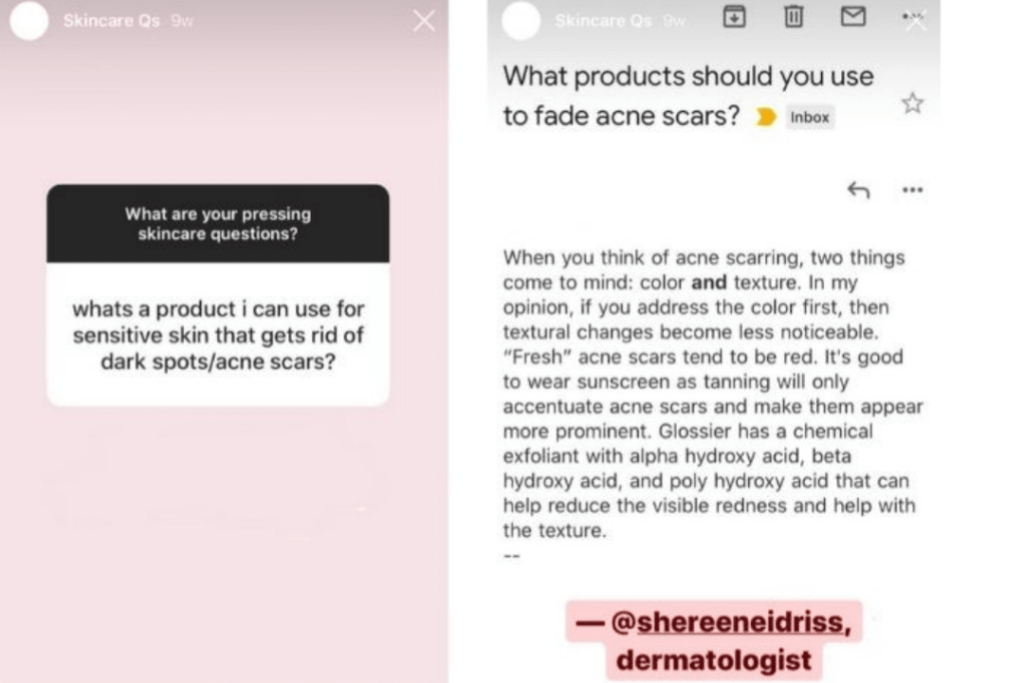 There are platforms that focus specifically on finding the answers to questions, such as Quora and Reddit.
Another more direct way is to hold an AMA (ask me anything). This can be hosted by a specific member of the company who can provide value or resolve issues your audience may be facing.
4. Influencers
Influencers have become a very powerful marketing channel for many companies. People trust influencers they follow, and a successful collaboration with the right influencer can allow you to reach a new audience and make it yours, too.
After all, if their favourite influencer uses your product or supports your values, why shouldn't they?
For example, Instagram influencer Kate Spiers posted a picture with her "must-have's" for the day. The smoothie brand Naked juice is tagged – and therefore promoted – on the picture.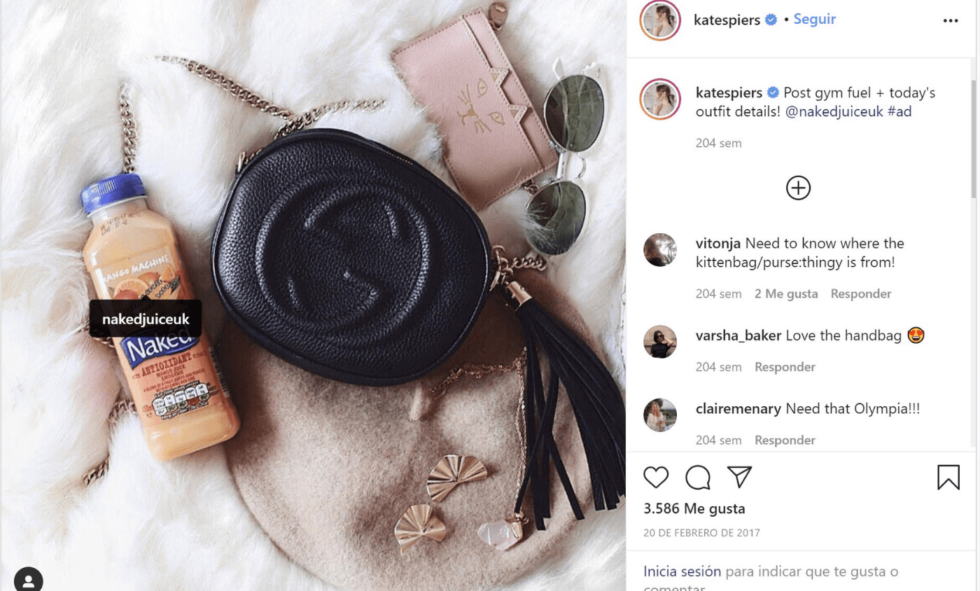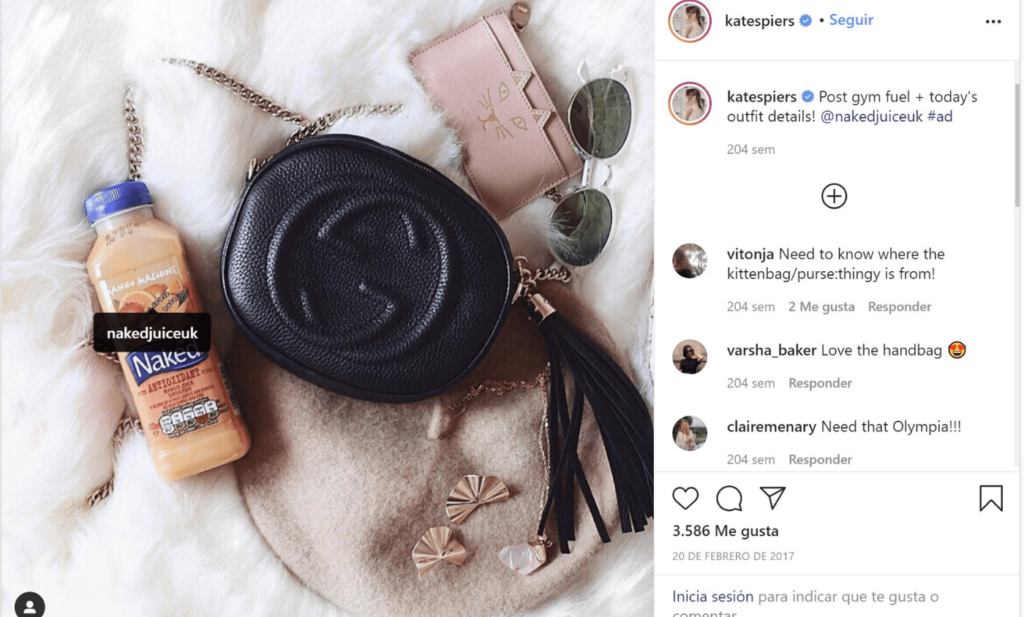 5. Social Media
Social Media offers thousands of possibilities for branded content – reels, stories, lives, and much more – so let's tackle a few of the most popular through examples.
Infinum is a software and design company that regularly uploads stories on Instagram, in which we can see how Infinum's employees spend their 8-hour workday.
This open approach portrays Infinum as a genuine and open-minded company that cares about its employees and relation with customers.
Another powerful social media tool is TikTok.
The app has become extremely popular, especially during COVID thanks to its challenges and trending topics.
Shoe company Crocs took advantage of the buzz around the platform by proposing a challenge to users.
The challenge involved users wearing Crocs whilst moving their feet to the music. Simple, fun, and easy to perform. The Crocs Dance Challenge went viral in a matter of days.
Crocs' goal here was shifting the idea of fun from the challenge to the Crocs themselves. Crocs noticed a bump in followers across their other social media platforms as a result, reaching a new audience that wanted to engage with the brand.
6. Contests
It is always a good idea to organize contests to engage with your consumers… or is it?
Let's take a look at a virtual contest that turned out to be one massive success, and one that, instead, ended up being a total fail.
In 2013, Eggo Waffles started a contest via social media, named "The Great Eggo Waffle Off". Eggo invited its audience to get creative and submit their favorite recipes that used Eggo. The most voted-for recipe would win a cash prize of $5000.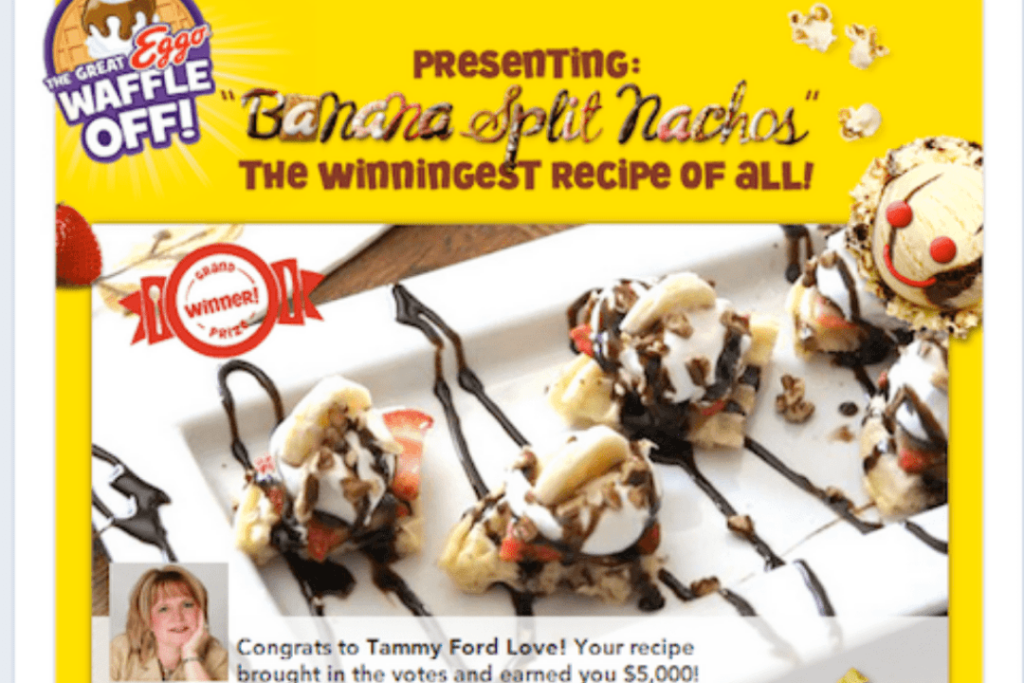 The goal was to showcase Eggo's versatility whilst letting consumers generate free content for the waffle company.
Two birds with one stone!
Many took part in the contest and engaged with Eggo on social media for voting – an overall success.
Contests are surely a powerful tool, but it is also risky business.
In fact, letting this much freedom of action to people might backfire and turn out to be half a disaster. This is what happened to Durex and its SOS Condoms campaign.
Durex invited its audience on Facebook to select what city in the world should be the recipient of their brand-new idea, a service that would deliver emergency condoms to all couples in need in record times.
Unfortunately for Durex, voters never took the initiative seriously and the winning city ended up being Batman, a conservative city in Turkey.
Needless to say, SOS Condoms ended before having a chance of getting started.
So, be careful on how you handle this double-edged weapon!
7. Infographics
Infographic branded content is a powerful tool with a lot of viral potential (58% of marketers use some kind of infographics).
Here's an example from LinkedIn Marketing Solutions – they helps marketers to engage with potential customers through the LinkedIn platform.
LMS came up with the idea that creating a content strategy is just like the need for a balanced diet – we need a little bit of everything to be healthy.
This concept relates to their value proposition: helping marketers find their audience. LMS translated this into a visual format as an infographic, making this concept easily digestible for their audience.
The infographic allowed the audience to better understand the value LMS could provide them, whilst also being a fun visual that they could use in their own lives. The infographic was widely shared amongst communities of professionals (LMS' target audience), increasing awareness and intent for the brand.
8. Events / webinars
Direct interaction with your consumers and followers can be the way to go to optimise engagement and generate trust in your brand.
It doesn't really matter if you organise in-person or online events (the latter have increased exponentially in number during COVID), and hosting a webinar maximizes audience attendance.
What matters is showing your audience that you are always ready to give them what they want or teach them something new and relevant to your brand.
At Klint we are often organizing events – check out our LinkedIn page to keep up to date on our webinar calendar.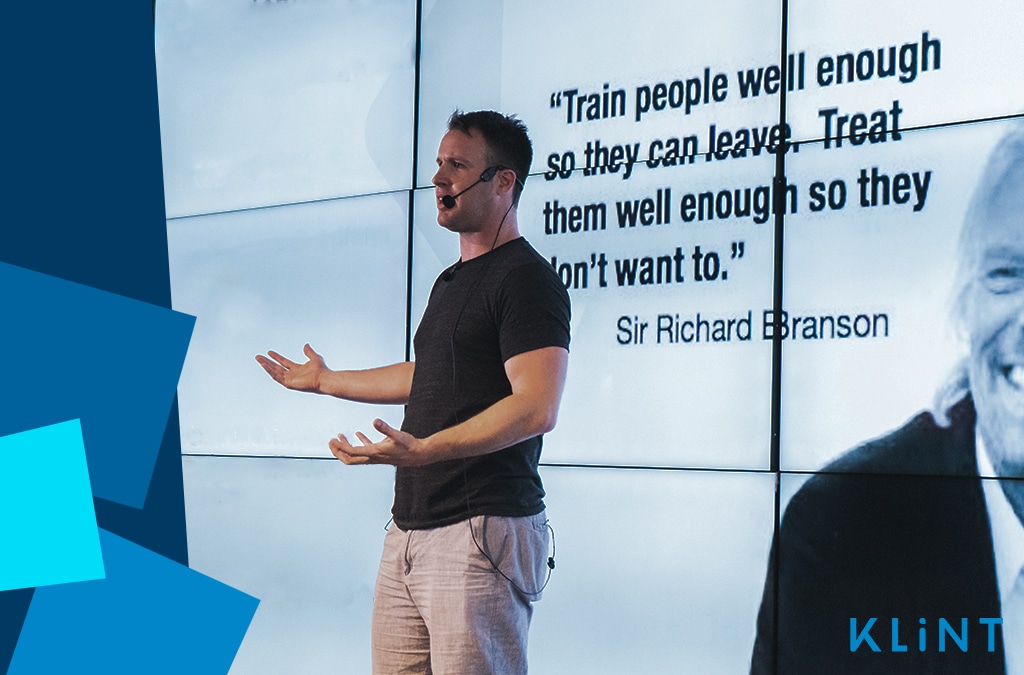 9. Social experiments
Swedish energy company Umeå Energi created a video in which they monitor the electrical pulses of the brain whilst users play a video game. The video demonstrates that lag-time causes frustration.
They directly relate this to their high-quality internet service. A clever (and viral) way to make a point about their competitive advantage!
Conclusion
In a world where people are constantly connected to the internet, most of us end up feeling exhausted by the constant overexposure to predictable – and sometimes lame – product advertisements.
The phenomenon known as ad fatigue makes it harder and harder to reach your target audience the right message today.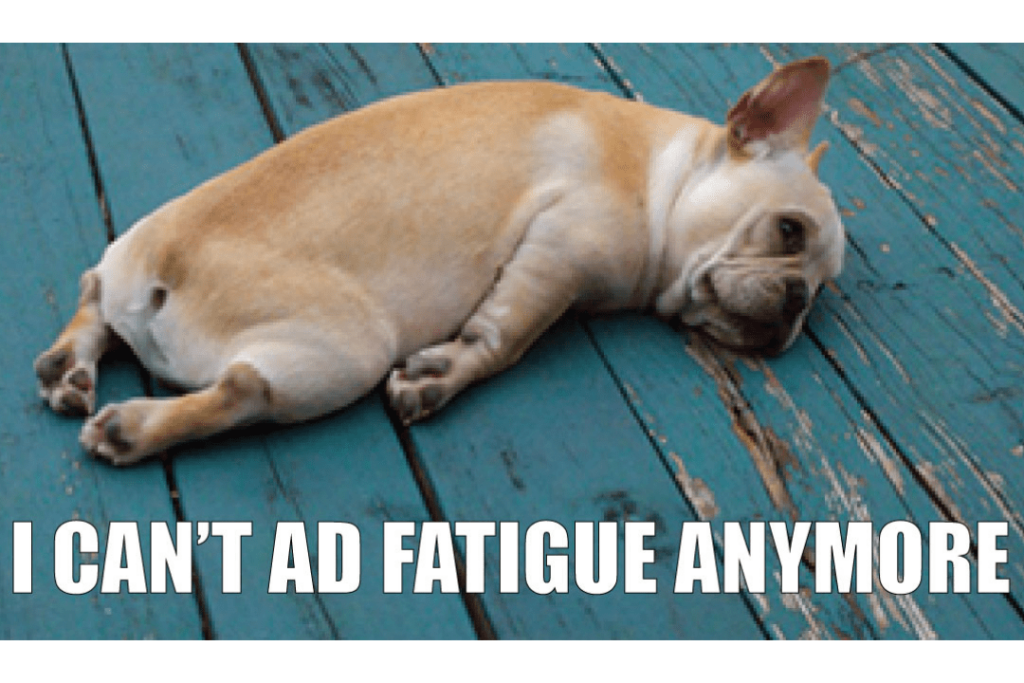 Digital marketing is constantly evolving, but customer engagement will always remain a priority. If maximizing engagement and combating ad fatigue is your goal, branded content can provide extraordinary results without frustrating your audience.
Reaching your audience with branded content allows them to engage with your brand on a personal level, generating a feeling of closeness between the customer and the brand. This can create customer loyalty and even brand love.
Through branded content, both you and your audience will obtain something valuable. For the audience, they receive entertaining, emotional and educational content. For the business, they build a more established market presence, increased brand recognition and potentially even new customers.
It's a win-win!
What is your experience with branded content marketing? Let us know in the comments!