A Step-by-Step Guide to See Your YouTube Subscribers
YouTube has quickly taken over as one of the world's top leading social media platforms, with the site being actively visited by 61% of global internet users as of February 2020.

Like many social media sites, YouTube is a fantastic way to connect with others to share similar interests, explore new ideas, or to learn new skills via the site's plethora of "Tips &Tricks Tutorials".

Nevertheless, with the site expanding exponentially year-on-year with more channel creators, it stands to reason that, as a "YouTuber", keeping track of your subscriber base has grown into an ever more powerful tool to help gauge and develop the direction of your YouTube channel.

For example, by seeing what type of YouTube Subscribers follow you and like your content, you are in a better position to be able to generate new ideas, and better understand what kind of videos appeal best to your followers.
So, this step-by-step guide shall take you through the 5 necessary steps to see your YouTube Subscribers.
You can also find a bonus guide through YouTube Analytics.
Step 1. Log in
Log into your YouTube account and click on your profile photo in the upper right-hand corner of your screen (as shown below). 
---
Step 2. Go to your Channel
Find and click on the "Your Channel" option from the drop-down menu.
And click there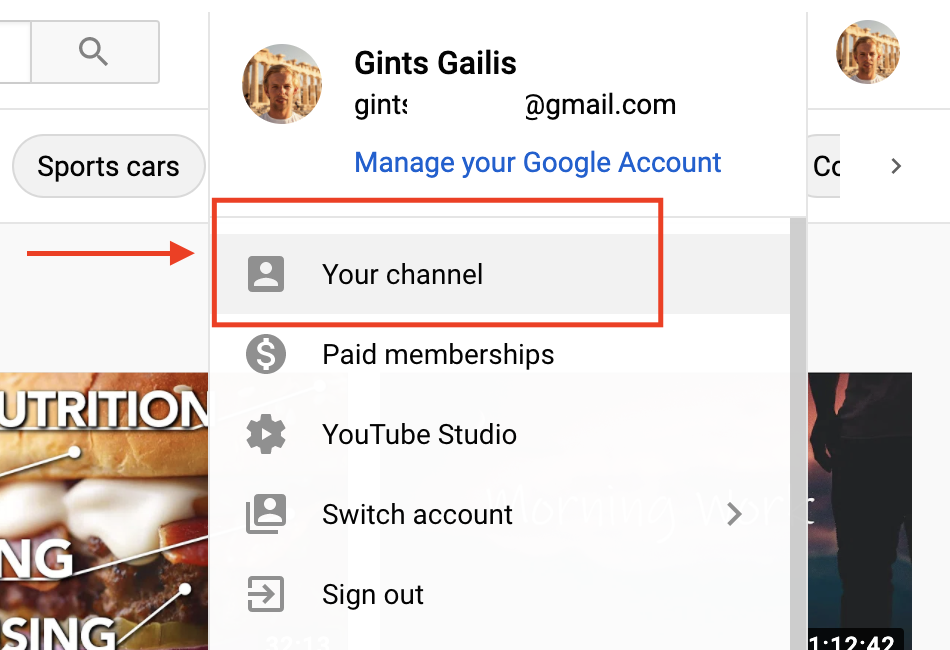 ---
Step 3. Go to Customize Channel
Go to the "Customize Channel" option.


---
Step 4. Preview your subscriber count
What should appear above your YouTube Profile and Banner is your total number of subscribers to your channel alongside your total viewership count. 

Click on your total number of subscribers to take you through to the final page.
Here  you can see the changes that has happened on your channel through  the last days
Have you gained new followers 
Have there been new video views 
How has the watch time changed 

Here you will get more insight in your youtube subscriber analytics.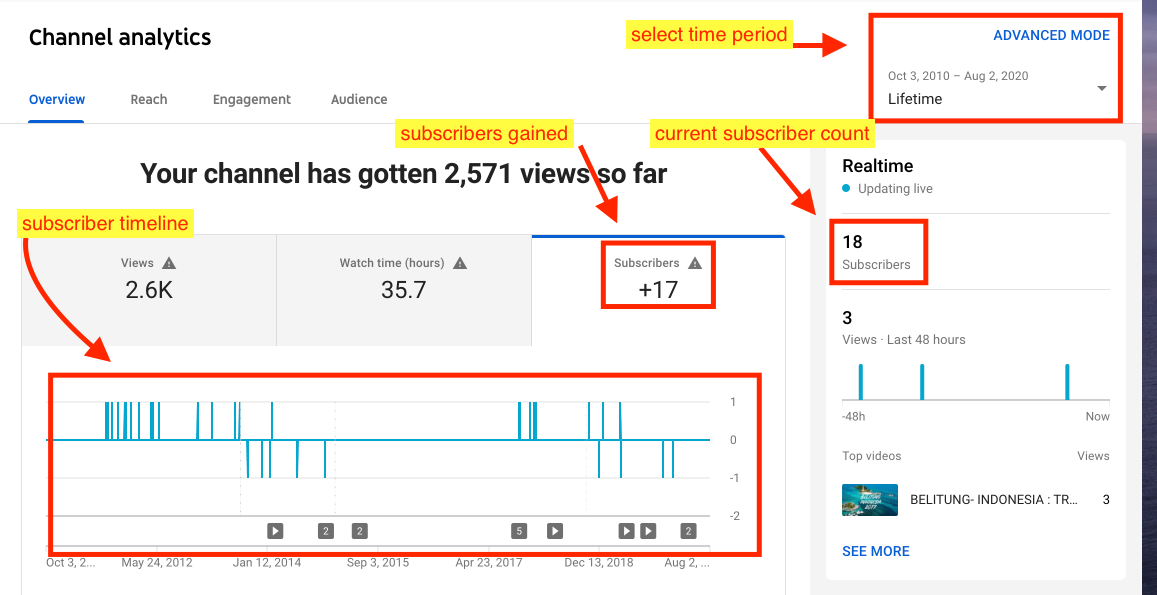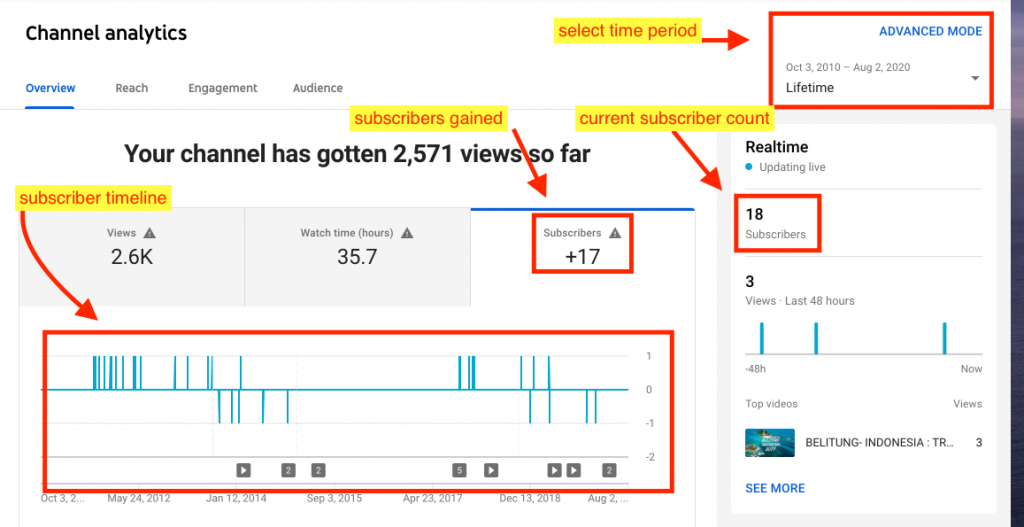 ---
Step 5. Advanced YouTube analytics
Advanced Mode


Here you will be able to see more detailed analytics not only about your subscribers but also about your channel behaviour.

This page gives you good insight into what are your most viewed videos and where does the traffic come from.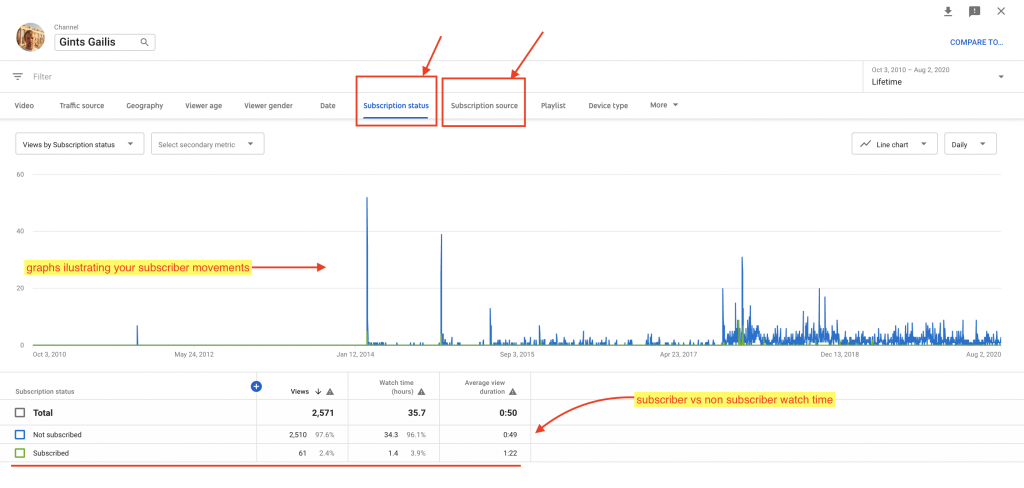 You can get more insights and other relevant metrics if you click on the left side menu.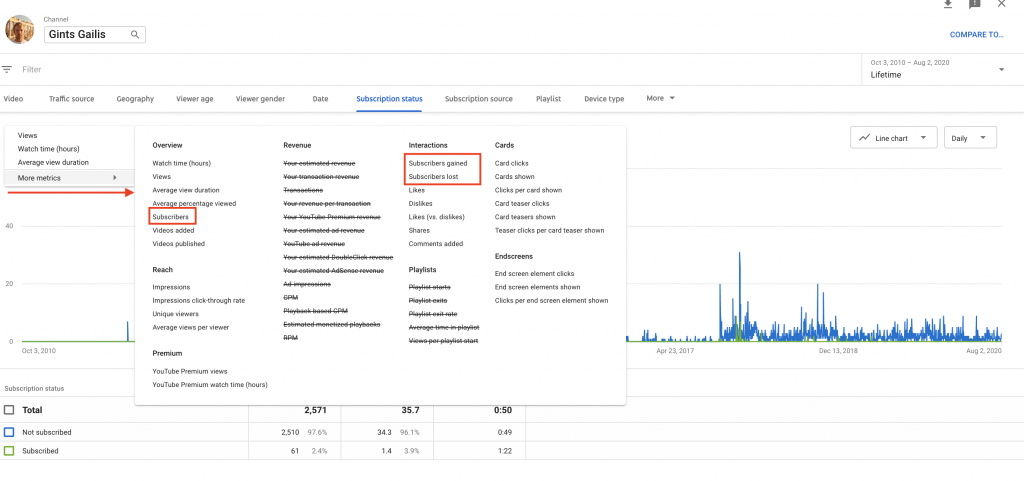 Youtube allows you to create different dashboards to illustrate relevant metrics.
You can also preview demographic data of your subscribers. This data can give you insight on what type of demographic does resonate the best with content your making.

To see your youtube subscribers demographic data click on relevant filters and create dashboard.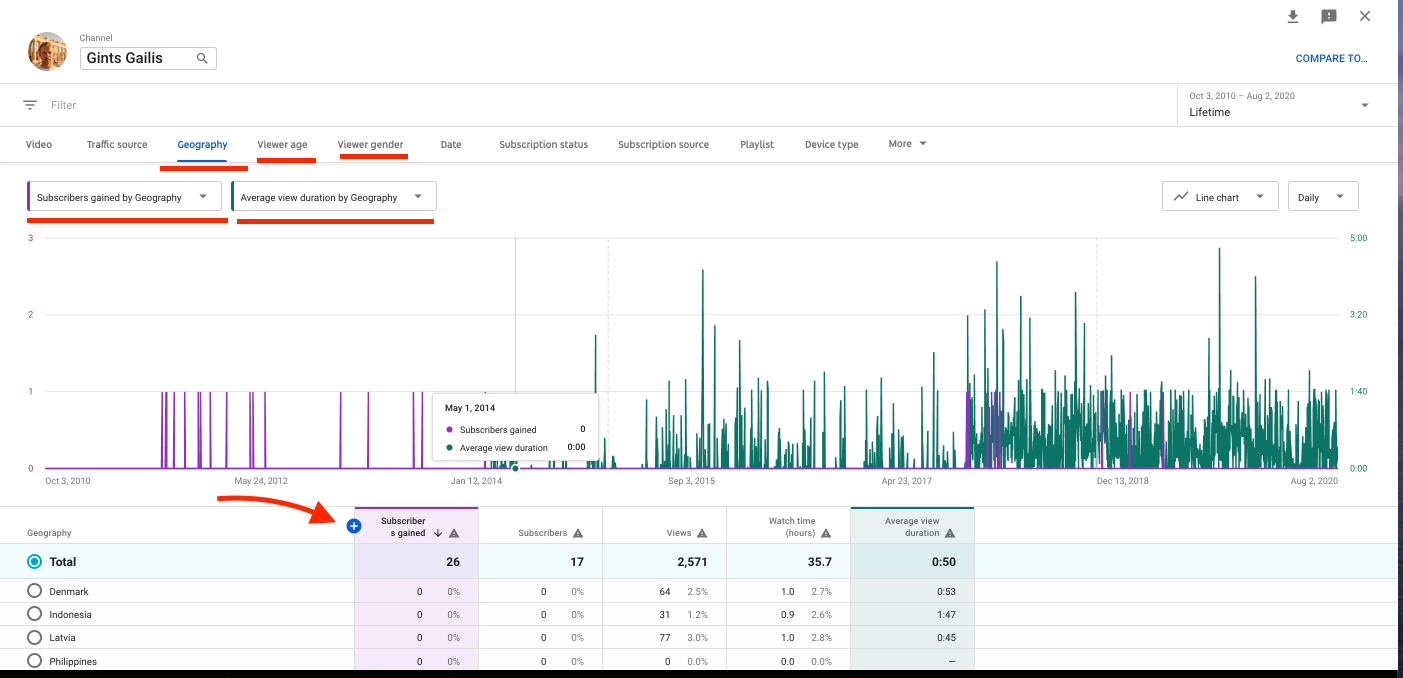 So far we have seen analytics on our channel in general.
It is possible to see also to see analytics on each video.

It can be helpful if we trying to see how many youtube subscribers we gained with particular video.

Go on top search bar and choose video analytics you want to analyse and select it.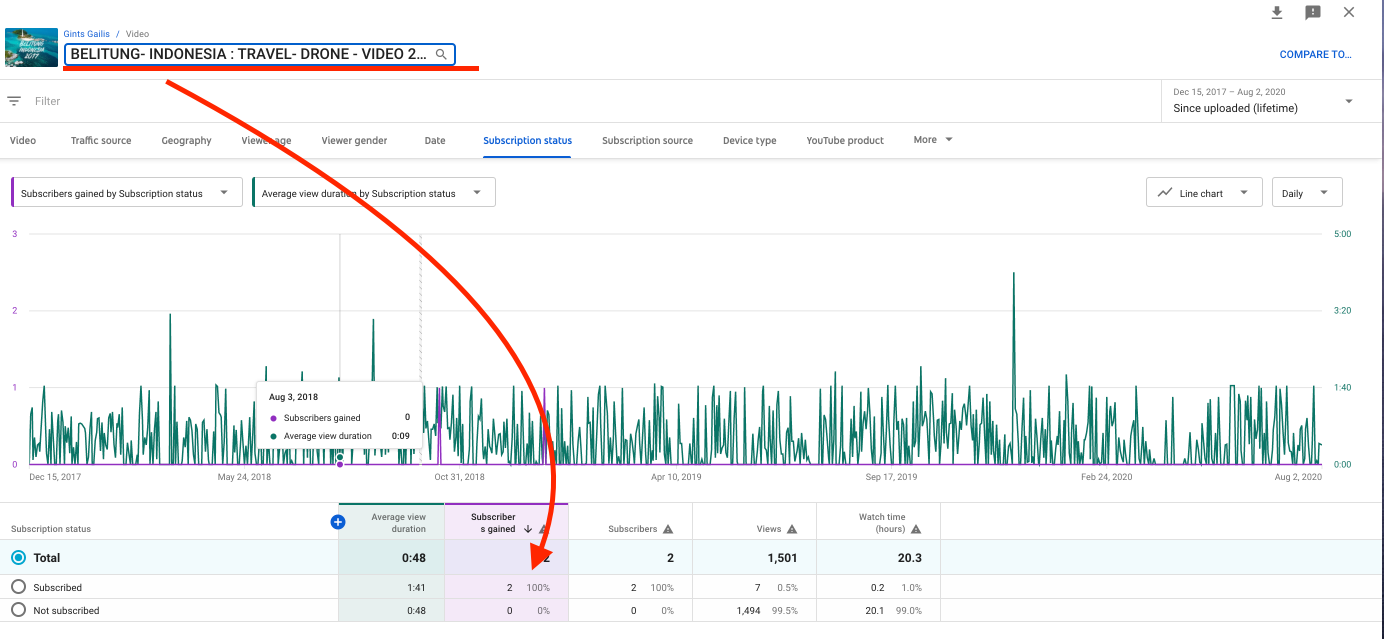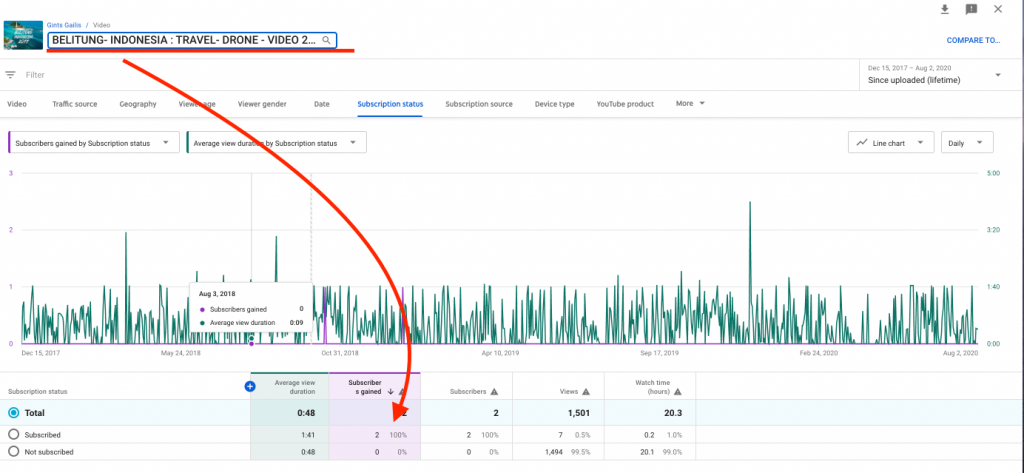 This was a simple guide on how to see who is subscribed to you and insights on  your audience.

It might be helpful also to see who are the youtube channels  that you re following.
---
How to see to whom you are subscribed?
In order to find out this information you will need to click on your profile picture on the right corner.

Then click on your channel.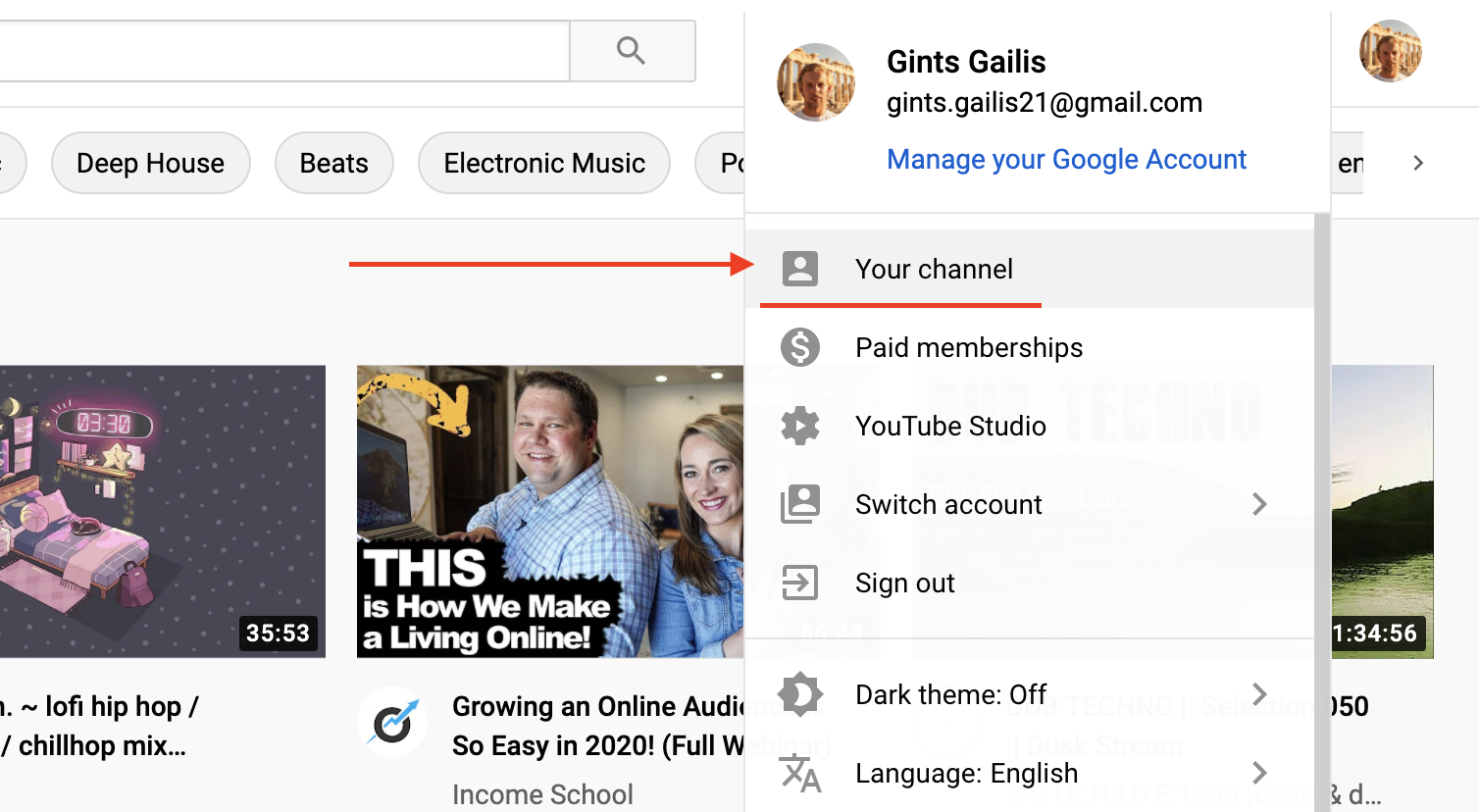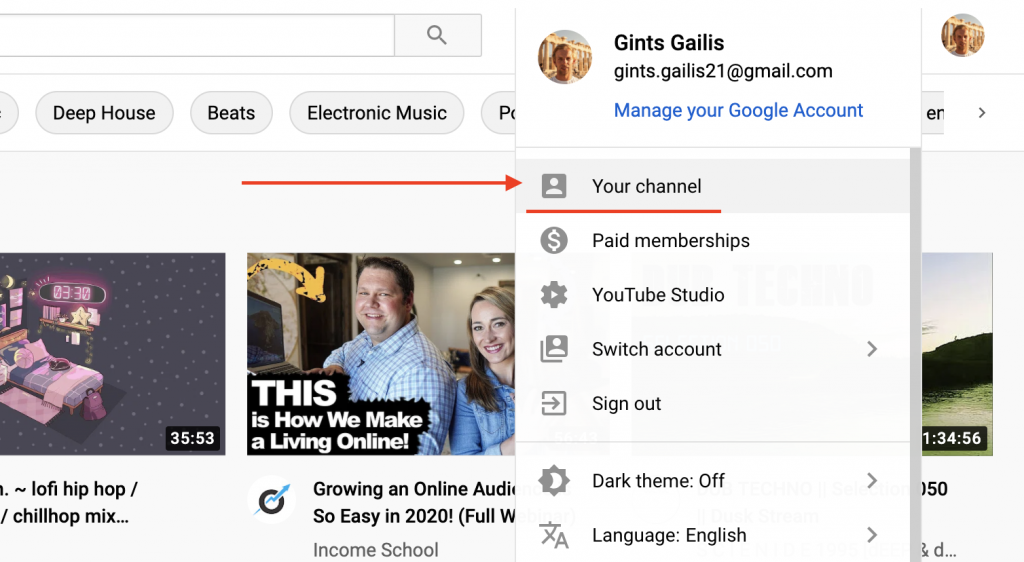 Once your inside of your channel click on ,, channels,,


Here you have a dashboard with all the youtube accounts you are subscribed to.

You can see also here how many subscribers each of these youtube accounts has.

If there is an account you do not to wish to be subscribed you can simply click ion the grey button under their profile picture and unsubscribe.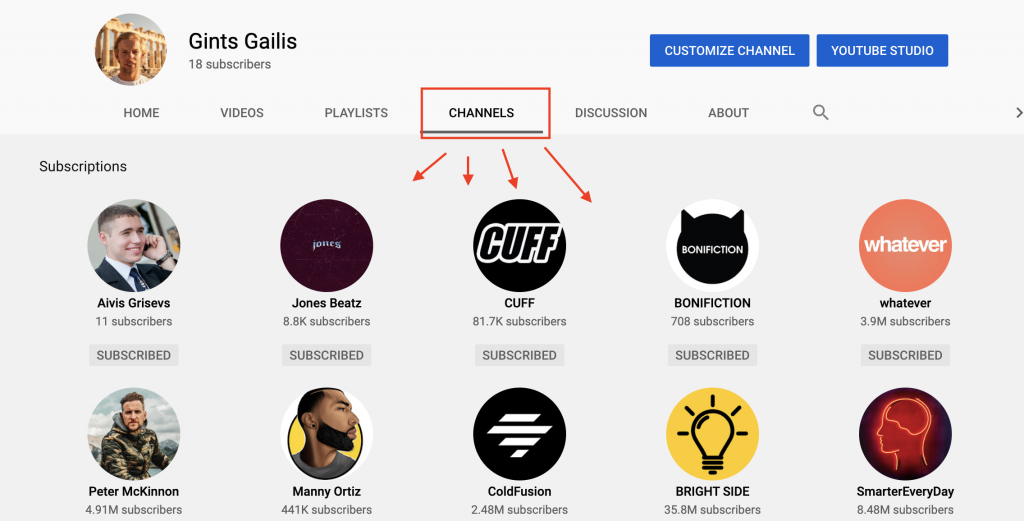 Similarly you can also see to whom are other channels subscribed to.

Let's say I am curious to know who are Jones Beatz subscribed to.
We should click on their profile picture.
Then we choose channels.


And here we are able to see all of their channels as well as the channels they have been subscribed.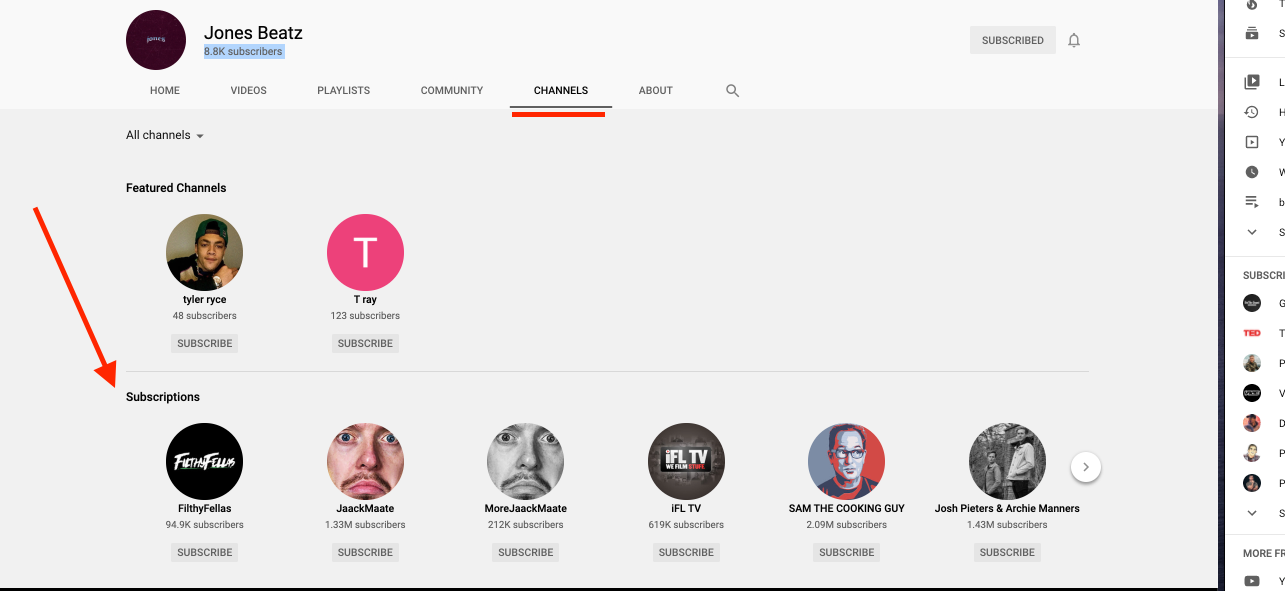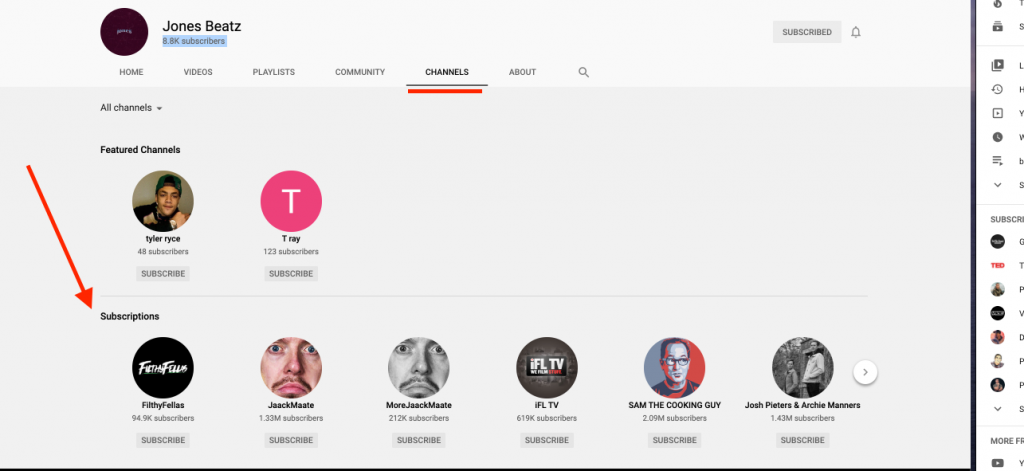 We can check pretty much any channel on YouTube like this. 
Note that the account owner can choose to hide the subscriptions, in that case you will not see any channels that they are subscribed to.
If that is the case, this type of account also will not trigger notification once it subscribes to another YouTube channel- but it will still be added to youtube subscriber count for that channel. 
Was it helpful to see your youtube subscribers and bit more of the analytics behind it?
Do you want to learn more? Check out an article about the most popular 20+ trends on Social media.