This compilation of the best digital marketing articles gives you the ultimate cheat sheet to get an overview of digital marketing activities that your company can benefit from.
Yearly, companies spend billions of dollars globally on digital marketing.
At the same time, it is grueling to be an expert in every field, while running a business.
There are numerous ways of doing digital marketing, such as running PPC campaigns, social media ads, and keeping up with the latest algorithm updates.
Our experience as an unconventional marketing agency has provided us with tons of great content to use for experimentation and learning.
These digital marketing articles are extremely helpful for catching up with the latest marketing trends and helping others get inspired to learn.



Top 5 Digital Marketing Articles About SEO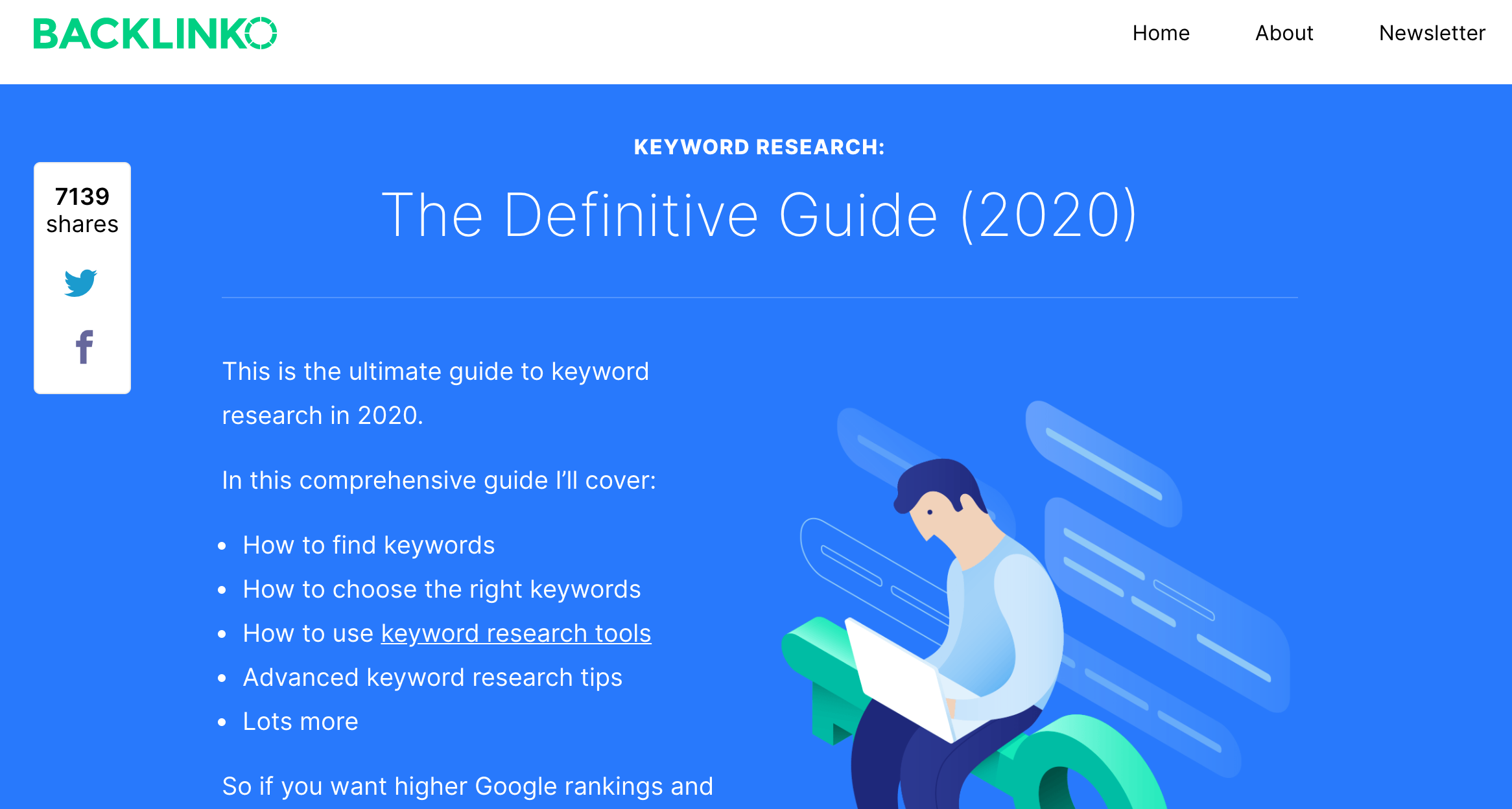 One of the first steps while developing an SEO strategy is creating a keyword list.
Your potential and existing customers will be able to find you on different search engines via these words and phrases, and they will thereby provide you with a chance to engage with these customers.
Backlinko is one of the leading platforms if you want to learn how to get higher online rankings and more traffic to your website.
The article describes clearly the process of targeting the right keywords; from finding the most suitable words to building up an article around the phrases.

Before hiring an SEO manager or growth agency, you will probably rely on advice from friends and content you have read before.
It's crucial to plan your SEO activities, but it is also highly recommended to know what not to do.
The above-mentioned digital marketing article can help you with this issue, and even though it contains some coding jargon, it is extremely helpful to eliminate the myths in the SEO world.

Probably you are aware of the fact that Google and other search engines are run by algorithms.
However, you may not know that these formulas are changing on a monthly basis, and they are the ones determining your web traffic.
To keep track of all the updates we use Barracuda, a free tool that helps you to understand whether you have been affected by recent algorithm updates or not.

Your webpage is going to be one of the first touchpoints where you can educate your customers about your product or service.
Consider this fact:
There are 4.2 billion webpages around the world.
That's a lot of competition… Which implies you need a strategy to keep visitors on your page.
Content, title tags, and user experience can all be deal-breakers when it comes to building a strong website. The above-mentioned article can give you a pretty good starting point to improve your platform.

You have built your website and now you are ready to receive the enormous flow of visitors hungry to see your product.
But how do you know if your platform performs as you expect? Google Analytics is going to be your primary source of feedback before you try other paid tools just as Ahrefs or SimilarWeb.
It takes some time to understand the charts and statistics completely, but this digital marketing article from Conversionxl will give you a clear summary of Google Analytics.


Top 5 Digital Marketing Articles About Content Marketing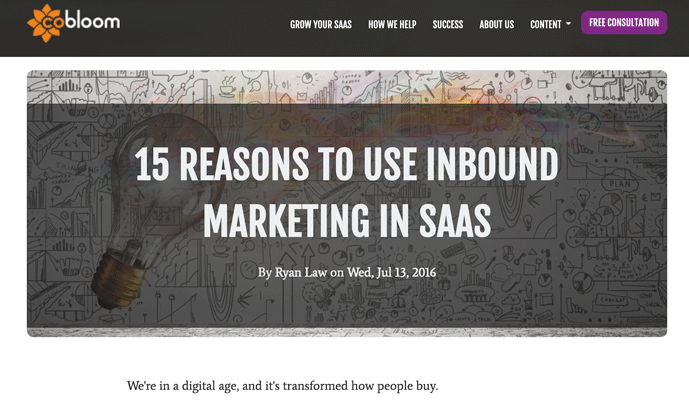 Let's start at the basics. Why do successful companies write blog posts?
The whole point of inbound marketing and content creation is to convert strangers to visitors, visitors to leads, leads to customers, and customers to promoters of your business.
It is a complex process and founders have to build various departments to cover each stage. At the same time, it's worth it.
55% of marketers say blogging is their biggest inbound marketing source. Cobloom's article summarizes the advantages of inbound marketing, and why it has been outperforming the traditional way of marketing for years.

Now you got a better understanding of the importance of content marketing. But how often should you publish content?
In the case of both B2B and B2C businesses, there is a simple rule. The more you post the better. B2C companies that publish blog posts 11+ times a month get 4x more traffic than those that have 4-5 monthly pieces.
If you want to see more statistics about blogging, or if you want free blog templates, visit HubSpot's digital marketing article.

You have published a bunch of articles and now you are waiting to get traffic. Some of your content performs better, some of it worse.
One of the reasons can be that you published at the wrong time. Since the first blog page was created, there has been a mystery around the best time of publishing content.
Numerous researches have been conducted, but there is not a simple answer for the best time of publishing your content.
There are plenty of instances when some articles tend to receive more traffic. It's recommended to start with the high performing content before you conclude your analysis of your audience.

Are you not operating in the skyrocketing industry? Chin up, you can still write interesting articles to your market! Sometimes it can just be difficult to find inspiration to write engaging content.
Content marketing is an "industry" to itself, with a value of $412.88 Billion.
You need to attract your audience in unique ways to stand out from the competition.
Create interesting, informative, or valuable posts in a boring industry, as this will increase your chances of standing out!

"Long posts usually perform better on every level" claims Neil Platel, one of the leading digital marketers of the current era.
There have been many other studies on determining the optimal article length.
So, what are the hard numbers?
On average, longer posts get 77.2% more links than shorter ones.
You need to generate marketing campaigns that result in longer articles. These articles are more likely to get more backlinks, more shares, and a higher chance to result in more leads for a longer period of time.
This changes the way an entire department works.


Top 5 Digital Marketing Articles About Video Marketing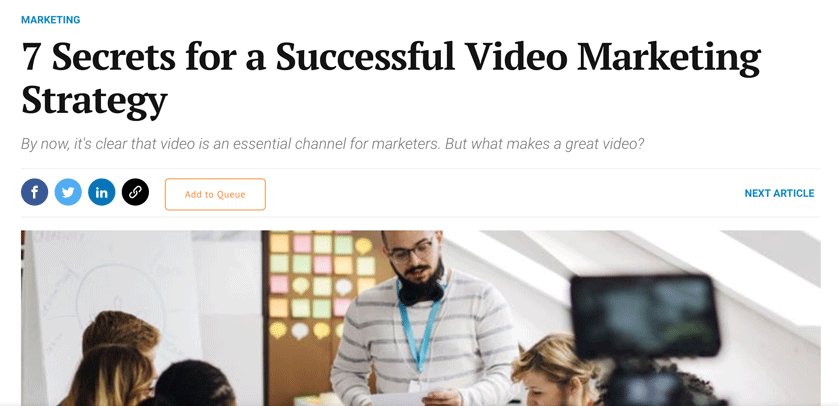 Why do you need to implement videos in your marketing strategy?
On average people spend 88% more time on webpages that have videos.
Besides, you are 80% more likely to generate leads from visitors by using video content on your landing pages.
Statistics speculating on the future of content show that the implementation of video and visual content will be taking over the more traditional content.


Thumbnails

Eye-catching thumbnails create a hook. They start the storytelling process and intrigue viewers enough to click on your content.
81% of companies already use videos to grow their business. How many of them put the necessary time into creating eye-catching thumbnails?

If you are operating in a B2B industry, LinkedIn is likely to be your primary social platform to reach out to, and engage with, your audience.

LinkedIn Stats: This is where professionals network online:




The majority of LinkedIn users are using the platform for the same reasons as you:


At the same time, these are busy business people.
Most users don't bother with reading long-form articles on the platform.
They consume the shorthand version in the form of slides or a short status.
Moreover, many LinkedIn users would rather want to watch videos.
This digital marketing article gives an overview of strategies that you can use in order to leverage the potential of videos on LinkedIn.

How to get started with video marketing on Twitter?
Twitter is the second platform when it comes to social media that can help to grow your business.
Back in the days, it was purely a place for B2C marketing but since then it has become an amazing place for B2B marketers as well.
Contents with videos on Twitter are 50% more likely to raise brand awareness than those that have purely written materials.
Besides, videos are 6x more likely to be retweeted than pictures.



With 2.2 billion active monthly users, Facebook is the biggest social media channel that marketers can utilize.
The article below is a great cheat sheet for getting to know more about scheduling Facebook posts, call-to-actions, optimal video length, and much more!

Posting videos on your social media has big potential. It's a great way of engaging with your audience.
On the other hand, these videos have to be produced constantly in order to continuously appear onto LinkedIn, Twitter, and Facebook.
Videos on landing pages have to be made only once and it increases the likelihood of converting your visitors into leads, and hopefully later into customers.
Read the above-mentioned digital marketing article to get a better image of how to implement videos into your landing page correctly.

In this article, 30+ experts share their experience and best practices on how explainer videos helped them in closing more deals, in less time. Learn from the real-life experiences shared by the industry experts by reading this article!


Top 5 Digital Marketing Articles About The Psychology of Marketing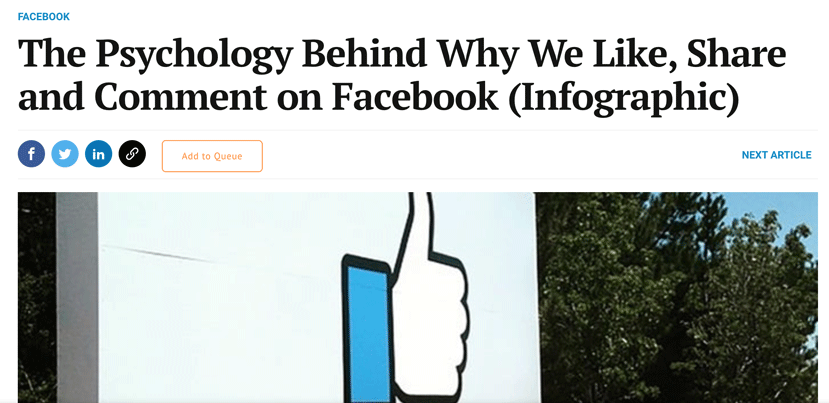 Why do we like, share, and comment on stuff on social media?
Human psychology is extremely complex, and in order to build a successful marketing campaign, some insights into the human brain can be a huge plus.
The article contains a long infographic that can be relevant while setting up your strategy for the coming months, or if you just want to make some quick wins.

Why does some content catch on, and some not? In many cases, you want to target a broad audience, which leads you to make your topic too generic.
A lack of targeting can be extremely harmful, and eventually, you can end up wasting your time writing a 2000+ word article that nobody reads.
This specificity strategy builds on the theory that people are seeking out to experts, rather than to the claims of random persons online.
Hence, there's far more specialization required, and a great need to show why your opinion matters. Currently, we observed more specific articles written for specific problems gaining more overall traction.

Why do cat videos and PSY's horse dance go viral?
Why is my company still unseen in the industry, despite my marketing efforts?
Jonah Berger's STEPPS model is one of the basic theories of marketing and going viral. The acronyms stand for Social Currency, Triggers, Emotion, Public, Practical Value, and Stories.
We loved the above-mentioned article because it compares the credibility of the theory between when it was created and today.

How to increase the number of signups?
People get a tremendous amount of impressions, both from the digital and offline world.
Making your visitors sign up for your news, and receive even more information is not that easy as it sounds.
There are certain techniques that work in a big majority, which can help you generate more leads for your business.
Cheat sheets and guides seem to resonate with customers, besides there are a few more materials that you could hook their attention with.

Why do people open emails? Based on a research conducted with 1,720,490,613 sent emails, the average open rate was 13.53%.
What about the rest?
Long subject lines, exclamation points, and unspecific subjects are all factors that can reduce the number of email opens, and thereby undermine your lead generation expectations.
But it's not everything. The article mentions many more statistics and recommended steps to increase the likelihood to engage with your page visitors.


Top 5 Digital Marketing Articles About Conversion Rate Optimization (CRO)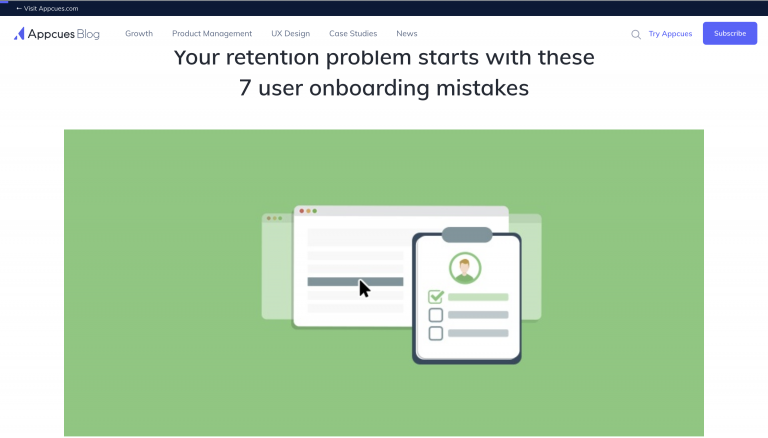 The bounce rate is one of the key metrics that indicate whether or not your visitors are satisfied with your webpage.
There are some misunderstandings regarding this term and the way you can reduce this dissatisfaction.
Even if your site posts amazing content, most visitors will still leave your website without visiting other pages.
To prevent this from happening, understand your Google Analytics, and take into consideration your keywords and other factors that are discussed in the article!

How can you benefit from an engaging landing page?
How can it help to convert your page visitors?
Where do your customers come from?
There are lots of questions that have to be answered while building your landing pages.
In this digital marketing article, you will find all the answers to the mentioned questions, as well as further suggestions for improvements.

So, you got a better understanding of what to do to optimize your conversion rate, now it is time to talk about retention rates.
It is 40x more likely to sell to an existing customer than it is to acquire a new client.
Not enabling push notifications, or asking for the credit card prior to checkout, are just two of the various possible mistakes that you can make while trying to improve your retention statistics.
Take a look at the article and find out more about other factors that can be influential at this point.

You have built your landing page.
You did everything by the book, and now you assume that it should perform correctly.
How can you be sure your customers perceive it valuable enough though?
82% of marketers say it is somewhat, or even very, challenging to effectively test the outcome of their actions.
One option is paid user testing, but honestly, you probably prefer things for free.
This list of alternative products can be useful if you are looking for other ways of getting feedback on your newly built website.

The last step you can implement to improve the conversion rate is using referral flows.
It's a widely used method because it is a cost-efficient way of acquiring new customers, and referrals have come from trusted connections.
People are 4x more likely to purchase from a company if they were referred by someone they know. Dropbox, Evernote, or Prezi have used and use referral flows proving the efficiency of this way of experimenting.


Takeaways For Building Up Your Digital Marketing Strategy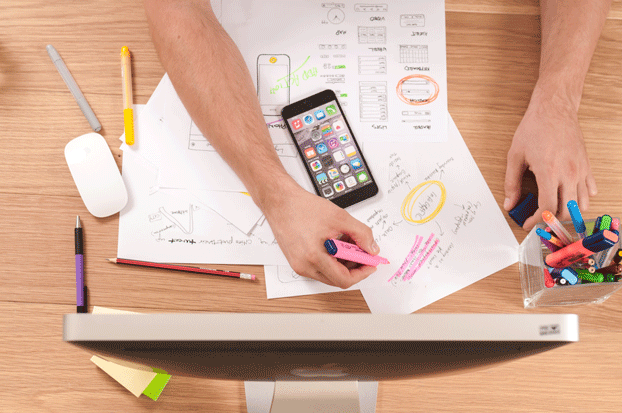 When you consider setting up your company SEO, think about the following aspects:
Make sure you target the right keywords, implement them into an engaging landing page, and keep up with the continuous algorithm updates by getting a full understanding of your Analytics.
After making sure the inbound marketing is beneficial for your business, start to make your content strategy.


Ask yourself these questions before you start producing content:

How long should my articles be?
When should I publish my content?
How often should I publish?
Am I operating in the most exciting industry, or not?
How can I stand out from the crowd?


You should also be creating video content:

Do you have a videographer on your side, or do you outsource one?
If the answer is no, you are missing a lot of engagement from your visitors. Facebook, LinkedIn, Twitter, and your landing page are all great platforms. And video marketing can actually make the best out of them.


What is your goal when you post content on social?

It is probably getting likes, shares and comments, signups, and making your content go viral. We listed 5 digital marketing articles about the psychology of marketing that can help to understand why things catch on, why marketing specificity is important, and how to make sure your marketing emails get high open rates.
Moreover, conversion rate optimization (CRO) is essential in order to make sure you do not just waste your time with your marketing activities.
Your goal is to generate leads.
Reduce the bounce rate
To use referral programs
Implement user testing
And optimize your landing pages
All the above-mentioned actions can be great ways of improving your CRO metrics. The 5 digital marketing articles will help you to get a clear image of how to use them.
In an ever more competitive digital world, companies that fail to improve their marketing strategy can easily fall behind.
SEO, content marketing, video marketing, conversion rates, and human psychology are just some of the most important factors that are essential to take into account while making your plans.
In this list, we provide you with some of the most valuable articles that helped us to give better service to our clients!
And in case this wasn't enough marketing hacks for you, have a look at our article on the 70+ best Digital marketing books!