A few years ago you probably wouldn't have imagined Googling webinar tools and landing on this page…
But then a pandemic arrived and every single aspect of our lives moved online.
So, here we are, still affected by the pandemic that forced most companies to go digital.
In this article we'll explore why you need webinar tools for the work-from-home era, and provide some tips on how to use them to conduct a successful webinar.
But if you're just here compare tool features and pricing, you can jump to the list of webinar tools here.


Productivity During a Pandemic
To stay productive during through the lockdown period, many businesses began working remotely. As a result, the utilization of live webinar tools increased exponentially.
At first many business owners believed there would be a drop in efficiency or effectiveness. Yet, the use of digital tools turned out to make everyone's life easier.
Technology has enabled most of us to work from home with nothing more than a computer and a webcam, communicating and collaborating with coworkers whilst respecting social distancing rules.
To this end, a survey by goodfirms.co found that 46.5% of companies have increased their use of webinars since COVID and 28.3% said use of webinars had significantly increased.
This figure may be unsurprising given the circumstances, but even before the pandemic, 73% of B2B marketers agreed that a webinar is the most efficient method of generating high-quality leads.
What is a Webinar?
So it's pretty established that webinars are becoming more popular.
At this point it might be necessary to answer the question: what is a webinar?
A webinar takes its name from seminar, and it's just the same as any other seminar, presentation, lecture, or live event. The only difference is that a webinar is hosted online, using software programs known as webinar tools.
Its main purpose is to allow the host and the attendees to have a meeting and talk in real-time, anywhere in the world.
So now everyone understands what a webinar is, you might be asking yourself why should I host a webinar?
Well, ready to find out? Let's jump in!
Why host a webinar?
Webinars can provide enormous benefits for any business. Just like offline seminars, a webinar will allow you to connect with your audience on a deeper level.
Every member of your audience is a potential customer. And by hosting a webinar, you are providing value to potential customers for free.
Remember the expression: "If you're not paying for it, you are the product"
Well, this can be applied to webinars too.
In this way, hosting webinars can be implemented into your sales funnel. You can also target specific points in the sales funnel with elements of your webinar:
Not convinced? Here are some key ways you can benefit from hosting a webinar:
Create brand awareness
Webinars are, in essence, another form of content marketing. But more-so than other types of content, webinars have a huge level of potential reach.
Hosting a value-packed webinar gets people talking. And by virtue of the fact that a webinar occurs online, this buzz typically takes place on social media.
If social media is the backdrop for a discussion about your webinar, the digital footprint your content leaves behind is going to get bigger and bigger. Every time your webinar is mentioned on a social media platform, there is a chance that a fresh pair of eyes clicks through to your brand.
What's more, as people express interest in your webinar online, they are validating both you and your webinar to others. This phenomenon is known as social proof, and develops trust in your brand. Think of it as a customer recommendation, without the requirement that anyone actually purchased your product.
[Related Article: 28 Social media trends. Find out how to leverage social trends in your webinar]
Generate more leads
Sign-up's for webinars typically require attendees to provide more information about themselves. Their name, employer, email address, etc. Through the webinar registration process, your lead list generates itself!
And if they are interested in your webinar, they are more likely to be interested in the products and services you sell too. In this way, webinars not only generate more leads, but they are also a powerful tool in generating warm leads for email marketing.
Moreover, through the process of delivering the webinar, you are passively 'warming up' those leads. A webinar lets you connect with potential customers. You also have the opportunity to educate them about your value proposition and open a channel of communication – 2 invaluable elements of lead generation.
Develop authority in your field
By hosting a webinar, you are demonstrating your expertise on a part of the industry that you work with.
Typically, attendees have found your webinar because they are eager to learn more about the subject. In some cases, they may even be looking for the solution to a problem their business is currently facing.
By positioning yourself as an expert on this subject, these attendees are more likely to consider you favourably when evaluating possible vendors in the future.
To take this a step further, you can become a thought leader by hosting webinars regularly. Recognition as a thought leader means people go to you for inspiration and information on a particular topic. If this topic also happens to be the value proposition your business offers, sales are sure to follow.
Keep your regular customers engaged
Let's face it, developing and maintaining brand loyalty amongst your customers isn't easy. And it isn't usually cheap.
In a lot of cases, businesses end up handing out hefty discounts, just to keep the customers they already have.
Remember when we said that by hosting webinars you are providing potential customers some value for free? Well, this extends to your current customers too! (and while it might not be totally free for you, it's still likely to be cheaper than those discounts we mentioned earlier)
Your regular customers are the ones that have already demonstrated a strong interest in your product.
Similarly, they are likely to take an interest in your webinar. And by personally inviting them, you are showing them that you care. The reciprocal action is increased brand loyalty and the development of a stronger customer bond.
What are the benefits of hosting a webinar?
Whilst webinars may have seen a surge in popularity since 2020, some people believe that they offer fewer networking opportunities than face-to-face events.
Whilst the accuracy of this claim is debatable, the ability to network in-person is not the only consideration when making the choice between webinar and in-person event.
In fact, there are significant advantages of hosting a webinar over in-person meetings, including:
Convenience
Compared to in-person events webinars are easy to organise, and even easier to attend! The only thing you really need to prepare is your content.
You save a lot of time and effort by hosting a webinar – the logistical burden that goes into organizing an in-person event can literally be weeks worth of man-hours. For small teams, this represents a huge investment that demands an equal pay-off if it's going to be worthwhile.
Plus, participants get to attend from the comfort of their homes. This has the added benefit of significantly boosting attendance rates.
Affordability
This is one of the biggest considerations when hosting a webinar.
For businesses on a tight budget, organising in-person events can be simply unaffordable. Consider the costs of a webinar – no venue, no equipment, no catering. The only real expense you have is your internet connection.
Equally, for participants the costs associated with attending a webinar are much lower. And by lowering the costs, you lower the barriers to entry for participants, thereby boosting attendance rates.
Flexibility
The idea of having to deliver content through a screen may seem limiting, but in fact the opposite is true.
There are options that are only available digitally – gamification, virtual reality, social media integration – and many of these are facilitated by webinar tools.
The key to mastering this flexibility is knowing who you are talking to. Bear in mind who your target audience is, and their needs, goals, and struggles.
Gaining an understanding of customer perception will provide insight into the value you want to provide for your target audience.
Formatting
Let's be honest, we've probably all attended a meeting that went on and on and we felt like our time was wasted.
Consider the options you have for communicating with your audience. The beautiful thing about webinars is that additional information is accessible to participant at their fingertips. This means your webinar content should focus on the core value you are providing.
Balance your content with the time the audience are willing to focus for. According to a Medium, 85% of webinar attendants believe that the ideal length for a webinar was about 30-45 minutes (without pauses).
Webinar tools give you the option to offer a unique experience to individual audience members through the format and structure that makes up your webinar.
Worldwide Connection
Distance is no longer a problem.
Your potential audience is no longer limited to people in your city. Your attendee's could be anyone, anywhere in the world, who is interested in your content.
Not only are you able to reach a much broader audience, you can also host a greater number of people through webinar tools than you would be able to in-person. This is especially true for businesses on a budget.
This potentially open up your product or service to a global audience, and this is especially relevant if you provide software solutions.
Partnership Opportunities
Consider inviting an additional speaker to provide additional insight on the subject of your webinar. This will provide more value to your audience.
The benefit of a webinar in this case is that you can invite speakers relevant to your field from literally anywhere. And with this freedom you are able to provide greater insight for your audience.
Having a well-known guest speaker is a fantastic way to boost your reach, increase attendance, and build authority within your industry.
What features should a webinar tools have?
There are no two identical web conferences.
And in order to make yours unique, you should make the most of the webinar tools at your disposal. Every tool has its own set of product features, and the tool you use may depend on the individual webinar you are hosting.
Some aspects of webinar tools which can make your webinar a success are:
The different features and functionality of the webinar tools mean that you will surely be able to find one that is suitable for the needs of your business.
For those less familiar with hosting webinars. The tools we will explore provide hosts with more options than the out-of-the-box possibilities you get from Skype or Zoom. Let's dive deeper into the aspects of webinar tools you should be looking for browsing:
Webinar Tools – Customization
Design is a critical element of webinars that attract and retain participants, potentially turning them into customers. Nobody likes messy presentations.
Developing a coherent and consistent visual identity using webinar tools will make your event appear much more professional.
This can be easily achieved using a webinar tools that offer you the possibility to:
Take professional photos and customize them
Add logos
Change theme colors
Change layouts
Design invitations
Send tailored invitations and reminders via email
Customizing these elements will maximise engagement with your presentation and your brand.
Customizing your presentation to ensure that it matches your branding creates a customer perception of your brand that is more favourable. This can build trust, win customers, and help develop a brand identity in the eyes of webinar participants.
The greater the degree to which a webinar tool offers customization of the webinar platform, the better it is for you.
Webinar Tools – Recording
One of the vital features that you should be looking for in a webinar tool is the ability to record your sessions.
The scheduled webinar date might not ideal for everyone, making it important to share a recorded version for those who missed the live event.
Sharing a recorded version to those who missed it can be a great way of attracting them towards your company. Remember, they are getting (more or less) the exact same experience as someone who actually attended. This means they are more likely to engage with this content.
A digital record is also useful for those who would like to revisit some of the webinar's key points.
Some webinar tools offer the functionality to record, edit, and post video recordings, all within the tool itself. And the extent to which you value this functionality will depend on how much video content you want to create.
[Related Article: 20 Best Explainer Videos. Check out some simple guides to developing video content]
Webinar Tools – Screen Sharing
Now more than ever, people are visual learners. Keep in mind that approximately 65% of the population are learning through visual communication!
Therefore, it is vital to not only talk but also visually explain what you are presenting.
Webinar tools that allow screen sharing allow you to communicate your message to webinar participants in a more meaningful way.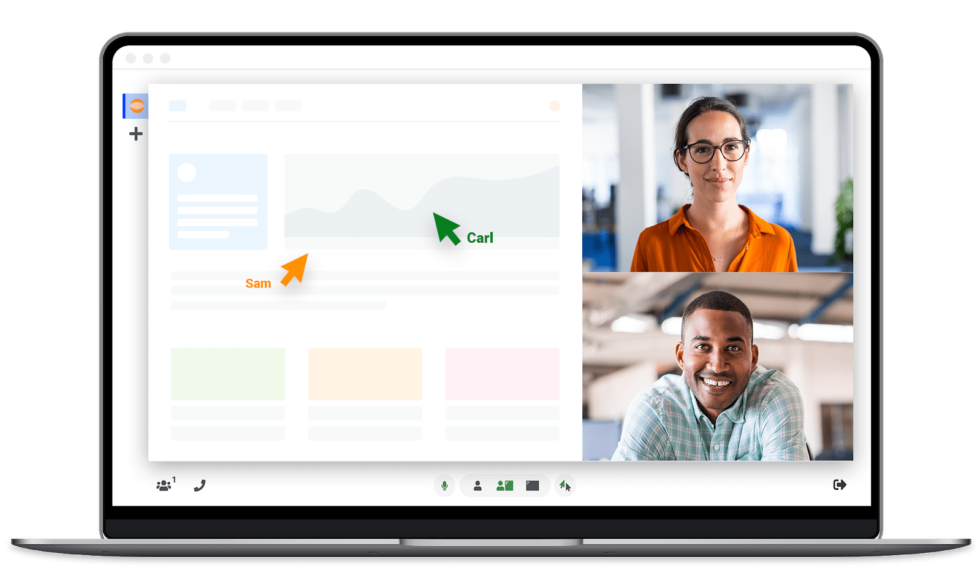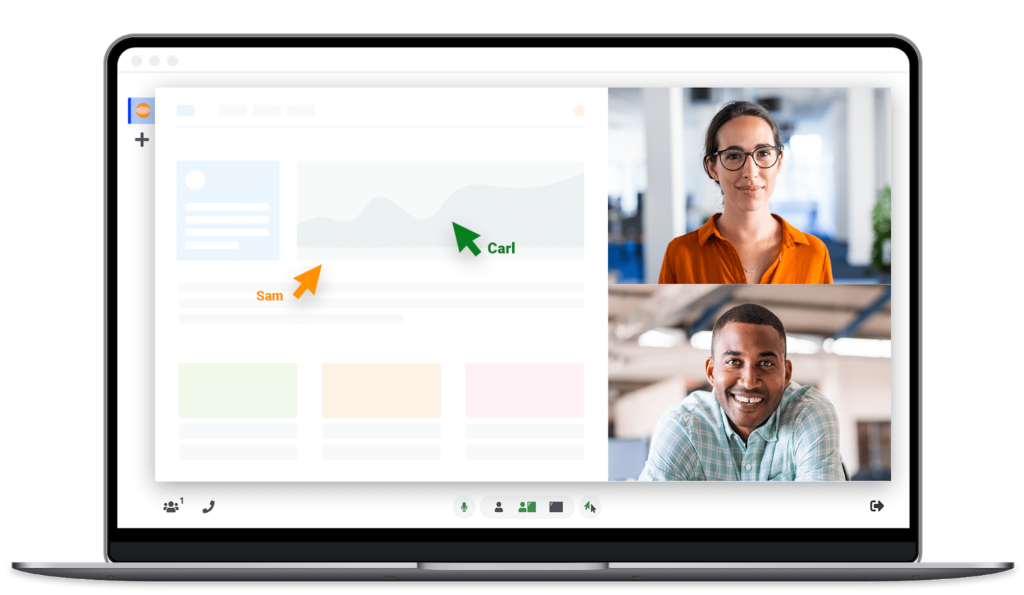 Screen sharing can be incorporated into your event in many ways, not only sharing your presentation. You can have multiple participants sharing at once, including presenters and guests. Take control of other participants screens, and collaborate on a project, live!
Screen sharing functionality can make up a big part of your webinar, but different webinar tools provide different options. If you have specific or extensive requirements for screen sharing, it's worth prioritising the webinar tools that provide greater value here.
Webinar Tools – Surveys and Polls
As a quality host, it is a good idea to ask for feedback. Feedback will help you improve and adjust details that you wouldn't have considered otherwise.
This can. be achieved with surveys and polls functionality when using webinar tools.
Interacting with your audience is crucial for the web conference's success, and 92% of webinar attendees are happy to participate in a live Q&A session.
This doesn't have to be limited to feedback however. The interactivity provided by surveys and polls facilitates engagement with participants. Participants are able to interact with each other through this medium too.
The depth of options is dependant on which of the webinar tools you choose, so think about how you want to represent the data from your polls when trialling your tools.
21 BEST Webinar Tools
There are tons of options when it comes to webinar tools. But which one is right for your business?
To help you choose, we've analyzed the best 21 webinar tools.
Use our list to compare prices, features, limitations and other relevant details to find the webinar tool that's right for you!
Adobe Connect
Let's agree that it comes as no surprise that Adobe also provides its customers with a webinar tool.
Adobe Connect comes packed with various features that allow you to customize your webinar experience significantly.
Even if you have never hosted a webinar, fear not, as Adobe has made their platform easy to use and edit.
Adobe Connect supports iOS, Windows, or Android devices, making it more accessible than other webinar tools and providing a better user experience for both the host and viewers.
Adobe Connect comes with up-to-date features:
Brand Customizations
Pods and Layouts
Templates
Breakouts
Multi-dimensional polls
Webcam "pause"
In order to try Adobe Connect, you have to contact the sales services, which will offer you six different plans based on your needs, and will allow you to update your account in the future.
As a small or medium-sized business, you can subscribe to Adobe Connect Webinars starting at $50/month for 25 participants, $130/month for 100 attendees and $432/month for 400 attendees.
Adobe Connect also offers training programs that start at $370 per month.
Airmeet
"Super easy to use", "broad experience for hosts and participants", "a platform that can do everything from small meetings to big conferences".
In this manner users describe Airmeet, a web conference tool that highlights hosting marketing events.
Airmeet provides unique features:
Social Lounge for life-like interaction
Backstage for preparation before going live
Raise hands and Q&As
Chat and reactions
Sponsorship and co-hosting partnerships
Registration management
Coming to prices, Airmeet offers plans based on the number of hosts and attendees.
It begins at $99/month with 100 attendees and all features can go up to 1000 attendees for $599/month. Furthermore, there is a Pro Custom Plan for a more detailed and customized subscription.
You can also try their Free Package, which comes with 100 attendees, one coordinator, and no time limits for your live webinars.
AnyMeeting
AnyMeeting is a web conference platform filled with incredibly intuitive and easy-to-use features.
It includes the ability to promote your webinars with invitations, emails, and registration plans.
You can also elevate your brand with real-time results, emoji reactions, and polls present in every tier.
Additionally, AnyMeeting plans come with:
HD video broadcasting
Host controls
One-click desktop sharing
Computer audio and phone dial-in
Cloud copy
Audience waiting room
Custom branding
AnyMeeting offers three packages that have a different number of attendees.
Lite Plan offers you 100 attendees for $48/month and a speaker. The most popular plan is Webinar Pro, $128/month for 250 attendees. For larger webinars (up to 1000 people) the price to pay is $298/month.
You can also get a 30-day free pro trial right now.
BigMarker
If you want to have full access to the customization of your virtual event, BigMarker is the best web conference tool for you.
It combines powerful video technology, marketing, and interactive experience capabilities to help you dive into a unique virtual experience.
If you use this tool, you can:
Manage your attendees
Customize your brand
Increase lead generation
Record and Playback
Have multi-hosts
Have high-quality video
You can use all the marketing features with a 7-day free trial.
Afterwards, you can upgrade to a paid plan which starts at $79/month for 100 attendees and one host license. BigMarker also offers Elite membership at $159/month or Premier membership at $299/month – depending on the number of the attendees.
Let BigMarker help your company grow by hosting more meaningful conversations with the attendees.
BlueJeans
BlueJeans can be the best webinar platform for you, especially if you are a small business looking for a straightforward, cloud-based, and advanced software.
With its features, you get the opportunity to record key moments, assign tasks and share recaps.
One of the unique smart tools they offer is Safe Driving Mode for those viewers who might be on the road when the live webinar starts.
The following option allows them to listen to the webinar safely and not get distracted while driving.
An important communication feature is the breakout rooms, where you can assign or randomly sort attendees into 20 workgroups.
BlueJeans provides you with:
Whiteboard tools for meeting engagement
Layout control, participants booting, and locked webinar
Desktop sharing in-meeting
HD video recording
Their price depends on the number of attendees. All options have the key features and start at $83/month for up to 100 people. You can go up to 500 attendees for $499/month.
ClickMeeting
ClickMeeting is considered one of the best webinar tools developed and managed by a growing group of young and talented people.
They provide quality service for over 150 000 customers who can use their software for sales, advertizing, coaching, teaching, etc.
They can provide you with mind-blowing features such as:
Whiteboard
Automated webinars
Recording and sharing
Integration with other platforms such as Youtube, LinkedIn, Google
Live chat
ClickMeeting's price system is very straightforward. They base the prices according to the services that they offer.
There are two types of webinars available within this platform: live and automated.
Live webinars start at $25/month for 25 attendees, and scale up to $239/month for up to 1000 people.
If you go for automated webinars, ClickMeeting gives you the offer of $40/month, along with more automated features like:
Streaming on Facebook or Youtube
Publishing recordings and sending them to Dropbox
"Thank you" and follow up emails
Sending certificates of attendance
Replays
You can get a 30-day free trial to test things out with up to 25 attendees.
DaCast
You can safely choose DaCast if you are interested in monetization and marketing for all-in-one live webinars.
One of the best things they have to offer is video customization and watermarking included in white-label capabilities.
Moreover, the open API feature allows you to build integrations and custom workflows on your own.
Their platform will help you get recognition for your brand with characteristics like:
Unlimited concurrent viewers
Scheduling
Responsive video
Player customization
Pre-, mid- and post-roll advertising
Real-time and advanced analytics
Library management
DaCast packages begin at $19/month for 300 viewers per hour, together with 1080p HD video broadcasting. You can go up to 15.000 attendees per hour by paying $289/month.
Demio
Demio promises to give you more effective web conferences with less work. They aim at business growth and audience engagement, and their fresh-looking platform will convey a sense of fanciness to your brand while hosting.
Demio's strengths are:
Live interactive tools
Detailed analytics
Launch offers and calls to action in real-time
Simple price system
User-friendly features
Integration with marketing apps such as ConvertKit, Infusionsoft, Marketo, and others
You can start a 14-day free trial with all the features included for a 20-attendee room size and a 1-hour session limit.
Demio offers three different subscription plans:
Starter plan for small businesses and solo entrepreneurs where 50 people can join for $49/month or $34/month if paid annually.
Growth plan with automated webinars and custom branding for 150 people and $99/month or $69/month if paid annually.
Business plan which is perfect for growing companies and can get up to 500 people for 163$/month if paid annually or $234 if paid monthly.
EasyWebinar
EasyWebinar is a webinar tool that offers both live and automated webinars. The ace in their sleeve is the ability to easily turn live webinars into automated ones.
As the name suggests, it is a user-friendly platform for both the hosts and their guests.
EasyWebinar's features are:
Streaming to Facebook Live and Youtube Live at the same time.
Advanced analytics show you the number of clicks, percentage of people that showed up, and how long they stayed.
Integration with email platforms like ConvertKit, Aweber, and more.
Skype integration to remind people to join in.
Indeed, this tool is an absolute must if you are interested in making money and sharing your message even while you are sleeping.
Pricing begins at $78/month for 100 attendees or $59/month if billed annually. In case you need more attendees you can upgrade to a $129/month plan if billed monthly or $90/month if billed annually for 500 attendees. Finally, EasyWebinar offers Enterprise membership at $499/month or $349/month if paid annually.
If you are on a budget, the annual payment scheme is a wise choice since it gives three months for free and around 25% discount.
GoToWebinar
Another outstanding webinar tool for small to midsize businesses or entrepreneurs is GoToWebinar.
This platform mainly focuses on marketing training tools. You can quickly and easily access it from any Mac, PC desktop, or mobile phone.
Being perceptive, quick to use, together with a lot of integration, GoToWebinar is the perfect solution for marketing campaigns.
It gives you features like:
Automated marketing and CRM tools
Reporting and analytics
Live interactive features
Unlimited sessions
No time limits
Automated emails
You can enjoy GoToWebinar with their 30-day free trial that includes:
Unlimited free Webinar service usage
Up to 100 attendees per Webinar Audio via phone and/or microphone and speakers
24/7 support Instant meetings
Their paying schemes include the Lite Plan at $59/month and 100 participants, and the Standard Plan is up to 250 people for $129/month.
If you have a larger company, you can opt for the Pro Plan, which is the most popular one at $249/month and up to 500 attendees, together with the upgraded marketing tools.
You could also lookup Enterprise Plan with 3000 viewers for $499/month, including the full package – tutorials, answers, and customer service.
Jetwebinar
Jetwebinar is a webinar tool that focuses mainly on marketers and their needs. It is designed in an excellent way offering speed, automation tools, and large capacity storage for recordings.
If some platforms have a limited list of software integrations, JetWebinar is not one of them. It has a flexible API and you can easily build cross-platform capabilities.
It also regularly upgrades and shares tools that make it quicker and easier for organizers to host live webinars with large crowds.
Some of them are:
Marketing and CRM integrations
Paid events
Live chat during events
Complete Analytics
Custom templates
Personalized automated emails
Prices start at $47/month for 100 attendees. You can choose to go with a larger audience with packages allowing 500, 1000, or 3000 viewers for $157/month, $317/month, or $879/month, respectively.
Jetwebinar also offers a Standard plan which starts with Meetings – Basic at $8/month billed yearly.
Livestorm
Easy-to-use with a modern design, a better attendance rate, and no download requirements, Livestorm offers clients a bit of everything, including:
Live webinars
On-demand webinars
Automated webinars
Plus, here are some of the amazing features that Livestorm offers:
Multiple ways to interact with your audience
Webinar registration process
Analytics and reports
Webinar recordings
Emailing logistics
Livestorm is extremely dedicated to creating an excellent customer experience. They even thought about integrations with your existing email, CRM, and other platforms you might choose to connect with your Livestorm account stands a proof of their dedication.
You can try it for free for ten registrants and up to 20 minutes of webinars, after that it is $99/month yearly including:
Instant meetings with up to 12 people
Up to 4 hours per event
Unlimited event registrants Starter – a free plan to discover Livestorm
Livestream
Being a part of Vimeo, Livestream presents a good and reasonable choice if you own a large business and plan to host secured and entertaining live webinars.
Furthermore, this webinar tool partners with well-known brands such as Nikon, Sony, and Toyota.
Connected to Vimeo, this platform has access to good videography software, giving you the option of streaming and recording high-quality videos.
Livestream gives you advanced aspects like:
Flawless adaptive streaming
Video management
Priority support
Live production graphics and tools
Live streams to Facebook and Youtube
Unlimited events
Auto-archiving
Enhanced security and IP restrictions
Since it is a new service, the platform offers two plans. Premium Plan starts at $75/month when billed annually, and if you want more detailed options, you should contact customer support and arrange a personal plan.
LiveWebinar
Try the cloud-based LiveWebinar – one of the best webinar tools that allows you to:
Host live webinars
Record
Integrate various apps
Stream on other social platforms
Moreover, you can do everything from your internet browsers like Chrome, Opera, or Firefox without downloading it on your computer – LiveWebinar doesn't need a desktop app to run.

It comes with features such as:
Breakout rooms to manage your audience
Chance to host up to 1000 attendees
Chat translation in real-time into the language that you prefer
Tests, polls, and surveys
Sharing and playing YouTube videos
You can get started with a 14-day trial with five attendees. Additionally, if you choose to upgrade, you have three options:
Pro Plan for $14.99 billed monthly or $11.99 billed annually for up to 100 attendees.
Business Plan for $119 billed month or $95.20 billed yearly for up to 500 attendees.
Custom Plan which depends on the chosen features and allows up to 1000 attendees.
My Own Conference
As the name implies, My Own Conference is a webinar tool that connects you with the audience before, during, and after the webinar.
As a result of the schedule view – a fantastic feature of My Own Conference, you can follow multiple webinars in one place and have an "always-on" webinar.
The key feature list includes:
Full HD recording
Online quizzes
16 languages
Screen sharing for teams
My Own Conference gives you the possibility to host live webinars for 20 attendees and three broadcasters, together with 500 MB for HD recordings all for FREE!
Paid plan is based on the number of attendees. It starts from $24/month billed yearly for 60 people. My Own Confernce also offers one-day, monthly and annual subscription tariffs.
on24
Engage. Convert. Grow.
Those are the core values of on24 – a webinar tool focused on audience engagement, marketing, and revenue growth.
On top of that, on24 also gives you the ability to customize the webinar to your preference and have a more pleasant experience with your attendees.
To satisfy numerous customers' needs, they offer diverse options in all of their packages.
Some of their main features include:
Automated analytics dashboard to track viewer engagement
Product marketing tools
Customer engagement
Leads generation tools
Webinar branding and marketing
The price depends on your individual needs, which means that you will have to contact their sales department to arrange a subscription.
Hence, they give you the opportunity to get a more customized plan and pay the right price for it.
Webex
Working remotely with your team can be exhausting. An excellent solution for more efficient team collaboration is Webex!
Additionally, this free webinar software gives you all-in-one video and calling options.
As it is focused on teamwork, this automated webinar platform gives you 1-on-1 and group messaging possibilities.
This way, you can make or receive video calls directly from other Webex users through the app for free regardless of the price plan.
This webinar tool offers features like:
File and content sharing
Two-way whiteboard
Productivity tools integration
Personalization of your working space
Host meeting controls
Webex offers four plans that differ in the number of hosts and available features. Furthermore, comparing it to other webinar tools, they have no time limit on live webinars.
Thereby, you can begin with the Free Plan with no credit card or commitment, with one host, 50 minutes meetings, and up to 100 people.
The Starter Plan comes with 100 attendees, 5 GB cloud storage, and recording transcriptions for €12.85 per host per month (1-50 hosts).
Business Plan offers 200 viewers, 10 GB cloud storage and includes all premium features for €25.65/ month per host per month (1-100 hosts).
Finally, you can require plans for businesses that need a custom experience by contacting the sales department.
WebinarGeek
Get your webinars upgraded to a new level with WebinarGeek! This platform is user-friendly and provides amazing value.
Furthermore, they offer options for quizzes, module assessments, and streaming for an affordable price.
You can try live, automated, on-demand, and hybrid webinars in HD quality.
To create a successful platform between all webinar tools, WebinarGeek has created webinar creation steps. The webinar tool shows you what to do and how to get the most amazing experience.
Its features include:
Notification alerts
Event management
Live chat
Analytics report
Social Media Promotion
Multi hosts
Mail or CRM tools integration
The prices will amaze you as you can start with the Starter Plan with €19/month when billed annually for 25 attendees per webinar.
When you decide to upgrade, you can choose the Premium Plan, which depends on the number of viewers.
Premium Plan begins at €39/month when billed annually or €49 billed monthly for all standard features including 100-2000 live viewers per webinar. Premium Plan can go up to 500 people for €79/month.
If you are unsure, you can try WebinarGeek with the 14-day free trial with no strings attached.
WebinarJam
Do you consider yourself a newbie in setting up webinars and using webinar tools? Then you can try WebinarJam, which requires no technical knowledge on how to set it up.
To gain more views, you can directly stream on YouTube. If you care about your audience protection, then you can introduce password-protected meetings.
Other advantages that you can get are:
Customer support
Social media integrations
Quick set-up
Ability to incorporate polls and surveys
User-friendly features
They offer annual plans instead of monthly plans.
You can begin with the Basic Plan by paying $499/year with 500 participants, two presenters, and 2 hours maximum duration.
Professional Plan costs $699/year and includes 2000 attendees, four hosts, and The Panic Button, which is a lifesaver in case you want to have a plan B.
Premium Plan offers you an audience of 5000 people, six speakers, and The Control Center for your staff for only $999/year.
What are you waiting for? You can try their 14-day trial for only $1 to test it out!
WebinarNinja
If you want to run any type of live webinar: automated, series, or hybrid – then WebinarNinja is the perfect tool for you.
WebinarNinja offers one of the best-looking designs to enhance viewers' experience which includes:
Dashboard customization
Webinar registration
Thank you pages
Besides, you can expect features like:
Multiple polls before, during, and after the webinar
Q&A Area
Fast live chat
Displayable sales offers during the webinar
Integration with more than 1000 apps
In addition, WebinarNinja has a search engine feature, which allows people to search and sign up for your webinars.
Their entry-level pricing is considered one of the best on the market.
You start with a $39/month plan with 100 attendees if you decide to be billed annually or $49 if you are billed monthly.
Afterward, the price goes up to $79/month billed yearly or $95 billed monthly and adds up to 300 attendees. It comes with the ability to create webinar series.
They also have more expensive plans at $129 billed annually and $199/month billed monthly for more advanced features.
Zoho Meeting
Zoho Meeting is the perfect solution for those who prefer to combine meetings with webinars.
What's more, this free webinar software is working fully on the browser, and your viewers are exempted from downloading any software.
Their advantage is in the major and powerful features available for every price plan, except for the free one.
Other advantages of Zoho Meeting include:
Scheduling
Reminders and invitations through email
Locking up the meeting
Storing up to 10 recorded sessions
Audio, video, and screen sharing
Generating and exporting custom reports
Their prices depend on your webinar purpose and the number of attendees. Their free plan offers you up to five participants and limited features.
Paid plans are based on number of hosts and number of attendees starting at $3/month or $30/year for 1 host and 10 participants.
For Meeting rooms their pricing depends on the number of participants. The prices range from $3/month/host and 10 participants, $6/month/host and 25 participants, and $9/month/host and 50 participants.
Lastly, if you are hosting a webinar the pricing for 100 Participants is $12/month/host.
Which webinar platform will bring success to your business?
To sum up, we hope that among these 21 fantastic webinar tools you have found something that will fit your needs perfectly.
With our detailed list, you can figure out which of the webinar tools can help scale up your success and bring a valuable audience to your business.
However, we recommend engaging in a free trial of the webinar tools you're interested in before making a purchase. This way you are assured that you are making the right decision for your business.
Of course, everything depends on your specific needs, business and audience. Consider your budget, as webinar tools might be a serious investment for your company.
Ask yourself questions like: Do I need to grow my audience and boost sales? Should I prioritise reach or engagement? What features suit me the best?
The answers to these questions will guide you to the best choice for creating memorable web conferences that suit your target audience!
Feel free to share your own opinion and feedback on webinar tools that you have used.