What is a sales funnel template? How can they help you grow an extensive email list? Is there a way to successfully convert visitors into customers with the least expense? Can a sales funnel template improve your sales and save on ad campaigns?
There are many more questions you could ask, and we can assure you this article has them covered!
You may wonder how some marketers have achieved great success. Our answer is simple: They are using a Sales Funnel Template!
Sales Funnel Templates are fantastic innovations in digital marketing. And whether you are a product or service-oriented company, they can lead to huge milestones for you and your business!
We have prepared a list of the 20 Best Sales Funnel Templates to fit any industry and help you with customer acquisition, retention, sales, or growth! Whatever you need, there's a sales funnel template for it!
Sit comfortably, and dive into the amazing world of the Sales Funnel Template. We'll walk you through why sales funnels are even important, but if you want to get straight to the templates you can skip ahead to the list of sales funnel examples here.



What is a sales funnel and how does it work?
The sales funnel was developed at the end of the 19th century by St. Elmo Lewis. He based the idea on the AIDA-model, which stands for Awareness, Interest, Desire, and Action.
These are the standard stages throughout a customer's journey that will lead to a product purchase. Today more steps are sometimes added – purchase and loyalty.
AIDA can be explained as:
Awareness – the customer learns about a product
Interest – the customer become interested in a product
Desire – the customer shows preferences in terms of products and brands
Action – deciding to go on to purchase a product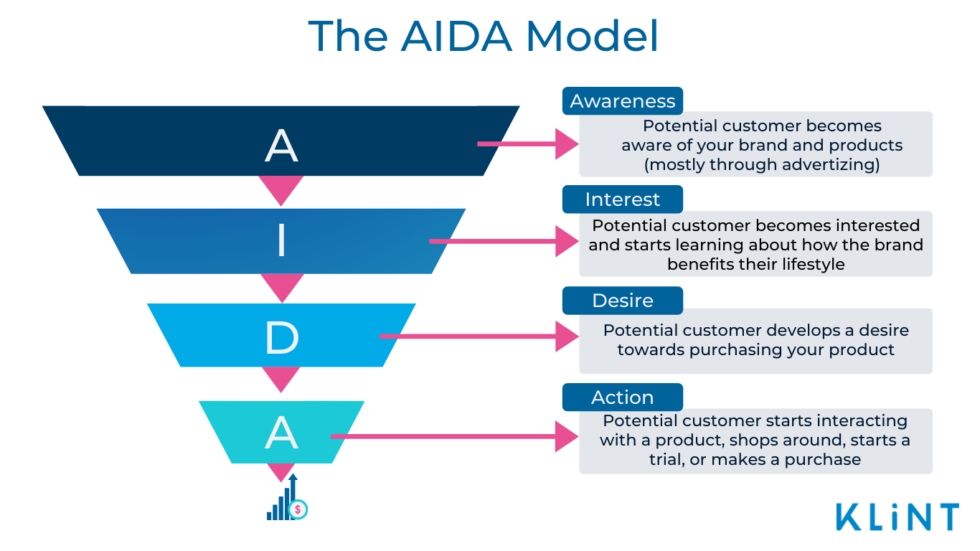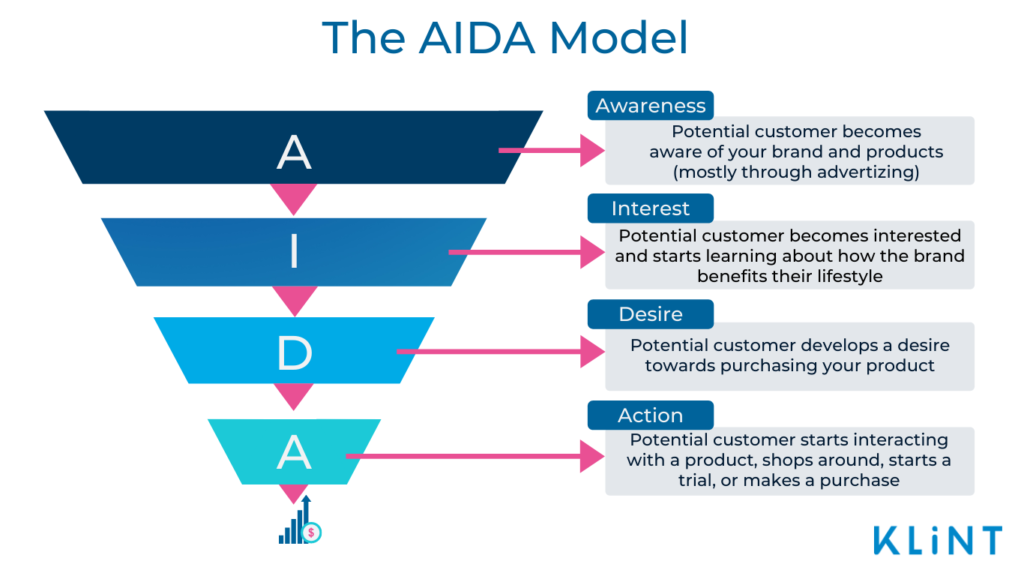 The purchase funnel, or digital marketing funnel as it is sometimes called today, can be split into five parts:
Traffic sources
Top of funnel (TOFU)
Middle of funnel (MOFU)
Bottom of funnel (BOFU)
Re-engagement paths
Using the sales funnel method facilitates the tracking of your customers' journey, and this has huge potential to bring value to your business.
Following your potential customers' behavior throughout their journey can help you understand their needs and the ways in which you can influence them to convert and become customers.
It can also help you see the strengths and weaknesses of your company's sales and marketing strategy and help you to secure customer satisfaction and return on investment.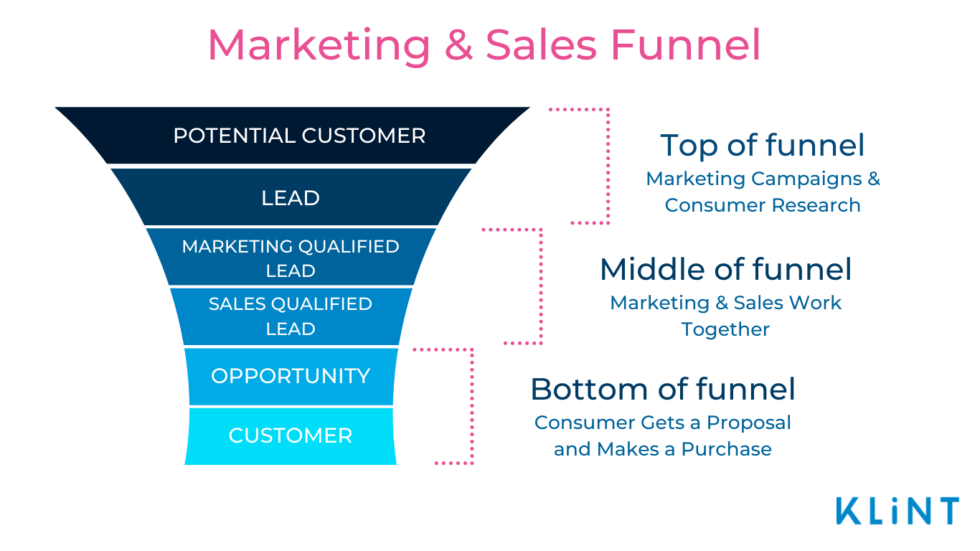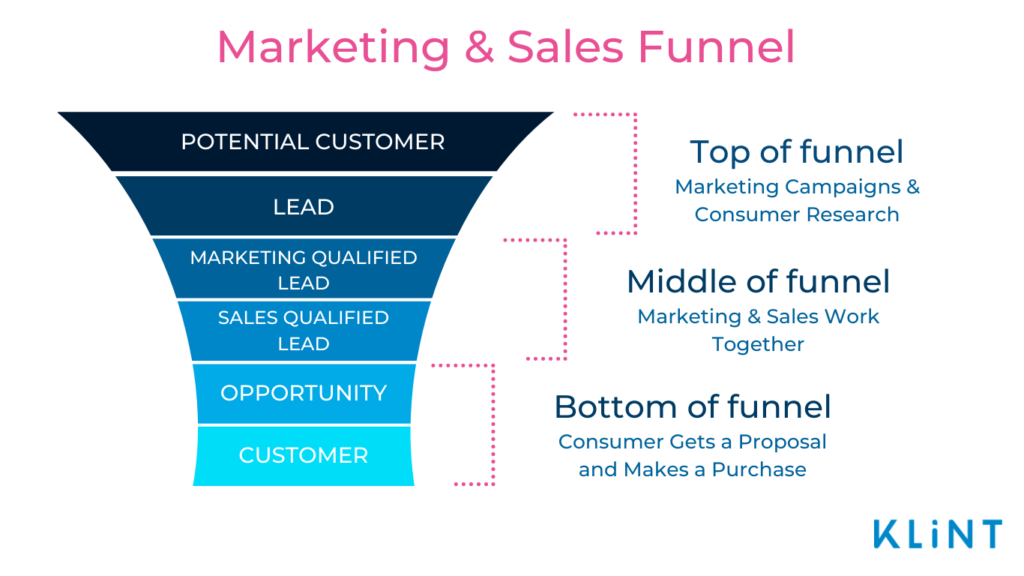 How can a funnel template help you?
At this point you might not be asking what is a sales funnel and how does it work, but how can I make a sales funnel work for me?
Since their development in the late 19th century, sales funnels have evolved to serve different niches in the market.
Today, you can find a specific sales funnel example to exactly match your business plan and follow particular parts of the customer journey.
Purchasing funnel templates can be created for any company, from a SoMe business to a dentists office.
Purchasing funnel templates are a must-have tool for any successful company!
Creating an appropriate template will allow you to follow your potential customers' journey, guide customers through the process, and convince them to proceed with a purchase.
A sales funnel template can, among other things, help secure:
Customer retention
Higher order values
Customer loyalty
Customer satisfaction
Each sales funnel is different, and so a business should be careful to choose the funnels that best contribute to their business goals.
It is also a good idea to try out a free sales funnel template online as well as a blank sales funnel template that you can fill out to match your company's needs.
Reasons why you should always be using a sales funnel
Using sales funnels can help you in creating a visual representation of the steps consumers are taking on their journey to becoming your loyal customers.
The funnel provides you with a visual overview of your sales process, as well as customer conversion and retention at each stage in the buying process.
As potential customers move through the sales funnel and complete steps of the buying process (some will drop off as well), it allows you to see what kind of consumers are more interested in your product and what their buying behavior is.
By understanding your customers' behavior you can find problem areas in the purchasing process where customers often drop off. This allows you to address these problems moving forward.
This process also allows you to focus on the customers who are most likely to convert, and in turn, improve conversion rates and optimize your business plan to fit more customers' needs.
Funnels are a well-tested tool for creating a long-lasting and trustworthy relationship with your customers.
Attentively following your customers' purchasing decisions and journey through the funnel will allow you to better cater to their expectations, engage with them, and make personalized offers that will ensure their satisfaction and loyalty.
Lastly, a sales funnel template will also allow you to resell your products and increase your ROI since, once you create them, they can run automatically and indefinitely!
How do I create a Sales Funnel?
So, let's dive in and see how to make a funnel that will serve you!
Apart from using a free sales funnel template, what goes into creating an amazing template? Knowing your customers well, of course!
There are five important steps in funnel creation that will ensure successful sales and customer conversion. Let's take a look at each one of them.
Understanding what your customers need
Finding out what your customers want is the first out of five important steps for devising a sales funnel that will serve you.
In order to learn more about your audience, you need to define the main aspects of your customers' behavior in relation to your business.
Figure out what you want to know and construct the questions that you intend to find the answers to accordingly.
Some of the most frequent questions are:
What are your customers' interests?
Which channels are your customers using to interact?
Are there frequent issues that arise, and how to fix them?
How to make your brand unique and attractive to customers?
Where can you find your customers?
Personalize customers' purchasing journey
Secondly, you should target your audience and personalize their purchasing journey!
A personalized experience is crucial for conversion and creating loyalty.
Customers want to have a tailored experience, and customization lets you achieve that.
There are many ways to make a customized purchasing experience for your consumers, so make sure to choose the ones that best fit your business.
Create traffic
Step three includes creating traffic on your website. Without traffic, what you have to offer will be invisible to potential customers.
For this reason, driving traffic to your website, optimizing it, and creating a long-term lead strategy can go a long way to bringing in the sales!
Some of the methods to include in your strategic plan using a free sales funnel template can be:
Promotions on different channels
Email marketing
Influencer affiliate marketing
Search Engine Optimization
Engage your customers
The fourth stage of the process requires customer interaction and engagement.
Engaging potential buyers will help you educate them about your products, how they can use them, and what other products you offer.
This stage is about getting customers interested in what you have to offer and is crucial in influencing the purchase decision.
There are numerous ways to engage with your customers. Some proven methods include:
Writing engaging blog posts that will trigger communication between you and your readers.
Making creative videos to educate customers about your product and providing a space where they can ask about the product.
Using social media for marketing and post promotion, reposting customers' content that includes your brand, and interacting with them through comments, likes, etc.
Asking influencers to review and leave feedback on your product.
Convince customers to buy
Finally, after completing all of the above steps, you need to convince customers to make a purchase.
This is probably the most complex step in customers' journey, and often leads to abandoned checkouts.
However, there are some simple things you can do to minimize checkout abandonment!
Simplify the checkout process.
Reduce information fields.
Use the least possible number of checkout steps.
Develop 'a click only' signing in options.
The primary purpose of a sales funnel template is to facilitate the continuous improvement of the sales process.
You may ask yourself: How do I create a sales funnel template?
The following is an extensive list of the 20 best sales funnel templates examples alongside the tips on how to create them:
20 Best Sales Funnel Templates
1. Video Sales Funnel Template
Remember the AIDA model we talked about at the beginning of this post? Preparing a video for each step of the AIDA model is a sure path to ensure customer retention and improved sales.
Creating videos where you describe the product and its benefits is a great tool for:
Reaching out to your old and new customers
Educating customers
Converting potential customers
Increasing sales
Some of the videos you create can be used throughout the sales funnel. However, others need to be specifically made for specific stages.
Find out where your target audience consumes content online: YouTube, Facebook, or any other online channel.
Why do you need a Video Sales Funnel?
Video Sales Funnel is a simple and reusable tool that can automatically guide customers through the marketing funnel. Here's how!
First, customers are always looking for easy-to-follow guides on how to use the product. Filming videos with step-by-step instructions is a way to provide all the required information and reduce the burden on the customer support team.
Second, as potential customers engage with the videos, they become more attracted to the product and proceed through the funnel!
Finally, potential customers reach a point in the sales funnel where they need to make a purchase decision.
How to make clickbait videos?
To be confident that your videos are being clicked on and you are getting the most out of them, make sure to:
Attract potential customers at the top of the funnel. Give customers a taste of your product and the ways it can help them with a short and simple video with this sales funnel example.
Provide customers with knowledge on the product at the middle of the funnel. Explain in detail the solutions to the problems your viewers face. It will attract them to reach the final step of the funnel and make a purchase.
Convert at the bottom of the funnel. Remind your viewers of the value of your product and convince them of why they need it. Here, you can add testimonials and positive feedback that will persuade the potential customers to convert.
Lastly, you can follow the tips we have prepared for you to ensure you are creating great quality videos!
Define the type of content you want
Collect relevant facts
Set the goals
Advertize the content
2. Membership Funnel Template
As you may have already noticed, all the sales funnel examples given so far focus on lead generation and growing an audience.
However, once you have offered a free gift, collected a long list of email addresses, and sold the product, it is crucial to do one last thing! Convert one-time buyers into loyal customers!
Here is where a Membership Funnel Template comes in handy – focusing on creating a membership program for loyal customers. So, let's see how to make a funnel that will convert buyers into members of your program!
Here, your marketing funnel goes from a very broad to a super narrow one.
You start off with a lead that captures a lot of potential members entering the funnel, and as they move through each stage and some drop off, there are fewer and fewer of them. (Don't worry, this is normal!)
Finally, you end up with only a fraction of what you started with. But those that remain are ideal candidates for a loyalty program!
How do you build customer loyalty?
To secure loyal customers, you need to ensure that all of the funnel steps (lead capture, confirmation, sales page) operate seamlessly and convince your consumers that what you are offering is valuable.
In between steps, you shouldn't forget to send follow-up emails, reminding the potential customers of the benefits of your product.
Finally, your membership page should inform loyal customers about your community and why they should become a part of it.
Ensuring that these stages run smoothly can secure a continuous stream of new members.
The benefits of the Membership Funnel Template include:
Improved conversion rates
Extensive email list
Efficiency and cost-effectiveness
Every new member counts, so make sure you don't miss any due to the lack of attention!
3. Free Plus Shipping Funnel Template
Everybody loves getting stuff for free – especially if it's a gift from their favorite brand!
The Free Plus Shipping funnel works the same way!
Free Plus Shipping is simple: every potential customer who provides their details gets a free gift.
It's usually an inexpensive gift related to the brand (a book, beauty product, T-shirt, etc.).
It is almost completely free. Pay attention to almost! The catch here is that the costs of the delivery will actually cover the cost of the product. So, your company breaks even – for now.
What are the advantages of Free Plus Shipping Funnel?
One advantage of this funnel is that upon ordering the free product, you get the potential customers' email address. This represents an opportunity to advertise to them in the future.
Bear with us though! We are just getting to the juicy part!
The crucial point of this process is the one time offer upsell! So, before finishing with the order, you should offer these potential customers an upsell at its full price. It can be anything – from a similar product to a product related to the gift.
Customers now have a chance to buy something extra and here is where you profit! Great template, right?
Even if customers decide to go with just the free gift, you are still within your budget and you have an extra email to add to your advertising campaigns!
There are many benefits to the Free Plus Shipping funnel including:
Making profit
Gathering information about customers
Attracting new customers
4. Fishbowl Funnel Template
Remember that game from school where you put your name in a big glass bowl and had a chance to win a prize? Good times, weren't they!
The fishbowl funnel works in the same way.
The first sales funnel example lets potential customers enter their email address in a call-to-action on your landing page. By doing that, they have a chance to win a prize – free trial, discount, free product – whatever you choose!
This method is fantastic because it gives you information about the potential customers who have shown interest in your product and allows you to follow up with them and offer something unique to them!
What do you get from the Fishbowl Funnel?
You may ask yourself, why do I need this funnel? Well, the outcome of the successful implementation of Fishbowl funnel is that the potential customers soon become paying ones, plus you drive traffic to your website!
However, make sure that the prize is consistent with your business and relevant to your target customer. It wouldn't be a good look to offer dog food in a fashion store.
Your goal is to grow the interest of potential customers and attract them to your business. Some great deals include:
Discounts on memberships
Discounts on products
Trial periods
Gifts upon signing up
5. Product Sales Funnel Template
Are you struggling with cold traffic and don't know how to woo uninterested consumers to buy your product? Or you want to make a profit, but can't get your current customers to buy more?
A Product Sales Funnel can help you fix both these issues!
This sales funnel example is simple and extremely effective! What you need to do is offer a low-ticket item to catch their attention!
This can be a product at a significant discount, an inexpensive monthly subscription offer, or anything else that fits your company's offering.
Once you have attracted consumers to make this first purchase, you can then upsell additional products as part of the same purchase. Using this method you are increasing your cart value!
The intention behind this funnel is to (at a minimum) break even, and cover the costs of selling the heavily-discounted product. In this case, the value you gain is from the increase in awareness for your business.
More likely though is that you will make a significant profit from additional product add-ons!
Why should you start using the Product Sales Funnel?
The Product Sales Funnel is a great method to use even if you are an e-store or a digital brand owner. This sales funnel template works great as part of a paid ads strategy – promote your discounted product and drive traffic to your website.
Once potential customers have decided to buy your product, you can use the same step as before and offer them an upsell.
If you are a start-up business with a limited budget, instead of paid ads you can opt for alternatives:
Social media for product promotion
YouTube videos advertising your product
Product listing optimization
Are you still doubting whether you should make a Product Sales Funnel template? Here are a few reasons that will persuade you to do so:
Increased return on investment
Gather customer information
Driving more website traffic
"Waking up" uninterested customers
6. Product Launch Funnel Template
Do you have a product that needs to be launched, but you aren't sure how to promote it?
The Product Launch Funnel template is a fantastic method to get your audience acquainted with your newest merchandise.
It's engaging, interesting, and informative – something your potential customers will not be able to resist!
But how to make a funnel? You create a mini-series of short videos, explaining your product, what it can do, and how it will benefit your potential customers.
What's in it for you using this free sales funnel template?
Well, at a minimum, you get their email addresses to use for promotions!
Through the videos, you are providing information to your customers and building suspense before the actual product launch!
Between each video release, you can send email reminders to watch the upcoming video. The final step of the funnel is providing video subscribers the opportunity to purchase your product in advance.
The Product Launch Funnel template creates a lot of benefits, for example:
Educate potential customers (warm and hot leads)
Re-use videos to engage cold leads
Increase profit
Building email list
7. Survey Funnel Template
To secure the success of your business it is important to know what your target customers like. Getting acquainted with your target customers' interests and expectations is the best way to adapt your product to their needs.
Learning about customers can be time-consuming, but selling products to the wrong audience is unlikely to get you very far either.
The great news is that with a simple Survey Funnel Template, you can get to know your customers quickly and effortlessly!
So, let's check out what the Survey Funnel is and how to make a funnel that will work for you!
As its name suggests, the Survey Funnel is a questionnaire that you can send out to your customers via email or through your webpage.
This sales funnel template shouldn't be too long, and usually consists of one to three questions.
How do you make the Survey Funnel?
To start with, you need to decide what you want to learn about your customers. Find what will best allow you to promote your product, then make the survey accordingly.
Here are some of the general demographic questions you may ask:
What gender are the respondents?
How old are they?
Where do they come from?
What are their hobbies?
Make sure to give respondents limited options as answers. This will help you categorize their answers.
The survey allows you to personalize your offers according to your target customers' demographics, interests, or pain points. This way you are increasing chances for sales and/or profit!
Other benefits of using Survey Funnel Template in your business are:
Converting visitors into customers
Improving customer engagement rates
Collecting information on current and potential customers
Generating leads
8. Book Funnel Template
You may wonder why you would use a book funnel to sell your product. However, book funnels have been shown to significantly improve your sales! Let us explain how!
Book funnels, as their name suggests, are excellent sales strategies that include writing and offering a book to attract customers.
This funnel template gives you a chance to organically market your goods and generate leads.
By writing a book on the area of expertise of your company, you can offer something valuable to potential customers and interest them to make a purchase.
How is the Book Funnel created?
The process of creating a book funnel template consists of a few stages:
Writing a book – Of course, in order to offer a book to your customers, you will need to write it first.
Offering a freebie – A freebie can be a preview of your book or something related such as a sales funnel template PowerPoint..
By offering a free version upon sign up, you are creating a list of emails that you can use later on to sell the main book or any other products.
Incentives of developing a book funnel include:
Generating more leads
Introducing potential customers to your brand
Getting customers interested in your products
Increasing sales
9. eBook Funnel Template
Much like the book funnel, the eBook marketing funnel can be a useful tool for attracting new customers and generating lead lists!
The eBook funnel is the number one sales funnel among marketers.
If made the right way, the eBook sales funnel example can be a fantastic contributor to your business model. So, let's check out the best way to develop this funnel template!
You might have made an incredible eBook. However, this book won't be read if you haven't created a great landing page!
To make an eye-catching landing page for your eBook, here are some rules to follow:
The title – use easy-to-follow text that clearly explains what the eBook is about.
The subtitle – The subtitle should explain that the eBook you are offering is FREE. This way you attract more sign-ups and email addresses.
As little text as possible – The less text you put on your landing page, the more inviting it is to read. So, make sure to have only the bare necessities.
Bullet points – Using bullet points is a great method for making the text easier to read.
Add the text above the sign-up form – Clearly detail the required steps to download the eBook. This includes providing email addresses to receive the eBook IMMEDIATELY.
Landing page done, what's next?
Once your landing page is done and your target customers have signed-up and downloaded the eBook, they will land on the Confirmation Page.
A Confirmation Page can also be used to offer an upsell, hence, you get the opportunity to immediately increase your profit! A simple fix for every company!
This eBook funnel template has many benefits:
Provides valuable knowledge to target customers
Enriches your email list
Invites current customers to return for more assistance
Opens a possibility for an upsell
Don't wait! Rush and make an amazing eBook landing page to boost your sales!
10. Webinar Funnel Template
When purchasing a new product, consumers can be hesitant to make a purchase – especially if the product is expensive.
A Webinar Funnel focuses on convincing potential customers of your product's legitimacy and attracting them to buy a product at a higher price point through the medium of a webinar.
A Webinar Funnel template is suitable for gathering leads and collecting emails, whilst getting potential customers interested in your brand and products.
How do you make the Webinar Sales Funnel?
There are a few steps of the Webinar Sales Funnel that will ensure its success!
First, your website visitors should provide their emails upon signing up for the webinar.
Second, you will immediately follow up with the confirmation email where you will thank them for their interest in the webinar.
Third, you will hold the webinar and send the recorded version to all the email addresses you have previously collected.
Emails can also be used for sending unique sales promotions to webinar attendees, nudging them closer to a purchase.
Finally, some of the attendees will be convinced to try out and purchase your product! And voilà! You have made your Sales Funnel work!
One last thing though! Not every webinar is successful. A webinar that will boost your sales, increase conversion rates and improve sales requires detailed planning – think about using webinar tools to help make yours a success.
11. Squeeze Page Funnel Template
Are you running out of inspiration on how to gather more leads? We've all been there, don't worry!
Luckily, every problem has a solution, and the solution to gathering more leads lies in the Squeeze Page Funnel template!
This Sales Funnel template recommends creating a unique page separate from the landing page.
Unlike the home page, which is designed to serve various purposes, a squeeze page is used as a method to collect potential customers' email addresses and other information, utilizing them for future promotions.
Squeeze pages can be in the form of a pop-up page or a type of landing page.
Consider providing an incentive on a squeeze page. Potential customers must be given a reason to submit their email. It can be a discount, a free gift, or any other offer.
Must-haves for a successful Squeeze Page Funnel?
In order to create a squeeze page your visitors will love, there are a few important points to keep in mind:

Eye-catching headline – Writing a powerful caption explaining the benefits of a sign-up is a fantastic way to draw visitors' attention and encourage them to leave their email.
Writing a memorable copy – The copy on squeeze pages is used to convince visitors that what you are promoting is just what they need and motivate them to convert.
Utilize positive feedback – Displaying customer testimonials on your squeeze page will ensure new customers of the quality of your product.
Use case studies – Displaying the brands and companies that you have cooperated with will serve as a statement of your trustworthiness and credibility.
Remove all distracting links – Links distract and deter sign-ups. Removed them from the squeeze page.
Ready to try out this amazing sales funnel? There are some fantastic Squeeze Page Funnel templates that can be used as inspiration, so make sure to choose the one that will bring thousands of new leads into your company!
Pay close attention to this one, because no one likes a blank sales funnel template!
12. Coaching and Consulting Funnel Template
As a coach or consultant you are not selling products, but services. This is why you are not going to jump into promoting yourself and selling your lectures immediately.
For potential customers to be attracted to what you are offering, we will need to take a few side streets first.
The most important point of getting visitors to consider purchasing your service is showing them you are trustworthy and able to provide them with value and solutions.
How does the Coaching and Consulting Funnel Template work?
To make the most out of your Coaching and Consulting Funnel Template and ensure it works properly, make sure to follow these tips:
Attention: You should start off with creating a blog, a web page, or a social media account where you give them snippets of what you do and how it can help them. Make a free offer (ebook, brochure, etc.) that will provide you with visitors' emails.
Use your newly created email list: Now that you have collected emails, you can start reaching out to your subscribers and building a relationship with them.
Online event/sales pitch: Once you have established a trusting relationship with your subscribers, organize an online event or webinar. Here you can offer guides, tips, etc., and assure the audience that you are the person that will solve their issues.
Start making the sale: As you get the audience engaged and interested in what you have to offer, you can ask them for more information, and schedule one-on-one meetings where you will finalize your offer and encourage them to work with you.
Seal the deal: You have come to the end of your funnel and turned the audience into paying customers! Great job!
Everything looks like a challenge until you start working on it! That's why we encourage you not to waste any more time, but use this free sales funnel template to convert visitors into customers non-stop!
13. Flipped Funnel Template
Sales funnels typically follow the same path – you attract a large number of potential customers and as they move through the funnel levels their number decreases.
Those who come to the end of the funnel are the ones who made a purchase.
Conversely, this sales funnel example aims at nurturing relationships with existing customers and encouraging them to bring new customers through referrals.
Many marketers claim that this funnel is a better option for companies since it provides them with the opportunity to nurture their relationship with their current customers.
As opposed to the traditional sales funnel which focuses on attracting new customers through marketing strategies, the flipped funnel uses existing customers to market their products.
The Flipped Funnel template works especially well for new companies with a limited budget. It is a simple and cost-effective way to brand your product and increase sales and conversions.
How to make the most out of the Flipped Funnel?
Here are three simple steps to follow to achieve great results with Flipped Funnel:
Take care of your existing customers – go above and beyond
Create discount codes and personalized offers for existing customers
Motivate existing customers to promote your brand
Making your existing customers feel special and important is the key to the Flipped Funnel's success. Some methods you can use to provide value to your customers are:
Creating a community
Providing superior customer service
Offering exclusive discounts to existing customers
14. Tripwire Funnel Template
People enjoy buying products that are on sale. Even more so, they love buying valuable products offered at an extremely low price.
If you ever came across a website offering a product of great value at an enormous discount price, you have most likely come across a Tripwire Funnel.
Tripwires, or "splinters" as they are popularly known, are goods of a high value that are being sold at a very low price, usually ranging from $1 to $50.
This offer typically draws consumers to purchase since they are getting a fantastic deal with minimal cost!
You may wonder though, how does it pay off? Let's explain.
How to make a profitable Tripwire Funnel?
First, you make an offer your target customers will not be able to resist. Upon ordering a product they will have to leave their email address. This generates more leads, and in this case, we're talking about one NICE email list here!
Pay attention though to make your offers sound urgent, this way target customers are more likely to buy the product, since your offer may expire at any time!
Once a purchase has been made, it's time to present a high-end product at a much higher price, ideally from $500 to $2000. And here is your profit!
Let's check some of the best tips to ensure you are developing a funnel that will work:
Include visual content – photos and videos are a sure way to engage your audience and get them interested
Write a compelling headline – an eye-catching headline will undoubtedly attract consumers to learn more about your offer
Add testimonials and positive feedback – reviews of your product assures new customers of your products quality and value
Some of the benefits of creating a Tripwire Funnel include:
Generating leads
Boosting sales
Higher conversion rates
Have you tried it already? If not, make sure to do it soon, there is nothing to lose!
15. Affiliate Marketing Funnel Template
Though it may seem like a fantasy far away from our reality, passive income is a thing! And it can be achieved through affiliate marketing.
Affiliate marketing is a simple method used to make commissions. What you have to do is simply market other businesses and products.
Every time the purchase of their product is made via links on your owned media, you get part of the profit!
Let's try to look over it step by step!
The most important step to take here is to choose the right affiliate program.
One good piece of advice here is to try out the trial versions of products you may want to become affiliated with.
Next, you should create a landing page that will require your customers to leave their email addresses and where you will offer them the affiliate link to the product.
The catch here is to point to your customers that they have a problem and you have the perfect solution to it!
Finally, once your customers decide to purchase the product you have promoted, you get a commission from the sale! Easy as pie!
Why do you need the Affiliate Marketing Funnel?
There are many reasons why you should start using Affiliate Marketing Funnel in your business. Some of the benefits of the Affiliate Marketing Funnel include:
Generating new leads
Increasing passive income
Promoting your products
Increasing traffic
Increasing overall ROI
There are plenty of different Affiliate Marketing Funnel Templates, so make sure to check them out and choose the ones that best suit your company!
16. Real Estate Funnel Template
We live in the world of Internet search. Whatever question we may have, we are going to search online before contacting anyone looking for information.
Hence, it is crucial to remember that the first perception people get from you is most likely through your web page!
You can be the best salesperson this world has ever seen, but if your website is not properly designed potential customers will not want to learn more.
All companies should put some effort into creating a website that will attract, guide, and interest potential customers – especially in highly competitive businesses such as Real Estate.
As a Real Estate Agent you are closer to marketing than you may even think. In order to successfully sell property, you need to market it.
Follow the steps we have prepared to create a Real Estate Sales Funnel Template that will improve your profit immensely!
How to make the Real Estate Funnel that will generate leads?
As with any other sales funnel, the incentive of the Real Estate Funnel is to generate more leads and interest website visitors to become customers. So, let's go over the most important aspects of this funnel template:
Create a landing page – Not to repeat ourselves, but an easy-to-understand landing page, with an option for gathering customer emails is crucial for sales!
Add a pop-up – In case you want to use your landing page to showcase what you are offering, a pop-up is another way to ensure you are collecting emails. Create a pop-up that will ask for visitors' information.
Email follow-up – Once your visitors have subscribed to your newsletter, make sure to send them a follow-up email. That can be a "Thank you" email, or more news and promotions from your business.
Take care of your customers – Personalizing your emails to adapt to specific customers' needs is a sure way to secure their loyalty.
Real Estate Sales Funnels have a lot to offer and will undoubtedly help you in:
Generating more leads
Increasing sales
Creating a loyal customer base
Standing out from the competition
In case you need some inspiration on how your website can look, there are plenty of templates available, so don't hesitate to check them out!
17. Lead Magnet + Email Funnel Template
The goal of any company is to win as many customers as possible. "The more the merrier" is a phrase that has never been clearer than in this case.
No company can survive without a sufficient number of loyal customers. However, it is not always the simplest task to build a list of loyal, regular purchasers.
The solution lies in the Lead Magnet Funnel Template!
This easy-to-create and super effective funnel template will make your life easier…
How do I create a sales funnel that will serve as a lead magnet?
We know, it sounds like a difficult task to complete. Generating leads is never simple. However, we are here to help! Follow the steps we have prepared for you and learn how to make a Lead Magnet Funnel Template fast and easy!
The first step to creating a fruitful Lead Magnet Funnel Template is to design something that you will offer your visitors for free – in return for their email addresses. It can be anything from an ebook, chapter of a book, pamphlet, you name it!
Decide who your target audience is and jump into making something they would want!
After your visitors have submitted their emails (the long-awaited LEADS!), you will send them a thank you email with their free gift!
Later you can use their emails to promote your products and offer them discounts.
Simple and extremely powerful!
What are the advantages of the Lead Magnet + Email Funnel Template?
Lead Magnet + Email Funnel Template can have numerous advantages and bring many benefits to your business! Here are some that shouldn't be overlooked:
Lead magnet is a highly persuasive method that will motivate your visitors to become paying customers.
This template offers high value.
It is specifically designed to cater to your visitors' interests.
Your customers will be able to get the ordered product immediately.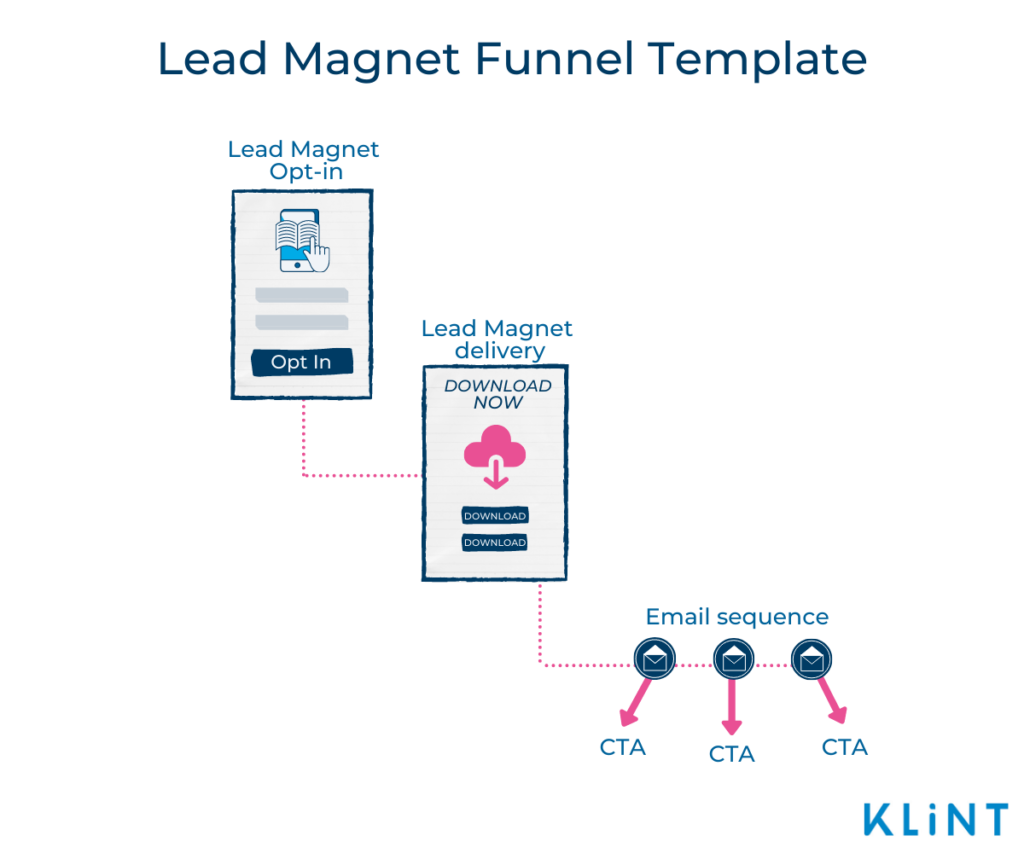 18. Challenge Funnel Template
Challenge Funnel is among the newer strategies developed by digital marketing experts.
However, it has shown great efficiency in generating leads and converting customers.
One of the main incentives of this funnel is offering your customers an outcome at the end of a challenge.
Do you already have ideas on how you could start a challenge? If not, we are here to help and guide you through the process!
A Challenge Funnel Template does miracles for companies offering products that require customer participation, or step-by-step setup. Still, with a bit of creativity you can manage to interest customers to take part in the challenge!
How to make an engaging Challenge Funnel Template?
Look no more, we have the perfect answer for you! Let's say you are developing a 5-day challenge for a healthier lifestyle.
Create an eye-catching invitation promising benefits by signing up and commit to the challenge.
Once they submitted their emails, and you have built the email list of interested participants, you can start sending them daily email reminders and guides on what they should do daily to fulfill the challenge.
These guides could be anything you are working with: meal prep plans, ideas on fast and healthy meal solutions, 5-minutes exercises – you get the point.
Through these emails, you are getting the opportunity to upsell and offer participants more varied products. Finally, once the challenge is over, you can make a final offer for your product at a reduced price!
In case the consumer doesn't want to make a purchase, you can offer them additional challenges and use the funnel over and over again.
Through the challenge and have educated your audience about the product and its benefits.
Some of the main benefits of this sales funnel example include:
Getting customers adapted to your product gradually
Allowing you to upsell
Collecting new email addresses
Higher conversion rates
19. High-Ticket Funnel Template
Have you ever thought of starting to sell high-ticket products? It is a scary thought, we agree! But we have the perfect purchasing funnel to help you accomplish great results!
High-tickets are considered all the items that cost $1000 or above. Whether your company is selling cars, watches, or any other item, you have to be careful how you design a High-Ticket Funnel, to make sure your future customers' are satisfied!
Since potential buyers are about to invest a considerable amount of money in your product, you need to convince them of the item's quality and worth.
How to ensure your high-ticket product will be sold?
It is often a challenge to sell a product at a high price. Therefore, to ensure your products are being sold, you need to ensure that your customers are sliding down the purchasing funnel smoothly! Here are some tips that will help you in achieving that:
Create an online event – The first move along the funnel is creating a webinar event page where visitors can register and leave their email address and any other information you may find useful.
Follow-up email – Thank your visitors for registering for your online event and provide them with the link to the event.
Host the online event – The webinar should promote your product, exhibit its value and benefits, and attract customers to the next level!
Call-to-action – Upon webinar's end, redirect visitors to the call-to-action page, where they will have to pay a small deposit for the product if they have decided to purchase it.
The last step is a fantastic way of making a profit in advance, without pushing to make a purchase immediately. Leaving time to think about the purchase is a way to build a trustworthy relationship and not seem desperate to make a sale!
Ready to try out this fantastic funnel template? If not, make sure to check out how some of the most prosperous companies in the world used funnel templates to their advantage!
20. First User Funnel Template
Is your website creating a lot of traffic, but failing to convert the visitors into paying customers? Or maybe you have noticed that you are losing customers that were seemingly interested in your offers?
Yes, we've all been there. It's annoying and even discouraging.
Finding the right path towards securing customer acquisition and retention may indeed take a while. However, with the First User Funnel Template, we will guide you to great success!
The First User Funnel or Customer Acquisition Funnel as it is also known, is an amazing method for:
Keeping track of visitors
Observing customer behavior
Noticing what aspects should be improved
Recognizing what customers want and need from you
Post-purchase assessment
What should you pay attention to?
The crucial point of this sales funnel example is setting guidelines and specifying what the main incentives for you are. Some of the ideas that you may take into consideration are:
What are your teams' priorities
How your teams nurture potential customers
Which customer actions are most likely to lead to a sale
How long is the sales cycle
What are the useful metrics that contribute to customers' moving down the funnel
Customer subscription plans
Once you have established the main points of your First User Funnel Template, you can go on and analyze customers' behavior. You should pay close attention and not lose sight of your:
Goals
Format
Unnecessary steps
Redundancies
Making sure that every one of the steps above works well, is a sure path to increase customer acquisition. Gather your team and check out if there are any oversights in your funnel!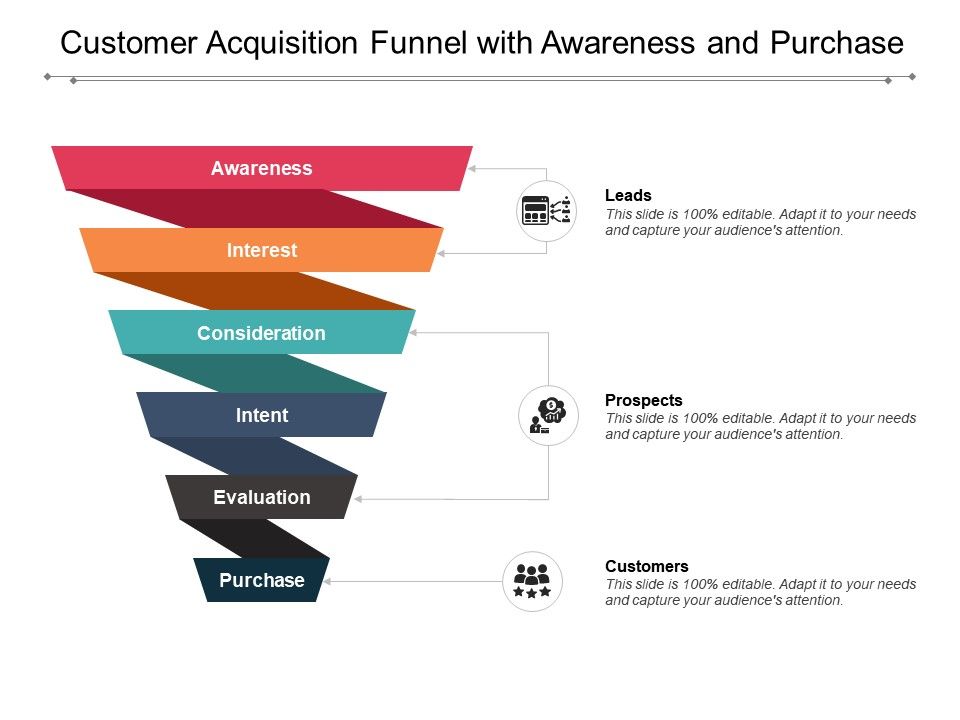 Conclusion
Sales Funnels have proved to be a simple yet extremely effective solution for marketers and business owners to successfully reach their goals.
Funnels allow businesses to cost-effectively improve their sales, convert visitors into paying customers, and make a profit.
Choosing the right Sales Funnel Template for your company is a crucial step towards achieving your company's goals and ensuring your business runs smoothly.
Putting some time and effort into building the right funnel template that will operate automatically in the future is a great investment that will bring a number of benefits!
We hope that with our list of 20 Best Sales Funnel Templates, you have found at least a few that will serve you and help you run your business smoothly and achieve astonishing results!
Good luck, and let us know how Sales Funnels are working out for you!