Data analysis tools have enabled businesses to access more information on their performance than at any other point in history.
Which is great.
But also a pain.
There's almost too much choice.
In this post, we'll run you through the 32 most effective data analysis tools, highlighting:
The best features of each tool
Who each tool is great for
The pricing models for the data analysis software we selected
Let's get started.




The 32 Most Effective Data Analysis Tools
Many data analysis tools offer free trials or even free versions. It's definitely worth checking these out before you commit to a purchase so you can be sure that the tool suits your needs. There's plenty of different tools that will easily fit into to your existing tech stack. This list is organized alphabetically rather than by any ranking system.
---
If you run an ecommerce business, why not check out Klint's list of the best ecommerce analytics tools?
---
Alteryx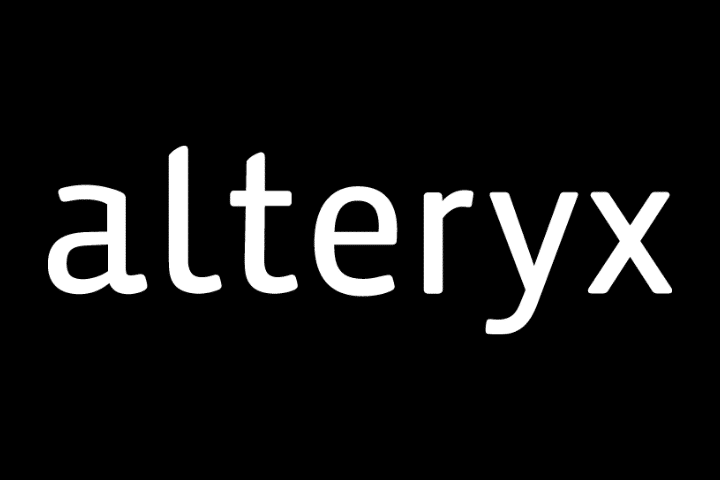 Alteryx provides business intelligence and a selection of quantitative and qualitative data analysis tools to small and medium-sized businesses.
It's an agile analytics solution designed for laptop and desktop computers with business executives in mind.
Features
Raise the bar for analytics by implementing predictive analysis, data mining, and prescriptive analytics at scale.
It allows for Ad Hoc Analysis
Automatic Scheduled Reporting
Highly Customizable Dashboard
Location Intelligence which allows you to enrich your dataset demographic from leading industry sources
Over 200 partners and technology integrations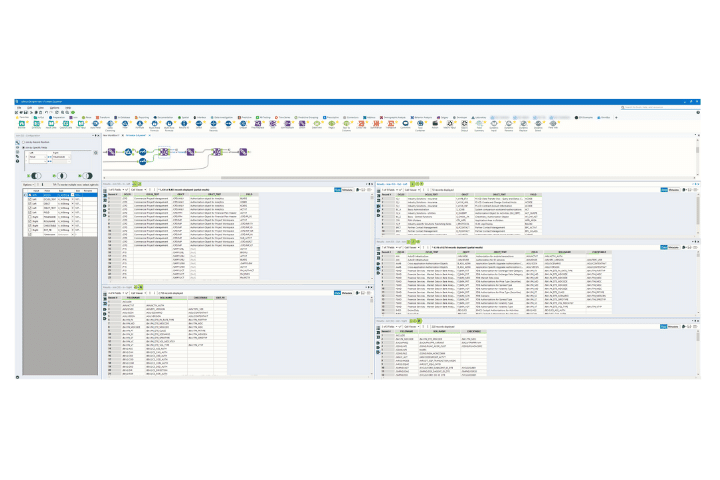 Price
Alteryx is available in two pricing models.
The first is Alteryx Designer, which offers a simple drag-and-drop experience, speed data preparation, data blending, reporting, and low-code data science. This edition costs $6260 per year.
The other option is Intelligence Suite, a driven, automated machine learning, and NLP for Alteryx Designer. It uses guided modeling to speed up development, as well as allowing access to integrated OCR and text analytics. This edition costs $2780 per user per year.
There's also two types of free trial: a four-day access version that does not require a download, and a one-month access version that provides full access to Alteryx Designer.
AnalyzeData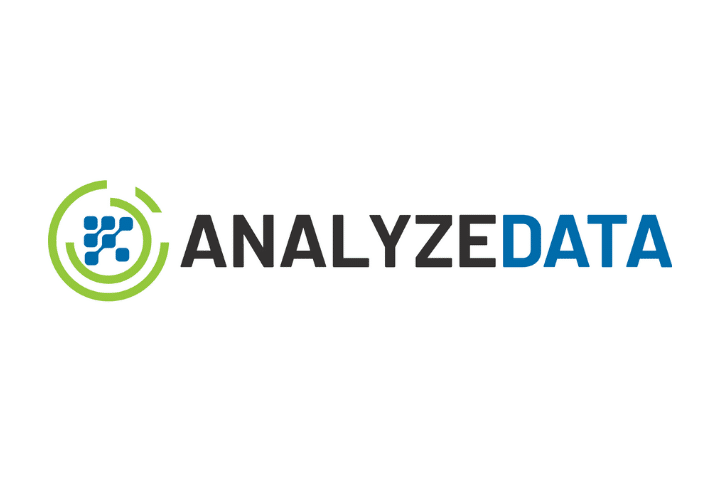 AnalyzeData is a young company founded at the Eindhoven University of Technology. They employ cutting-edge academic technology, including award-winning technologies created by team members to produce their suite of data analysis tools.
Their innovations have received multiple awards and contributed to prestigious cyber-security communities. Additionally, the platform does not require a data scientist to use.
The use cases for the platform range from telecom fraud, healthcare, and manufacturing systems.
Features
Real time insights
No large investment needed
Understandable and actionable
GDPR compliant
Possibility to set up in under an hour
Self-service Data preparation
Data discovery
Dashboards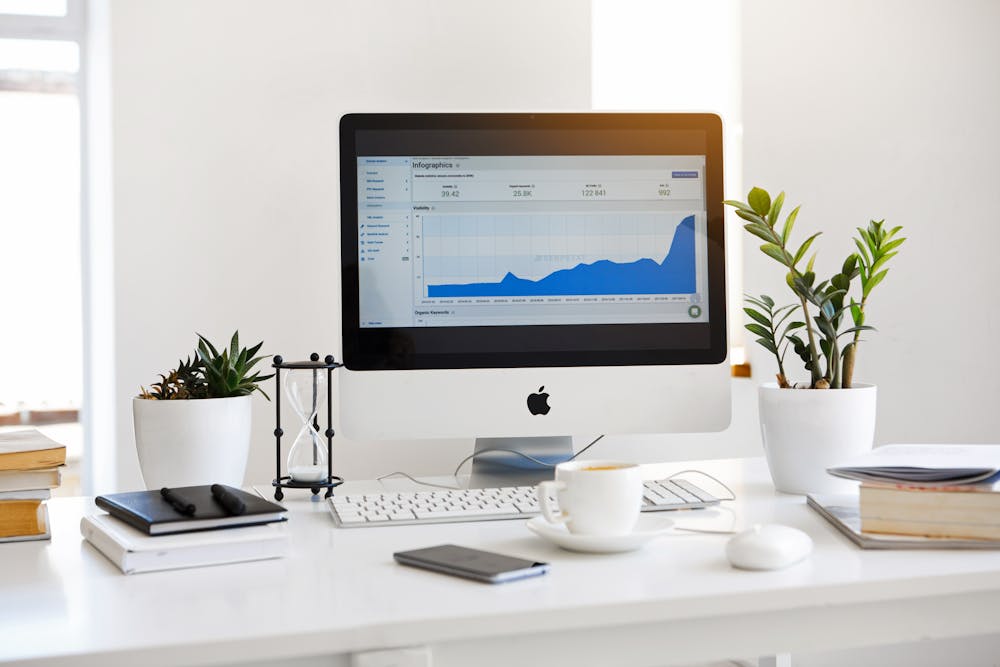 Price
AnalyzeData has a free version and no fixed price for their paid service. To get a quote, contact their sales team to tailor a solution for your company.
BirdAnalytics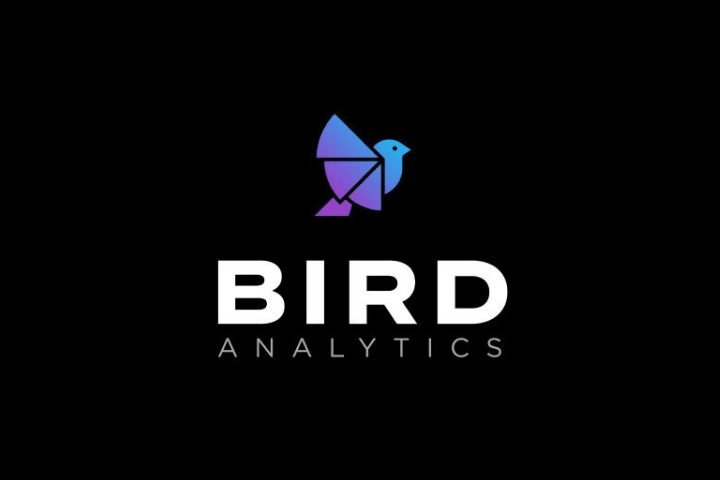 BIRD Analytics is a cutting-edge data analytics platform that provides businesses with simple and quick access to real-time analytics and secondary data analysis.
In order to generate insights, the platform employs agile Business Intelligence and AI/ML models.
BIRD Analytics also includes a flexible, built-in enterprise data center, which eliminates the need for a conventional data warehouse.
Features
Ad Hoc reporting
Collaboration technologies
Data blending
Dashboard
Data Discovery, connectors, and blending
Chatbot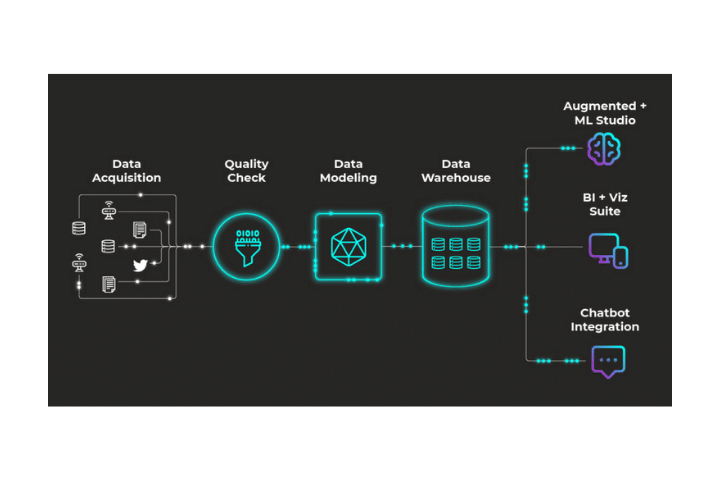 Price
To schedule a demo or receive a quote, contact the BirdAnalytics team.
Board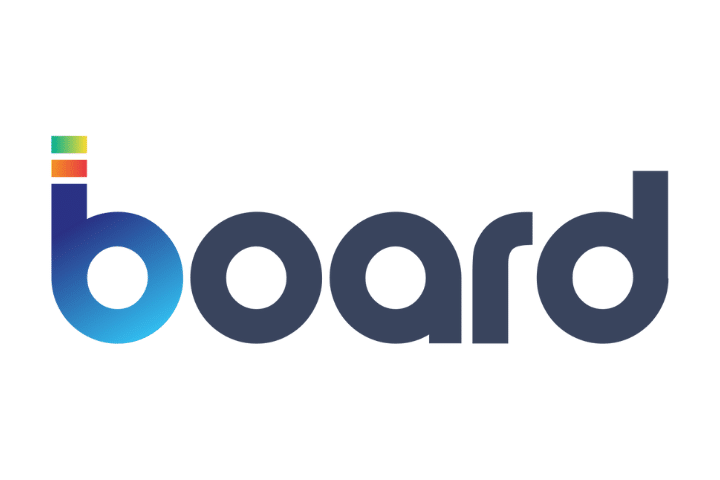 Board is Business Intelligence and data analysis software designed for decision-making. It blends business intelligence and organizational success management functions with a wide range of data analysis tools. It is intended to provide both business intelligence and business analytics in one package.
Features
Granular Security
Server Clustering that allows board server workloads to be shared an unlimited number of times
Corporate Performance Management, Business Analytics, and BI
Using a single interface, you can analyze, simulate, schedule, and forecast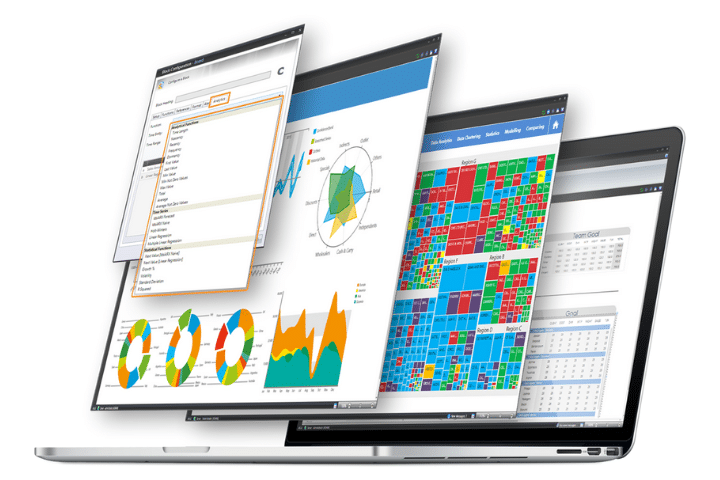 Price
Pricing information is not available online. Contact Board to schedule a free demo and get a quote.
Datahunter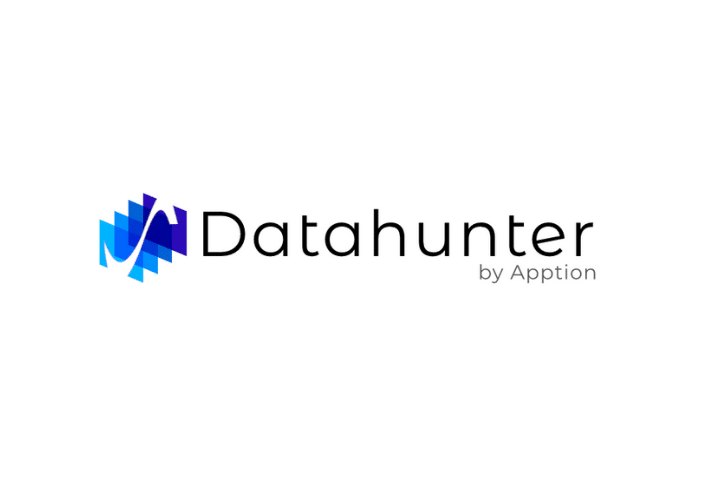 Datahunter analyzes every data source quickly and reliably using machine learning algorithms.
Datahunter's selection of data analysis tools offer a wide a varied range of features.
Learn more about privacy enforcement, cloud migration preparation, data cleansing, and AI readiness by gaining deeper perspectives and uncovering previously unknown threats.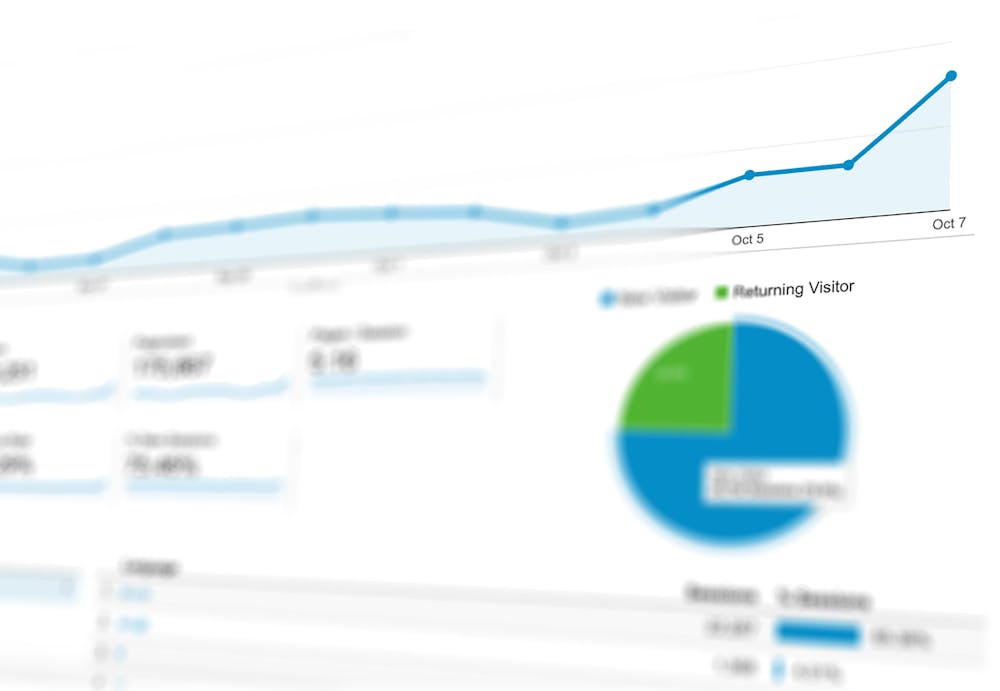 Features
Automated Data Discovery developed over a decade
Deep Data Scan
Extract Data Clusters
Cloud Migration
Data Visualization
Deep Learning and Dashboard
Price
Datahunter has two editions:
Grow – Which includes Azure/AWS support, data file analysis, automated risk indicators, data quality recovery, and AI readiness assessment.
Scale – Which includes everything in the Grow version, as well as any database or data source, custom configurations, custom AI identifiers, and custom integrations.
To obtain a quote, contact the Datahunter sales team.
There's also a 14-day free trial of the platform available.
DataScouts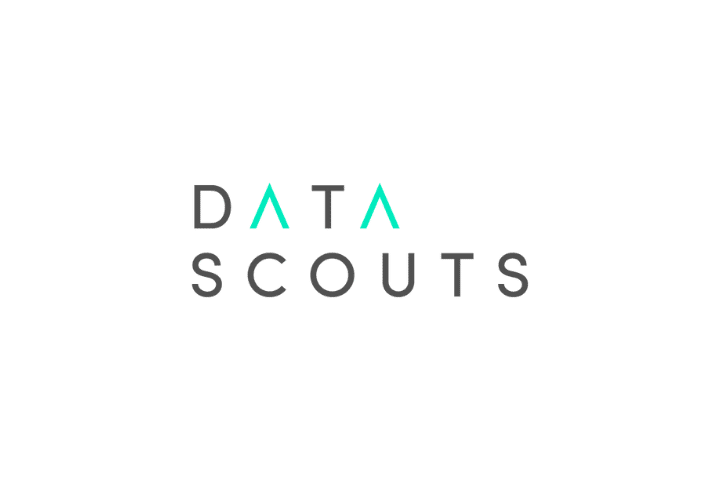 DataScouts is an Intelligence platform that makes it simple to map stakeholders, investigate industry dynamics, and identify opportunities via quantitative and qualitative data analysis.
You can explore a fast changing and unpredictable market environment. Utilize data to generate specific business scenarios and competitive intelligence.
Features
Ad Hoc reporting
Alerts/Notification
Annotations
Benchmarking
Easy data upload
Automatic cleaning
AI-enabled suggestions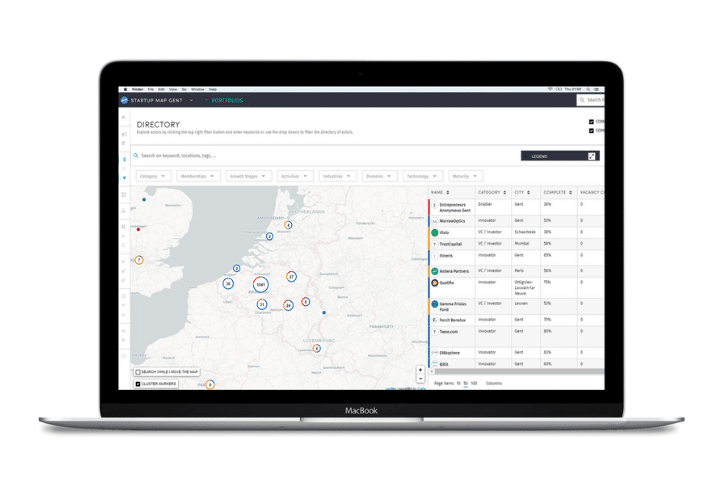 Price
DataScouts is available in three different pricing models.
The entry level version, Stakeholder Mapping, includes enriched company profiles, dashboards and alerts, and portfolio mapping. It costs €349 ($412) per month.
Upgrading to the mid-level version, Collective Intelligence, grants access to suggestions and exploration and costs €639 ($755) per month.
Finally, the Competitive Intelligence version of the tool features scoring and ranking for €989 ($1169) per month.
You can also contact DataScouts sales team to schedule a free demo.
The Collective Intelligence edition includes the previously listed features, as well as knowledge base buzz & feeds, suggestions and exploration.
The Competitive Intelligence edition includes all of the above features as well as Scoring and Ranking.
You are allowed to book a free demo contacting the sales team on their website.
DigDash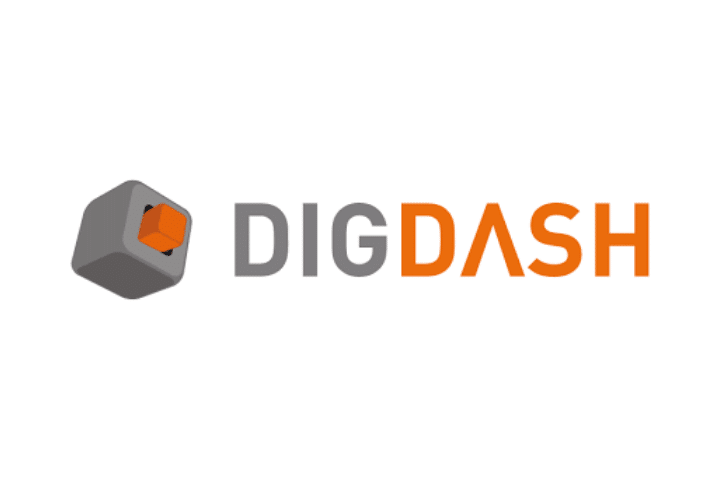 DigDash is a French software platform that produces dashboards and data analysis tools for data visualization and analytics.
The platform assists customers in better managing their firms, exploring their data, and communicating it effectively.
Their website focuses on uses of their software in the the public sector, retail, banking & insurance, and transport.
Features
Ad hoc reporting
Data integration
Data visualization
Drag & drop feature
Agile and easy to use software
Powerful infographics and explanatory texts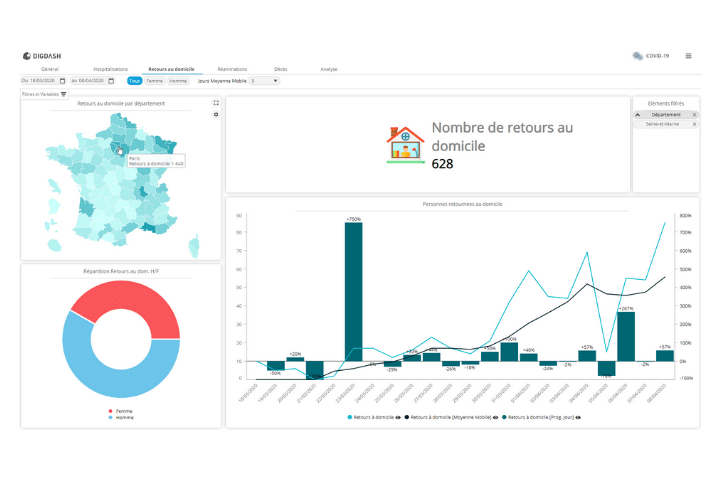 Price
Contact DigDash for pricing information. You are also able to book a free demo.
Domo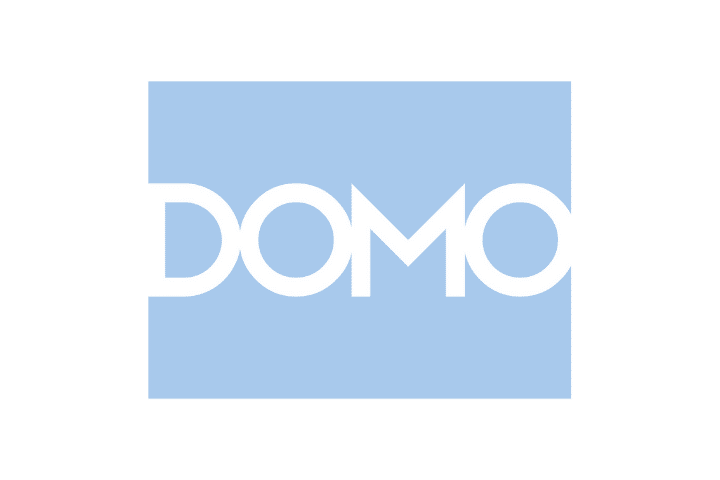 Domo is a digital business intelligence platform that integrates with today's technology.
Their selection of data analysis tools allows you to visualize complex data and create actionable insights.
Domo's marketing focuses on the ease of creating a modern business that is data-driven, and maximizes internal data use.
Features
Data integration
BI and analytics
Intelligent apps
Embedded & extended analytics
Security & governance
Over 1000+ pre-built cloud connectors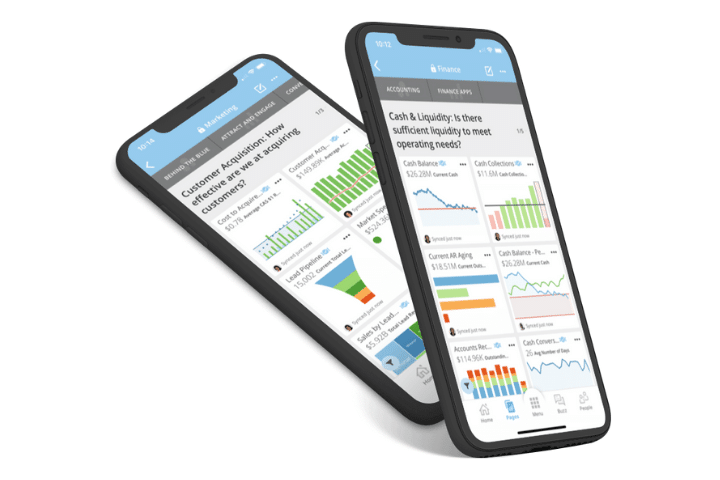 Price
Contact Domo's sales team to schedule a 14-day free trial or obtain pricing information.
GoodData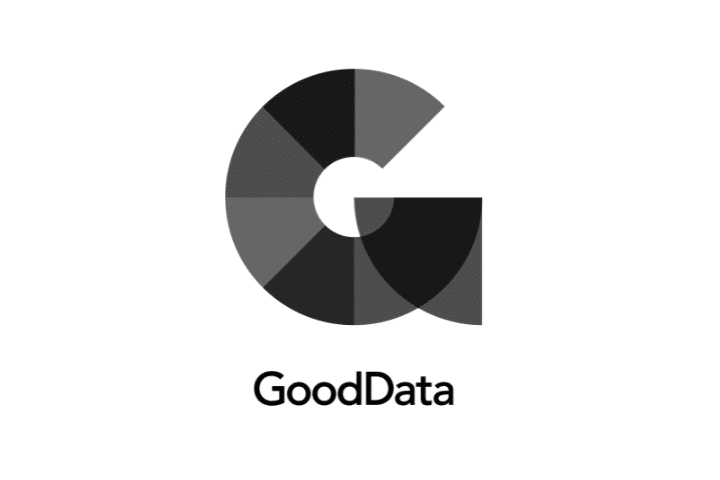 GoodData is a powerful, cost-effective, and completely customizable platform.
Simple to handle and scale, it enables you to generate insights, reports, and a variety of dashboards.
GoodData pride themselves on the ability to facilitate you in creating comprehensive dashboards and reports by providing quantitative and qualitative data analysis from a wide range of sources.
Features
Self-service for non-technical users
Real time analysis
Drag and drop metrics and filters
Super customizable interface (custom logo, branding, and colors. It also allows you to apply different brand identities for different departments)
User friendly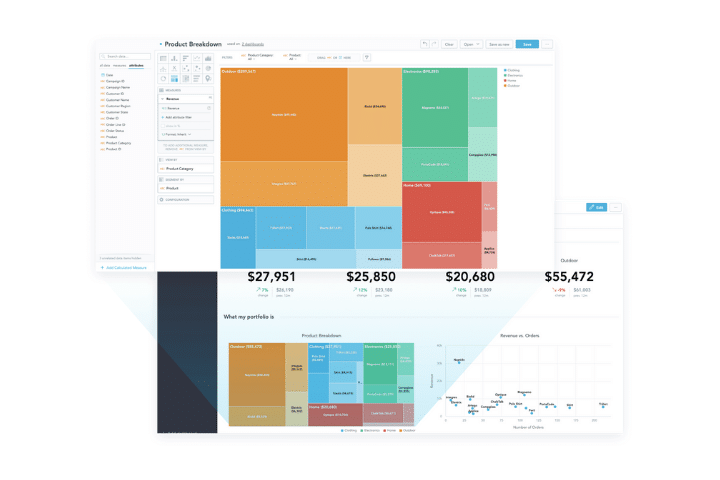 Price
GoodData offers three pricing models.
The free version allows you to connect with third-party data warehouses and upload CSVs. There's also a drag-and-drop dashboard builder. It allows for five workspaces and 100MB per workspace.
Upgrading to the Growth version for $20 per month gives you the ability to monitor, edit, and control team dashboards, along with access to advanced analytics and higher computing performance.
Finally, the Enterprise edition of the software features 150+ data sources for transferring raw data, plus access to 1TB of storage. Pricing for the Enterprise version is available on request.
Gravwell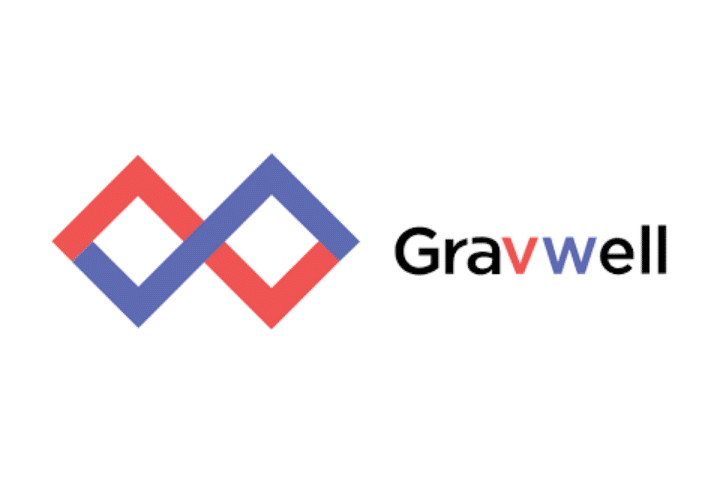 Gravwell is adaptable full-stack data analysis software. The company offers analytics capabilities to people who need more than just text log searching.
They were created in the Internet of Things era and focus on the need for modern data insights and quantitative and qualitative data analysis for cybersecurity, business analytics, and more.
They serve a diverse set of consumers across a wide range of industries.
Features
Cyber security
Unlimited Data Ingestion and data retention
Unlimited Ingester Endpoints
Automated operations
Data replication that helps you make sure your data stays safe and never gets lost
Scalability
Live Dashboards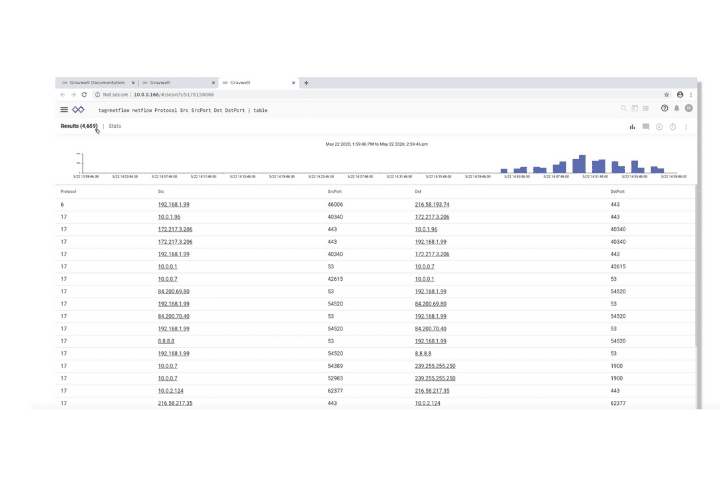 Price
Gravwell is available in four different versions.
The free edition has a daily data ingest limit of 2GB, unlimited retention, unlimited ingester endpoints, and an unlimited search count.
The Pro Edition costs $500 a month, and features unrestricted data ingestion, binary data support, tiered storage, and more.
Pricing of the Enterprise Edition starts at $24,000 a year, and includes a multitude of features such as configurable data retention, built-in management, and scriptable/custom search.
The Enterprise Extended version of the software costs $48,000 per year and is optimized to handle a data ingest of over 100 TB per day. It features distributed web frontends and region-aware redundancy.
Contact Gravwell to schedule a demo.
Holistics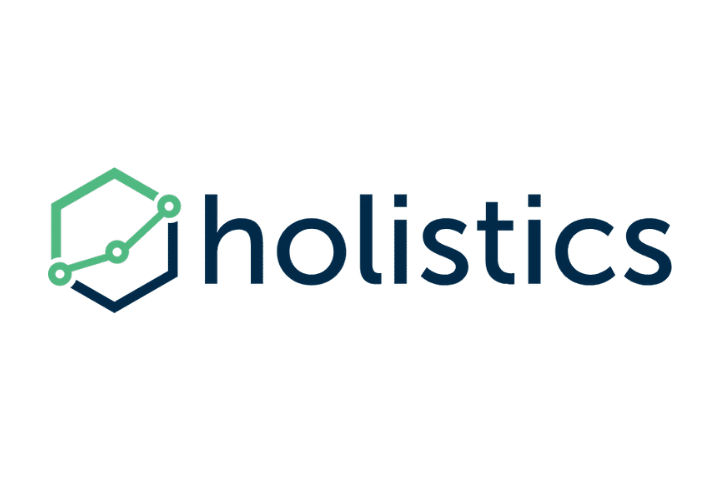 Holistics is data modeling and self-service business intelligence and data analysis software.
Users don't need to be able to write SQL code to use the software, and it's designed to work without the assistance of a data scientist or IT expert.
Features
Self-service BI
Embedded analytics
Data Modeling
Data delivery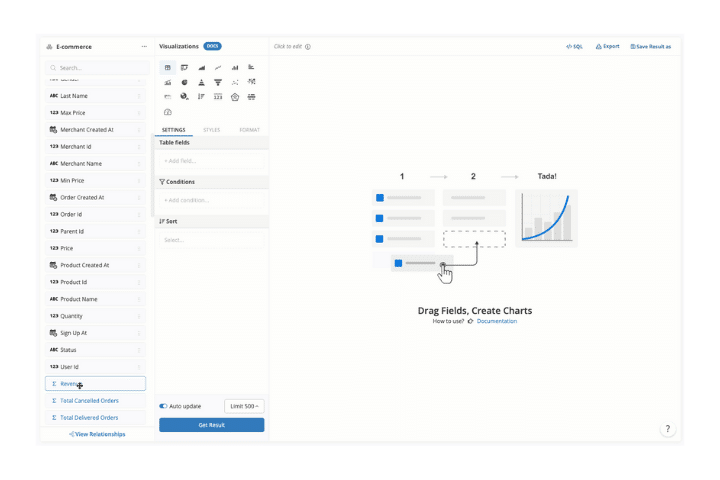 Price
Holistics has four different pricing options.
The Entry version costs $100 per month and is designed for analytics beginners. Its features include data set exploration and report building.
Standard costs $250 a month and allows users to access metrics sheets and map visualizations.
Professional is priced at $500 a month and features unlimited reporting and user activity monitoring.
Finally, pricing for an Enterprise version for large businesses is available on request.
Contact Holistics for access to the 14-day free trial.
Hyper Anna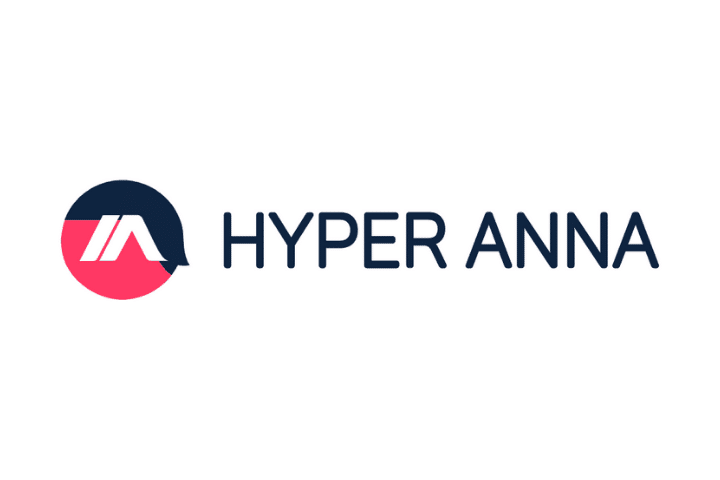 Hyper Anna is an award-winning AI-powered analytics tool. Clients include Microsoft, IAG, and Westpac.
Hyper Anna's platform synthesises millions of data points in seconds to present primary and secondary data analysis insights and is useful to a wide range of industries.
Features
Intelligent insights and integration with the systems you already use
The ability to automate repetitive tasks
Business Intelligence and self-service data prep
Collaborative software for remote or in-person teams
Streamlined data consumption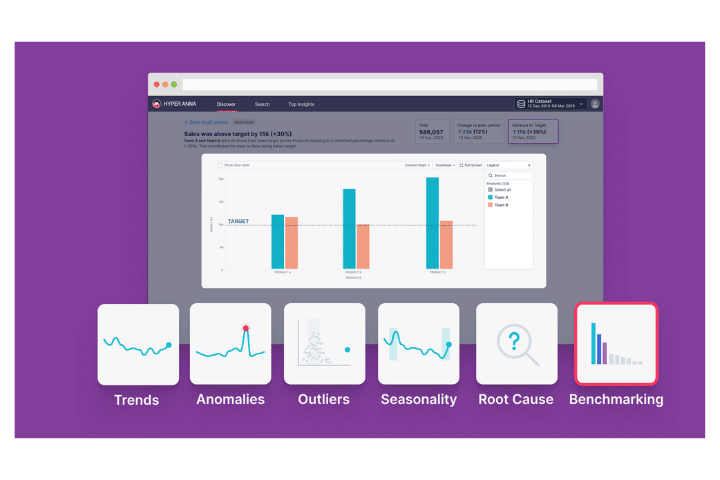 Price
Hyper Anna's pricing is tailored to your specific needs, taking into account factors like consumer use, data use, and scaling strategy.
Contact HyperAnna's sales team for a quote.
There's also the option of a 30-day free trial.
ibi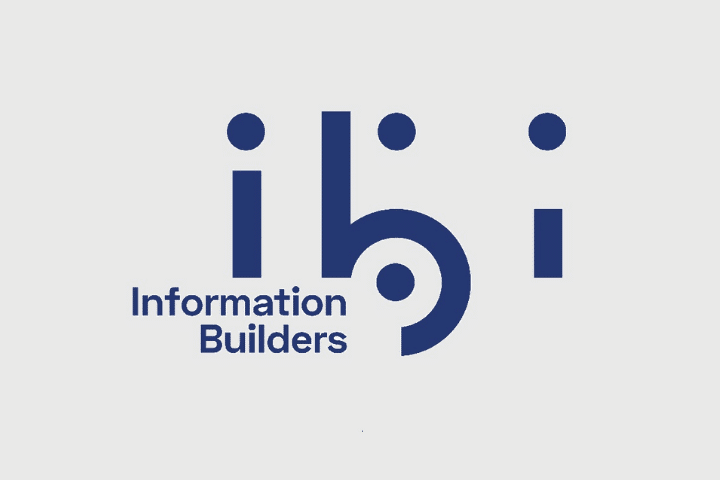 ibi is a data analytics platform produced by American software company TIBCO.
The tool focuses on the importance of streamlining complicated data via a cloud-based platform.
Features
Ad hoc reporting
Dashboards
Drag & drop
Financial reporting
Forecasting
Data import/export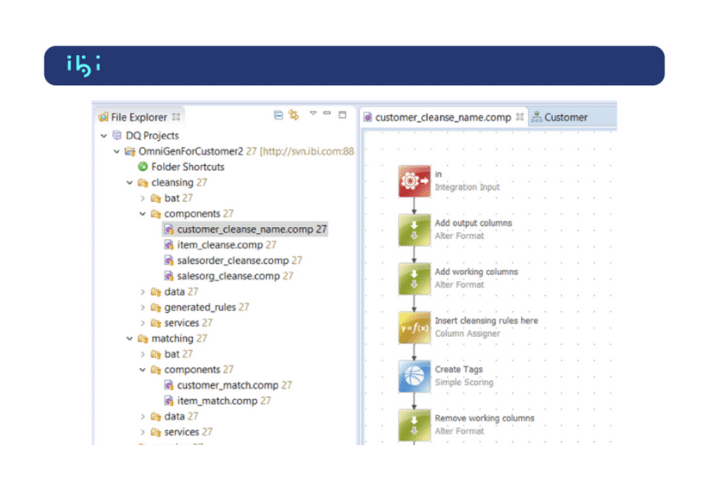 Price
ibi does not include pricing information on their website, so contact the sales team to receive a personalized offer tailored to your needs.
A free demo of the platform can be requested at any time on the website.
Intact Analytics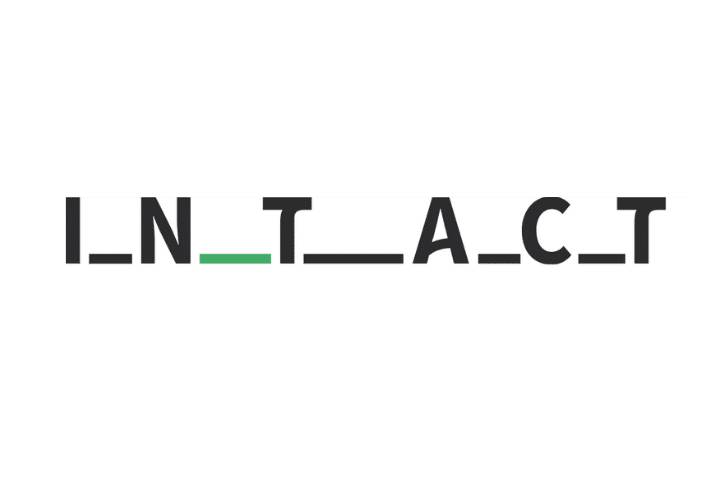 Intact Analytics is an audit analysis platform that uses artificial intelligence (AI) and primary and secondary data analysis to identify anomalies . It then makes recommendations as to how to develop your data reading strategy.
This enables users to make educated decisions based on 100% analyzed data.
Features
Analyze 100% of your audits instead of random samples
Smart dashboards
Anomaly Detection
Risk-based planning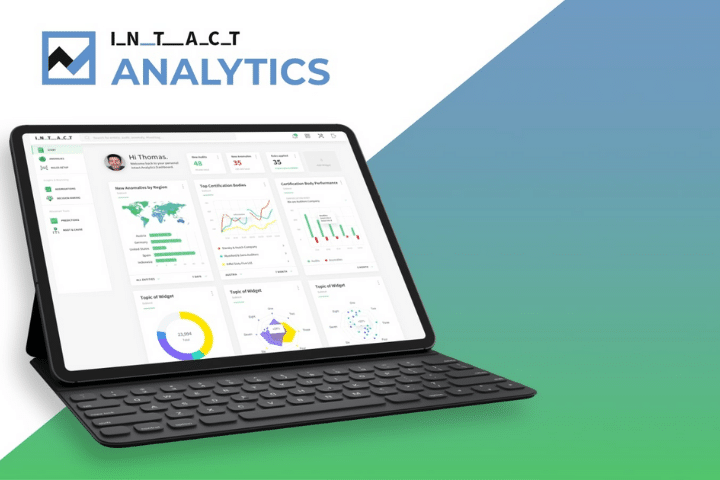 Price
Pricing information for Intact and a demo is available on request.
JMP Statistical Software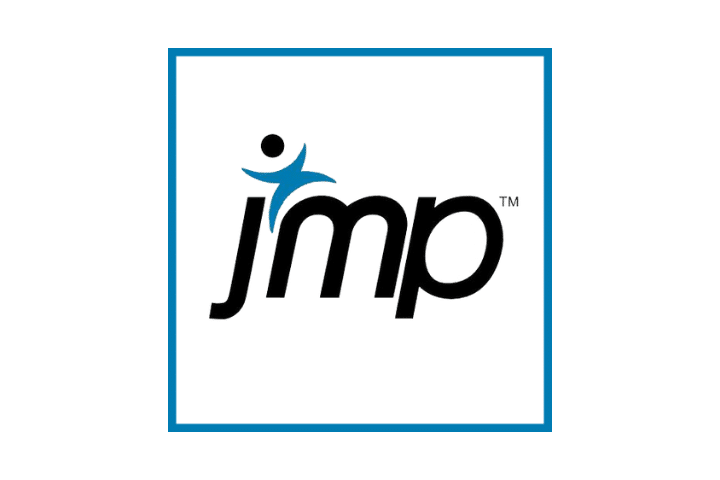 JMP produces a range of data analysis tools that are available for both Mac and Windows. They focus on data discovery and visualization, along with modelling features.
JMP was founded in the 1980's by SAS software, and the platform features a variety of analytical techniques from a broad range of industries.
Features
Data acquisition and cleanup
Data visualization
Basic Data analysis
Sharing results
Statistical modeling
Group, filter, and subset data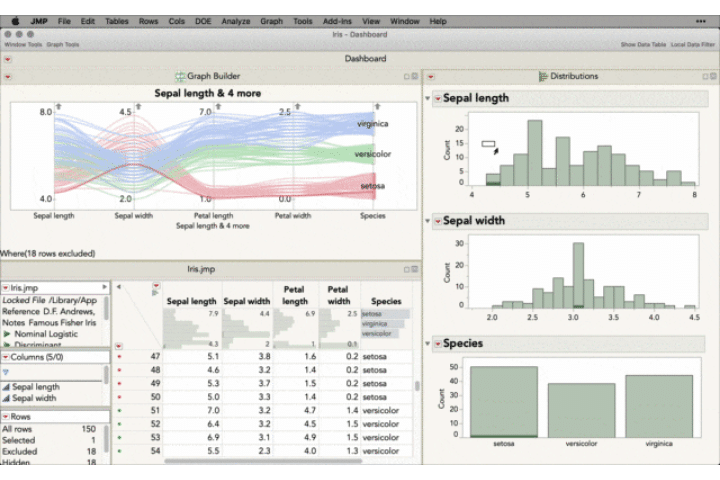 Price
JMP is available in five versions.
The entry level version contains all of the features mentioned above.
JMP Live is focused around collaborations and features enhanced security.
Pro is predictive analytics software with advanced features like cross-validation and model comparison.
Clinical is designed for drug development.
Genomics is genomic data analysis software.
Pricing and demos for each model is available on request by contacting the JMP sales team.
KNIME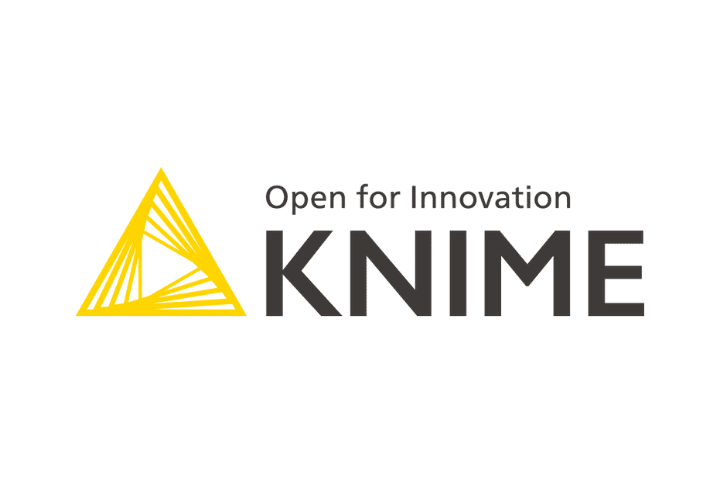 KNIME is a Swiss-based open source data analytics, reporting, and integration platform that is used for data science.
Using a combination of quantitative and qualitative data analysis, the tool makes it easier to interpret and analyze data.
Features
Derive statistics
Aggregate, sort, filter, and join data
Extract and select features
Open and combine many types of files (CSV, PDF, XLS, JSON. XML, etc)
Connect to different hosts (Oracle, Microsoft SQL, Apache Hive, etc)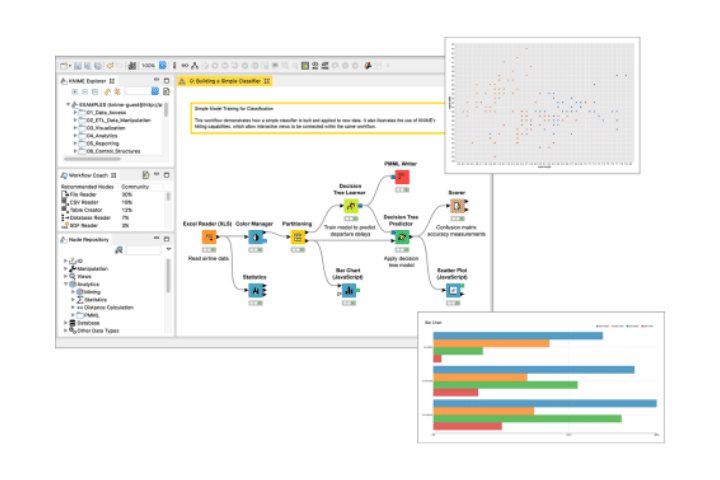 Price
The pricing structure for KNIME includes three tiers. All prices listed assume 5 users and 8 cores.
Server Small allows small teams to share and execute workflows remotely for $14,500 a year.
Server Medium allows you to use workflows via the browser and gives you access to REST API for $29,000 a year.
For $52,000 per year, Server Large gives you numerous installations, global collaboration, and the ability to integrate large teams.
---
Got vast amounts of data? Check out Klint's list of the 22 Best Big Data Analytics tools.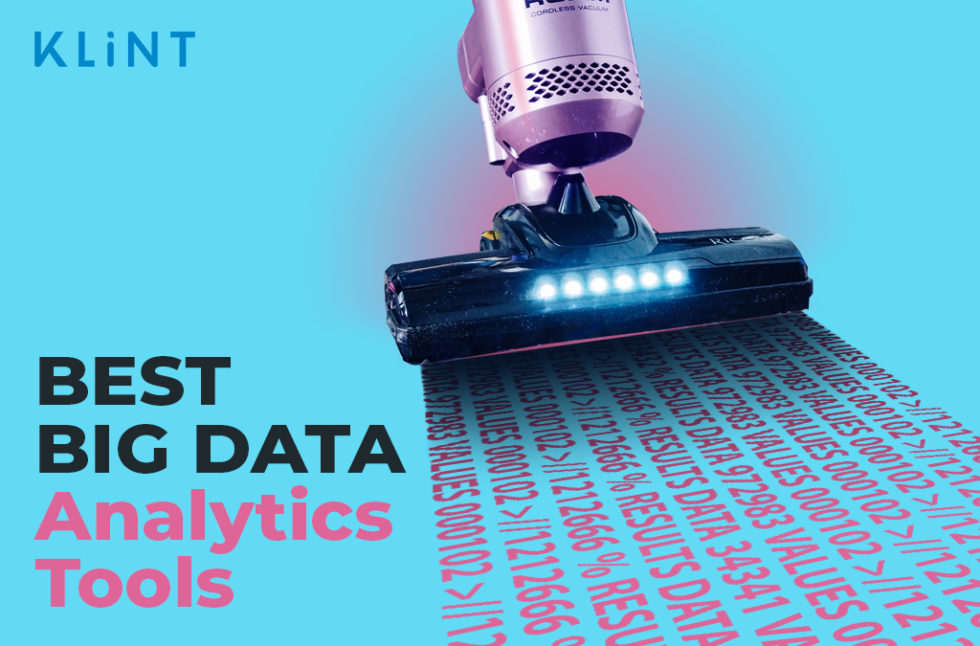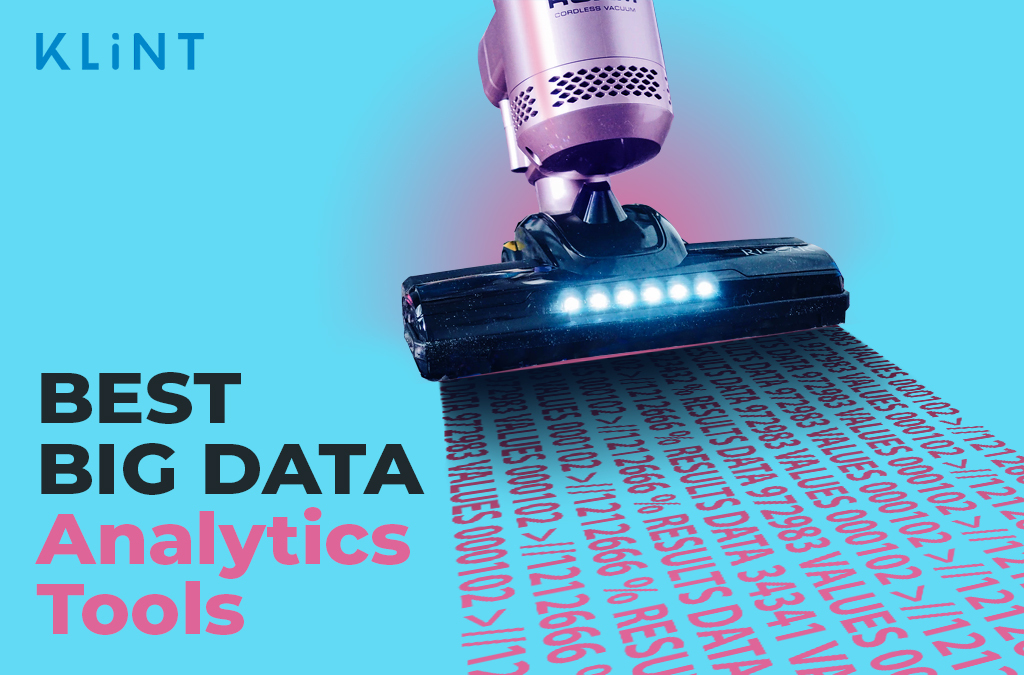 ---
Looker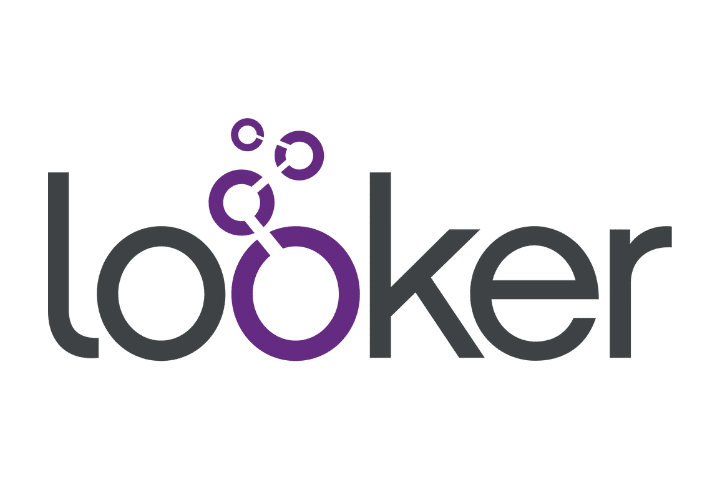 Looker's intelligent data analysis software helps you understand and experience your data, metrics, and business while providing you with a 360-degree view of your customer.
The platform caters to a wide range of industries, from Healthcare and Gaming to FinTech and E-Commerce.
Features
Interactive Dashboards
Statistical data analysis
Enhanced integration with Slack
Expert-approved Google Marketing Analytics Suite
Data whenever you need it with apps available to your phone
Faster queries at a lower cost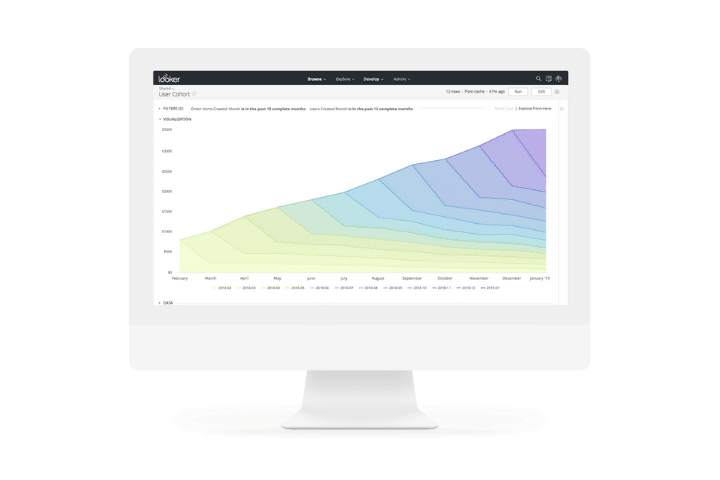 Price
Contact Looker's sales team to obtain a quote and to organize a demo of the software.
Matomo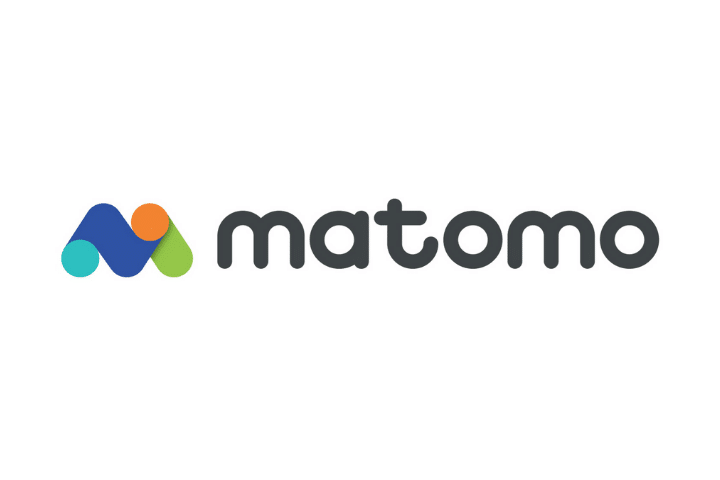 Matomo positions itself as an alternative to Google Analytics, focusing on the protection and privacy of customer data.
Their selection of data analysis tools gives you complete data ownership and security, as well as abiding by GDPR and CCPA compliance regulations.
Features
No data limitations
Import GA data
User-friendly interface
Enhanced insights
Tracking personal data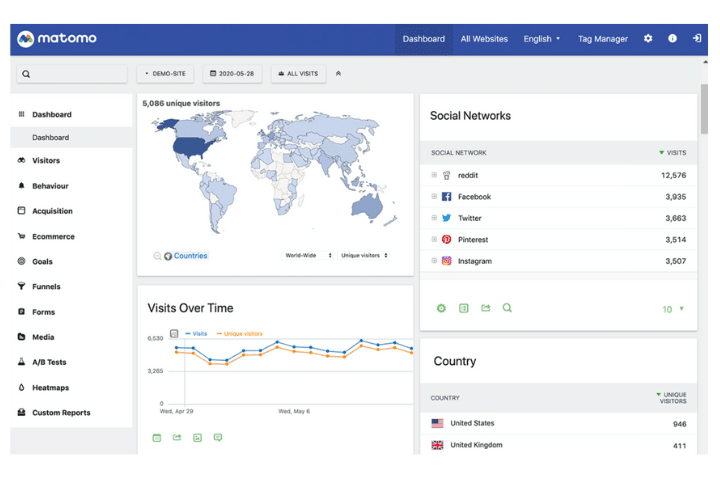 Price
Pricing for Matumo's suite of data analysis tools varies based on a number of factors.
These include your monthly traffic, whether you host the software on your own servers or via their cloud, and the exact features you're after.
Pricing for the On-Premise edition begins at $22.50 per month.
The Cloud-based version of the software begins at $35 a month.
Contact the Matumo sales team to organize a free trial and for more pricing information.
Microsoft Power BI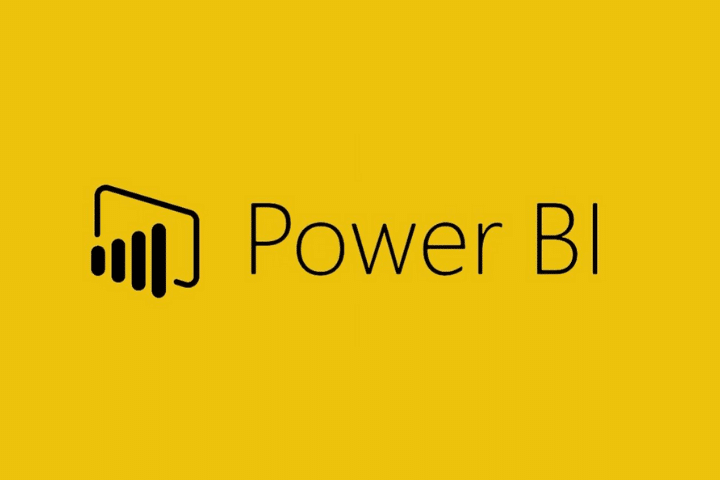 Microsoft Power BI allows you to access your data using a wide range of cloud-based sources.
It features AI driven augmented analysis, and the ability to create interactive reports customized for your business.
The user interface of Microsoft Power BI is similar to the Office suite.
Features
Find answers fast using leading AI
Improve publishing efficiency and accuracy of BI content
Excel integration
Stream analytics in real-time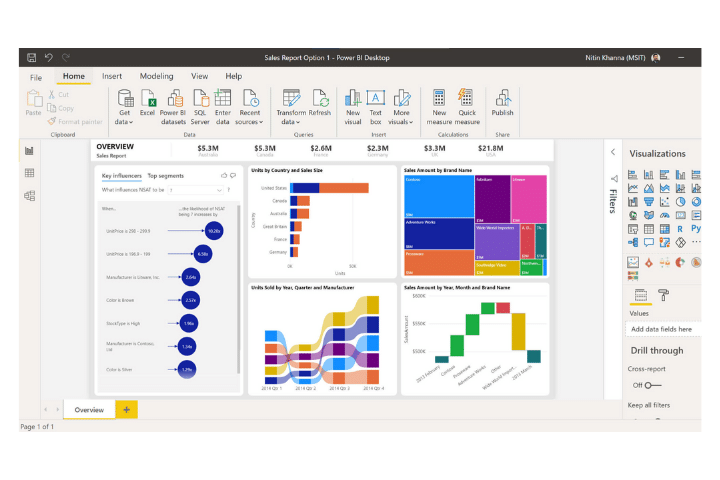 Price
The software costs $10 a month, but you can try it out for free for 30 days.
There is also a free version of the app that can be used to access and work on Power BI in Microsoft Teams.
Minitab Statistical Software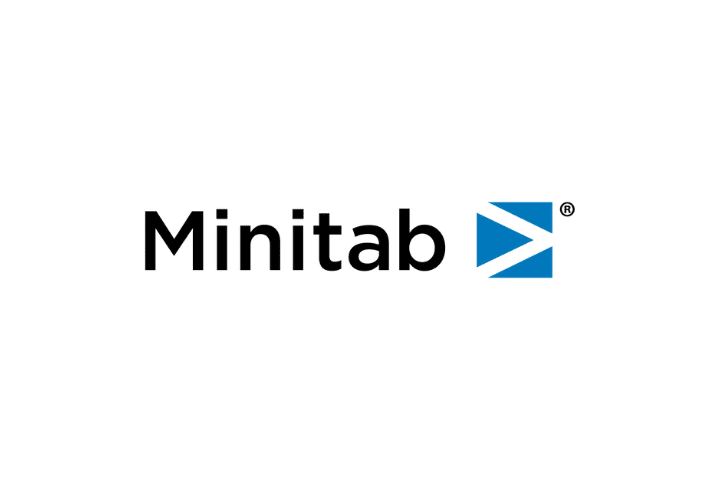 Minitab selection of quantitative and qualitative data analysis tools offer you the ability to enter statistical data, manipulate it, and identify trends and patterns.
You're then able to extrapolate answers to current issues your business may be facing.
Minitab focuses on applications in manufacturing, consumer goods, healthcare, and energy and resources.
Features
Data analysis
Data access
Automation
SPM (Machine learning and predictive analytics software)
Visual tools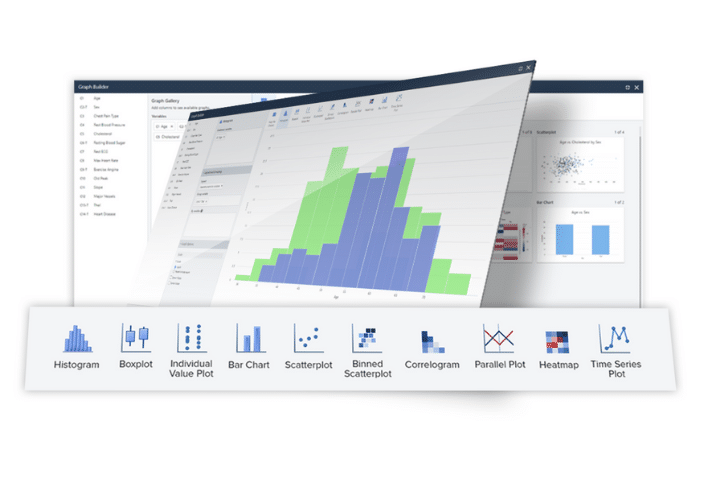 Price
Minitab is available in six different versions, and you'll need to contact their sales department for a quote for the majority of these.
Pricing for Minitab's Statistical Software for a single named user costs around $1,700 per year.
Oribi
Oribi assists marketers and e-commerce businesses in statistical data analysis, helping them to gain actionable insights about their websites and traffic.
They position themselves as an alternative to Google Analytics, and aim to remove the need for developers and analysts when using data analytics tools.
Features
Insights & trends
Event tracking
Funnels, correlations
Marketing Channel Analysis
Visitor Journeys
Reports displayable in many ways
Price
Oribi is available in three different versions.
Optimize – begins at $450/month. It features channel analysis, budget planning, and funnel optimization.
Grow – begins at $585/month. It allows for up to 500,000 monthly visitors to a website.
Scale – price available on request.
Contact Oribi for a free trial.
R-Project
R is a free mathematical computation language and graphics development platform. It compiles and operates on a wide range of UNIX, Windows, and MacOS technologies.
Features
Effective data handling and storage facility
Suite of operators for calculations on arrays, in particular matrices
Large and coherent integrated collection of intermediate tools for data analysis
Graphical facilities for data analysis and displaying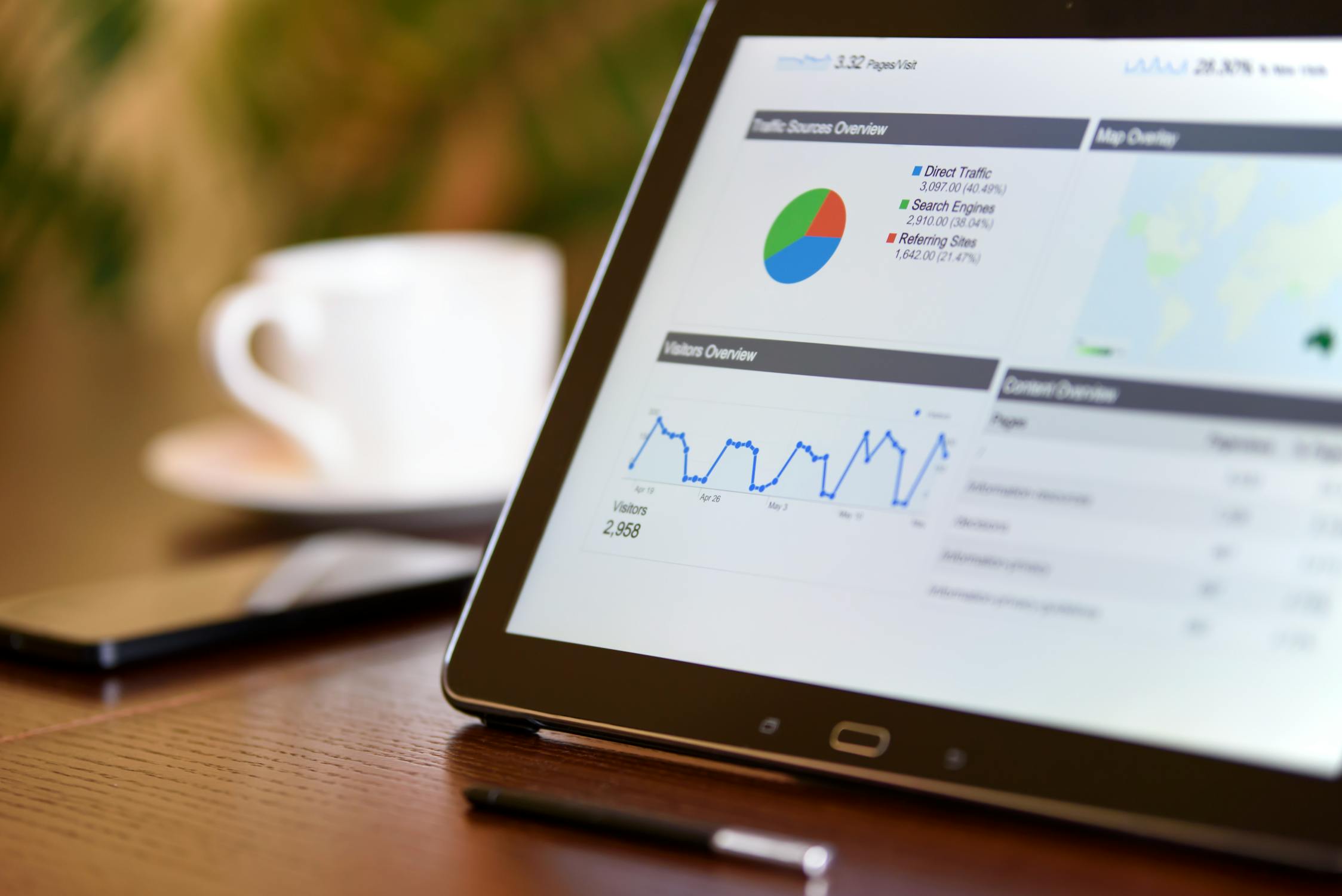 Price
R is free to use.
Rapidminer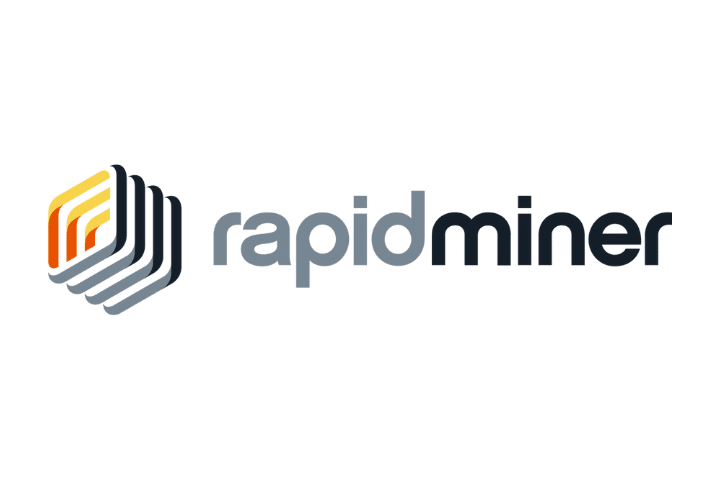 Rapidminer is a data science platform that focuses on delivering quantitative and qualitative data analysis to data scientists and analytics teams.
It's designed for a variety of industries to drive sales, cut costs, and minimize risks, while also assisting you in upskilling your enterprise.
Features
Easy to trust, tune, and explain
Statistical data analysis
Future proof innovation, portability and extensibility
Deep domain expertise delivers context to the problems you're trying to solve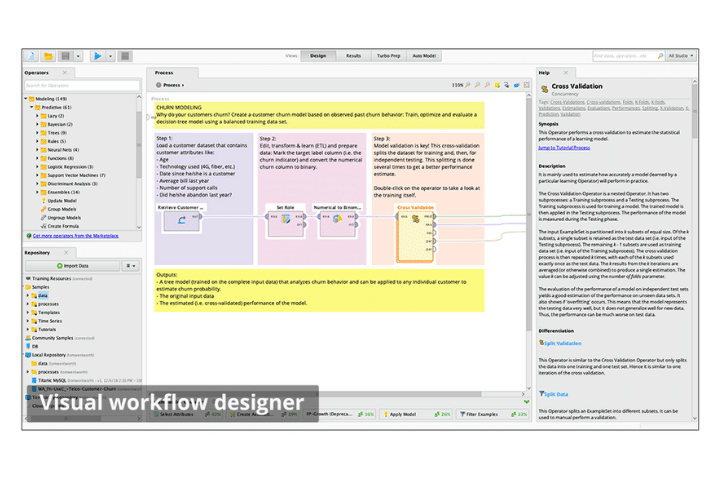 Price
RapidMiner is available in three different plans.
Studio Free, which includes unlimited data rows and full automation and has no cost.
RapidMiner Go, which costs $10 a month, which allows you to create the best model for your business.
RapidMiner Enterprise, pricing for which is available on request.
SAP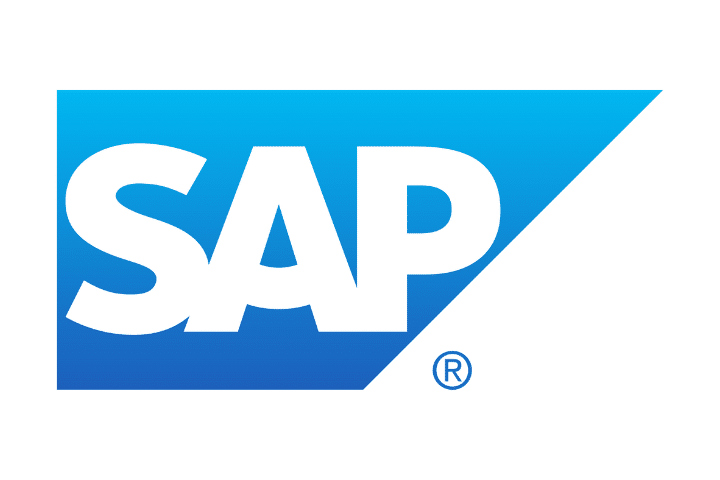 SAP is a business intelligence software platform that was created in 1972 by five German entrepreneurs.
They define themselves through a philosophy of innovation, diversity, and teamwork.
SAP's Business Technology Platform enables you to gain access to data and optimize with insights.
Features
Accounting
Controlling
Financial Report and Analysis
Banking and reconciliation
Fixed asset management
Marketing campaign management
Business Intelligence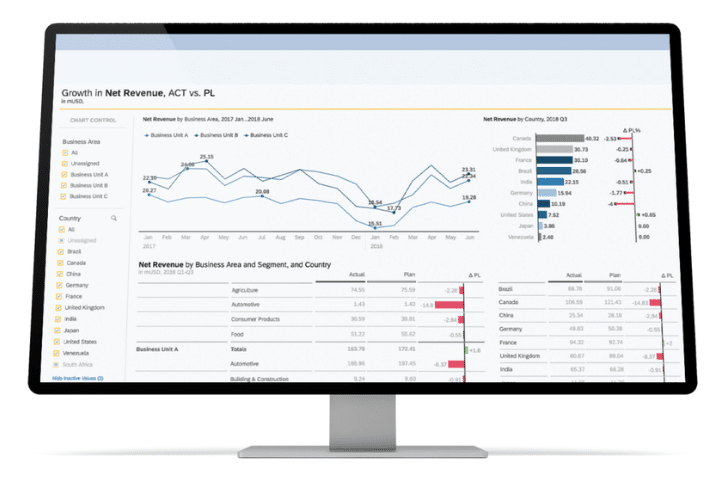 Price
SAP Analytics cloud comes with a 90-day free trial version. Contact the sales team for regular pricing.
SAS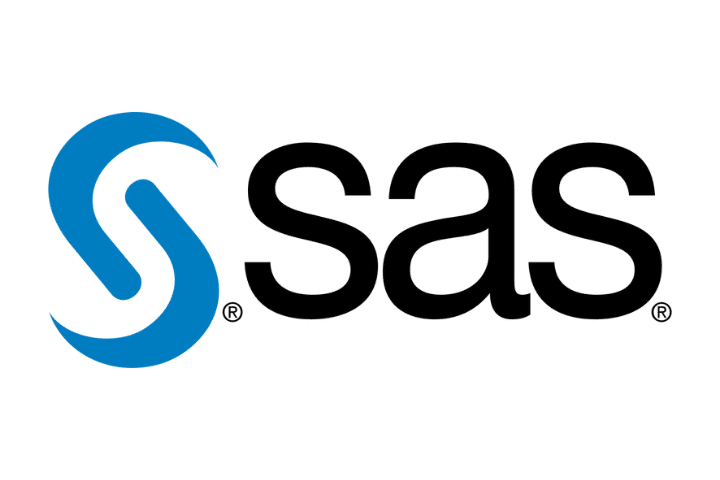 SAS is a command-driven analytic software package that is commonly used for statistical data analysis, processing and visualization.
The company's name stands for Statistical Analysis Software. It enables you to use qualitative approaches and procedures to boost company earnings.
The software is also used for applied analytics such as business intelligence, criminal investigation, and statistical modeling.
Features
Data can be analyzed using descriptive, statistical, multivariate, estimating, simulation, and linear programming techniques
Advanced analytics will assist you in making changes and enhancements to your corporate processes
Data updating and modification
Report development of flawless graphs
Data entry, editing, storage, encoding, and conversion tools are used to manage data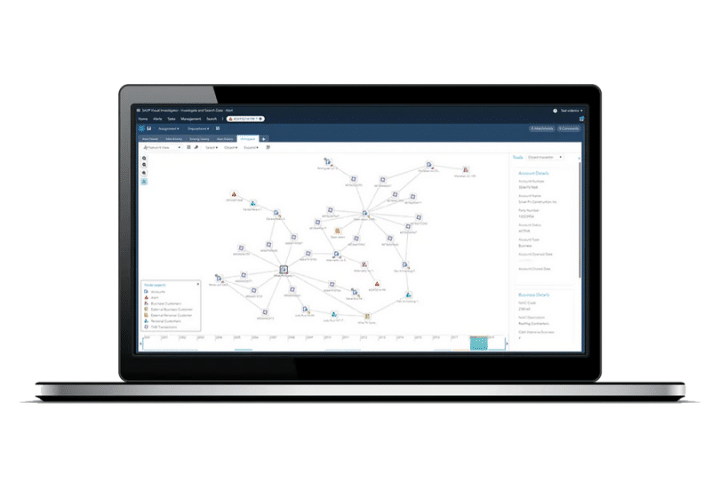 Price
Pricing for SAS starts at $8,000 a year. You will need to contact their sales staff to get a customized quote for your business.
You can try different SAS products for free including their Visual Data Science Decisioning, Viya Programming, Event Stream Processing, and JMP.
Seery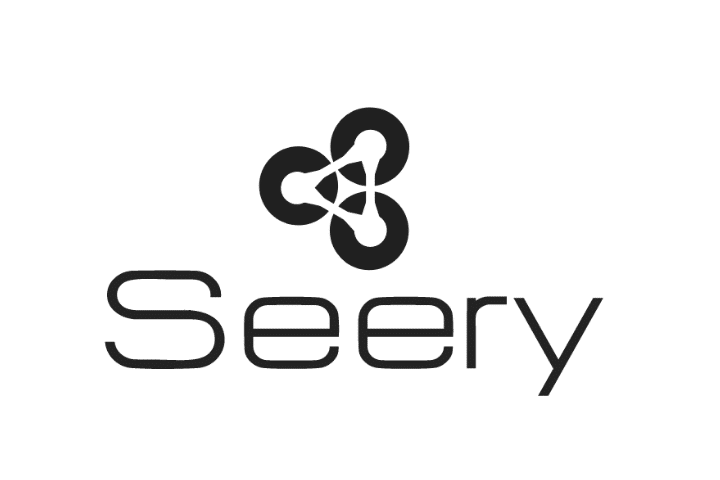 Seery is a data analytics app produced by Qualia that aims to provide advanced quantitative and qualitative data analysis without the use of a data scientist.
It employs complex and project-proven AI/Machine Learning methods for accurate forecasting.
The software allows you to monitor the most relevant KPIs and can help you gain understanding and insight around repeat customers, your churn rate, and customer lifetime value.
Features
AI/Machine learning
Dashboard
Data Discovery and visualization
Demand forecasting
Predictive analytics
Sales trend analysis
Statistical analysis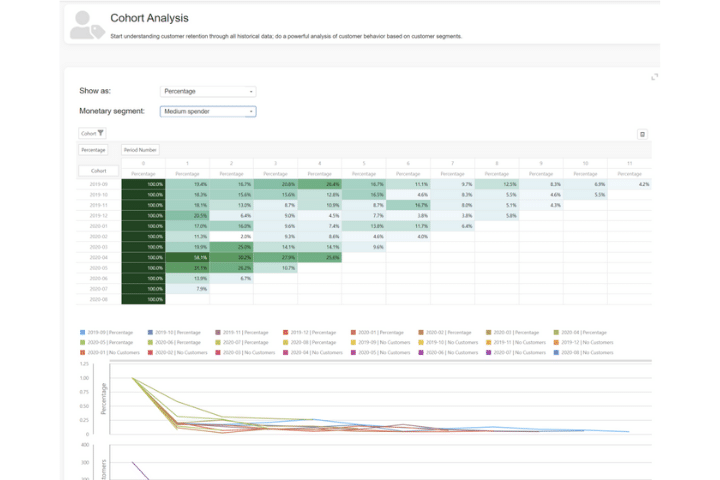 Price
Seery is currently free. The makers of the app, Qualia, also produce business intelligence and data visualization software called BusinessQ.
Serenytics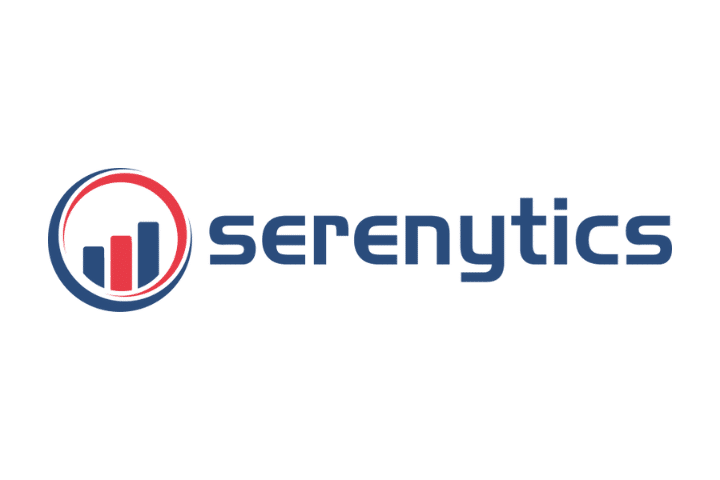 Serenytics is an all-in-one data-platform program that is designed to be easy-to-use.
Their selection of data analytics tools allow you to combine data from a variety of sources, including from marketing APIs, SQL servers, Google Analytics, and files.
Create interactive dashboards where you can monitor data from a variety of sources, including ads, operations, and sales.
Features
Connect your data easily
Statistical data analysis
Create data joins
Write your own data connector
Load data from SFTP
Ad hoc reporting
Customizable dashboard
Drag and drop
Visualization and integrationof data
Collaboration tools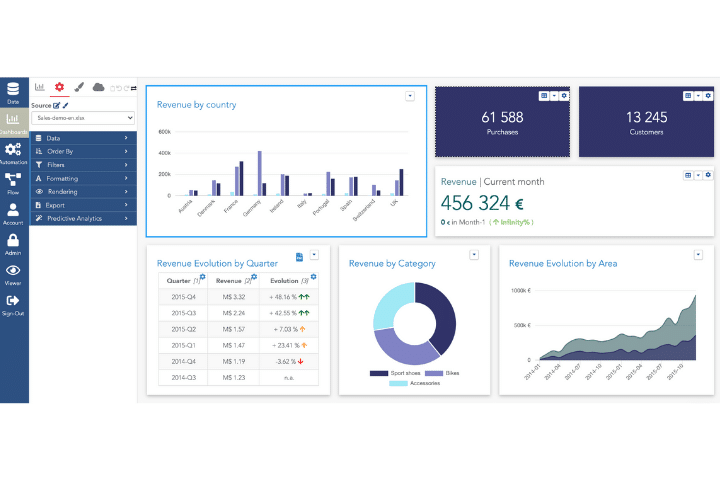 Price
Serenytics is available in four formats:
Dataviz – free – enables you to build and distribute dashboards without data prep.
Starter – designed for small businesses looking for a flexible data platform to help them become data-centric. It costs $75/month and features two viewers and five dashboards.
Data Team – designed for medium-sized businesses, and includes limitless dashboards, data sources, and automations, as well as 10 viewers for $490 a month.
Dedicated – for businesses who need a wide range of data analysis features. The price is $1520 per month, and comes with a dedicated server.
Serenytics feature a wide range of tutorial videos and demos on their website.
Stata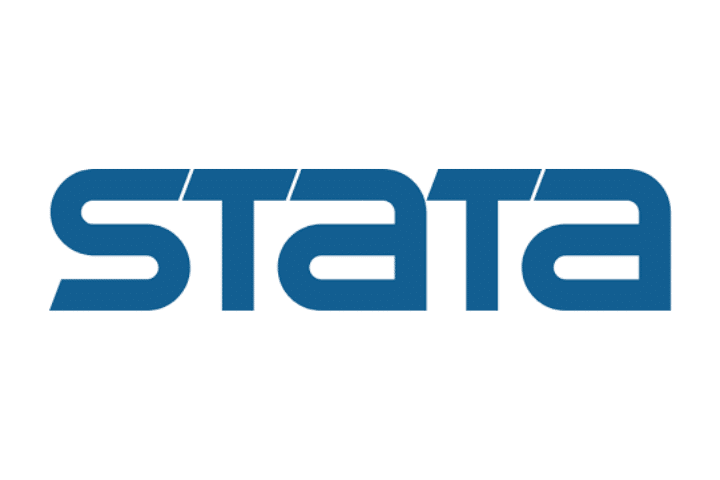 Stata is a fully integrated statistical software package for data science that allows you to explore, visualize, model, and make decisions based around quantitative and qualitative data analysis.
The software allows you to export graphs to EPS or TIFF for publication, PNG or SVG for the web, or PDF for viewing.
Features
Automated reporting
Ease to automate
Advanced programming
Master your data
Broad suite of statistical features
Easy to grow with
Cross-platform compatible
Interactive community
Broad suite of statistical features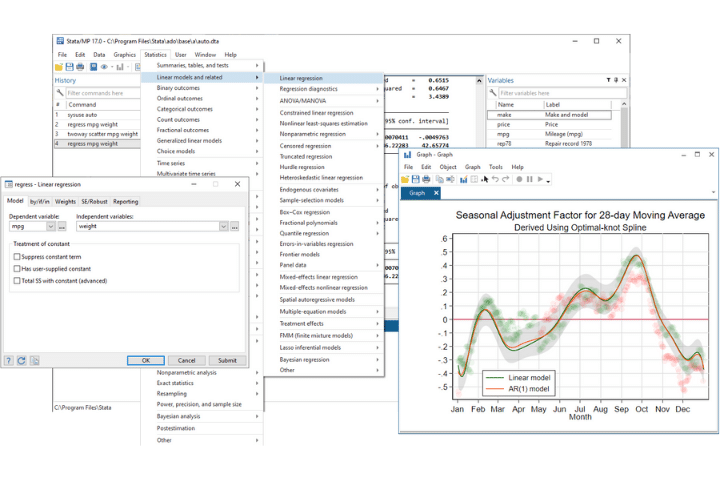 Price
Stata's pricing varies depending on whether you are a corporation, government/nonprofit, university, or student.
Their Business plan rates begin at $765 per year for single users of large data sets.
Prices for the Business Network package start at $1,455 for large data sets.
Stata's pricing page includes more information about the plans and options available to you.
Stormly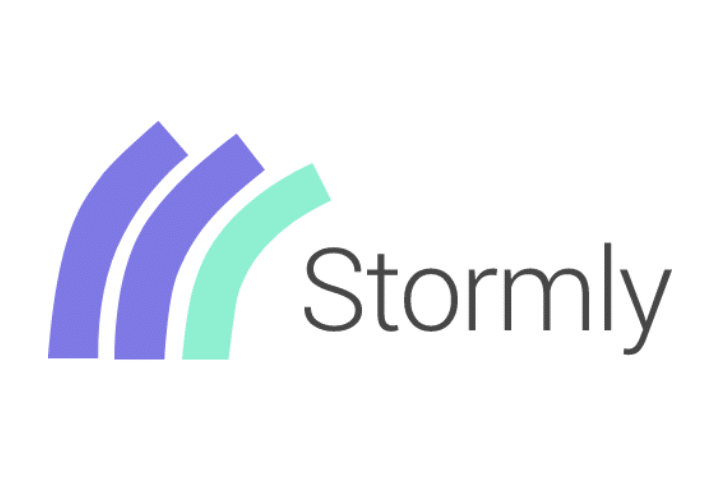 Stormly enables you to transform your data into insights with a single click, selecting from a variety of models to obtain actionable insights quickly using the power of AI.
Stormy's variety of data analytics tools are designed for businesses who want to smoothly transition through the era of digital transformation.
Features
Dashboard
Data connectors
Data discovery and visualization
Predictive analytics
Reporting/analytics
Self-service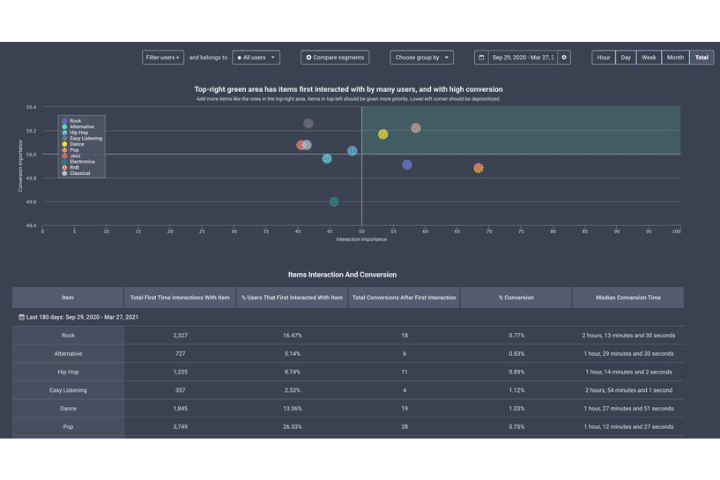 Price
Stormly has a few different pricing options for its software.
The Free version features all templates and has a limit of 10,000 data points per month, with three months of data history.
The Starter plan costs $199 per month and includes 250,000 data points a month and 12 months of data history.
Finally, the Growth option costs $799 per month and includes 1 million data points and two years of history.
You can try both of the paid plans for free for 30 days.
Streametric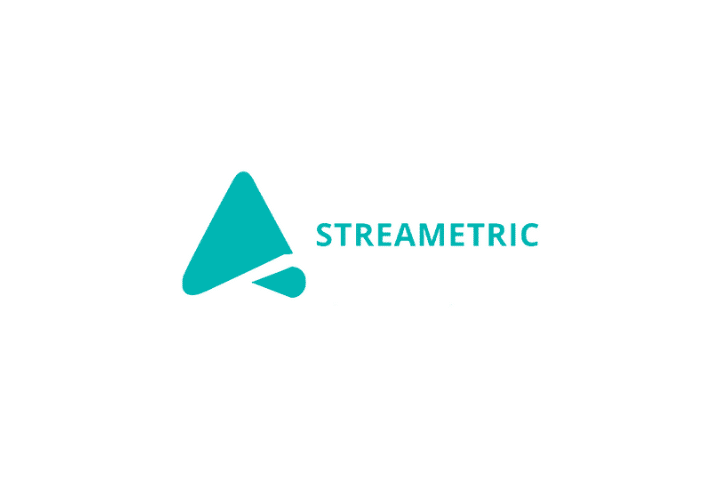 Streametric is a digital management system that assists OEMs, System integrators, and plant operators in managing their water and wastewater treatment plants.
It enables remote control, data management, and predictive maintenance tools, allowing facilities to optimize substrate efficiency without sacrificing reliability.
Features
24/7 Real-time data access
Predictive capabilities
AI
Cloud, and IoT technologiesSecure
User friendly
Dashboard
Query Builder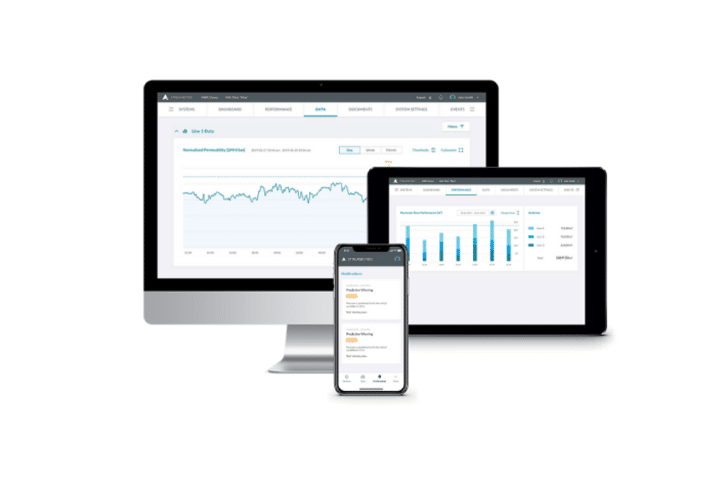 Price
Streametric offers a demo to test the product. Pricing information is available on request.
UpMetrics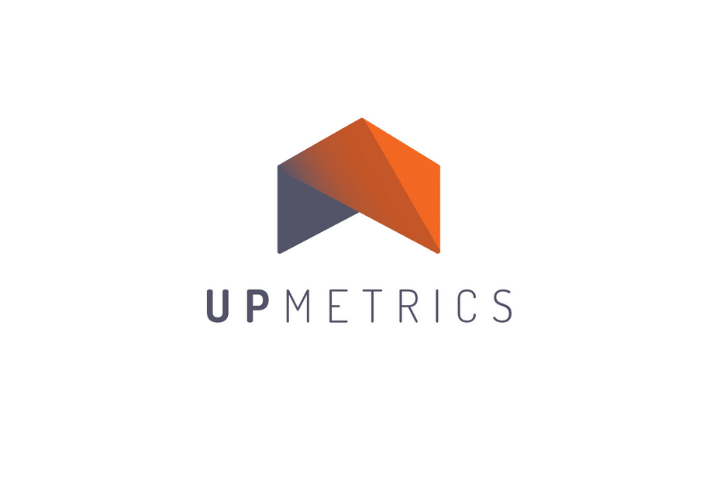 UpMetrics believe that it is essential to combine quantitative and qualitative data analysis in order to drive results.
They work with clients in the public, private, and social sectors to increase their community impact, and aim to assist partners with the data to make informed decisions.
Features
Dashboards
Reporting/Analytics
Data connectors
Data visualization
Storytelling
Self-service analytics
Self-service data preparation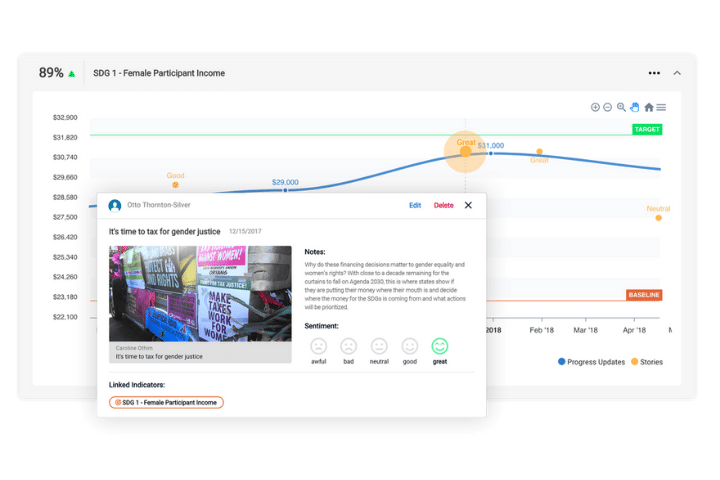 Price
Contact UpMetrics for pricing information. There is also the option to request a demo to experience the platform first hand.
Zap Audit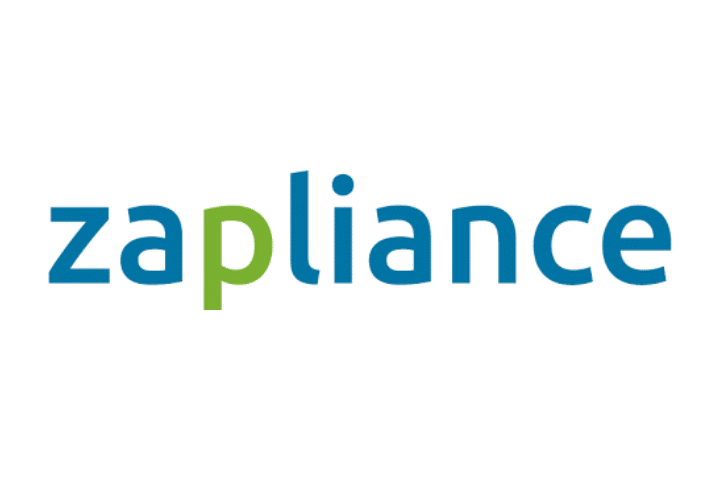 Zap Audit is data analysis software produced by Zapliance that audits your SAP.
It provides integrated audit methodology, as well as 150+ ready-to-use metrics that will function on any SAP worldwide, offering 100 percent automation.
Features
Privacy and security
Easy to use
Automation
Process mining
Dashboards
Reporting/analysis
Data recovery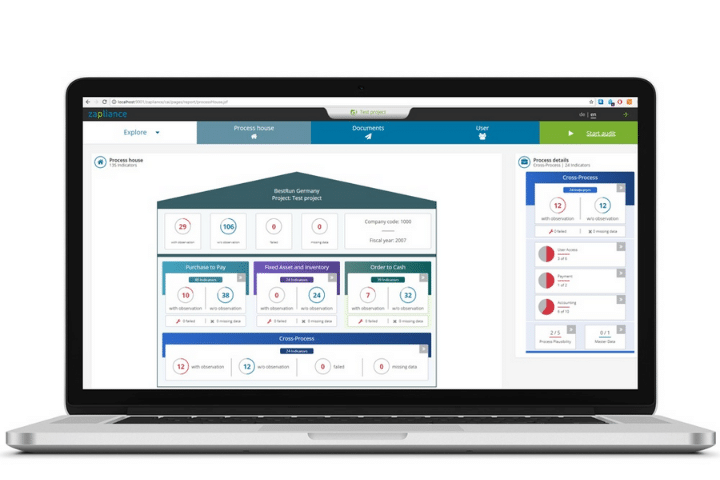 Price
Zap Audit is available in three variants.
Zap Audit Free includes all zap audit functionality but has data limitations.
Pricing for Zap Audit Specialist is set at $21,500
Zap Audit Subscription costs $40,000, and has no data limitations.
Conclusion
Choosing the analysis software that's right for your business can depend on a lot of factors.
While some tools can represent a significant investment, for many businesses the potential ROI can be huge.
Whilst it can be tricky to find the tool that suits your particular industry, it's worth spending the time exploring the various free trials and demos that are on offer in order to beat your competitors.
Data analysis tools will increasingly be part of the business landscape, and companies that get in on the ground floor are sure to reap the advantages long term.
Data analysis tools can revolutionize your marketing strategy. Need help implementing it? Contact Klint to find out how we could help.