Marketing Tech Stack is a necessity to have in any business no matter the size or reach. Every website can benefit from different types of technology.
To put it in short, marketing technology stack is a variety of software tools that enhance your website. These marketing tools can aid in different ways, for example:
Automating repetitive processes
Enhancing and personalizing communication with visitors
Providing ways to measure visitors' behavior
Providing options of tracking performance of your marketing campaigns
In 2020, there are over 8000 marketing technology providers competing for peoples' attention. The picture below puts them all in a frame. And the number can only grow.



Clearly an insane level of competition!
To make it slightly easier for you, we have narrowed this chunk down to the best 60+ martech stack examples for 2021. Each stack involves multiple software that typically performs better than the majority of its competitors.
To appeal different tastes, we look at different business models. Each company has a unique blend of MarTech Stacks that contributes greatly to their evolution over time.
Marketing Tech Stack Examples 2021


Marketing Technology Stack 2021: Third Door Media


Third Door Media, the organizer of MarTech Conference has their tech stack visualization presented graphically.
The design is a floor plan of their conference. Divided into 6 categories, where Productivity, Amplification, and Infrastructure accounts for the most number of tools.
Most importantly, more than half (52%) of the digital marketing tools they are using are free of charge.
Worth mentioning that Salesforce is part of their marketing tech stack.


Martech Stack Examples: Paychex


Paychex's presentation of a digital tech stack resembles an inventory which guides to qualified leads.
The categories of 42 boxes of different tools are by their purpose, automatization, and phase of their use.
Prepared leads are going by two phases – grading (may come back to nurture and lead gen) and "shipment".


Marketing Tech Stack 2021: Airstream


Airstream, an American brand of travel trailers presented their stackies in the form of camping.
Camping destinations are 5 categories, where Engagement is the most pursued.
Probably a bit of reach when it comes to clever metaphorical examples of marketing technology stacks.
The size of the trees shows how much the company works on a given platform. The company focuses on interaction with its potential customers.


An American cheesy company, Sargento, showed their tech stacks in the form of a recipe.
Their 2020 marketing process scrambled to 4 stages where different platforms are in use.
Plan
Create
Activate
Measure
Sargento foods engages mostly in e-commerce, sales, and creative campaigns (which is on the bottom of infographics).
This is a great example of the digital tech stack that shows not only SAAS (software as a service) companies are being tech-savvy.


Networking & cybersecurity solutions company, Juniper, is mentioned as one of the more creative Marketing Tech Stacks of 2020. The MarTech example contains 3 customer lifecycle clouds:
Pre-sales
Post-sales
Pre and post-sales marketing.
Above all, the stack is easy to follow thanks to 5 different functional layers.
In addition, they are one of the companies using PathFactory tool in order to propose a customer journey for their customers.
Check out one of our latest posts all about AI marketing tools to boost your business!


Marketing Tech Stack Terrain: ESRI


ESRI's infographic on TechStacks is constructed as a map; inspired by what the company is all about. The example presented follows a path through the listed technologies used by ESRI's marketing department.
The marketing initiative cycle divides into 6 main categories of marketing:
Acquisition
Nurturing
Retention
Insights & Analytics
Productivity
Communication
A total of 24 tools runs the whole operation of ESRI. Tools like Salesforce, Moz, Pardot are crucial parts of their technology stack.


Marketing Funnel Tools Strategy: BlackRock


Financial planning company BlackRock won Stacks Award in 2018.
Their martech stack example contains a place called MarTechtropolis. It is a 4 district city, where each area presents marketing strategies.
These are:
Moreover, it focuses more on analytics, management, and execution rather than on social media.


The meteorological company showed their platforms in a form of weather fronts that contains 3 of their marketing efforts.
Colour-coded tools are categorized by software, where "website" is the most common one.
Earth Networks received the 2018 Stacks Award especially due to their creative way of presentation which suits what the company does.
The company, among others, uses HubSpot and sales in its marketing tech stack.


Marketing Technology Stack of Digital Engagement: Cisco


An IT global leader follows the customer journey while presenting 43 platforms used for marketing.
Each software tool contributes to different stages of lead nurturing funnel (see points on the diagram).
Most tools used are on the "I shop & I buy" stage – this converting phase is crucial for the company. Moreover, Cisco relies on its own technology solution such as WebEx, Impact, and Salesforce.


Marketing Technology Stack Examples 2021: Element Three


One of the most creative stacks was created by Element Three, a marketing agency.
The tech stack infographic below depicts the tools and software used in the form of movie tickets to popcorn image.
A cool take on a marcom stack, this example also uses sizes to illustrate time spent for scale.
It's a winning recipe for any growing company in 2018.
In addition, 8 main operations are showed.


Marketing Stack Examples – Front and Back Office: Allocadia


The company, Allocadia, which won the Stackie awards last year, as well as in 2017.
The anatomy depicts 4 phases:
Awareness
Consideration
Purchase
Advocacy.
Allocadia focuses heavily on content marketing.
They use techstacks and channels to become more visible to potential customers via ads, videos, webinars, and blogs.
As a result, one of the fastest-growing technological Canadian company had global clients such as Microsoft.


A software development company, Informatica, decided to present their digital tech stack in the perspective of their customer.
This marketing flow diagram illustrates how the data is stored and which technology they are using for marketing best practices.
It is a unique approach, as it is not common to show the "you – customer" technique in Marketing Tech diagrams.


The globally-known company, Microsoft, showed their tech stack examples in 2017.
Most importantly, reader can view the process in a marketing loop of pre-sales, sales, and post-sales marketing.
Their vision is to create a universal, automated version of stacks that can be used by anyone.
Moreover, many of the technologies used are Microsoft owned, such as PowerBi or Skype for Business.


This example of a MarTech diagram was the winner of the 2018 Stacks Awards.
After Janus Henderson Group merged, they utilized their marketing tools.
Meanwhile, 3 systems characterized by a frequency of change as well as ideas.
Common things for the 3 systems are these 4 functions:
Awareness
Production
Analysis
Engagement.
Like many other companies, they are using BrightTalk which helps with online webinars and video streaming.


Marketing Technology Stack: Allocadia


In 2017 example, Allocadia focused on mixing marketing, sales & finance into one technology stack.
It was a unique approach that was honored among the other 57 tech-stack examples.
The loop shows how those two departments are highly connected to a company.
Run Marketing is done by Allocadia and Do Marketing by Marketo (a software company).
Moreover, most of the tools are designed for only one function in the company. Except for Salesforce which is used in Run & Do Marketing.


Marketing Tech Stack Examples: Aprimo


The digital asset management software, Aprimo, decided to visualize its digital marketing stack in a continuous loop.
The marketing cycle infographic is divided into 5 parts:
Plan
Spend
Create
Distribute
Perform.
6 circles of Tech Stack are closing around the company itself.
It depicts the importance of every stage for Aprimo. The company uses Uberflip, Content Experience Platform(CEP) in a few stages.
SalesForce is peppered all throughout the marketing tech stack infographic.


---
Related Article: AI in Social Media
---
Martech Stack of Digital Engagement: Cisco


Cisco's marketing stacks from 2017 are prime examples of the importance of focusing on the customer journey.
Clearly Cisco's tech stack is focused on engaging customers and reusing data their solutions.
Other branches are partner, seller and date & ops which all together create a cohesive solution for this worldwide leader.
Furthermore, this stack was used as a baseline for the new one (showed above).


This here is a perfect example of an e-commerce and brick and mortal business that divides their processes into 3 main strategies:
Personalization
Productivity
Ilumination of value
Red Wing Shoes integrated tools via a flexible marketing tech that is divided into two business concepts; B2B and B2C.
In addition, there is the shared sector across customer facing parts of the organization.
On the front end, there are sales (business and consumer) meanwhile on the back end – operations and analytics.
One of their tools is Silverpop, owned by IBM, it is a platform providing email marketing, lead management, and mobile engagement.


Martech Stack Examples: Acrolinx


In 2016, Acronolix won the Stack Awards with their visualization of marketing tech tools .
Customer-centric diagram focuses on 5C's:
Contacts
Connections
Content
Customer Data
Collaboration
The connections stage is divided into segments based on the purpose of the tools.
It is interesting to notice that they do not include the Competition segment.
However, the CMO of this company claims that their product is unique enough to not consider other players.


Marketing Technology Stack – Digital Change Agent Journey Map: Connective DX


The example of a "journey map" is created by 3 circles which intertwine with each other.
Influence, Engagement lines, and 4 main pillars are unusual ways to depict 21 tech stacks of Connective DX.
The reader can easily follow which tools are used for which purpose (see the bottom of the infographic).


Marketing Technology Stack 2021: Delphic Digital


Delphic Digital, now known as Hero Digital, decided on 6 main categories of marketing.
There are 32 technology platforms used in different departments – showed by dots in this marketing tech stack example.

This a clear and simple way to show how platforms are cross-capable and cross-functional.


Digital Marketing Tech Stack: PitchBook


One of the winners of the 2016 Stacks Awards was Pitchbook, an investing company.
They used a marketing tech stack flowchart to represent their platforms, dividing them into 6 main dimensions.
There is a creation, collaboration, capturing, execution and analysis.
The main tool for the company's automation is Marketo, a widely known software.


Marketing Tech Stack 2021: Uberflip


A content marketing platform, Uberflip, presented their stacks in a form of the customer journey.
In addition, this example of a technology stack breaks up tools into 4 pillars:
Creation
Experience
Distribution
Insights

Combining those two perspectives resulted in winning the Award in 2015.


Marketing Stack 2021: Datapipe


Presenting data flow in the form of the funnel was a solution provided by Datapipe, known now as Rackspace. They asked the question "How this tech stack helps us to gain customers?"

Furthermore, the diagram shows different parts of Marketing, such as Email marketing, Conversion UX and which technology solution they are using for each part.
They decided to use mainly the Salesforce tool, as this integrated CRM platform helps with the connection between customer and producer.


Martech stack of Software Implementation: IntelligenceBank


Intelligence Bank's circuit board depicts how interconnected and intertwined all platforms are in the marketing department.
CRM and CMS have the most wires which show the importance of those two segments for this digital asset management company.
Google Alerts is a plus, as it gives others the epitome of simple services that still are making a difference in the company's operations.


Education services, known as Wiley, showed basics functional capabilities. On top of that, they added an automated and manual data flow.
It's not common to see manual processes on Marketing Tech Stacks.


Visualization of Marketing Tools: The SMACs stack


Most importantly, the SMACs stack is known especially by its low cost. The concept is based on social interaction, mobility, and analytics.
Easy to follow marketing tech stack thanks to 4 main themes known by any marketer:
Attract
Convert
Measure
Nurture


The Lead Generation Technology Stack: TechnologyAdvice


Lead generation is focal for TechnologyAdvice Stack. It is divided into 4 phases. And each phase into subsections.
On the bottom, there is an 'analytics' section which allows the user to see the results of their actions. They used popular tools, as well as the "niche" ones, which overall gives us a good variety to choose from.


Martech Example – European VS Tech Stack: VC Cafe


European VC Tech Stack made by VC Cafe is a universal diagram for any company.
It contains all crucial platforms for conducting business.
Therefore, having many platforms in each category gives a variety to choose from for the reader. Many of the tools are widely known around the most technical of marketing experts and novices alike.


Marketing Funnel and Tools: Seismic


Sales enablement is a process which Seismic is known for. Their techstacks follow the common 5 steps of a customer journey.
Moreover, it focuses on measuring sign-ins and content requests. Measuring clicks, impressions, and click-through rates gives more tracking to prove growth and engagement.
Moreover, they included notes of what is the company action in each phase.


5 main activities were depicted by Lattice Engines Marketing Stack.
This kind of marketing stack is typical for technology-based companies.
On the top, there are platforms used for general use in the company and ending with sales enablement.


MarkCom Technology Stack: Acquia


Digital Experience Platform, Acquia, has a simple clean layout of their stacks. A pyramid structure demonstrates marketing tech that starts with team collaboration. There's a blend of growth-hacking tools for prospecting, website CMS, inbound marketing, and analytics.
Acquia has depicted that marketing and sales are intertwined.
Worth of mention, they use Asana software for team collaboration and work management.


Marketing Tech Stack 2021: Terminus


An account-based marketing researcher does not need a lot of platforms to execute marketing. This relatively small company, Terminus, focuses mainly on its blog, as there are 5 components responsible for it.
In 2015, based on this MarTech it is visible that the company was focusing on traffic and lead generation.


Marketing Tools in Funnel: Calero


In the form of a classic funnel, Calero, B2B company presented their stacks.
The martech stack diagram shows internal marketing processes which allow this company to get customers, leading to their revenue stream.
One of their interesting tools is Bombara which focuses on getting insights when the B2B customers are actively on the market.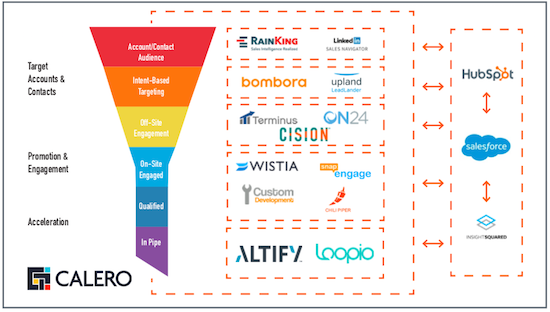 Marketing Technology Stack Example: Absolutdata


Custom AI platform, Absolutdata, shows advanced and technologically oriented marketing stack. Divided into 5 segments which all present scalable and elastic nature.
The infographic of marketing tech tools depicts the integration of all data sources.
This technology-oriented company chose tools that are not that popular but still serve the purpose, especially for advanced actions.


Marketing Funnel And Tools: Hive


Hive's marketing stack focuses on integration and automation.
Very detailed segmentation allows the reader to follow which platform is used for what part of marketing.
Their own platform allows collaboration and a general overview of all technologies they are using.


Marketing Technology Stack: Cramer


Cramer is a marketing agency with a focus on events. Their Technology Stacks shows how salesforce can cover the sales enablement element of their reach.
This marketing tools infographic is an answer to key problems – content, sales enablement, and social amplification. Moreover, there's a really cool mix of well known and small start-up tools.


Marketing Stack Automation Flow: CBInsigts


CBinsights helps the customer to find new business opportunities/trends. Their digital stack diagram is displayed as a flow chart and shows automation, which allows more efficient marketing.
The 6 steps to success are marketing channels:
Landing pages
Re-targeting
Activation emails
Automated drip marketing
Product Demos
CB-insights decided to use two tools for email marketing – SendGrid and Mailchimp.


Martech Stack for Data Integrations and Automation Stack: Merkle


The data-driven company, Merkle, illustrated their approach to digital stacks by displaying areas of brain as they relate to tools.
Each marketing function of the tech stack infographic is divided into subsections.
It helps visualize which marketing tools make up the different parts of the marketing process.
Further, data management and integration are the biggest parts, as that is what it lays on the core of this business.


Marketing Tech Stack Infographic: Tennant


Tennant's martech stack is shown on the picture of one of its products: floor-cleaning machine.
The loop revolves around the main themes:
Attraction
Engagement
Collaboration
Revision & revive.
Subsequently, 4 main marketing focuses are then divided into subcategories, which are simple and understandable for the reader.


Marketing Tech Stack 2021: Kurtosys


5 common key stages of marketing were used by Kurtosys, an investing company.
They included icons of tools for each stage, plus the secure stage which is located in the middle.
Many martech stack infographics show the advanced approach to their marketing.


MarTech Stack + Intelligent Customer Journey: Mobly


The marketing tools of Mobly are presented as a customer journey – a guy who drives a car.
Connecting each stage with the used platform is easy to follow. Marketing Tech solutions are divided into 4 different roles.


Marketing Masala, an Indian based company, suggests that the marketing department should focus more on their growth.
The digital stack diagram represents 21 growth-hacking marketing technology stacks.
In the diagram below, the tools implemented work to:
Qualify leads
Boost content marketing
Ceate landing pages
Improve SEO
Help with customer engagement


The Sales Tech Stack 3.0: Clemmons.io


Clemmens' sales stack is oriented on sales funnel.
An outbound sales process divides into
Analytics
Research
Outreach
Deal pipeline.
The marketing tools flowchart below shows the company's approach of getting customers.


The "less is more" approach by Effin Amazing keeps it simple. Only 6 marketing tools are included in their 2020 tech stack.
Simplicity can be a thing of beauty when trying to avoid Stackpocalypse.
They believe that having a variety of choices of tools does not imply every company should have dozens of them.
As a result, their digital marketing tech stacks integrate together seamlessly.


Martech Stack Examples: Zero Dollar


Free technology to conduct growth marketing was put into a simplistic grahpic and is also the new approach by Zero Dollar. 9 categories are common for every business.
This marketing tech stack can be a perfect solution for bootstrapped start-ups.
Moreover, in order to support their customers, they opted for osTicket software.
This is a single marketing tool that combines email, website, and phone calls inquire.


Marketing Flex / Org Stack: Reduxio


Reduxio's diagram is one of the most elaborate ones.
3 main circles makeup the marketing tools graphic below with areas of focus:
Product and Design
Sales "Wow"
Growth Marketing.
The color-coded dots around the main circle represent the responsibilities of each team member.
Moreover, they added a map of the world which shows where they are currently working.


---
Related Article: 50 Ai Tools for Growth-Hacking
---
Marketing Tech Stack 2021: Tomas Capponi


The Growth Marketing Tools Funnel made by Tomas Capponi depicts the customer lifecycle and the digital software tools used in each stage.
So, depending on the needs of a company, the reader can decide which technology solution they need.


An example of a way of growing for agile teams and stakeholders was presented on the Everbird's martech infographic.
Consequently, rather than general marketing stack, they chose to focus on analysis, test, and growth itself.
The company suggests using it mainly for web or mobile applications.


Digital Marketing Tech Stack: Marketing Ads


Italian marketing agency decided to invert the well-known marketing funnel in order to improve ROI and their growth.
Most of the tools listed in the digital stack are popular in marketing circles.
Keeping the numbers low and avoiding having dozens of tools can be an advantage too.
It clearly is for "Marketing Ads". A narrow list of tools makes it easy for everyone in the company.
One of the most common marketing software tools for landing page optimization is LeadPages – and here we have an example of it.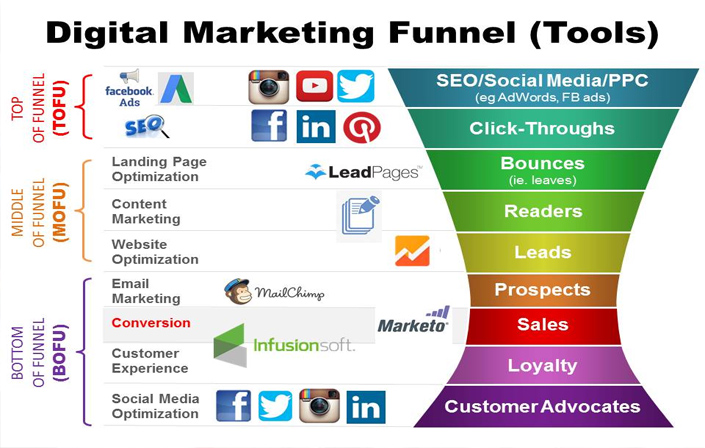 This agency decided to connect blocks to visualize the marketing process with the corresponding digital tools underneath.
In each segment, the reader can find different platforms.
At first, it looks like they are using a lot of different tools.
But when you look closer, most of the digital stack tools are the same in every step – the way of cutting costs.


Marketing Stack: Invoca


As Invoca decided to switch to ABM (account-based marketing) strategy, they needed to change their account based marketing stacks.
The techstack infographic involves customers and then subsequently – identify, expand, engage, advocate and measure stages.
There is a clear understanding of the usage of platforms thanks to the marketing funnel.


Marketing Tech Stack 2021: LeadMD


There is another company that uses ABM (account based marketing) is LeadMD.
They created a marketing tools infographic showing what is the use of each marketing tool.
Then based on how the tools fit into main categories and subcategories, the tools are spread out underneath.
Moreover, they put the main focus on execution which is all about spreading messages & offers to potential prospects.


Marketing Technology Tools: Bloomreach


This diagram – simply organized by 3 levels:
Platform
Optimization
Application.
Every 10 digital tech stacks have their purpose for the company.
Bloomreach is helping other companies to get higher conversion by using its software.


This company decided on modern stacks, interactive marketing technology stacks that suit their company.
6 boxes of marketing interactions with their customers contain platforms they are using on a daily basis.
An unusual addition is a short description of why they are using each marketing stack.


Marketing Technology Infographic: Venture Scanner


Venturescanner decided to show marketing technology used currently. In order to choose platforms, they checked 900 companies.
The division into 13 main categories of marketing helps the reader to navigate and find needed marketing technology tools.


Marketing Tools stack: DemandBase


DemandBase's diagram heart is its software itself. This marketing Infographic contains the buyer's journey, as an addition to 6 pillars of account based marketing.
Web Experience
Analytics
Content Marketing
Sales Enablement
CRM (Client Retention Management)
MAS (Marketing Automation Software)
More noteworthy, Folloze claimed their tool of choice was DemandBase. This ABM tool allowed for personalized marketing techniques in content creation and content management.


13 categories of marketing are showed on Olive Lights' marketingtech diagram.
Each heading has its subheading explaining what it stands for.
The technology stack gives a great overview of a marketing agency specialized in Data, Technology, and Governance.


Marketing Technology Stack Infographic: Talk Walker


Customer journey presented their technology stack as a circle with all kinds of software tools in each step.
TalkWalker provided also an argumentation for the main platforms that they suggest using for everyone. This techstack is universal and can be recommended for any business.


Marketing Tech Stack 2021: Egnyte


With the usage of 6 main categories, Egnyte, Content Services Platform, shows the technology stack they are using on a daily basis.
They focus mostly on execution and using data to make informed decisions and break their marketing techstack into:
Data Management & Analytics
Content Creation & Delivery
PR & Media Monitoring
Social Engagement
Operations
Seo
Moreover, They use buffer or Google Search Console, which are popular technological tools among technical marketers.


They used the customer lifecycle and then divided them into 4 main marketing stack categories:
As a result, there are 30 different purposes for many of the given martech tools.
The company wants to try new tools to promote them over the ones which are on the market for a long time.
Smart Insights wants to recommend new technology stack solutions.


This diagram depicts the importance of the financial perspective while creating marketing stacks.
In other words, Red Caffeine, a growth consultancy, believes it is important to consider revenue and costs while choosing tools. Basically, to get customer insights it is important to look also from the financial side.


Martech Stack Examples: AdRoll


A recipe for team success was presented by Adroll with their marketing tech tools.
The marketing tools in this example are divided into 5 main parts and fit into the funnel based on user behavior.
Thanks to the division into smaller blocks, is easy for the reader to navigate.


Resources


If you are looking for more information and insight, Cheifmartec blog contains a lot of information about different marketing technologies, including tech stacks.
Conclusion


There is a variety of tools to choose from to make a perfect digital marketing stack for every type of business.
Divide your marketing into phases or smaller processes.
After you segment your funnel, compare your needs with others' solutions and even competitors.
Sometimes less is more. You don't always need the largest quantity or the most expensive option. Some companies are better off with simple martech stacks, as it is easier to monitor.
If you run into problems or extra questions, do not hesitate to reach out to us.
Here at Klint Marketing we offer digital strategies, marketing tech stack implementations and growth-hacks for scaling any business, any size!