LinkedIn automation tools can help you grow your network and increase sales.
Which tools will get your account banned and which ones are safe?
By far, LinkedIn is the best network to reach decision makers. You can naturally (or unnaturally) build your network and reach larger audiences.
It is a damn effective platform, but it takes time and effort to work with it.
What if I told you that you can do it at scale by using a few, simple LinkedIn automation tools?
Before we get into all the exciting tools, let's wrap our heads around lead generation and business nature on LinkedIn.





What is LinkedIn automation?

Automation in general is making a manual process easier by using automated processes and software tools.
This can be anything from scheduling posts to making new connections or sending follow up messages.
We will be looking deeper into how linkedIn automation and automation tools can help your lead generation efforts.
LinkedIn's automation is an outbound strategy meant for building networks or selling products and services. You guessed it – the software is part of it to make it scalable and painless.
Some even call it a growth hack.
This technique is used for generating leads on the platform, as it hosts most business professionals. By reaching out to the right people in the right places, marketers can expand their networks and rapidly gain leads.
By automatically performing actions, otherwise manual, these tools make sure that you get noticed by viewing other user profiles or sending connection requests, therefore speeding up the process towards conversions and network growth.
This way professionals can focus on selling, instead of chasing and keeping up with their leads. The sales process becomes simpler as time consuming and redundant work will be taken care of.
However, this does not mean that no manual labor will be involved: human-made strategic planning is still going to be the foundation of it all.
Essentially, those LinkedIn automation tools' goal is to turn your LinkedIn account into an inbound sales machine.
It comes with great advantages like lowered costs, and work that does not require your supervision since it is programmed to carry out pre-arranged instructions.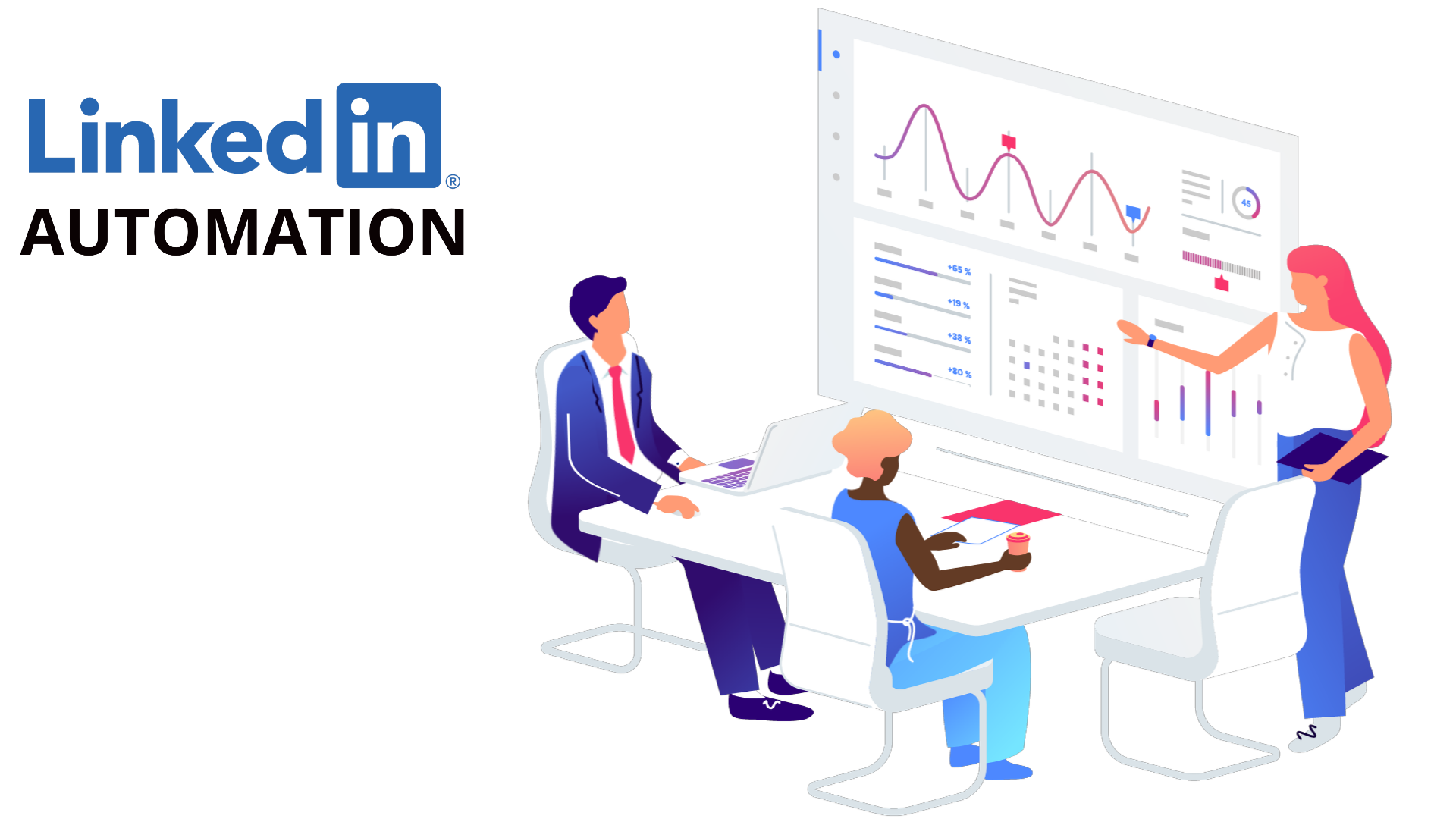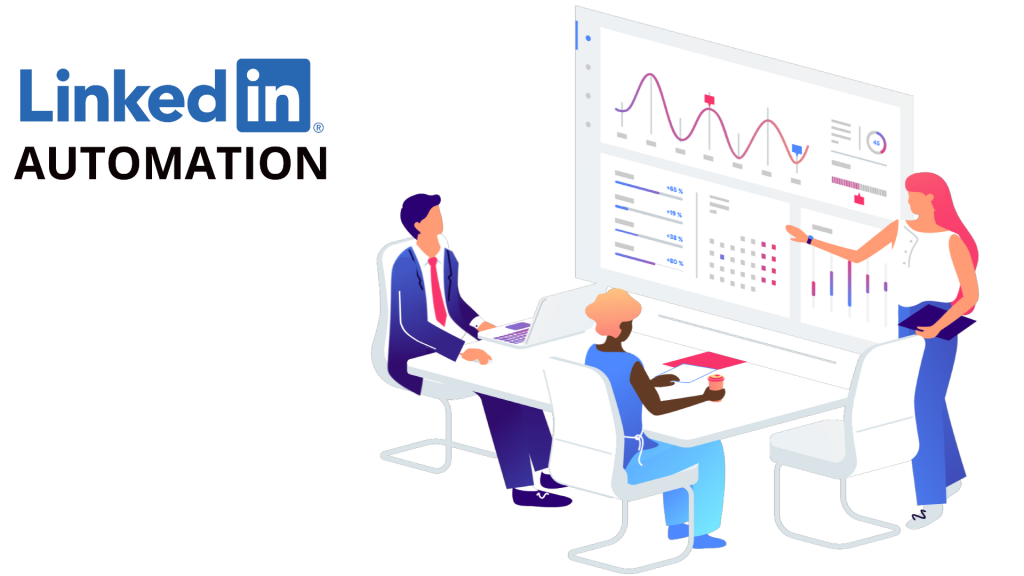 Why LinkedIn is the best place to generate leads?

LinkedIn is a gold mine for lead generation. It provides an untapped field for business conversations directly with decision-makers.
Just think about it.
How frequently do you get sales emails and phone calls? How many of those you answer?
I guess not that many…
Now, go check your LinkedIn. Or better, just take a quick look at your mailbox. I bet you do not have a single unread message there.
Recently, LinkedIn has become a popular network for business leaders to connect with each other. Once connections happen, conversations arise and organic networks start to sprout.
And you too can connect directly with decision-makers, people you want and need to talk to.

So, let's see what LinkedIn automation is all about!
Why use LinkedIn automation tools?

There are different opinions regarding LinkedIn automation tools. However, it is a fact they are an efficient way to rapidly get in touch with people from diverse companies and work fields. You can offer your goods or services and most likely expect a favorable response.
Undeniably, working with these tools saves you precious time.
Cold outreach messaging campaigns often end up failing. Endless phone calls suffer the same fate when clients hang up before you can even say the company's name. This explains why sales teams are turning their attention to social selling on LinkedIn as a warmer approach which offers more flexibility and customer understanding.
To automate the process of social selling, many LinkedIn automation tools loop by default actions like profile visits, private messaging, and connection requests.
What to expect from LinkedIn automation?

LinkedIn is about building purposeful work-related relations. Therefore, the number of connections will not be as important as the quality of the interaction per se. It is worth mentioning that the platform stops showing a user's number of connections once they've reached 500.
Marketing automation helps improve overall productivity, resulting in an upper hand over the competition as manually handled tasks eventually turn into slow and hindering progress.
LinkedIn automation tools will:
Perform connection requests
Prospecting
Introduction Message
Following up
Lead enrichment
Scheduled posting
In short: save time, and reach more leads. Having more time to spend on meaningful conversations with the newly acquired connections is a huge accomplishment.
LinkedIn messaging holds a high response rate; work it.
If you are considering to plug in LinkedIn automation tools in your outbound campaigns, make sure your profile is set up to maximize results and engagement. We made a small guide for you to follow it here:
The question comes naturally: what are some of the best LinkedIn automation tools available?
We have made a list of the best LinkedIn automation tools just for you: keep on scrolling to learn more!



Features to look for in the Best LinkedIn Automation tools

The features of these LinkedIn optimization tools include:
Relevant lead generation
Information collection
Database creation
Email lists building
Automated invitations( connection requests)
Automated messages and follow-ups
Post scheduling
We have assorted the best LinkedIn automation tools for you to check out:
---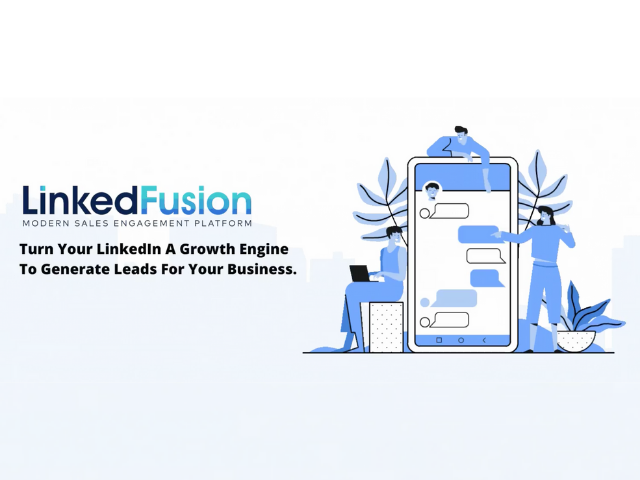 Linked Fusion is an automation tool that will reduce time spent on repetitive tasks. It has multiple use case from lead generation, to messaging, to automated follow-ups.
Linked in automation is a new practice. Linked Fusion integrates with main CRM's, zapier, google sheets, and slack allowing you to follow your outreach activities.
With an affordable pricing model ( starts at 69.95/a month ), onsite guides, and easy access to customers' support this automation solution is to consider for ramping up your outbound activities.
---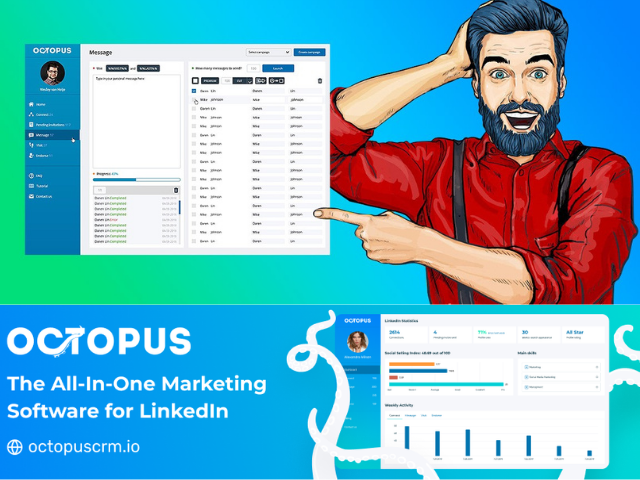 Octopus CRM simplifies users' efforts when growing through LinkedIn automation tools. Designed as a time management aid for business owners and recruiters.
You'll be able to sen end high volumes of messages and invitations, build personalized sales funnels evaluate performance stats, and even endorse other users' skills.
The software is compatible with all of the platform's accounts, from LinkedIn free to Recruiter Lite.
---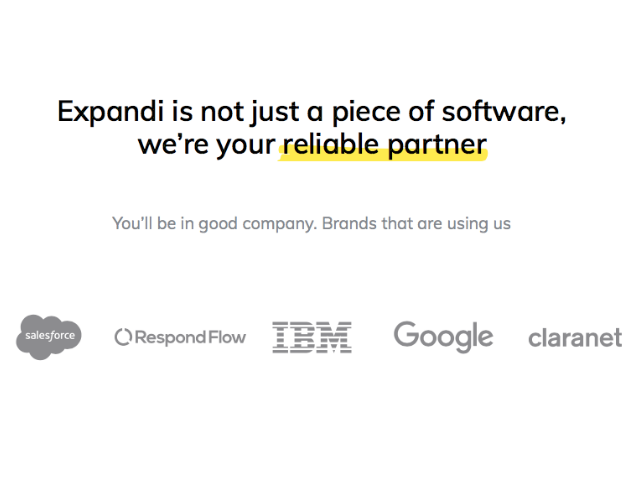 It stands out for being one of the safest tools on the market when it comes to automating your LinkedIn, and doesn't fall behind in customizing their content.
The tool bases it's growth hack methods on personalized outreach. Business surge is not just about numbers anymore.
The software is made up of tons of smart features, they're able to mimic human action on the web:
Delayed actions.
Intelligent message & invite limits
Organic limit expansion
Expandi is cloud-based, it'll work 24/7 without the need of having your computer on.
---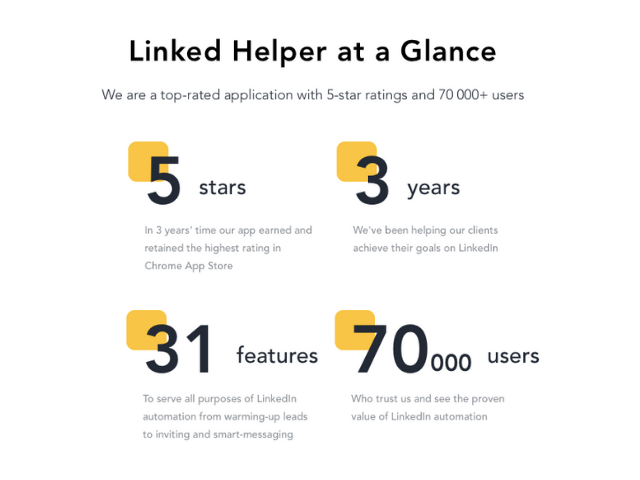 Mainly used to assist users in automating several LinkedIn tasks without compromising an organic outreach.
With over 30 features and an estimated 70K users, Linked Helper thrives on its ability to generate warm leads and captivating personal messaging.
Through smart private messaging chains you'll be reaching out beyond your 1st connections, and growing your network while generating leads as you go.
Linked Helper 2 is already available and includes a built-in CRM system. The software can be combined with other LinkedIn features like Sales Navigator, Recruiter, and Recruiter Lite.
---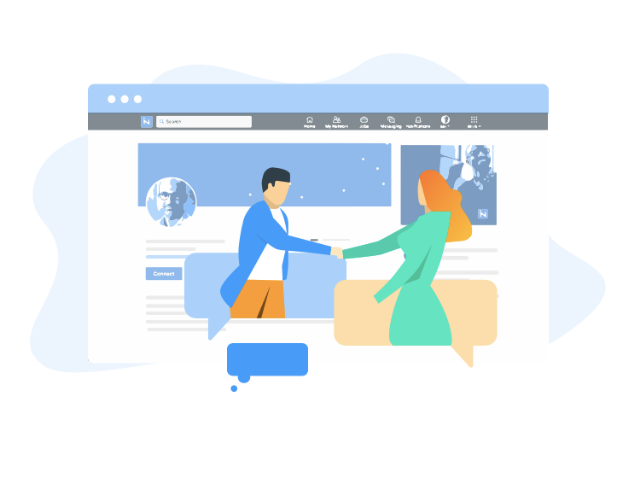 Automated lead generation and au naturel engagement with prospects so your mind-space is set of closing business deals.
Dux-Soup is not only about reaching out.
The software collects relevant details from profiles that have been visited (contact number, name, company, location) and creates useful databases from them.
By building in-depth relations with clients instead of hunting them down, your sales cycle grow shorter while meaningful connections boost your conversion rates.
---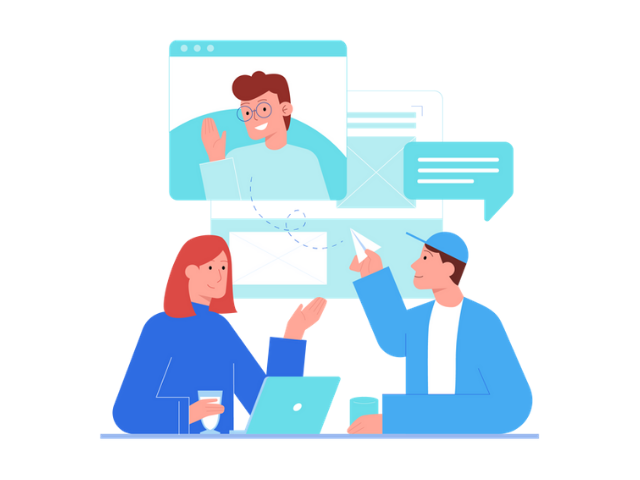 Daily lead growth, budget friendly and secure software to get your company going.
We Connect is your personal campaign manager. It will make connections, manage the first contact with them, leverage your network, and report it all back to you.
Through data segmentation and detailed managing of LinkedIn's features, the tool doesn't only work for you but keeps you updated by letting you monitor and control everything from a single dashboard.
---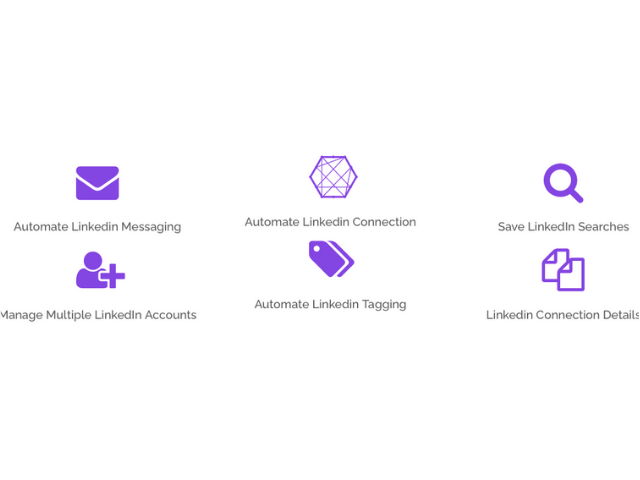 This tool has been designed to help LinkedIn users grow their marketing and outreach results by expanding their networks in less time.
The software stands out for allowing you to manage multiple accounts through a single Linkedomata Account. All your profiles' details are stored securely in one place.
You'll be able to automate connection processes such as invites, customized messages, B2B tagging features and a larger targeted network scope.
---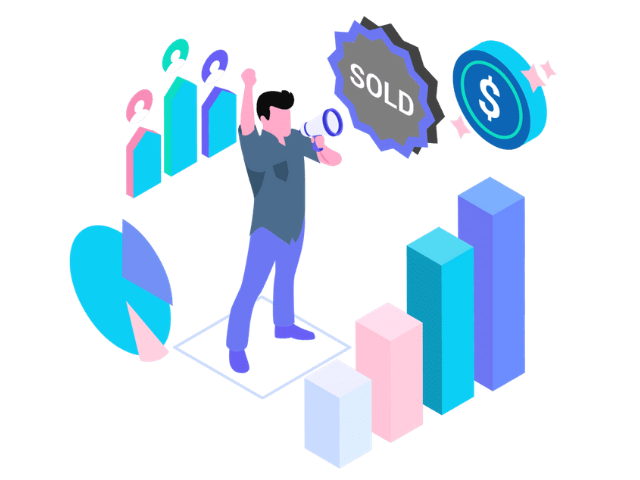 Designed to remain LinkedIn algorithm-friendly, this tool aims to boost your sales and conversion rates through lead generation based on your selected niche.
Linked Assist will automate social media outreach; connecting to targeted LinkedIn profiles, and auto-deleting irrelevant connection requests.
This software doesn't only get you under the radar, but makes sure your network grows big enough that it keeps you there.
---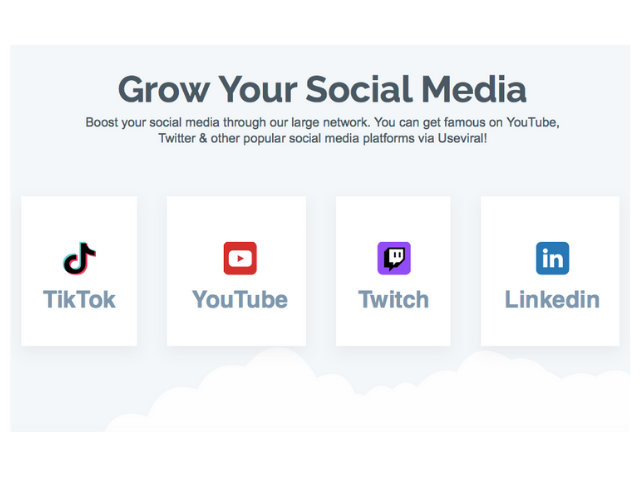 The name gives it away. You go viral.
On one hand, this tool offers to help you grow your subscriber base depending on your budget. Similarly to buying followers, UseViral allows you to buy connections to grant you access to a wider 1st rank reach.
Use it don't abuse it.
The tool comes in handy when you've targeted those specific individuals who are too relevant to let slip. However, remember buying a connection doesn't mean you don't have to work on the relationship's depth.
---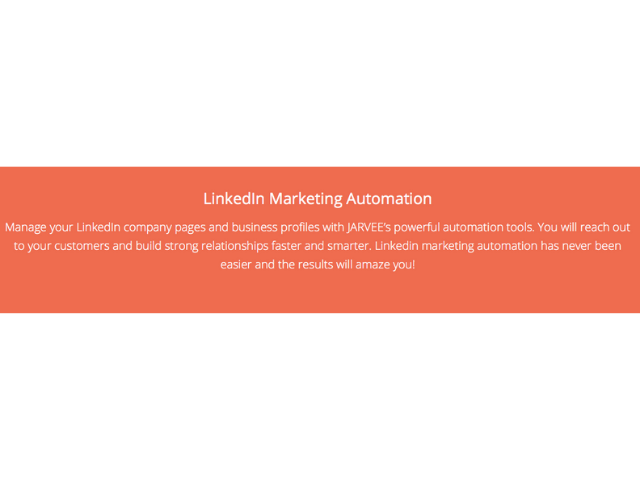 This tool targets groups in your niche using advanced algorithms and extends towards prospective customers at the same time.
You're able to schedule posts to be published at the right time and automate your interactions to sky-rocket your content views.
JARVEE will also make sure all your decisions are well informed by providing you with your campaign and posts' statistics.
---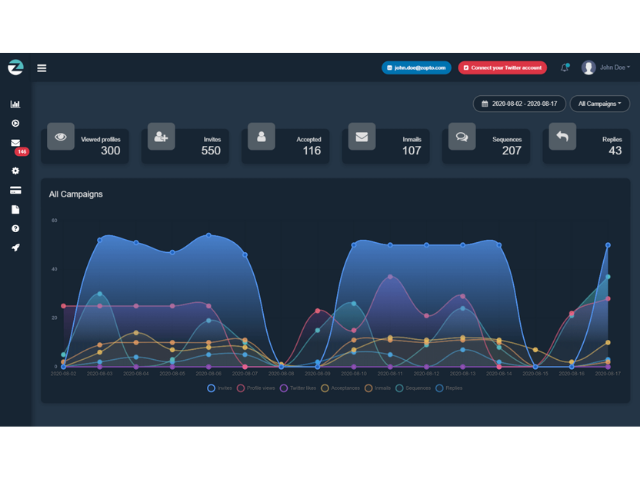 Through customer targeting and filtering, start generating hot leads.
Often used by sales teams to automate their LinkedIn lead generation. This easy 3 step tool automates your LinkedIn lead generation.
Open your account.
Choose your ideal customers and decide what level of engagement you want.
Expect results to be delivered within days.
---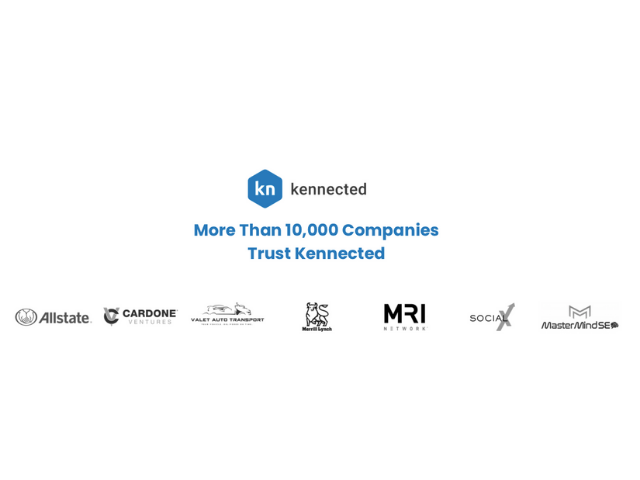 Innovative LinkedIn automation tool which allows users to scale their marketing outreach and build a sustainable pipeline.
Kennected does the cold part of the work for you. The software's AI will find relevant and high quality prospects for your company.
You get to focus on growing your business and not being consumed by redundant tasks or wasting time on dead-end leads.
---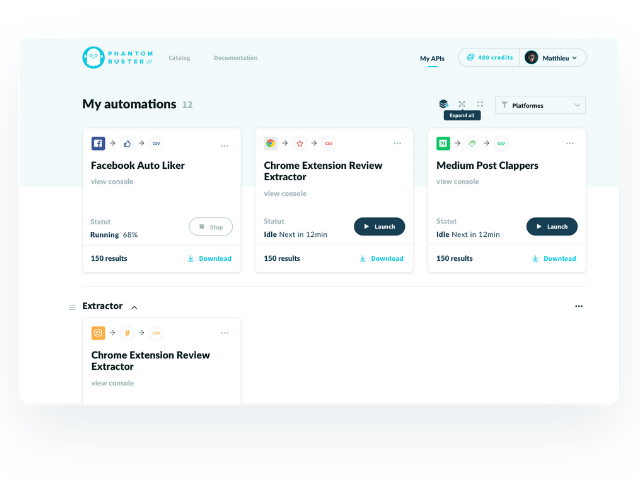 Phantombuster can perform almost every digital action on your behalf, and it works 24/7 from the cloud.
This software collects data and creates chains to generate leads for your business while expanding any marketing campaign's reach.
The information is extracted from corners of the web and used as a source to customize your outreach and trigger your actions on the web.
---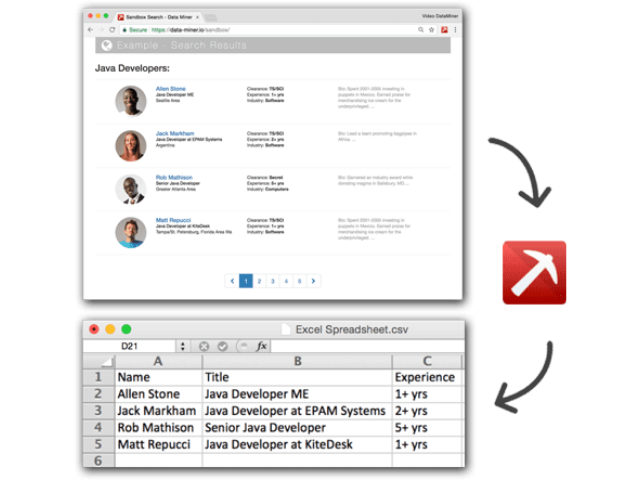 Data Miner is a fantastic scraping tool. It's Google Chrome and Microsoft Edge browser extension, its job is to scrape useful information from internet websites.
The collected data goes into a CSV file or Excel spreadsheet. This means Data Miner can also fill forms for you automatically.
This feature is not a bot so it can gather content from over 15000 sites on the web without being blocked by them.
---
---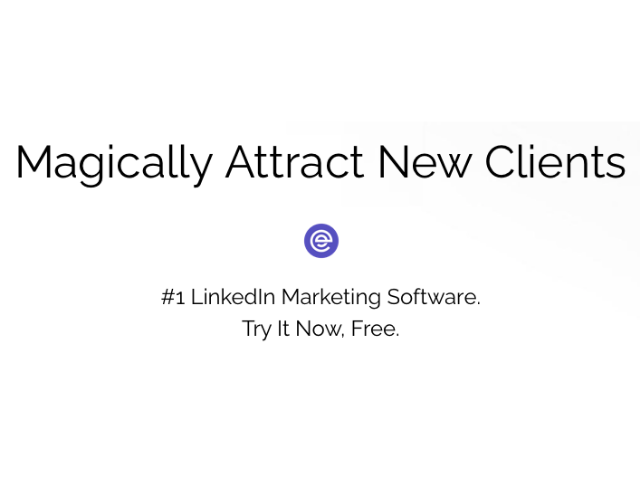 eLink-pro allows you to target clients on LinkedIn, access a huge market database, and export details to Excel.
You're wondering how?
Using the view-back LinkedIn principle this automation tool's goal is getting engagement by sharing links that lead viewers back to your page.
This is a dual-result strategy. New clients are now aware of you and your company; and targeted ones are attracted on a bigger scale.
---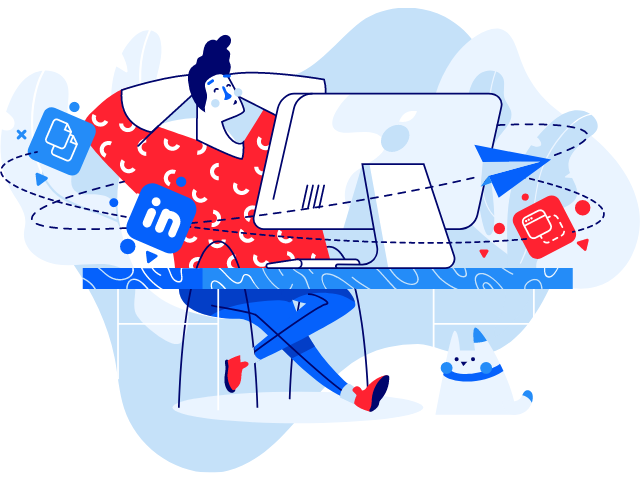 This claims to be one of the most advanced sites when it comes to all-in-one automation services.
Built-in LinkedIn searches, multi-tool integration, and easy imports promise to turn prospects into customers in just three simple steps.
Alfred will help you find your ideal audience, and based on the information gathered will create multiple campaigns, thus optimizing revenue and impact results.
---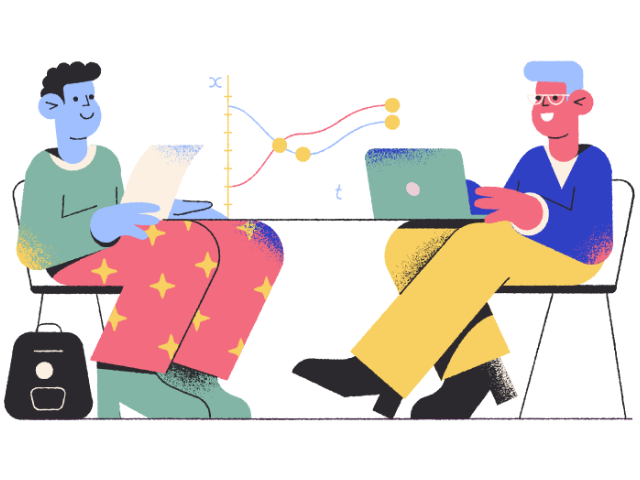 This tool promises to scale your business effortlessly.
TexAu handles all tools meant for marketing and sales teams and speed up the usual manual process so your business team can focus on human relations.
The platform offers 120+ forms of automation which save you the time you invest in coming up how to grow you network of contacts in your field, and do it fast.
---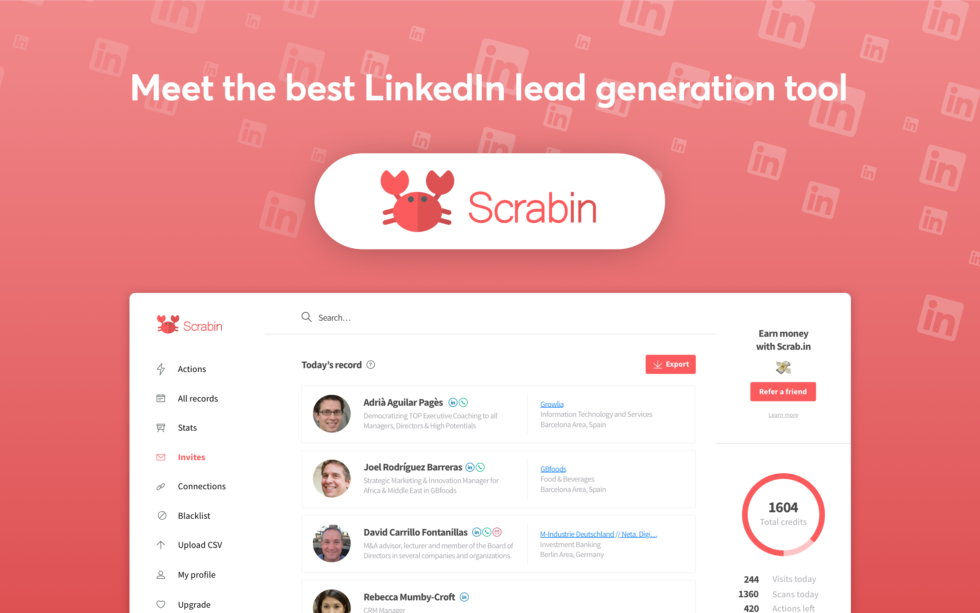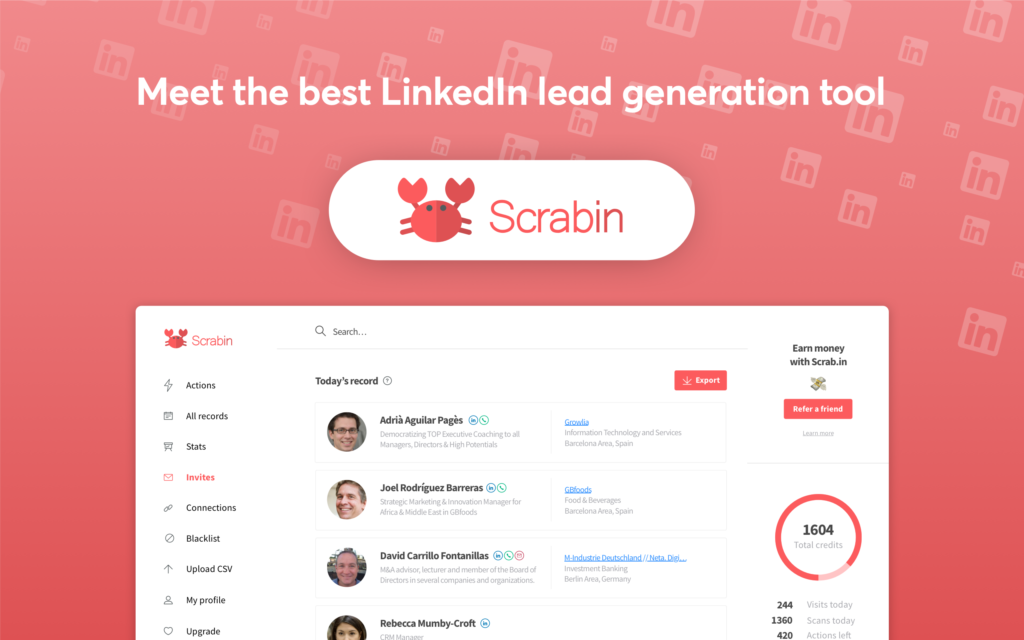 Scrab.in automates every actions of your LinkedIn profile / LinkedIn Sales Navigator / LinkedIn Recruiter.
This one's a lead generation growth-hacker designed by specialists of the field, and don't worry about becoming bulk: The algorithm is updated weekly to keep you safe.
The tool is able to export your leads in CSV, send invitation messages, validate skills and scan and visit up to 15K profiles a month.
---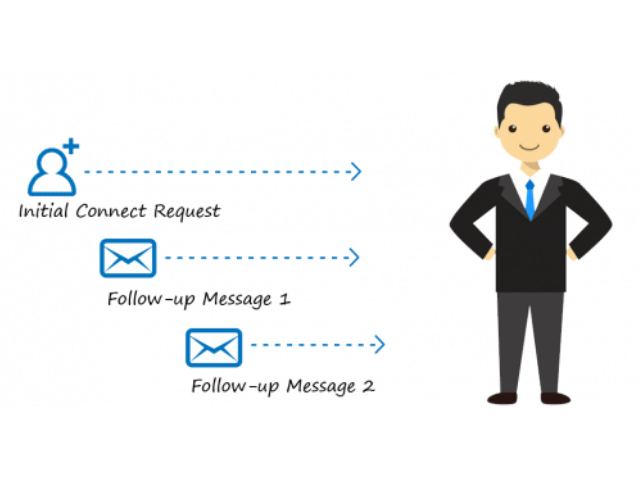 The tool is also focused on growing your lead generation by letting you set up multiple follow-ups that can be personalized to your liking.
The process is simple. Once you've defined your audience this tool will send up to 100 customized invitations and it allows you to create a sequence of up to 6 messages for each.
Lead Connect bears management in mind, which is also why it allows you to sync your LinkedIn prospects with HubSpot so you're always hands-on.
---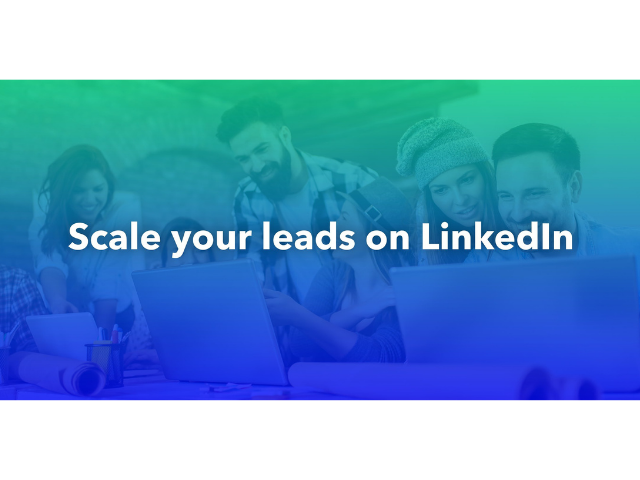 Cleverness redefined.
Predict and drive your revenue up as you scale lead gen on LinkedIn, best part is you don't have to do it yourself.
By using collected data from B2B outbound campaigns, this tool personalizes messages for your ideal clientele list and gets you results straight into your inbox.
---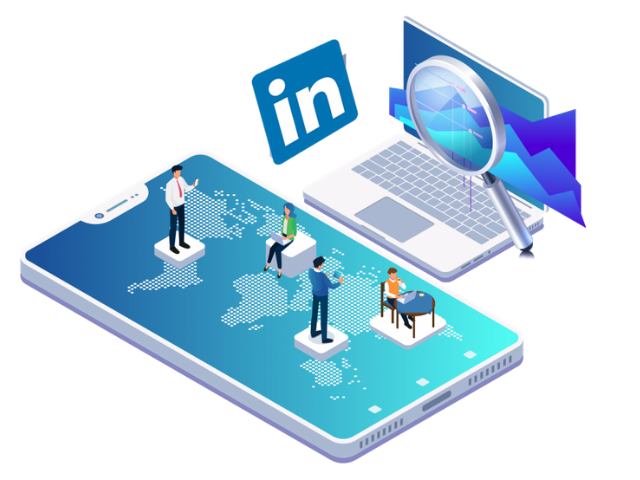 Linked Camp is a sales lead magnet in the cloud.
This tools will aim at the audience of your choice and generate campaign sequences based on user keywords to build up your ranking.
With a started pack of 34.99 USD you can already start optimizing your results, have access to the metrics of your outreach, and get 24/7 chat and email support.
---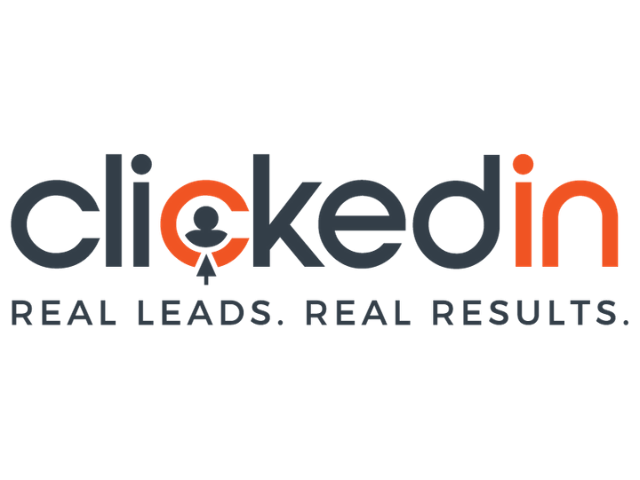 It doesn't matter if you're already a well consolidated company or if you're just looking for the right leads.
ClickedIn's key features will help you find the right employees, they'll hand in accurate data collected by smart AI and work your email campaigns and social media posts.
It stands out on flexibility with their recently launched mobile app version.
---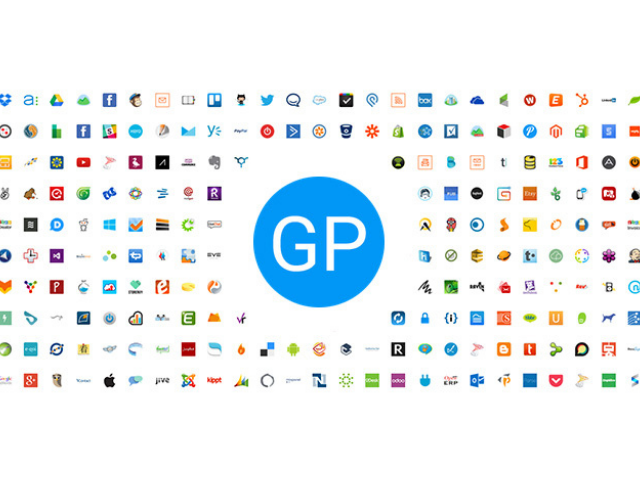 Lists shouldn't be a hassle, but keeping track of hundreds of prospects can turn into a nightmare.
This tool is an email finder for LinkedIn profiles. It doesn't only integrate all your already existing prospects' data but allows you to invite your team to helo out as well.
You can get started for free. 100 monthly emails and access to all of the paid-plan features at zero cost.
---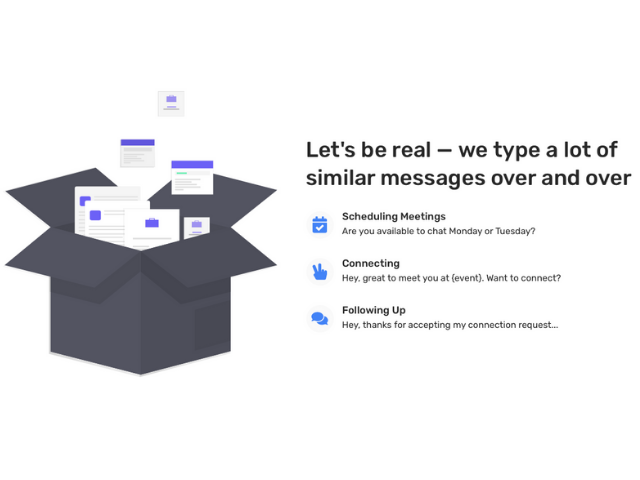 Give your fingers a break.
Automation doesn't have to mean less you, but it sure means more time. Have you wondered how many similar messages you usually type?
Whether it's scheduling meetings, invitations or follow ups; chances are all your messages look alike.
With VeryFast you avoid the copy-paste struggle (or using banned auto tools) and connect faster with their risk-free features.
---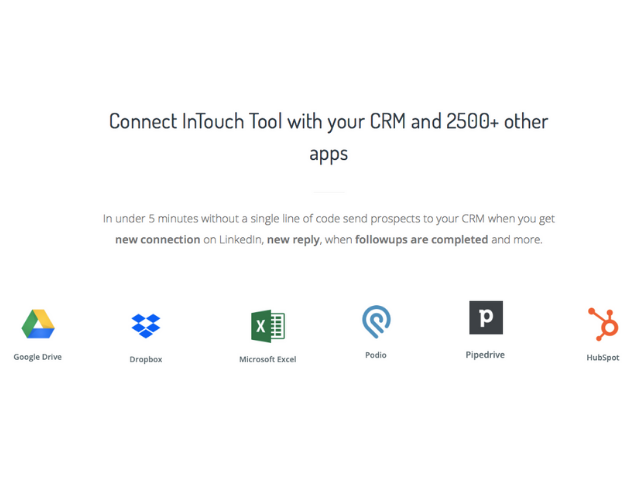 This automation tool wants you to hit a new all-time ROI high.
By automating your connection expansion and creating customized follow-ups, the software makes sure you spend time keeping InTouch with those with real interest in your brand.
Engagement becomes meaningful. The messaging cycle repeats every 24h, or you can trigger it as you like.
---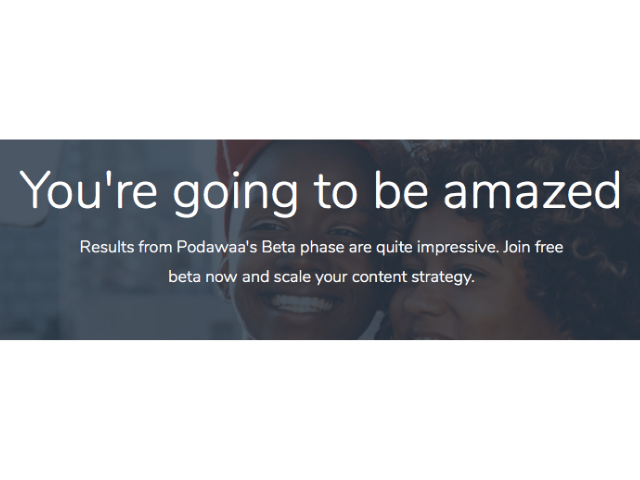 Likes, comments, views. There are many ways of organic engagement on LinkedIn. This tool will get you thousands of each.
Podawaa is able to exponentially grow the outreach of your content and get actual qualified views for each of your posts.
It's not only about saving time. This automation tool makes sure the audience who finds you is relevant, and it engages with the community by result-driven studied cases.
---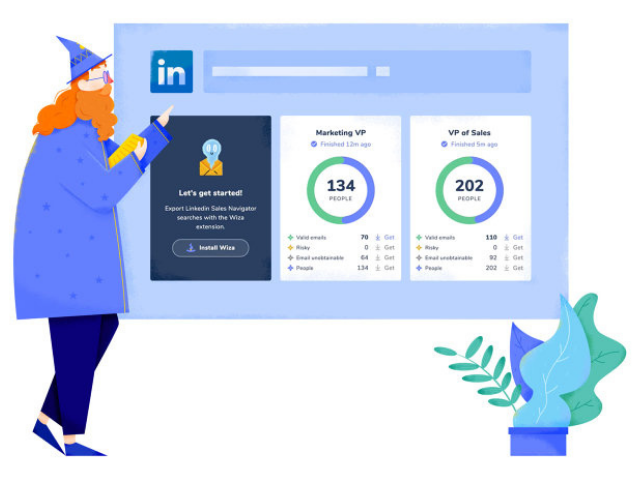 "Wiza is magic".
This tool is designed to create mailing lists to be used in LinkedIn. Your Sales Navigator will become your own personal email database, and all of them are ready for a reach-out.
This lead generation experience starts at 0 USD. That's right, when you hire their most accessible package, you pay as you go.
---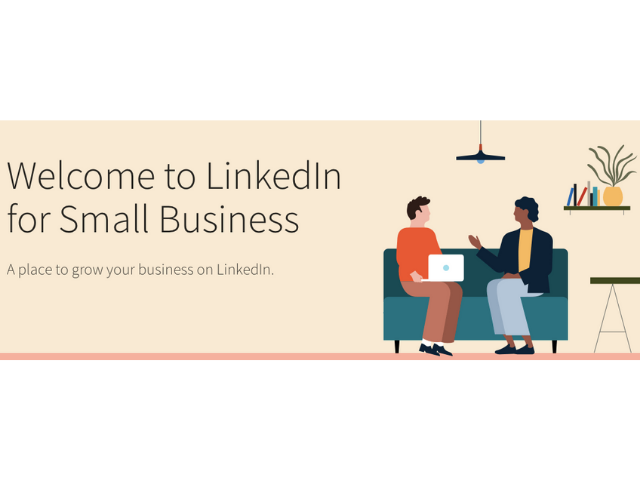 With this feature, LinkedIn intends for businesses to grow in the platform.
Tools designed to work together to meet your company's individual needs. LinkedIn Small Business is dedicated to making connections companies need to grow.
Small entrepreneurs can now find an easier way to associate with the resources they need, and get tips on managing their small company.
---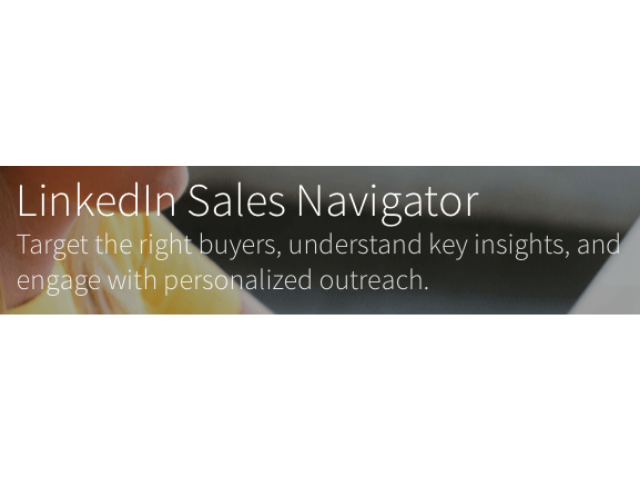 Launched by LinkedIn itself to efficiently connect buyers and sellers without the need of a middleman. Its intelligent algorithm will get you in touch in line with candidates and their necessities.
How?
By knowing which buyers to target it learns from them and understands them. Once it has analyzed the crucial insights it needs, it'll start the engaging process. The latter will be natural-like, Sales Navigator is enabled to have a personal outreach.
---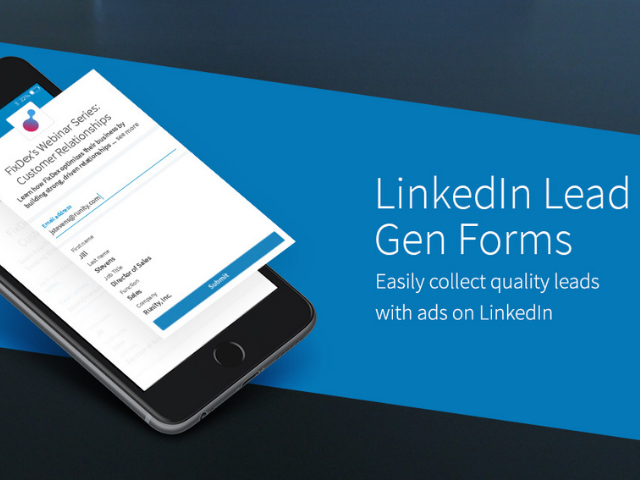 LinkedIn has its own automation solution – lead generation form. This is a form of native paid media provided by the platform and it works effectively.

LinkedIn has its own automation solution – lead generation form. This is a form of native paid media provided by the platform and it works effectively.
Use pre-filled forms to gather high quality leads from your LinkedIn ad campaigns. Collect leads' information such as name, email address, job title, working company, credentials, experience, etc.
You will need to pay as you go and it can get quite expensive quite quickly. On the other hand, leads coming in are high quality and you can use the information to further contact them via email.
---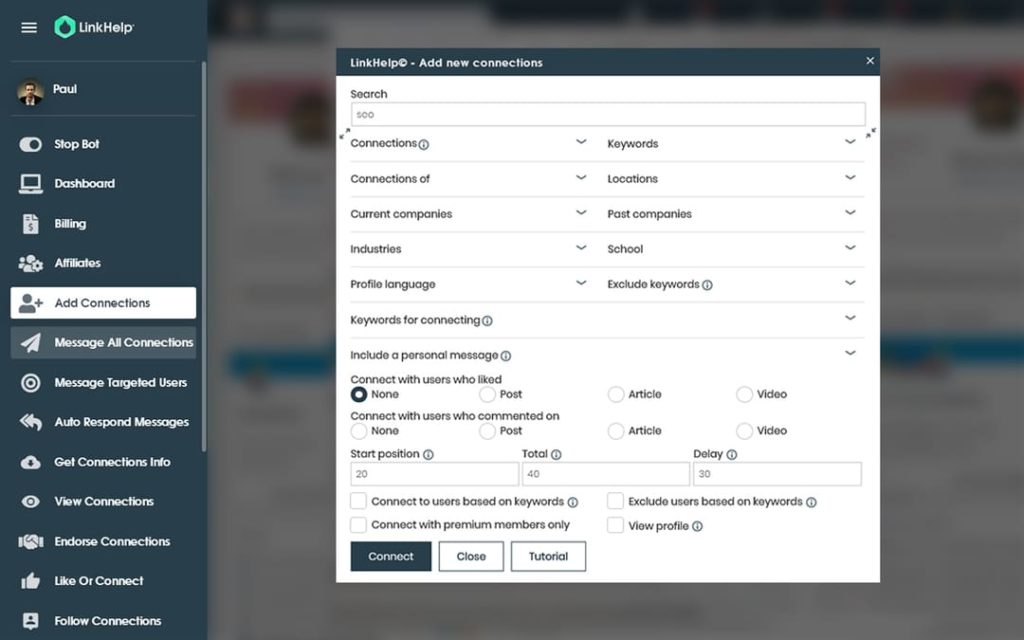 LinkHelp is a tool for finding and connecting with new potential clients.
Its motto can be summed up in the three words "safety, simplicity and rapidity" as it promises to provide you with the best and fastest results through human-like features.
Features include:
Add connections
Messages
Extract data
Auto respond
Like or connect
and many more.
After a 3 day trial, you can choose to purchase a monthly, yearly or lifetime subscription.
---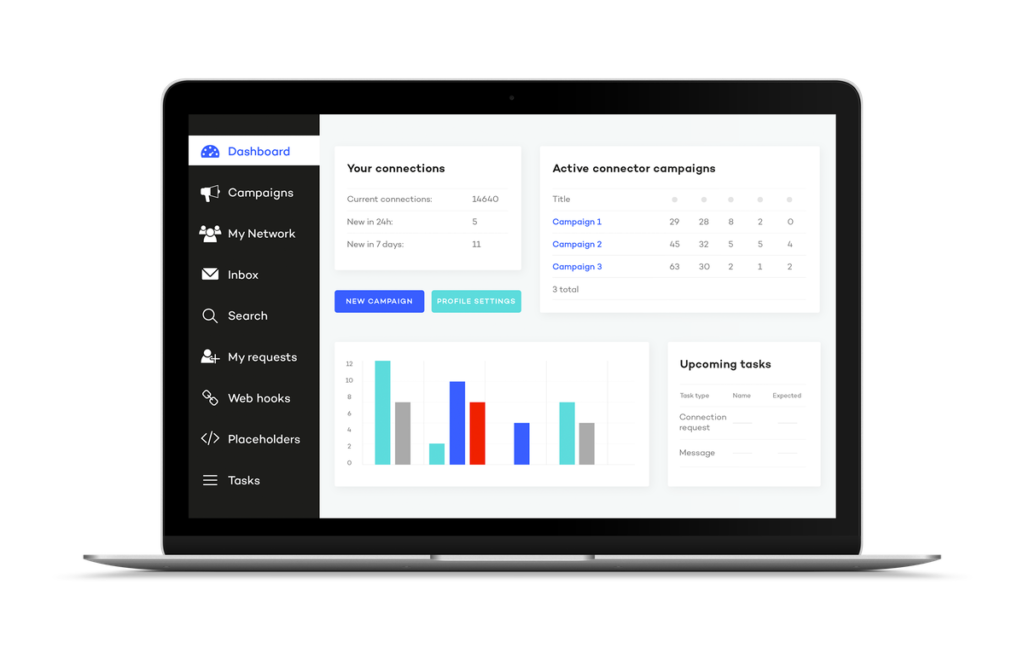 Prospect Labs is a software to optimise your LinkedIn profile and generate leads.
The monthly offer includes:
Blacklist Feature
Daily Activity Settings
Account Warmup
Import contacts via CSV
Post Engagement
and more.
It can also be linked to Sales Navigator for your convenience.
Big results, very little effort.
---
Are LinkedIn automation tools safe?
Yes and no.
There are numerous sources pointing out that chrome extension based tools are not necessarily safe.
You read that right! LinkedIn can actually detect if you are using chrome extension based tools.
Even if you have done your research and are using the safest tools you can get, LinkedIn can still perceive your activity as sketchy and shadowban your profile.

List of banned Linkedin tools:
Not all tools are created equal. Most chrome extensions for linkedin will get you into "linkedin jail" or outright banned.
Check out these lists of Banned Linkedin Tools:
Banned Linkedin Extensions Volume 1
Banned Linkedin Extensions Volume 2
Can my account get flagged using LinkedIn tools?
All these tools should have a common goal: Algorithm Friendliness.
External automation may cause spam, which is the reason why LinkedIn regulates tools' access. By banning external automation, LinkedIn prevents itself from becoming a place where bots are able to track users and bulk spam them.
Using them it does not mean you are in trouble, as what really matters is not what you use, rather than how you use these tools. Activities should not exceed the established limits, and it has been proved that any form of violation against the site rules are bound to cause a problem.
While aiding in task performance, it is expected of them to be low risk. For example, being free from repetitive message errors, them only soliciting the required information, etc.
Automation tools actually encourage human engagement, but spam content can always sneak in, undermining the website's value. This does not only affect virtual image, but also deprives the platform of revenue. LinkedIn tries to prevent this scenario by making accessibility more difficult to automated tools.
If you want to keep your linked account safe, it is imperative to play it safe.
Stay away from high-risk tools that are extension based
Do not to send connection requests to hundreds of people per day (30 – 50 max)
Avoid duplicate messaging (you could be mistaken for a bot).
We guarantee that it is possible to take advantage of everything automation has to offer, and yet comply with LinkedIn's guidelines.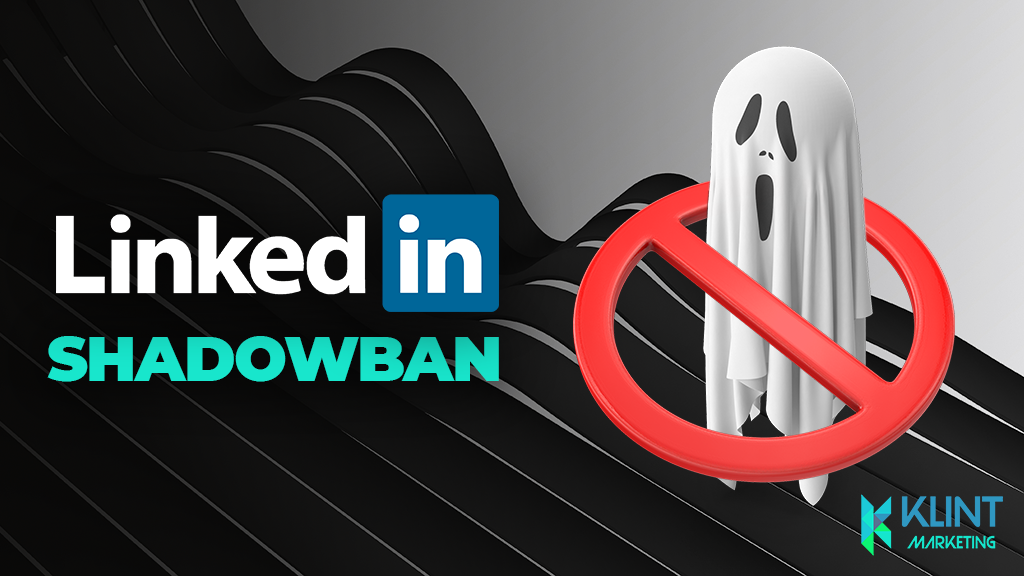 How to Improve your LinkedIn outreach?
Automation tools will get you the spotlight, now it is your job to keep it yours.
Don't lose momentum because you missed the basic checklist on how to make your profile stand out:
We have made a simple to follow guide for anyone who want to boost their profile visibility and increase the effectiveness of automated LinkedIn outreach campaigns through the tools mentioned before.
Content is key on LinkedIn
Go beyond standard profile pics.
You've got space for a background image, use it; it doesn't have to be a work of art, just make sure it matches your headline and works well with your profile picture.

Get a clear, professional image of yourself.
Pro-tip: always have your profile picture available for public display, this will spark a feeling in potential connections.

Keep your headline short and direct
Try to make it more than a title. People need to know what it is you do in a couple of seconds it takes them to read it, yet you need to stand out from others that hold the same position you do.

Take the time to go through all fields.
It might seem irrelevant, but taking the time to list your skills, certifications and experience save you time in the long-run. People will already have an idea of your overall professional background by a quick scroll through your profile.

Use LinkedIn's features.
The online tests get you verified badges which add a lot of value to your stated skills, even if they've already been endorsed.
Gaining engagement and influence on LinkedIn
Numbers usually don't lie.
LinkedIn is recognized to be the most effective platform for launching new products. This comes as no surprise; it is the second most popular amongst B2B marketers after all. Around 80% of them use LinkedIn, compared to 91% who prefer Facebook.
The ratings position LinkedIn ahead of Twitter, Instagram, and YouTube, which are used by 67%, 66%, and 54 % of B2B advertisers respectively (stats taken from social media examiner 2019).
The above-listed percentages simply describe how LinkedIn is mathematically worth investing energy and time on if looking for gaining recognition. The site's automation options help achieve real organic influence at a faster pace.
Bear in mind: One of the aspects you need to tip the scale in your favor will be e-etiquette. How you go about building online relations is what leads to actual sales and conversions through content creation and result-driven conversations.
Set up your profile for business success
At first glance, what stands out in a profile will be the professional headline.
Therefore, it requires quite some thought as it will appear every time you share a post, leave a comment, or send an invitation to connect. If you want to gain valuable followers on LinkedIn, your headline should be catchy and reveal your field of expertise.
For people with similar interests to follow they need to get a clear message of your professional standing.
Use industry, products, or popular search as Keywords to build your profile
Other features include the ability to speak directly to your audience through the content you put up, and being able to tell them how it is you can assist them. You can also link your website to offer a complete scope of the kind work you do.
Headlines and profile photos go well together, positive visual impact will always be a big plus.
Craft your linkedin posts and message content for the right crowd
Publishing should be about content that proves to be relevant for your readers, or subjects they can relate to in some way. Using the platform to talk about not only success stories, but your own experience with professional struggles as well, can empower through empathy.
Be human, and tell the truth.
No-one will try to connect with someone they don't trust to some extent. Be sure to deliver realistic promises, and address your failures too.
Sharing your expertise will help establish a foundation of trust between you and potential clients. Showcase the skills you claim to posses throughout the content you post for your audience – this is your chance to piece together what you say you do, with what you do.
Growing professional social connections: LinkedIn vs. Other networks
LinkedIn is not an influencer's hype.
People who hold authority in the platform are self-made leaders, and prominent professionals. This means users are driven by genuine interest; relevant publications and real engagement with followers. LinkedIn works an actual professional angle and informational depth.
Social media such as Twitter, Facebook, Instagram, etc. is widely known for personal use; while LinkedIn is approached exclusively for job-related purposes. Individuals are able to pump-up their profiles by registering credentials, educational degrees, job experiences, and achievements.
The main reason to step it up on linkedin with Automation : Reaching decision-makers
LinkedIn excels at giving you a shot at reaching decision-makers who have determined financial backing or the authority to approve proposals.
It is no secret, it can be quite the challenge to reach top-line managers through email, let alone on the phone.
LinkedIn's features make it easier to get in touch with the right people, as it they don't rely solely on automation tools embedded with irrelevant business wording.
This is why you aim for authenticity.
Work catchy subject lines into your profile and avoid being overly formal at times, i.e. having a laid-back tone is much more inviting and accommodating to your potential clientele.
Getting straight to the point is the right intro to a social-selling approach; it presents more sales opportunities, particularly in the B2B area – where relationships are everything. It's no coincidence this professional network ranks as number one platform for professionals.
When you wish to connect to decision-makers, the first thing they will do is check profile standards. You are to work on it to make a positive first impression.
A well-built profile and following social selling rules will help you accomplish your goals. A warm social approach will impact list segmentation, operation channel organization, tagging, lead management, and would overall win your clients' appreciation.
It's not uncommon to receive private messages in the platform, and they rank higher compared to emails and phone calls. The key to reaching decision-makers is their actual accessibility.
Does linked automation actually work?
In a recent experiment, one social selling expert sent out 100 InMails and 100 emails and made 100 phone calls. LinkedIn responses outperformed the e-mail ones by 558% and phone by 209%.
LinkedIn messages are also considerably cheaper compared to other email automation tools. There are also no issues regarding spam- your messages will be delivered.
Cold email strategies from someone you're not acquainted with may pose as an issue: it takes time (people most likely don't have), and effort to validate the sender and whether the subject is of any importance at all.
LinkedIn allows easy access to the sender's profile; hence, the most relevant information about them.
Checking your senders' profiles can be done in a matter of seconds. Available data, such as connections or groups you may have in common, helps the recipient build a bond upon endorsement.
Now, did you know recruiters will get punished if they can't hit LinkedIn's strict requirements?
They "must keep their InMail response rate at or above 13% on 100 or more InMail messages sent within 14 days," the company states in its InMail Policy. "If you send more than 100 InMail messages over 14 days and have a response rate of less than 13%, you'll receive a warning notification as well as tips to improve your response rate. For any subsequent breach of the threshold, you may be placed in an InMail Improvement Period."
See our article about the Linkedin Shadow Ban for more info.
Automation: problem solver
LinkedIn automation simplifies efforts to measure lead generation, thus helping employees focus on tasks in need of human attention.
This is where LinkedIn automation comes into play. They help deliver your content to the right audience at the right time, and efficiently maximize your reach. LinkedIn automation is smart. Not only do some of them generate leads for you, but also provide features that make the follow-up less complex.
When should I start automating parts of my linkedin strategy?
Lead generation requires many little tasks. Specifically profile visits, LinkedIn connections, private messages, and corresponding follow-ups. Such tasks do not necessarily require human workforce. By not doing these yourself, you redirect resources into jobs that require a human's direct involvement.
LinkedIn automation tools can actually function as a team as well. Instead of assigning a group of individuals to manage your account, you could use an automation tool to immediately lower the cost, you avoid hiring more people than you need. The tool will perform will over-work the human team by operating even when you're away.
Automation for sales
LinkedIn is the social network when it comes to career and business professionals looking to connect.
The platform is home to countless Fortune 500 executives, and has reached over 610 million users. These include B2B marketers, 97% of which use LinkedIn for content distribution (according to 99FIRMS stats).
Even though the site does allow some advertising, it's not as invasive as other social platforms like Facebook or Twitter; where information about anything and everything is displayed every scrolling second.
With an estimate of 40 million senior business decision-makers, it's clear why LinkedIn is amongst the top social selling platforms in the marketing field. Your LinkedIn profile will be your own personal landing page, so it should be optimized respectively.
When using automation tools, time will no longer be a scarce resource. You'll get help to efficiently take care of redundant marketing tasks. These features will work on your analytics as well, reviewing possible new connections based upon field, position inside a company, location, etc.
These methods will help you build a good campaign upon a solid branding plan in less time while putting you in the spotlight by sharing relevant information with the right audience.
LinkedIn automation tools: yay or nay?
Taking into consideration automation-related risks, the advantages are too great for the tools to be discarded. It's possible to learn how to implement the tools in the right way, the ability to properly use them will decrease any potential security or spam issues.
These tools are team-players, and their features are growing in popularity as well. It is more than likely your competitors are already involved with a couple.
Staying behind on the automation game will put your business at serious disadvantage. It is advised opting for some LinkedIn auto-tools in marketing campaigns to boost sales and reach out for brand awareness.
During extremely unpredictable times, it is crucial to be cautious and sensitive with the way you reach out to people and the content you put out in the virtual world.
Most businesses have already seen huge loss caused by the pandemic, it has impacted the personal and professional lives of everyone. Businesses are advised to continue marketing on LinkedIn, but with a high level of empathy and integrity as foundations of their campaigns.
---