Sustainable marketing is no longer 'just a trend' that companies can choose to follow.
As environmental problems increase and society is becoming more socially-responsible, consumers are looking for companies that reflect their values.
For us marketers that means traditional marketing is no longer an option.
To protect the future of our planet and the people living on it, 2021 must be the year in which brands make the move towards sustainable marketing.
So, let's find out what it means to be sustainable and how you can take a stand on sustainability.
What is sustainable marketing?
Sustainable marketing is about promoting your company's sustainable products or services. A product is "sustainable" if it meets the needs of this generation and the next.
If you've previously read other blog posts on sustainable marketing, you might very well believe that sustainability is only about being environmentally-friendly.
But it includes two more practices:

Based on this definition, sustainable marketing is also not the same as green marketing or environmental marketing.
Sustainable marketing vs Traditional marketing
Unlike other marketing practices, sustainable marketing doesn't prioritise profit over the planet or other social causes. Instead, it's trying to achieve sustainable profit within the limits of our planet and society.

That's at least in theory.
In recent years, we've seen many companies claim to be "sustainable" while actually being the complete opposite. And the reason behind such tactics is, of course, to make a profit. But more on that later on.
Why is sustainable marketing important?
Companies that fail to adopt sustainable marketing, risk losing their consumers.
In fact, 47% of consumers walk away from brands that fail to take a stand on sustainability, with 17% never returning.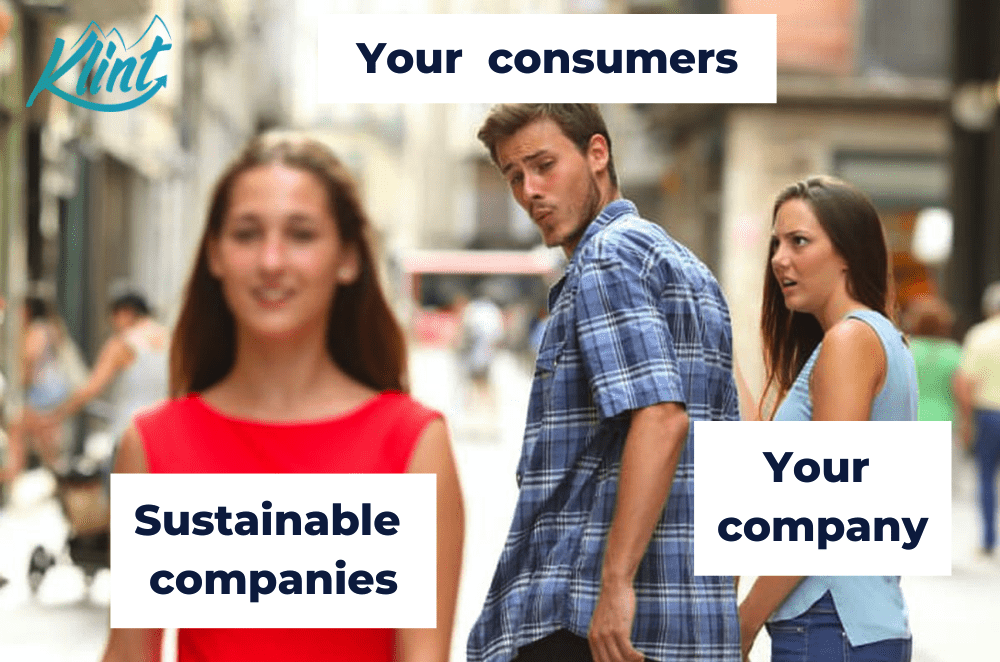 Here are five more reasons why you need to adopt sustainable marketing, today:
Also according to IBM, sustainability has reached an all-time high. That's what consumers are looking for in brands in 2020: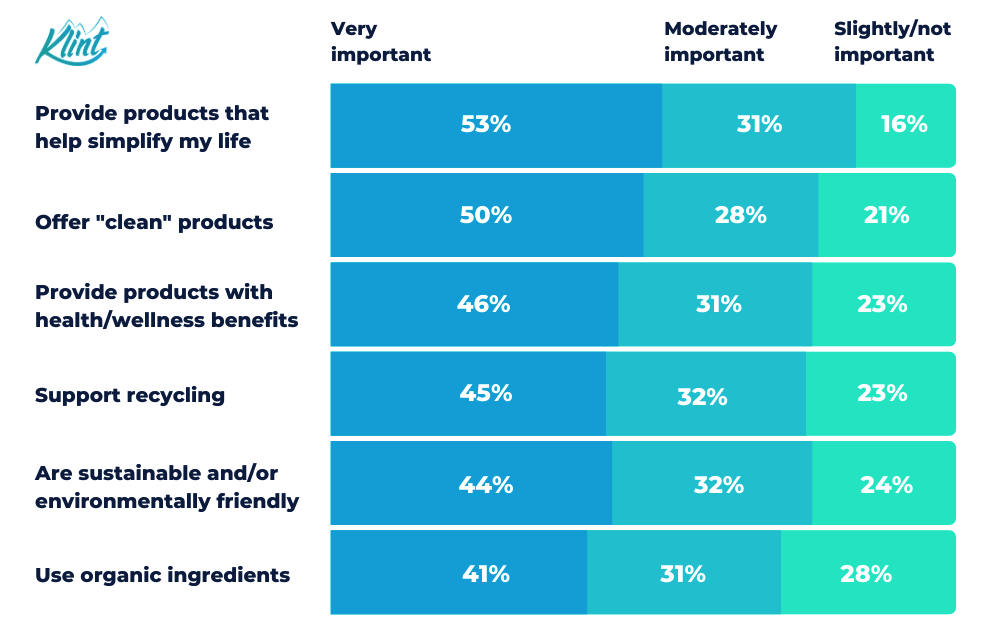 While sustainable marketing can be very lucrative, that shouldn't be the reason why you decide to adopt it. If you make the move towards sustainability then it should be because you genuinely care about our planet, our society, and the sustainable growth of your company.
With that in mind, let's find out how you can incorporate sustainable marketing principles in your day-to-day operations.
Five sustainable marketing principles
Take these principles as a benchmark for your next sustainable marketing campaign/strategy:
Consumer-oriented marketing: Your efforts should respond to the needs of your customers. Is the customer and not you the centre of attention?

2. Customer-value marketing: To profit off your sustainable solutions, you have to create value for your customers. Is your (sustainable) solution providing new value?
3. Innovative marketing: The goal should be to innovate, fail, improve, and repeat. The failing part is, of course, optional. Are you improving your sustainable marketing activities based on consumer trends?
4. Mission marketing: Adapt your mission to fit broad social terms instead of narrow product terms. Does your mission sound something like 'Produce the most comfortable sneaker.'? Try to add a social component.

5. Societal marketing: Sustainable marketing adds a third component to the company-customer mix: social interests. Do you know the social interests of your customers?
The bottom line is: how your customers perceive your sustainable marketing matters.
So, be sure to head over to our other blog post that will make influencing your customer's perception easy.
Sustainable marketing strategy vs Sustainable marketing campaign
As we know by now sustainable marketing can be very lucrative.
Not to mention, sustainable investment assets grew from $12.0 trillion in 2018 to $17.1 trillion in 2020. That's a 42% increase.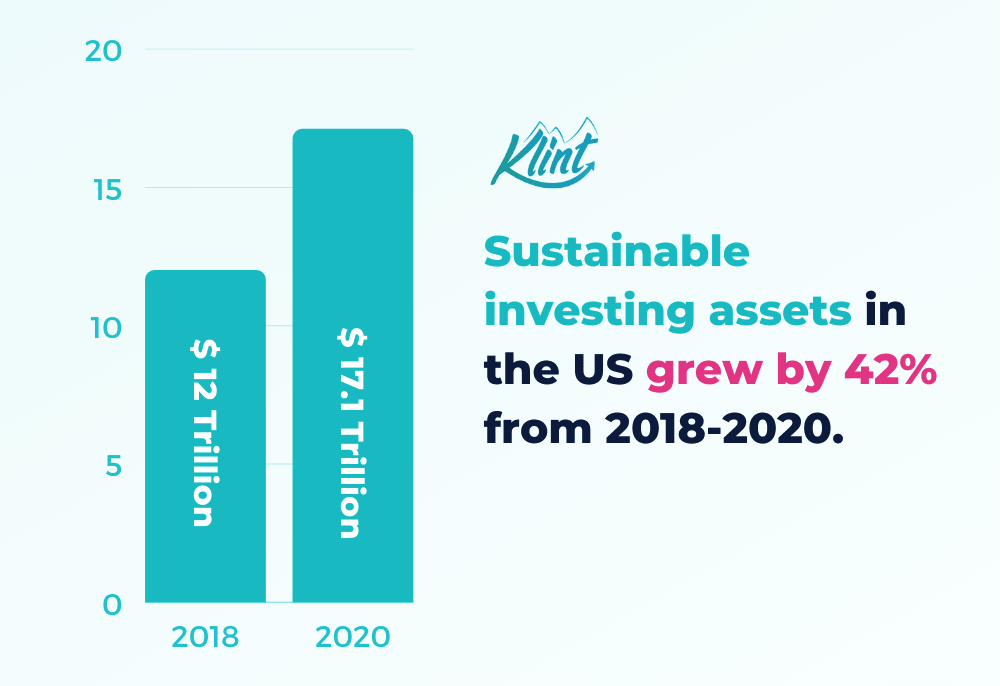 As a result, many companies who previously never seemed to show an interest in sustainability, are now putting out single marketing campaigns to deceive consumers into thinking they are sustainable.
Because of this, we need to clearly distinguish between sustainable marketing strategies and sustainable marketing campaigns.
To make things easier, it helps to first look at the difference between a marketing strategy and a marketing campaign:
Marketing strategy: A brand's grand plan that is linked to its overall goals.
Marketing campaign(s): All the little steps a brand is taking within its grand plan.
Since that's a very abstract way to explain it, let's briefly look into Red Bull's marketing strategy and campaigns to really understand the difference.
Red Bull's strategy:
Focuses on creating a culture of adrenaline and excitement rather than promoting the energy drink.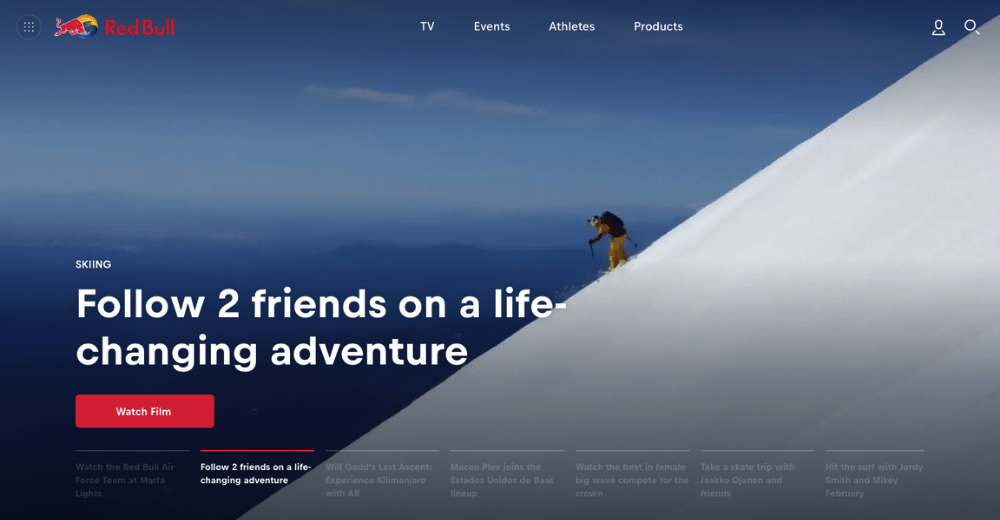 Some of Red Bull's marketing campaigns that support the strategy:
'The Red Bull Stratos Jump': Felix Baumgartner's jump from the edge of space broke multiple world records.
'Who is JOB?': A YouTube Series that offers a behind-the-scenes look into the life of athlete James O'Brien.
Various sponsorships of athletes and sports teams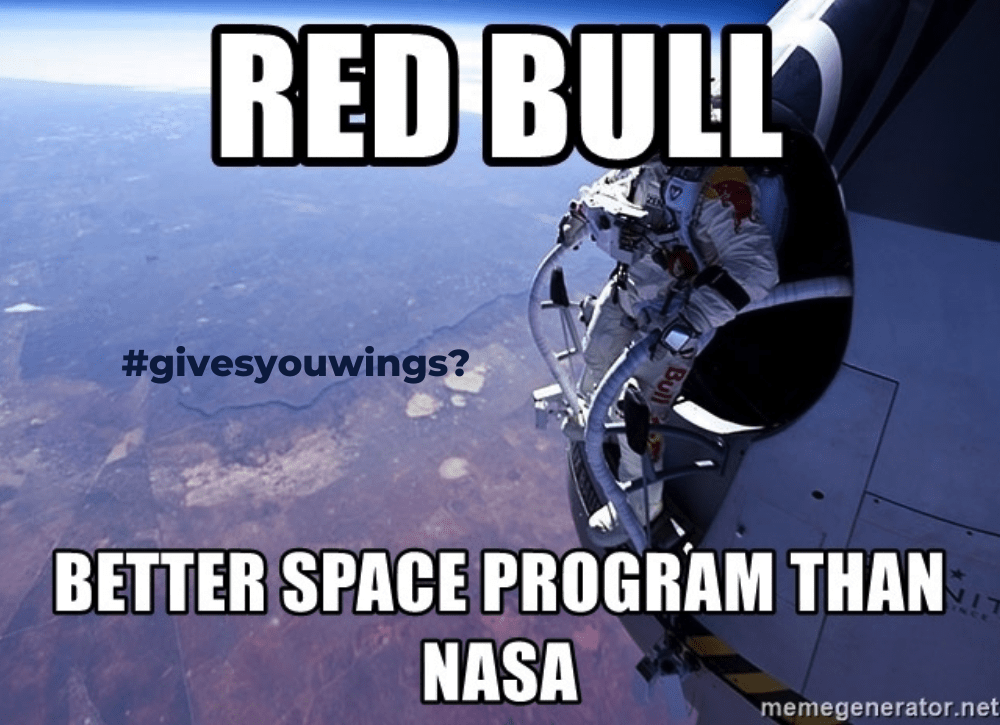 Add sustainable practices to the mix, and you know the difference between a sustainable marketing strategy and a sustainable marketing campaign.
So, what does it take to launch successful sustainable marketing strategies/campaigns?
Examples of sustainable marketing
The companies that made the list, go the extra mile to fight social and environmental issues.
All you have to do to create your own (successful) sustainable marketing strategy/campaign is to follow our key takeaways for each example.
1. Orsted
The idea behind Orsted's sustainable marketing strategy:
In 2020, Orsted was awarded the title of the world's most sustainable company. And it's all thanks to a 360° rebranding strategy that worked.
A couple of years back, Orsted recognised the massive potential of renewable energy.
So, they started to build off-shore wind farms and converted their coal and gas power stations to sustainable biomass.
As they became one of the fastest-growing energy companies, they made the bold decision to change their name from DONG (Danish Oil and Natural Gas) to Orsted.

Why does it work?
Rebranding (including name-change) does carry certain risks. We've seen enough companies who tried to rebrand themselves and failed. So why did Orsted succeed?
It's because they had a reason to take the step. Not only did the product they offer change, their values, vision and entire business strategy did, too.
What's more is that their rebranding was backed by clear messaging that matched the tone of a progressing society.
Key takeaway
All your sustainability efforts should be clearly motivated. Your consumers need to know your 'why'.
2. Bagboard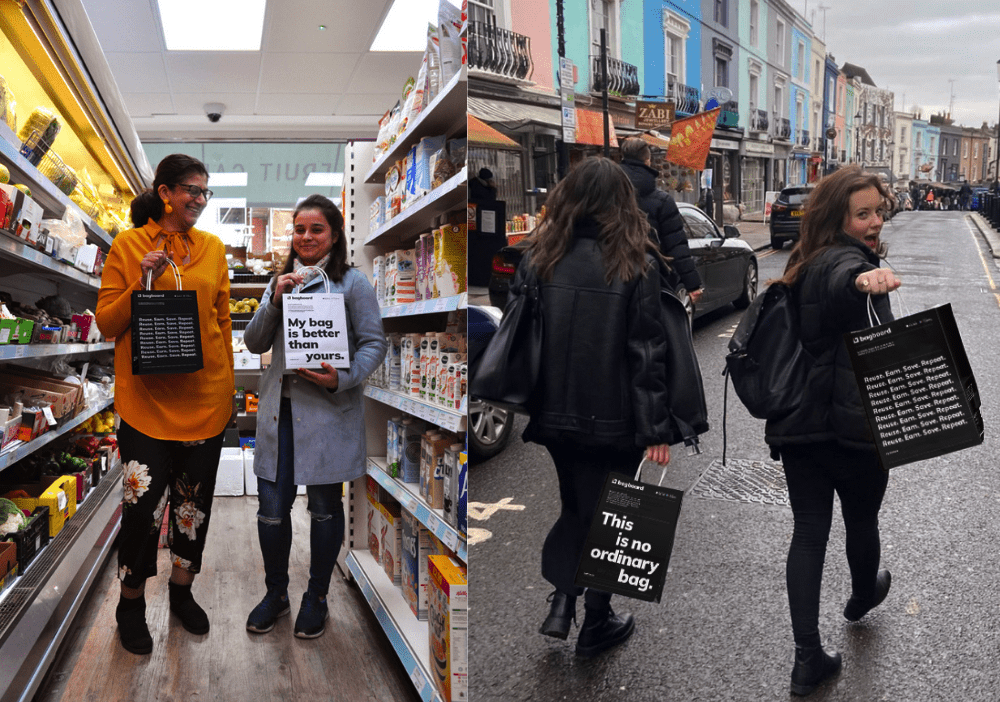 The idea behind Bagboard's sustainable marketing strategy:
Bagboard is one of the sustainability pioneers we are most excited about. The UK based platform sells eco-friendly, reusable, recyclable paper smart bags.
Bagboard is also working together with conscious brands to feature their campaigns on the bags. So, while strolling the streets, you're automatically promoting a brand of your own choosing.
There's more: Bagboard has partnered with NGO Plastic Bank. The non-profit removes plastic from the ocean every time you reuse your bag.
Why does it work?
In the last couple of years, we've seen many companies introduce sustainability measures, including switching to paper bags. But that's not why Bagboard is so successful.
The concept behind Bagboard is super clever. It gives power to the consumer, data to brands, and revolutionises the advertising concept.
Consumers are in charge of the brands they want to see grow, instead of being bombarded by their advertising. And brands can track how well their campaigns are doing. It's a win-win.
Key takeaway
Tackle a sustainability issue from more than one angle to offer multiple solutions.
3. Tony's Chocolonely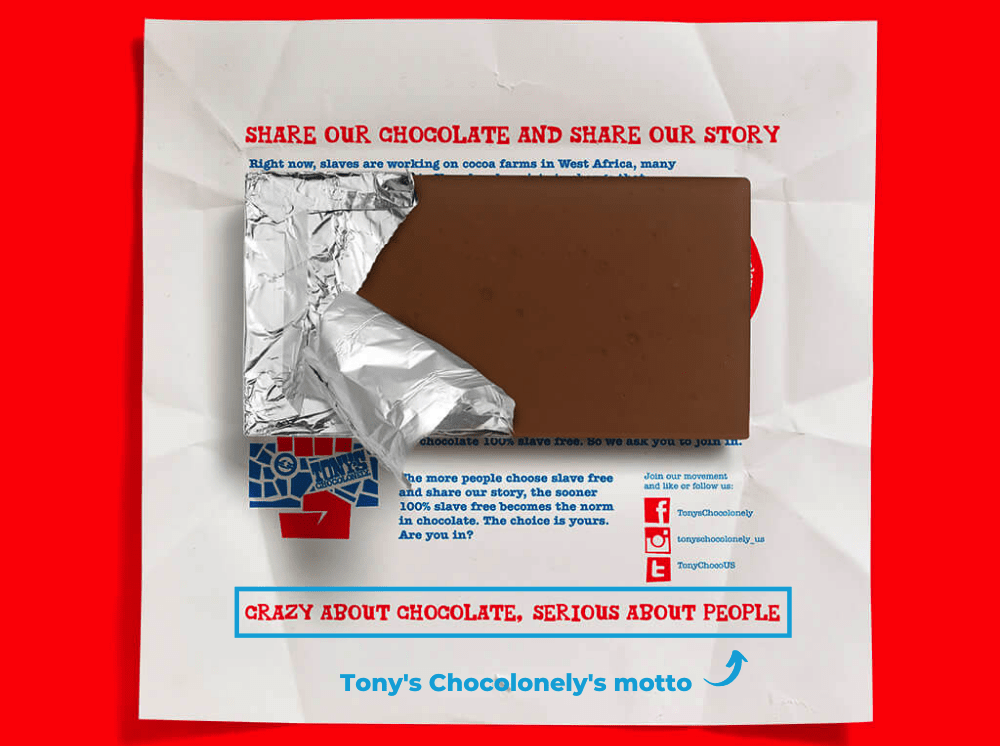 The idea behind Tony's Chocolonely sustainable marketing strategy:
Chocolate that's fighting a social cause? How could we not have included Tony's Chocolonely in our list?
From the start, Tony's Chocolonely has been on a clearly defined mission: To make chocolate 100% slave free and end child labour in the African cacao industry.
That mission earned it the title of Netherland's most sustainable brand. But Tony's most remarkable feature is probably their blockchain-powered "Beantracker". The technology monitors Tony's Chocolonely's entire value chain from bean to bar.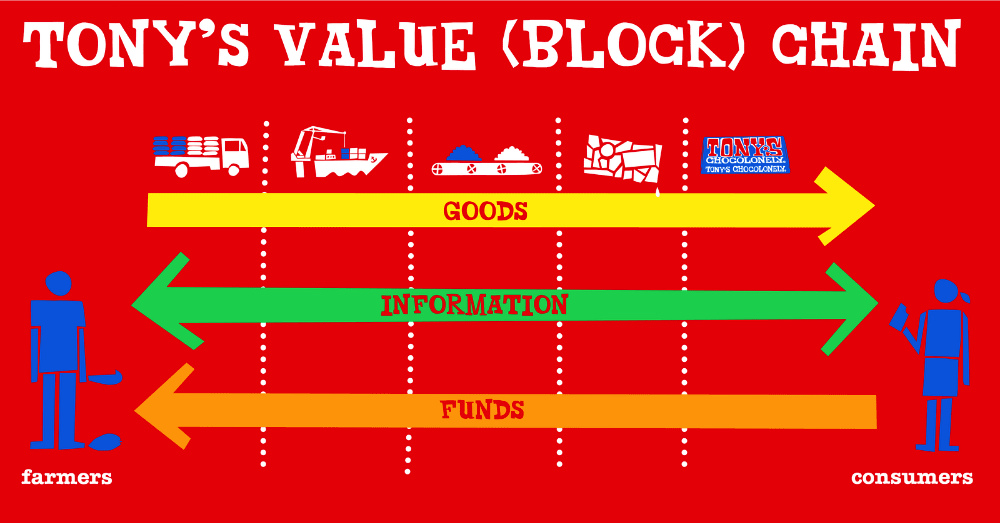 Why does it work?
As more and more companies are adopting 'sustainable' marketing measures, consumers are becoming more sceptical. And honestly, who can blame them?
Why would consumers believe that Tony's Chocolonely is making chocolate 100% slave free?
It's because they don't just rely on a fancy mission statement to confide trust in their consumers. Instead, the "beantracker" makes Tony Chocolonely's value chain transparent and holds the company accountable.
Key takeaway
Be transparent to establish trust. Start with, for example, your production or hiring processes.
4. Patagonia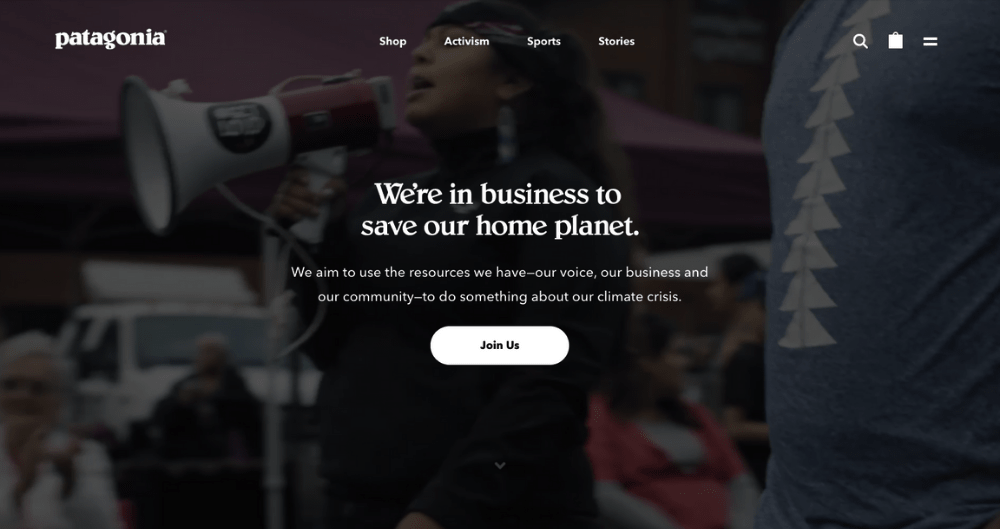 The idea behind Patagonia's sustainable marketing strategy:
Patagonia is a household name in sustainable marketing. They're first and foremost, a company that is producing outerwear.
But what they're probably primarily known for is their activism. According to Patagonia's website, they are "in business to save our home planet".
In the past, they have asked customers to buy second-hand and even put out a campaign that told them not to buy their jackets.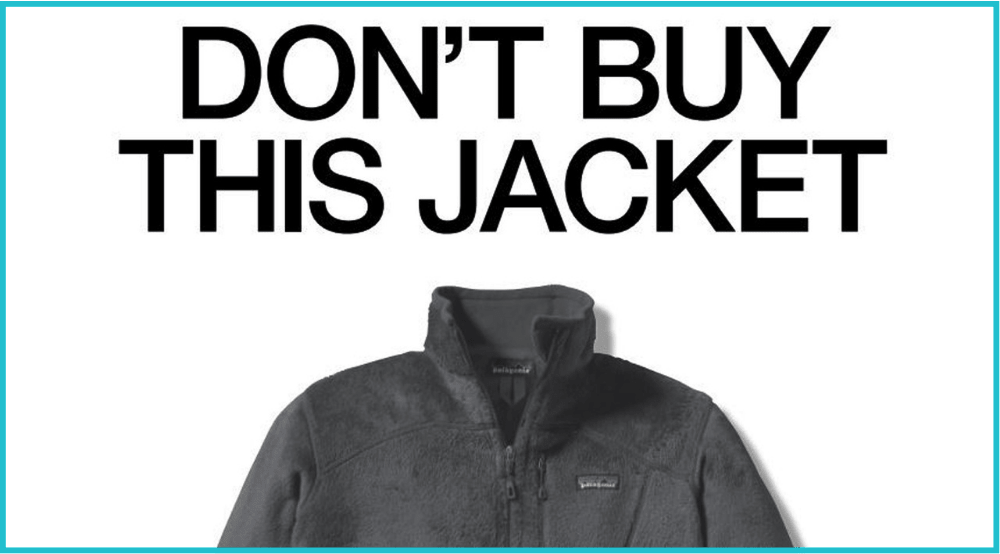 Why does it work?
Patagonia is serious about their commitment to saving our planet. Their sustainable marketing doesn't just sound pretty; it's backed by actions.
Here's a selection:
Key takeaway
You know what they say: 'Actions speak louder than words.' Back-up your sustainable marketing with tangible actions.
5. Pangaia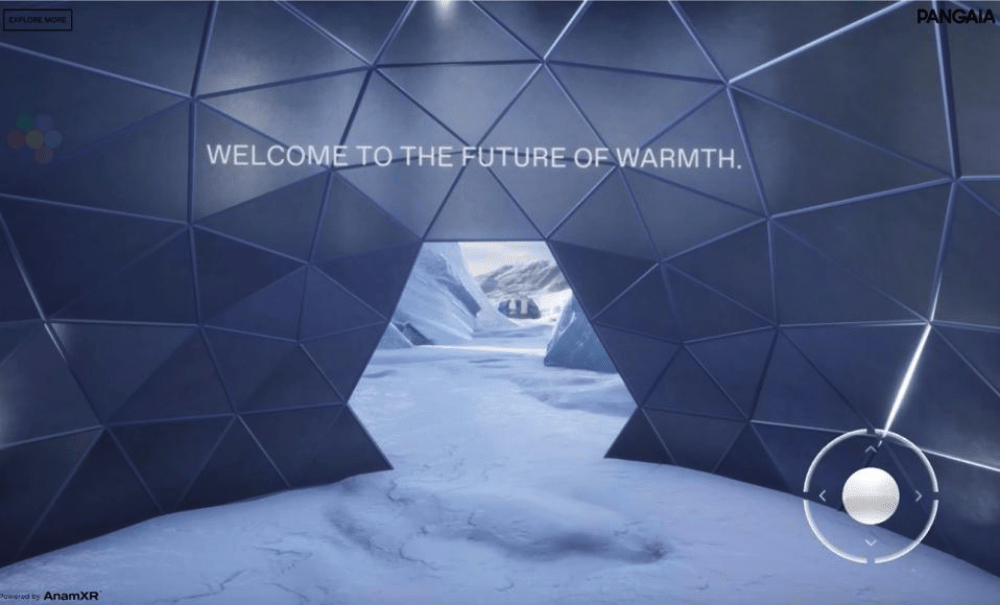 The idea behind Pangaia's sustainable marketing strategy/campaign:
Next in line, is one of the finest "high-tech naturalists". If you're looking for an ethical alternative to goose and duck down jackets, then Pangaia should be at the top of your list.
And if you're looking for a sustainable brand that understands and accelerates at technology, then the answer is also Pangaia.
Their latest great use of technology is an immersive VR experience that transports users to Antarctica. In the campaign, Pangaia celebrates the launch of their new jackets made out of flowers.
The entire experience is self-steered, which means that users can move through it as they like.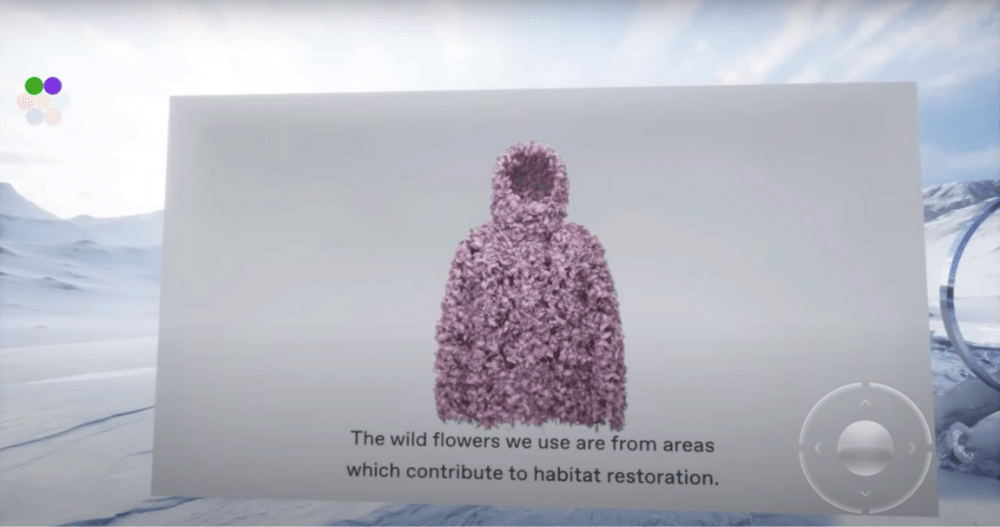 Why does it work?
First of all, it's fun to use. See for yourself.
The experience lets users explore the design of the jackets and educates about the jacket's sustainable production processes.
But instead of just offering bare facts, users get to dive into a world that's packed with exciting tech-features. As a result, learning about sustainability becomes engaging.
Key takeaway
Support your sustainable marketing with facts that are easy to digest.
6. KLM
The idea behind KLM's sustainable marketing campaign:
You might be surprised that the Dutch flight carrier made it to the list. It's KLM's 'Fly Responsibly' campaign that affords it the spot.
In the campaign, KLM asks passengers to think twice before flying KLM. And to instead consider going by rail or bus.
The idea behind the campaign is comparable to Patagonia's 'Do not buy this jacket' campaign. With the difference that KLM is also asking passengers to (at least sometimes) choose to travel with their indirect competitors.
Why does it work?
The campaign is reinforced by an open letter to the aviation community as well as a statement by the airline's launch initiative:

Instead of pretending that KLM is something they are not, they're openly addressing that flying isn't sustainable. And that sometimes the only solution might be not to fly.
This narrative makes KLM seem credible.
Key takeaway
Be authentic in your sustainability efforts. If you're not entirely sustainable don't pretend that you are.
7. Pret a Manger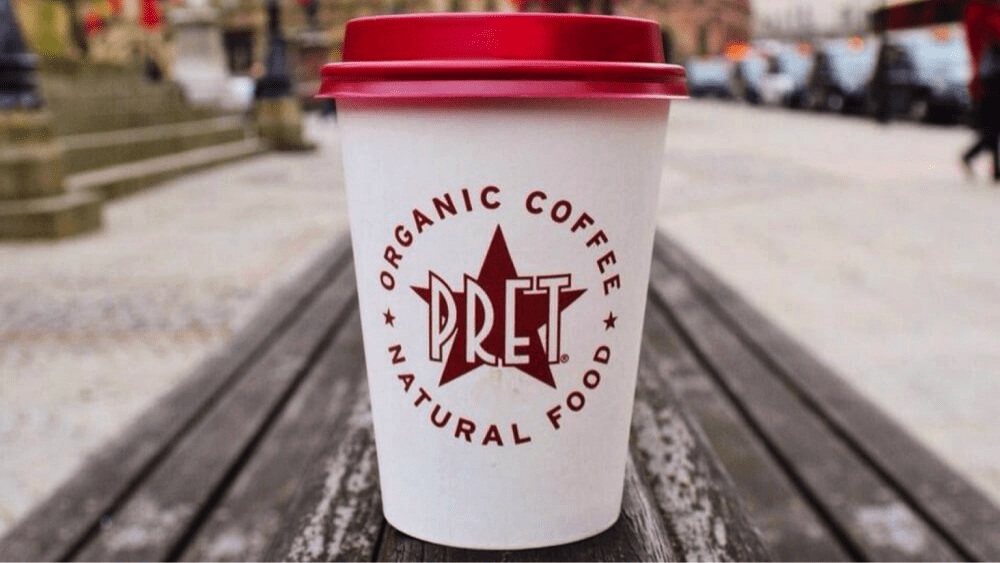 The idea behind Pret a Manger's sustainable marketing campaign:
This next example of Pret a Manger is gentle on the wallets of all coffee-lovers. Since early 2020, Pret a Manger has been offering plant-based milk at no extra charge.
Coffee-giant Starbucks, on the other hand, is still asking for $0.70 extra for coconut milk. And Dunkin Donuts $0.54 for almond milk.
Why does it work?
Consumers used to appreciate just getting a coffee with plant-based milk.
But as people are getting more conscious of their consumption habits, they will also no longer accept the extra charge for plant-based milk.
Pret a Manger has caught up on that development faster than its competitors. And that's the simple reason why it works.
Key takeaway
You don't have to release world-changing breakthroughs right of the bet. Spot developments your competitors have missed and start there.
8. Jigsaw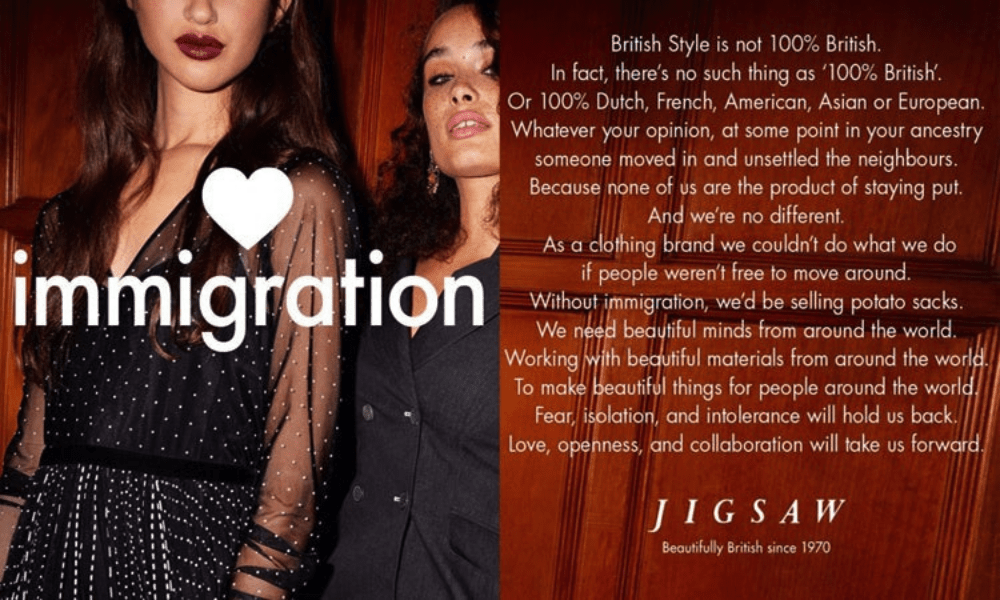 The idea behind Jigsaw's sustainable marketing campaign:
Amidst Brexit discussions, the fashion retailer launched a campaign that awarded it the title of 'Best marketing campaign of 2017'.
Jigsaw's pro-immigration campaign with the tagline 'There's no such thing as 100% British' turned out to be a huge success for the brand.
The goal was to highlight the benefits of immigration for the fashion industry. But in the bigger scheme of things, it certainly was a daring move for an immigration-sensitive, post-Brexit Britain.
Why does it work?
Jigsaw's campaign is an excellent example of a risky sustainable marketing campaign that worked. The same can't be said for all brands.
Remember Pepsi's Kendall Jenner TV spot? Or Dove's racist Facebook ad?
But Jigsaw's campaign is different. They decided to address a topic that, according to the campaign, is the reason they sell fashion and not potato sacks.
A bit far-fetched maybe but still, it positions them as having the right to talk about immigration.
Key takeaway
Your sustainable marketing campaign shouldn't just support any cause. Find one that is rooted in your brand idea.
9. Growing Roots
The idea behind Growing Root's sustainable marketing campaign:
Growing Roots is owned by Unilever and supports urban farming. Their launch campaign is a great example that proves that also simple campaigns can be effective.
In the video Growing Root's founder tells the story of how the company was born and reveals the secret to its success.
According to Green Biz' research, it is one of the most successful sustainable marketing campaigns in 2020.
Why does it work?
The campaign makes use of the power of storytelling. It's easy to listen to as it doesn't sidetrack you with statistics or complex facts.
Storytelling is definitely nothing revolutionary, but it's effective, also for sustainable marketing.
Key takeaway
Here's the good news: Storytelling and great content is still a winner!
10. Bacardi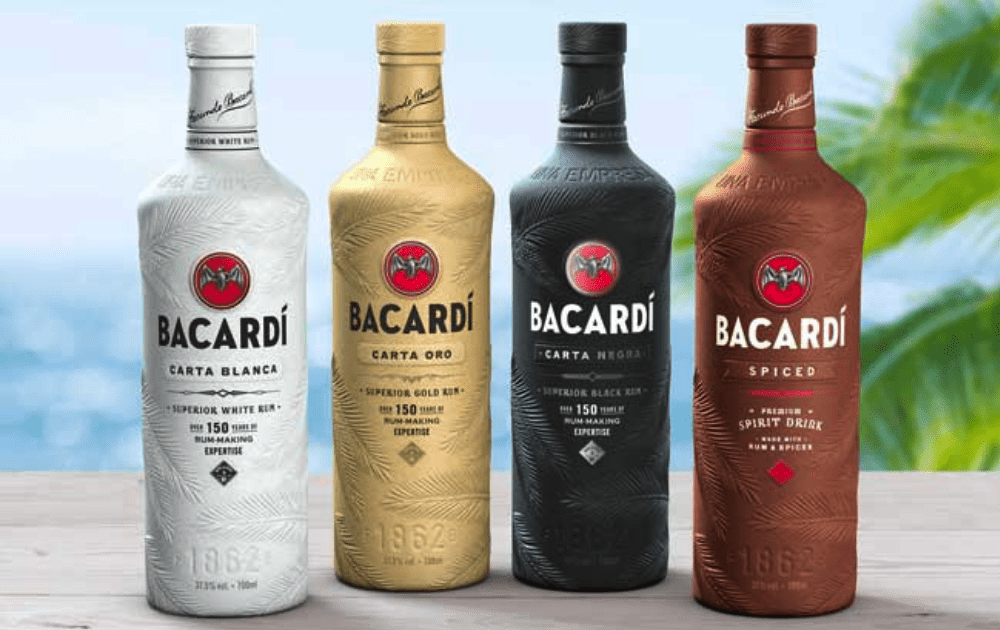 The idea behind Barcadi's sustainable marketing campaign:
Up until recently, we've known Bacardi as a rum producer. But now people are asking whether Barcadi might be the company that has solved the world's plastic problem?
Bacardi has invented a biodegradable bottle that degrades in only 18 months while other plastics still take hundreds of years to degrade.
Why does it work?
Technically, this isn't a sustainable marketing campaign but an entirely new product. But there's a reason why Bacardi is rounding off our list.
Bacardi who didn't start as a company that cared a whole lot about sustainability is now one of its pioneers. And we're convinced you can do it, too!
Key takeaway
Sustainable marketing becomes the easiest thing in the world if your company has sustainable products or practices.
5 steps to successful sustainable marketing
We've summarised all 10 examples in five easy steps that you need to take to launch (successful) sustainable marketing strategies or campaigns of your own:
1. Be authentic
DOs: Make sure that your sustainable marketing reflects how you see yourself as a company but also how your consumers see you.
DON'Ts: Avoid putting out sustainable marketing campaigns that stand in no clear context with your company.
2. Focus on your product or service:
DOs: Your product/service or processes should be the first thing you make more sustainable. Part of it is also to understand what your competitors are doing.
DON'Ts: Don't just release beautifully-worded campaigns. Before you know it you're branded as a company that supports greenwashing.
3. Simplify your messaging
DOs: Sustainable marketing should be fact-based. But it's crucial that you make these facts easy to digest. Tell a story, use AI marketing tools or gamification. The sky's the limit.
DON'Ts: Avoid telling misleading facts that leave room for interpretation. Consumers will call you out on it.
4. See the big picture:
DOs: Let consumers know what societal or environmental cause you're serving and why you're serving it.
DON'Ts: Steer clear of marketing messages that make your company the centre of attention. It distracts from the cause.
5. Consider being transparent:
DOs: Be as transparent with your production processes or sustainable initiatives as possible. Of course, you should be comfortable with it.
DON'Ts: Don't pretend that you're super sustainable if you aren't. It's better to reveal that some of your practices aren't yet sustainable but that you're working on it.
Two sustainable marketing challenges
Sustainable marketing isn't always a piece of cake. It requires that you maybe not necessarily change your product/service but definitely adapt some of your values.
Two things are particularly tricky. So let's look into them to make sure you don't fall in either trap.
Sustainable Marketing vs Greenwashing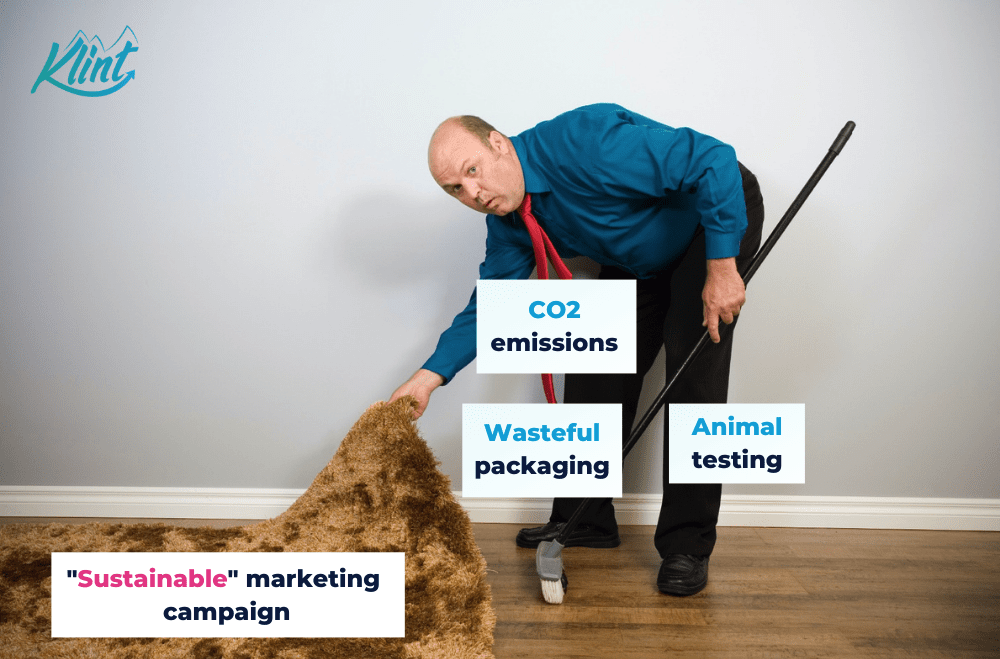 What does it mean?
To remind ourselves: the concept of sustainable marketing includes three practices – environmental, economic, social.
Greenwashing is a practice that's linked to only the environment. We want to give it special attention here as it has become the buzzword that consumers have come to associate with sustainable marketing.
According to Shopify, greenwashing is done by marketers that try to capitalise on the growing number of green consumers.
In promoting products that aren't technically green, they contribute to the heightened scepticism among consumers.
Examples of Greenwashing:
Mc Donald's paper straws: There are two main problems with the initiative. The straws aren't recyclable in some countries. And the cups are still single-use plastic.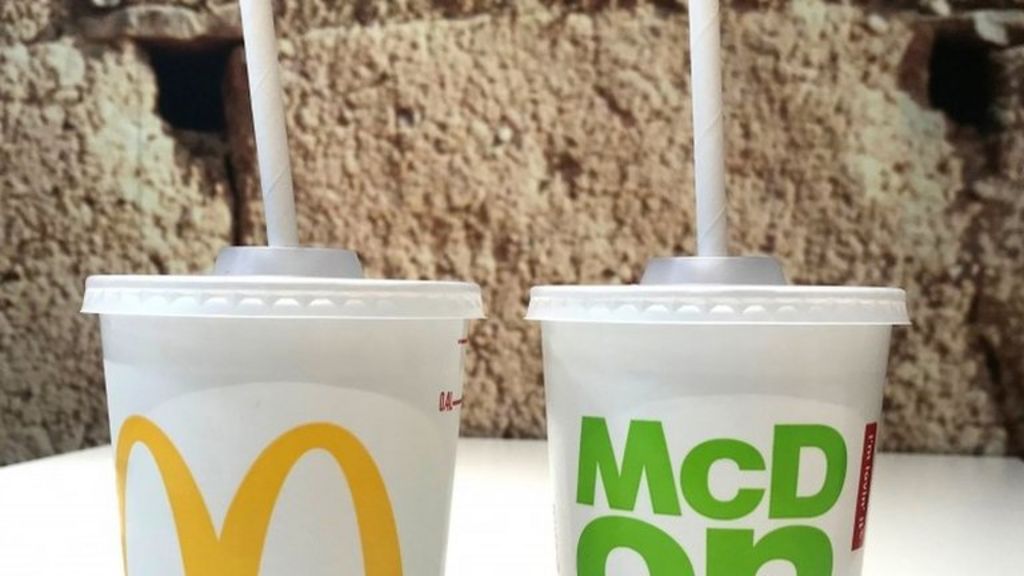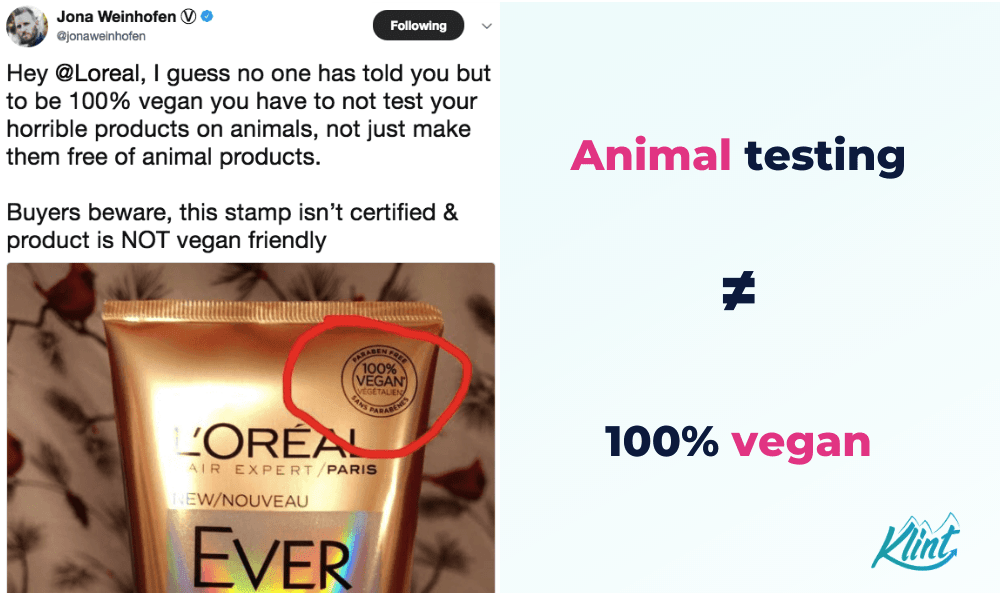 Ryanair's fake green ad: Ryanair claims to be "Europe's…lowest emissions airline". In reality, Ryanair has been put on the list of Europe's top ten emitters.
What to do about it?
For consumers, it is getting harder and harder to determine who greenwashes and doesn't. So, be transparent in your efforts and make sure your products/services or processes are actually sustainable.
Sustainable Marketing vs Convenience
What does it mean?
New research by Getty Images has unveiled some alarming facts about the average consumer's sustainability practices. And they again mainly focus on the environment.
These are their main findings:
81% consider themselves to be eco-friendly

BUT: Only 50% buy products from brands that are actually eco-friendly

92% believe how we treat our planet now has a long-lasting impact

BUT: 48% say that convenience still has priority over sustainability

84% claim that being environmentally-friendly is important to them

BUT: 68% cannot recall a single sustainable brand
What to do about it?
The goal is to offer products/services that are both convenient and sustainable. That's not the easiest thing to pull off. So, take it step by step and keep your customers in the loop.
Key takeaways for every (sustainable) marketeer
Let's sum up everything you need to know to rock your sustainable marketing:
Sustainable marketing definition: The marketing of your companies' environmental, social, and economic practices.
Sustainable marketing should be customer-centred instead of product-centred.
The five steps to successful sustainable marketing: 1. Be authentic, 2. Focus on your product or service, 3. Simplify your messaging, 4. See the big picture, 5. Consider being transparent
Whatever you do, don't greenwash.
Consumers want products to be both convenient and sustainable.
But the most important takeaway by far is this one: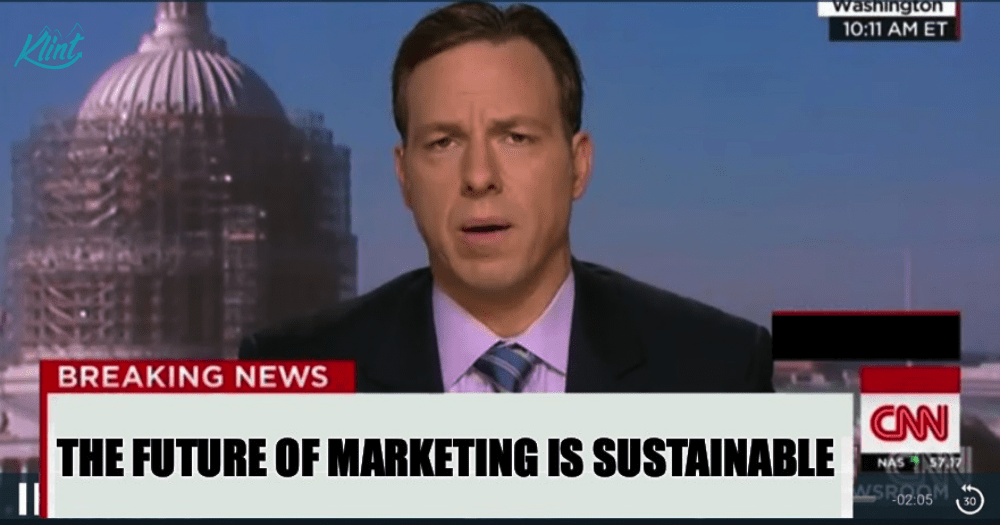 Sustainable marketing is how you will be able to create value for your consumers, now and in the future.
So, use all our tips to start making sustainable change, today!
Not ready to take on sustainable marketing by yourself?
We at Klint Marketing are here to help.
No matter if you're looking for creative content, or are struggling to convert your sustainable marketing into sales, make sure to reach out to us.
Also, if you want to learn more about sustainable marketing, leave us a comment.
Why does it work?